Display
The Moto Z Force has a 5.5 inch quad-HD (2560x1440px) AMOLED display. This is a departure from the 2015 Moto X's LCD display in favor of an AMOLED panel. The AMOLED panel has the benefit of displaying darker blacks, more vivid colors, better outdoor legibility and it is also more power efficient in showing dark content. In many cases the screen is able to leave the black pixels powered off, such as when Moto Display is showing you notifications or the time.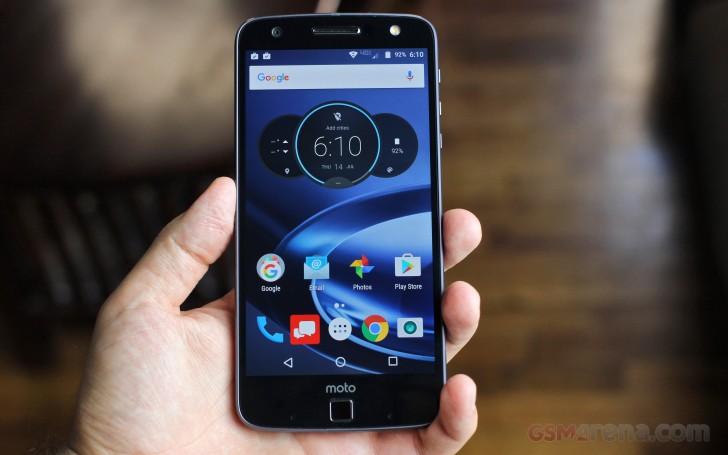 In our color rendition tests, the Moto Z Force has shown an average deltaE of 5.3 and max deltaE or 12.4. Colors are well represented and look pleasant to the eye with the default "Vivid" display setting. There is also a "Standard" setting, which displays more accurate colors, though not as accurate as we've seen other phones reach.
Display test
100% brightness
Black, cd/m2
White, cd/m2
Contrast ratio
Lenovo Moto Z Droid
0.00
371
∞
Lenovo Moto Z Droid max auto
0.00
506
∞
Lenovo Moto Z Force Droid
0.00
352
∞
Lenovo Moto Z Force Droid max auto
0.00
517
∞
Samsung Galaxy S7 edge
0.00
392
∞
Samsung Galaxy S7 edge max auto
0.00
610
∞
Sony Xperia X Performance (max auto)
0.39
595
1526
Sony Xperia X Performance
0.33
482
1461
OnePlus 3
0.00
433
∞
HTC 10
0.29
428
1543
Samsung Galaxy S7 active
0.00
424
∞
Samsung Galaxy S7 active max auto
0.00
602
∞
LG G5
0.17
306
1855
LG G5 max auto
0.20
378
1881
Apple iPhone 6s Plus
0.43
590
1382
With the "Standard" setting, colors are significantly more accurate with the exception of whites, which are cooler than they should be. The average deltaE is 2.2 now, but the Max deltaE is at 5.8. It seems the screens of the Moto Z and Z Force are quite comparable. We are happy to see that display quality didn't have to be sacrificed to become shatterproof.
However, the non-glass display lens appears wavy upon close inspection under light. While both the Moto Z and Moto Z Force's touchscreen glasses feel identical, the Moto Z Force's display lens is made of a plastic-based material which can be more prone to light scratching than straight up glass. The trade-off is the peace of mind that you don't need to worry about the screen shattering.
The display panel features a brightness overdrive mode only available with 'Adaptive brightness' enabled which kicks the display all the way up to 517 nits. While this isn't the brightest screen we've seen, it's pretty good and you shouldn't have any trouble seeing the display in direct sunlight.
The screen is of such a great quality, there isn't even any color shifting at normal viewing angles. The colors don't start shifting until you're looking at the device from about 80 degrees from the center. With the exception of some of its color tuning, Moto Z Force sports an excellent screen.
Connectivity
The Moto Z Force features a USB-C port which also doubles as the 3.5mm headphone jack (via an adapter) since there is no integrated headphone jack (because of this, there is no FM Radio chip either).
Other connectivity options include: Wi-Fi a/b/g/n/ac (5GHz), Bluetooth 4.1 LE, NFC, A-GPS, Wi-Fi Direct, and of course, the Moto Mod dock connector which allows for endless expansion of display signal, power, or addition of new sensors such as temperature.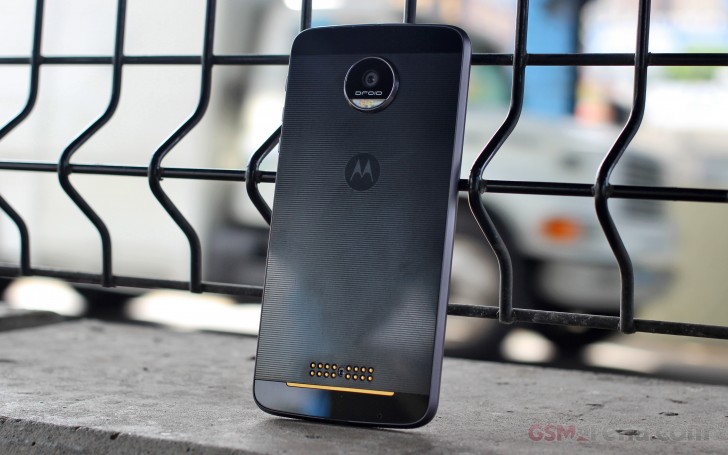 The Moto Z Force will be compatible with CDMA (on Verizon): 850, 1900MHz, GSM/GRPS/EDGE (850, 900, 1800, 1900MHz), UTMS/HSPA+ (850, 900, 1700, 1900, 2100MHz), and LTE Bands: 2, 3, 5, 7, 13. This handset is to remain an exclusive device to Verizon.
The Moto Z Force also has Android Pay pre-loaded as the default mobile payment service. Android Pay works with NFC and works at all tap-to-pay terminals.
Unfortunately, the charging cable is a part of the charger as a single unit and cannot be separated. Likewise, the Moto Z Force does not come with any type of cable that you can connect to a computer to transfer files back and forth. You'll have to buy your own data transfer cable.
Battery life
A larger 3,500 mAh battery makes an appearance with the Moto Z Force, a battery that's about 35% larger than the one found in the Moto Z, a 2,600mAh battery.
We were excited to check how much better the larger battery improves the phone's endurance. The great news is, if you are a battery hog, you can invest in the Moto Mod Power Pack and add even more endurance to your phone.
Unlike the Moto Z, The Z Force comes with a 30W TurboPower Charger (The Moto Z comes with a 15W version). This TurboPower charger takes the Moto Z Force from 0 to 62% in 30 minutes. That's quite impressive! The TurboPower 30 Charger is rated at 5V @ up to 5.7A which is technically 28.5W.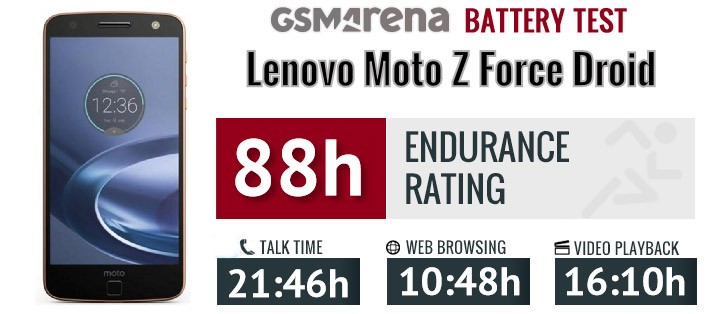 The Moto Z Force scored 88h on our battery testing. Likewise the Moto Z scored 53h with a 2,600mAh battery. If you are deciding whether to pay a little extra ($100 premium) for the Moto Z Force over the Moto Z, let these numbers factor into your decision making process.
The Moto Z Force handeled itself quite well in our battery test. In fact, it scored 1h more than the Snapdragon variant of the Samsung Galaxy S7 edge. Both have comparably similar battery sizes, AMOLED screens with the same size, and are powered by the same Snapdragon 820 CPU. The Moto Z Force has the upper hand even though the S7 edge has a battery 100mAh larger, and various motion and light sensors for Moto Enhancements.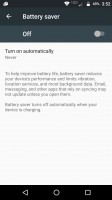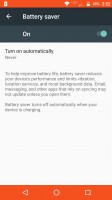 The Moto Z Force uses the stock Android battery saver
For those who'd like to invest in a Moto Mod battery pack, we ran a couple of tests with the 2,300mAh Tumi Power Pack. It added a total of 41% to the Moto Z Force and took about an hour and 30 minutes to completely discharge.
Here's a breakdown of how the Power Pack charged the Moto Z Force over the span of a charge cycle:
30 minutes of charging brought the Moto Z Force from 0% to 15% (68% left on Power Pack)
1 hour of charging yielded 30% of battery for the Z Force (Power Pack left with 34%)
PowerPack died after a little over 1 hour and a half, the Moto Z now had a 41% charge.
So if you are on the fence about getting a Moto Mod Power Pack, take into account that you already have a wall charger that will charge the Moto Z Droid at break-neck rate. Of course, that means you'll need to have easy access to a wall outlet when you are on the go.
The battery testing procedure is described in detail in case you're interested in the nitty-gritties. You can also check out our complete battery test table, where you can see how all of the smartphones we've tested will compare under your own typical use.