Two Lenovo phones have surfaced on the Google Play Console – the Lenovo K14 and K14 Note. You may not be familiar with the K-series as it focuses on low-end in select regions. And they don't use unique hardware, rather they are rebadged Motorola phones.
For example, the Lenovo K13 proved to be a Moto E7i Power variant. The Lenovo K13 Note was a rebadged Moto G10. With that in mind, let's have a look at what the GPC says about the K14 phones.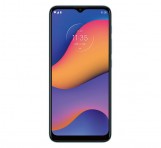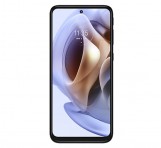 GPC images: Lenovo K14 and K14 Note • Official images: Moto E20 and Moto G31
The Lenovo K14 uses a Unisoc T606 chipset with 2GB of RAM, has a 720 x 1,600px display and runs Android 11. These specs and the included image point to this being a version of the Moto E20. This would mean a 6.5" display, 13+2MP rear cameras, 5MP notched selfie and a 4,000mAh battery with 10W charging.
The Lenovo K14 Note goes up to the mid-range segment with a MediaTek MT6769. This could be either a Helio G80 or a G85. It has 4GB of RAM, a 1,080 x 2,400px display and also runs Android 11.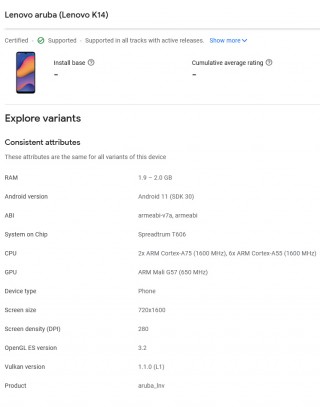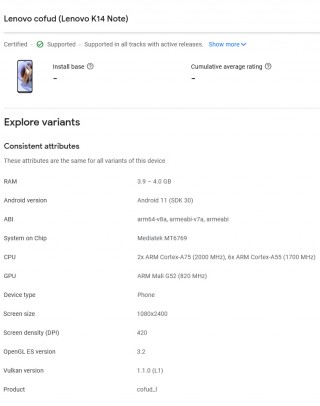 Google Play Console details: Lenovo K14 • Lenovo K14 Note
Plugging those specs into our phone finder we get the Moto G31 and Moto G41. They are nearly identical save for the camera and charging (50MP no OIS vs. 48MP OIS and 10W vs. 30W). We're leaning towards this being the G31 as the K-series tends to be low end. The Moto G Stylus (2022) also matches the specs, but despite its name the "Note" phones don't come with a stylus.
Anyway, the Moto G31 has a 6.4" AMOLED display, 50MP main, 8MP ultra wide and 2MP macro cameras, plus a 13MP selfie cam inside a punch hole, also a 5,000mAh battery.
Back in March the Lenovo K14 Plus came out, that is a version of the Moto E40. As for the vanilla K14 Note and K14, their predecessors came out in June and March, respectively, so they are running behind schedule. That is to say that we expect a quiet launch soon with limited availability.
L
I have Tab P11 Plus and it's a slow buggy mess despite Helio G90T. They may be second best selling Android tablets, but that's because of price. They're definitely not second best Android tablets.
?
They have the second best Android tablets after Samsung.
?
Winner buys the loser. Sad but that's business.
ADVERTISEMENT