Leaks usually give us a peek at upcoming high profile phones, but every now and then the little guys get talked about in the rumor mill too. TechnoBuffalo got a hold of a part of Samsung's roadmap of unannounced Android devices, which might show up at the MWC. The list includes the Galaxy Note 8.0, which is officially confirmed to exist, a sequel to the Samsung Galaxy Xcover rugged phone and a couple of low-enders.
The Samsung Galaxy Note 8.0 specs match up perfectly with the rumored specs we saw last week – 8" 1280x800 Super Clear LCD with S Pen support, 1.6GHz quad-core CPU and Android 4.2 Jelly Bean. What's new is the availability – according to the roadmap, the mid-sized Note will come in March.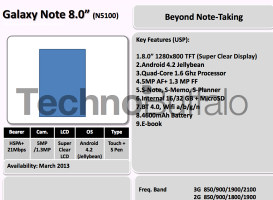 Samsung Galaxy Note 8.0 unofficial specs
The Samsung Galaxy Xcover 2 is similar to the Galaxy Rugby Pro for AT&T. It packs a 4" WVGA LCD screen, Android 4.1 Jelly Bean running on a 1GHz dual-core processor, 5MP camera, 1,700mAh battery and 3G with 14.4Mbps HSPA.
The Xcover 2 should become available in February. The roadmap doesn't list what kind of certifications it carries, but it's a good bet it will be water-proof and shock resistant.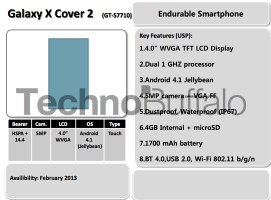 Samsung Galaxy Xcover 2 unofficial specs
Next up is the Samsung Galaxy Young, a Galaxy Y successor. It packs either a 3" WVGA screen (unlikely, since this would mean a 310ppi pixel density) or a 3.3" HVGA screen (with a much more believable 175ppi).
The Galaxy Young will run Android 4.1 Jelly Bean on a 1GHz CPU and pack a 3MP camera, and 3G support. It's slated for introduction in March and will have a dual-SIM version.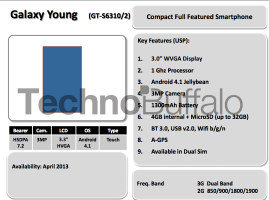 Samsung Galaxy Young unofficial specs
Then there's the Samsung Galaxy Pocket Plus, a minor update of the current Pocket. The main change is the screen resolution – HVGA, up from QVGA. It should be announced this month in single-SIM form and next month in dual-SIM form. There's not a lot of time before the end of January though, so this roadmap might not be perfectly accurate.
Other than the Samsung Galaxy Note 8.0 none of these devices have officially been announced, so we recommend you take this with a healthy dose of salt. We should see those devices at the MWC, the big ticket items like the Galaxy S IV will most likely get their own events.
g
XD copycat ? look at the specs it says 8 inch apple uses a 7.9 XD and dont compare apples crappy resolution to the note 8.0 XD
t
y note 8.0 use super clean lcd very sad o
D
OMG, here goes the copy-cat Scamsung! Again! :/ Apple releases an 8" tablet, Scamsung has to follow and release an 8" tablet too! :/
ADVERTISEMENT