Flagship 120Hz OLED display
The iQOO 9T offers a mix between the vanilla 9 and the 9 Pro's displays. The 9T borrows the FHD+ resolution (1080 x 2400px) from the standard iQOO 9, while offering the 9 Pro's diagonal of 6.78". It's still 120Hz, though, and boasts a 360Hz touch sampling rate. The HDR enhancements cap at HDR10+, which is perfectly fine for most content on major streaming platforms.
A software feature enables real-time conversion of SDR content to HDR, which also works on most major streaming platforms, including Netflix and YouTube. It's all thanks to the V1+ custom display chip that offloads the chipset in tasks related to the refresh rate and other graphics enhancements. The said chip is also responsible for some photography, particularly at night.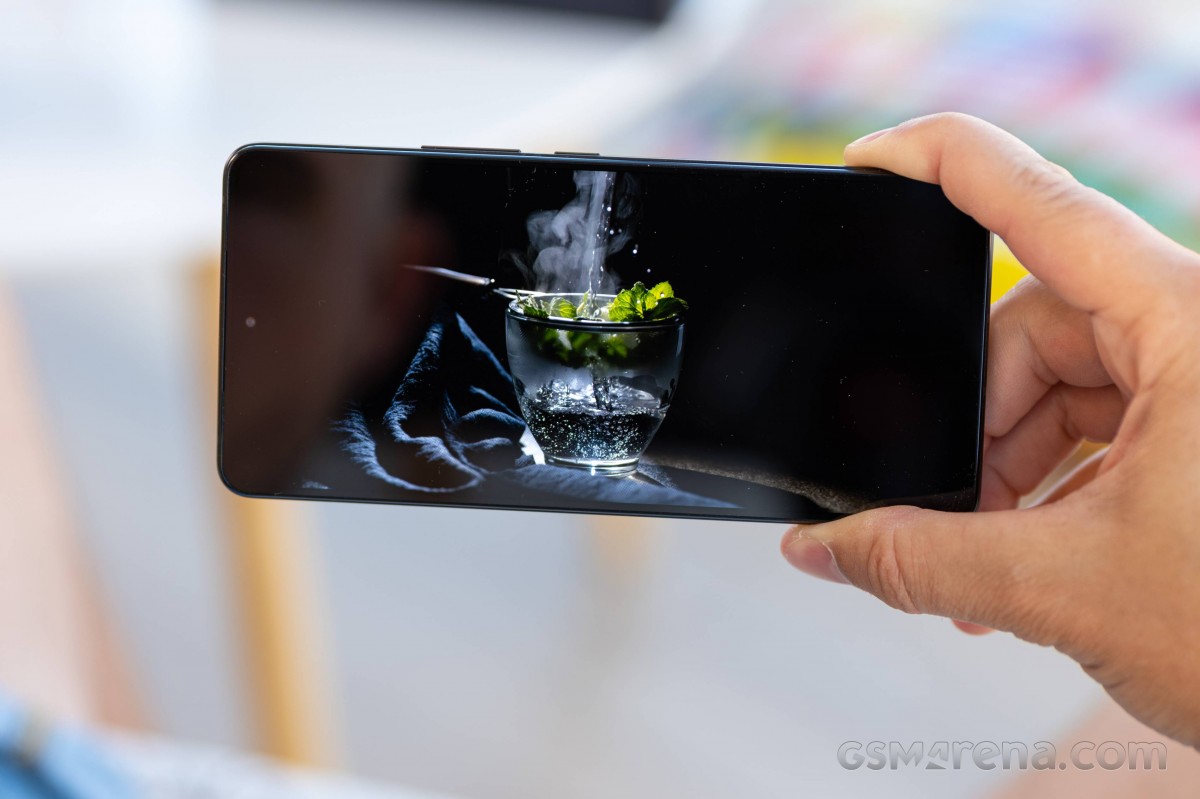 There's also some game frame rate interpolation artificially boosting refresh rate to 90Hz from 60Hz, but we recommend leaving that off as it causes a smearing effect.
Interestingly enough, the iQOO 9T's display did a little better in most regards compared to the 9 Pro and is a big upgrade over the vanilla 9. The maximum recorded brightness in manual mode is 503 nits, which is pretty solid, but this value more than doubles in auto mode - 1033 nits. Moreover, iQOO advertises 1500 nits of peak brightness, which is achieved on a small surface area during HDR video playback.
Display test
100% brightness
Black,cd/m2
White,cd/m2
Contrast ratio
iQOO 9T
0
503
∞
iQOO 9T (Max Auto)
0
1033
∞
iQOO 9 Pro
0
438
∞
iQOO 9 Pro (Max Auto)
0
1000
∞
iQOO 9 SE
0
481
∞
iQOO 9 SE (Max Auto)
0
863
∞
iQOO 9
0
455
∞
iQOO 9 (Max Auto)
0
749
∞
Google Pixel 6 (Max Auto)
0
846
∞
Google Pixel 6
0
477
∞
Xiaomi 12 Pro (Max Auto)
0
1050
∞
Xiaomi 12 Pro
0
506
∞
Realme GT2 Pro
0
482
∞
Realme GT2 Pro (Max Auto)
0
778
∞
OnePlus 10T
0
517
∞
OnePlus 10T (Max Auto)
0
819
∞
Samsung Galaxy S21 FE 5G
0
792
∞
Samsung Galaxy S21 FE 5G (before second slide)
0
385
∞
Color accuracy is also great, with the Professional mode producing the best results. We got an outstanding average dE2000 of just 0.8, whereas the maximum is only 1.7. There are no blue-ish whites or grays either. There's a color temperature slider at your disposal, so you can always adjust that to your liking and maybe keep the saturated colors of the default color mode.
HRR control
Since this is no LTPO display, granular refresh rate control is out of the question. There are three modes - Smart Switch, 120Hz and 60Hz modes. The first two are almost identical as far as functionality goes. In both modes, the system would render at 60fps if you are not interacting with the display or you've opened a video player app, such as Netflix, YouTube or the default Gallery app.
However, it turned out that most third-party apps we tried were locked at 60fps when the Smart Switch mode was active, while the 120Hz mode fixed this issue. So given that the 120Hz mode is still somewhat dynamic, we recommend using this mode to ensure all third-party apps take advantage of the HRR display.
Battery life
Having the same 4,700 mAh battery as the iQOO 9 Pro, identical software and running on similar hardware (Snapdragon 8+ Gen 1 vs. Snapdragon 8 Gen 1), one would expect similar battery results. However, the iQOO 9T blows the Pro out of the water with an exceptional overall endurance score.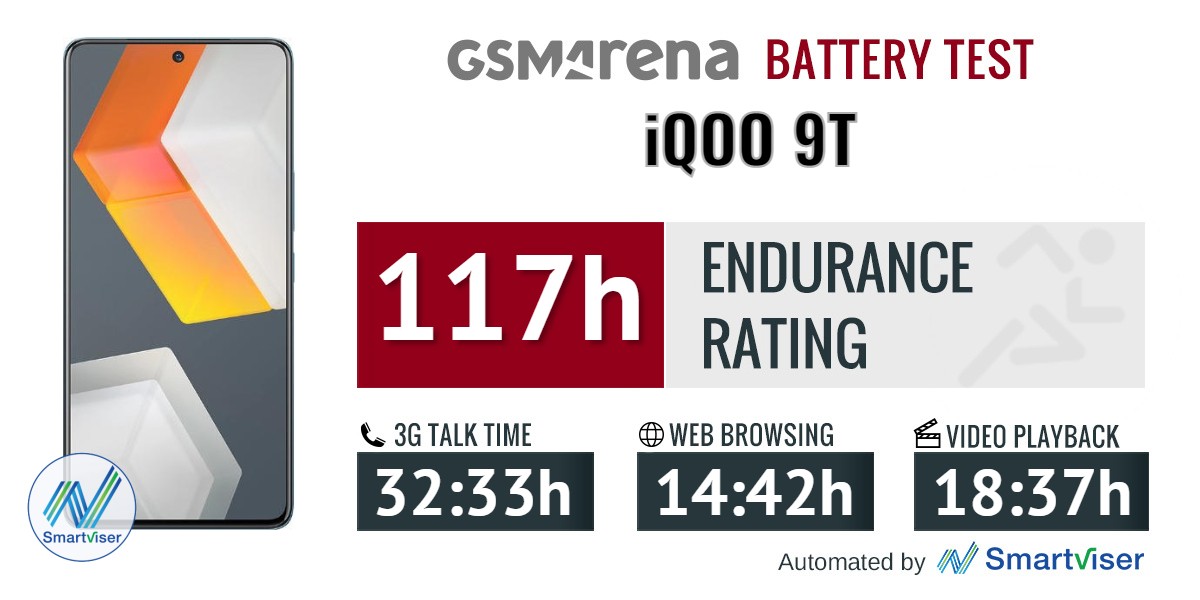 Our battery tests were automated thanks to SmartViser, using its viSerDevice app. The endurance rating denotes how long the battery charge will last you if you use the device for an hour of telephony, web browsing, and video playback daily. More details can be found here.
The iQOO 9T got a solid standby runtime, long 3G call runtime and, more importantly, great screen-on scores in our web and video battery tests. But since the difference between the iQOO 9T and the 9 Pro is big, we would like to think the software is the one to blame. At the time of writing the iQOO 9 Pro review, the software wasn't final so vivo improved in this regard quite a bit.
Aside from its Pro sibling, the 9T outperforms many of its direct rivals too.
Video test carried out in 60Hz refresh rate mode. Web browsing test done at the display's highest refresh rate whenever possible. Refer to the respective reviews for specifics. To adjust the endurance rating formula to match your own usage patterns check out our all-time battery test results chart where you can also find all phones we've tested.
Charging speed
Interestingly enough, we found a difference between the 9T and the 9 Pro's charging times, albeit much smaller. The 120W charging brick is capable of topping up the battery in just 18 minutes from 0%, which is about three minutes faster than the iQOO 9 Pro and a lot faster than most similarly priced smartphones.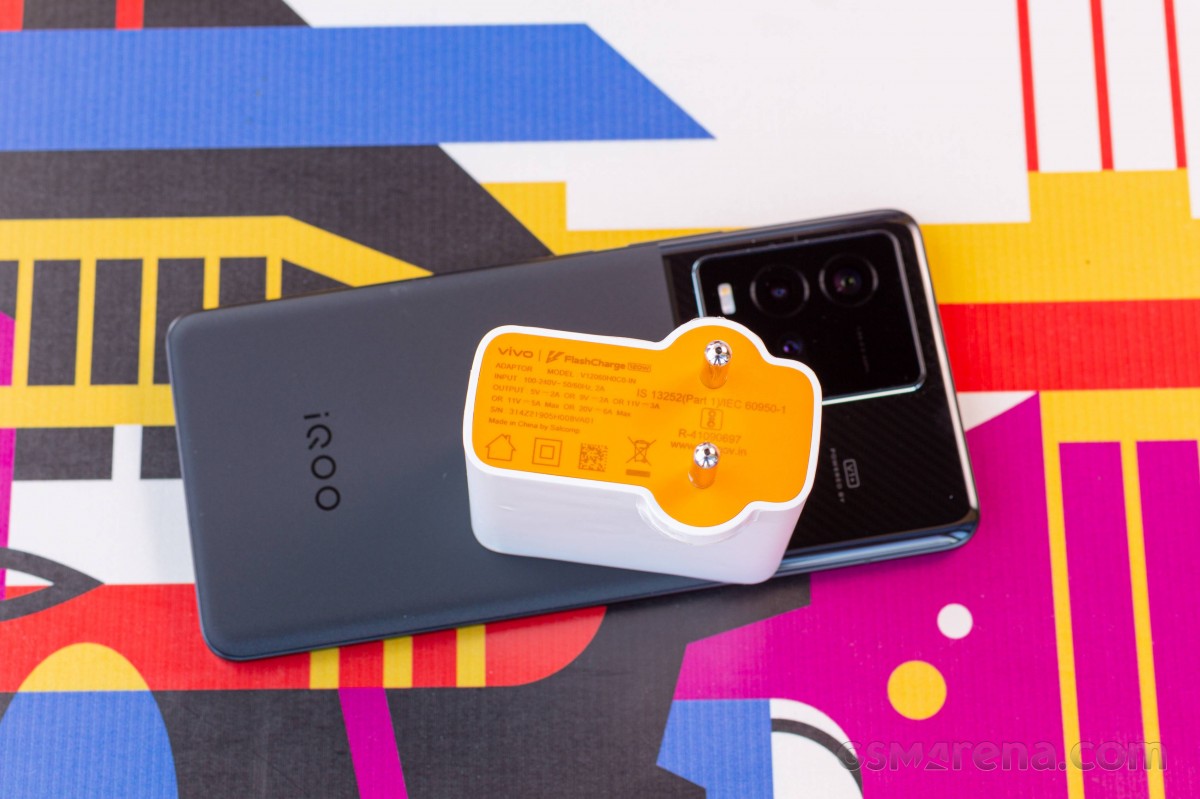 It's important to note that the 120W charger works well with the Power Delivery 3.0 protocol capping at 65W. However, the provided USB-C to USB-C cable isn't PD-compliant, so you have to get yourself a suitable third-party cable to charge your PD-enabled devices using the 9T's charging brick.
30min charging test (from 0%)
Higher is better
iQOO 9 Pro
100%
iQOO 9
100%
iQOO 9T
100%
OnePlus 10T
100%
IQOO 9 SE
91%
Realme GT2 Pro
91%
Google Pixel 6 (65W)
48%
Time to full charge (from 0%)
Lower is better
iQOO 9
0:16h
iQOO 9T
0:18h
OnePlus 10T
0:19h
iQOO 9 Pro
0:21h
IQOO 9 SE
0:38h
Realme GT2 Pro
0:40h
Google Pixel 6 (65W)
1:50h
Speakers
Just like its close siblings, the iQOO 9T packs a pair of stereo speakers in the most common setup - a bottom-firing main speaker and a secondary one that doubles as an earpiece. To our surprise, we got different results from the previous two iQOO 9s, suggesting that the OEM used different ones for the 9T. It's somewhat of a mixed bag, though.
Overall loudness is underwhelming with just -28.8 LUFS, but the phone does impress with sound quality. At higher volumes, the highs are just a tad distorted, but tracks sound clear and full overall. The bass is quite prominent and gives the music a lively and warm vibe. Those are definitely one of the good-sounding speakers out there and we would trade loudness for sound quality any day. And it seems iQOO is on the same page.
Use the Playback controls to listen to the phone sample recordings (best use headphones). We measure the average loudness of the speakers in LUFS. A lower absolute value means a louder sound. A look at the frequency response chart will tell you how far off the ideal "0db" flat line is the reproduction of the bass, treble, and mid frequencies. You can add more phones to compare how they differ. The scores and ratings are not comparable with our older loudspeaker test. Learn more about how we test here.