A traditional triple camera setup
The iQOO 9 SE has a pretty standard triple camera setup with a 48MP main camera, a 13MP ultrawide and a 2MP depth sensor.
That's a bit of a step down from the iQOO 9 Pro with its much fancier 50MP main shooter with gimbal OIS, 16MP telephoto and 50MP ultrawide with autofocus. Even the vanilla iQOO 9 is out of reach with its gimbal OIS and telephoto camera. In contrast, the iQOO 9 SE has only OIS on its main camera.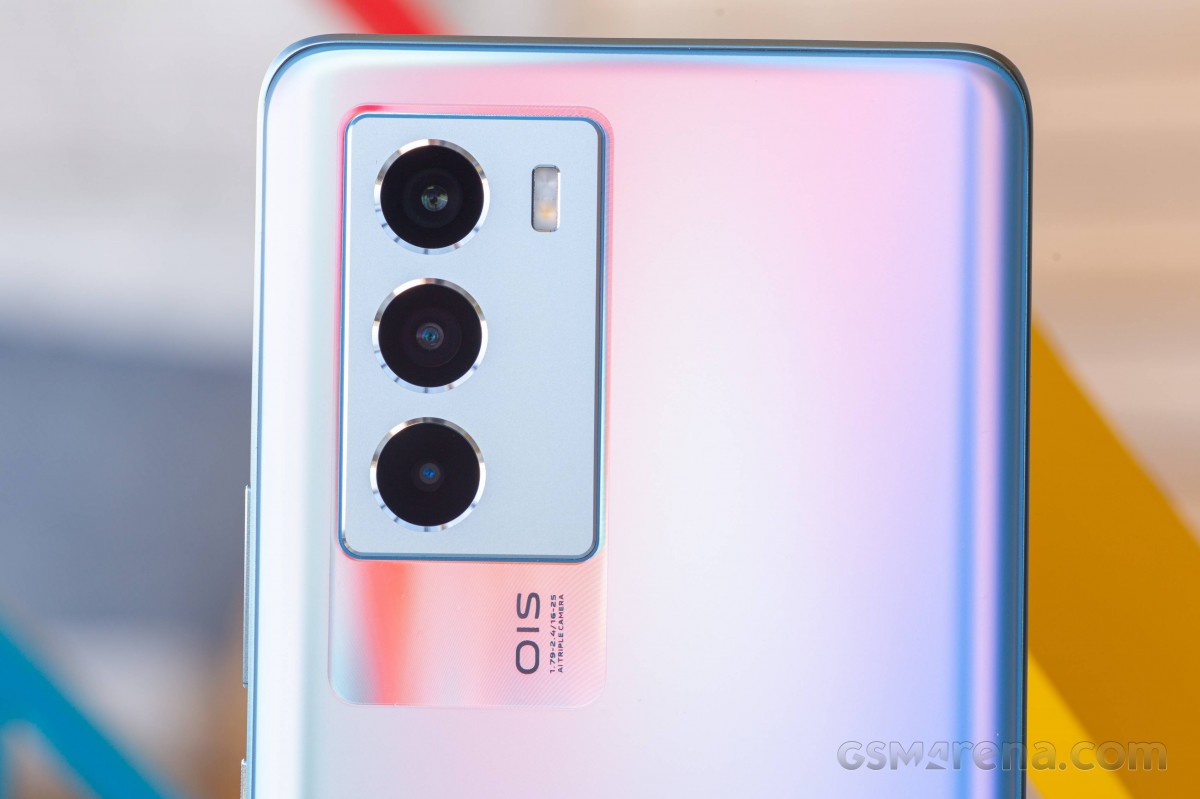 We did manage to dig up some info on the particular camera hardware inside the iQOO 9 SE. The main 48MP snapper is using a Sony IMX598 sensor. It is a Quad Bayer unit with 2x1 on-chip lens PDAF, 1/2" size and 0.8 µm individual pixels. It is sitting behind an f/1.8 lens and has OIS in this configuration. The Sony IMX598 is specifically customized for vivo and is also found in devices like the vivo X50, X50 Pro, X60, X60 Pro, and the iQOO 7.
The 13MP ultrawide camera is powered by a Samsung S5K3L6 sensor. It has a 1/3.1" optical format with 1.12 µm individual pixels. It is sitting behind an f/2.2 lens in the iQOO 9 SE, and it does have autofocus, which is a rare sight in this price range.
The 16MP, f/2.0 selfie camera seems to be using a Samsung ISOCELL S5K3P9SP sensor - 1/3" size and 1.0 µm pixels. There is no selfie autofocus on the iQOO 9 SE.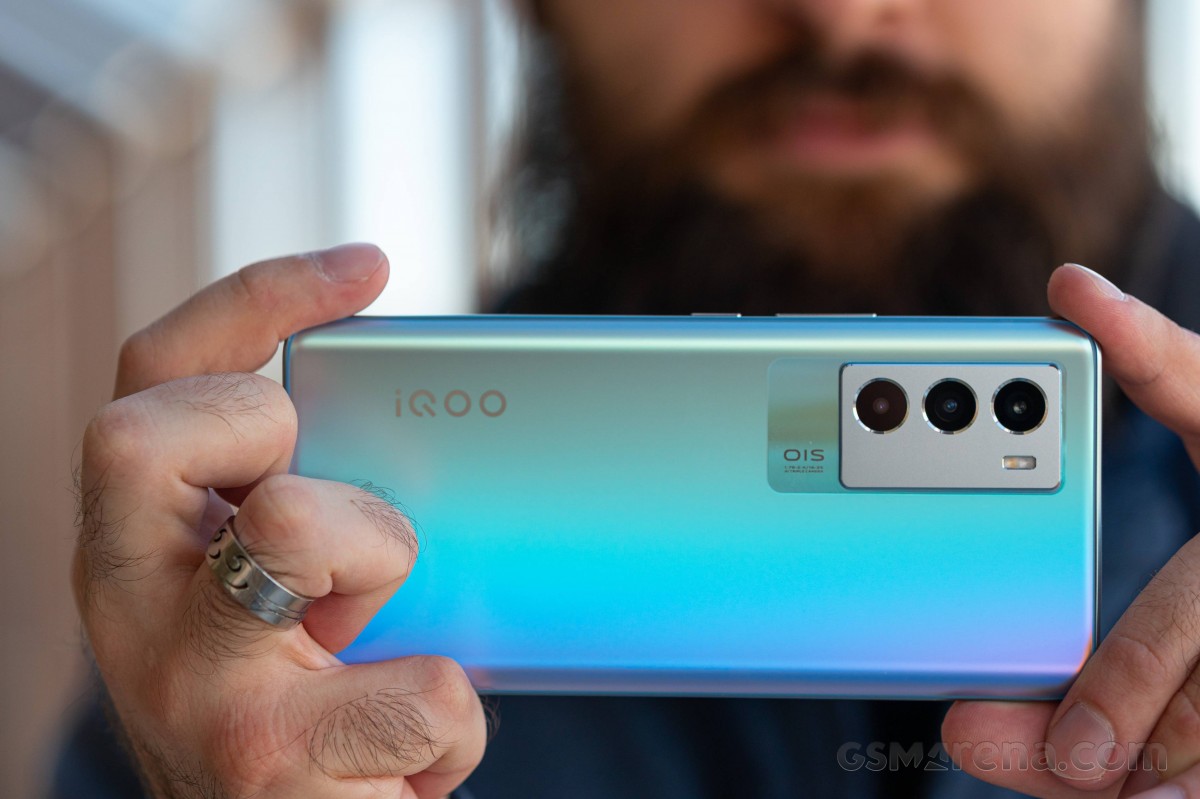 There default camera UI is a familiar Funtouch OS affair. The main interface has a zoom/camera selector on one side. There are no fancy fisheye or similar modes like on the iQOO 9 Pro, just a straight-forward 0.6x, 1x and 2x affair.
Accessing the Super Macro mode is done from the flower icon next to the hamburger menu, but it has an auto-on option, too, that kicks in when you get very close to a subject.
The main modes are arranged in carousel formation, and you can switch between them by swiping. The More tab lists the rest of the modes, and from there, you can also customize the modes you have available in the viewfinder.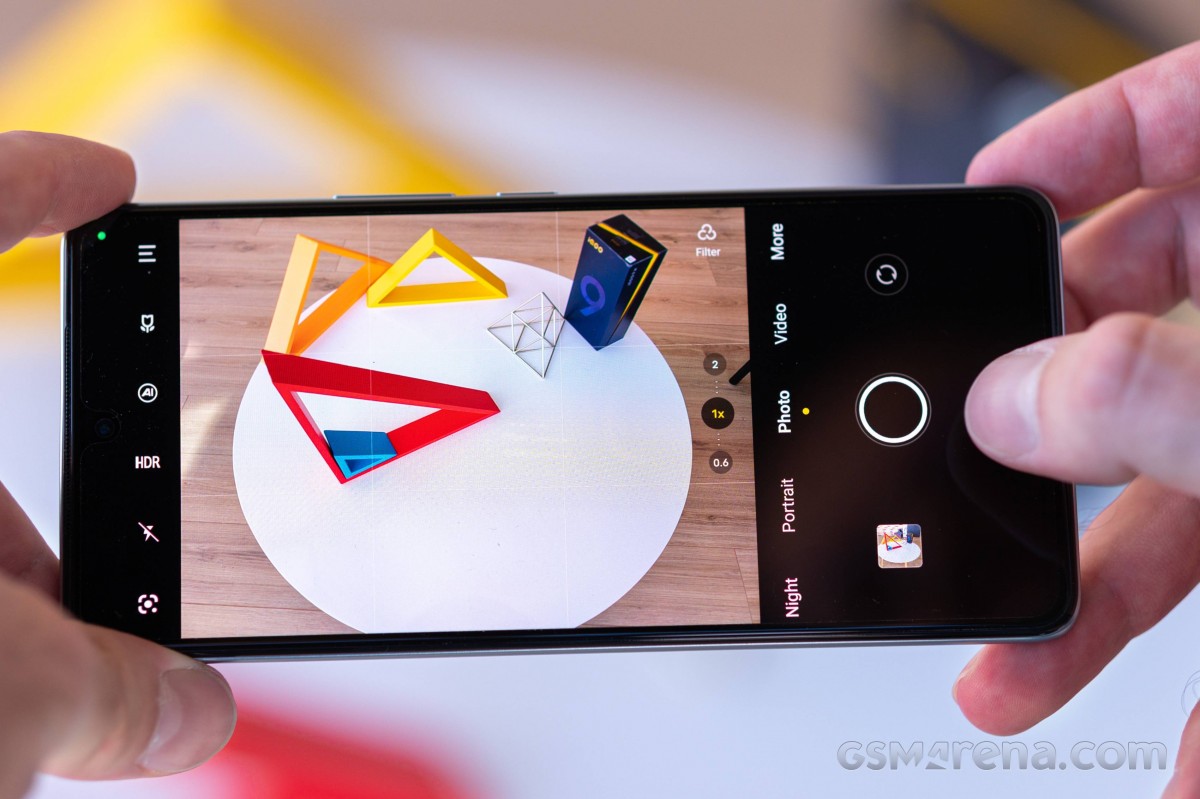 The Pro mode gives you all the freedom to adjust the autofocus, white balance, shutter speed, ISO and exposure. You can do so on both the ultrawide and the main camera. There's helpful information explaining all of the options above if you are just getting into photography. Shooting in RAW is also an option. And there are also optional readouts like a histogram, waveform and audio levels you can enable for pro capture mode.
Photo quality
Let's kick things off with samples from the main camera. Since it is a Quad-Bayer unit, it captures 12MP stills by default. Overall, these look pretty good, with plenty of resolved detail, practically no noise, and vivid colors.
In fact, the defining characteristic of these stills is arguably just how saturated the colors are. Great if you are into that look or want to show off the "pop" on your OLED display, but saturation is cranked way up, and colors are anything but natural.
Also, there is plenty of noticeable sharpening applied across the frame, combined with some smoothing of certain surfaces, which leads to a plasticky look from up close with a texture quite lacking.
These photos have been taken with the AI option ON, as we like to shoot with all options in their default state as they come out of the box.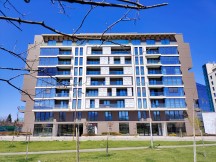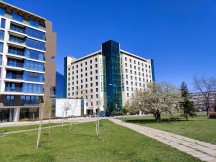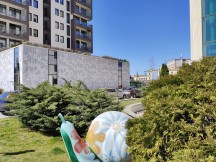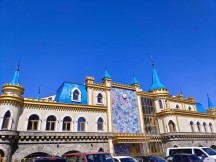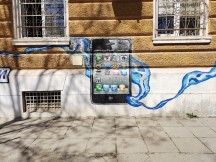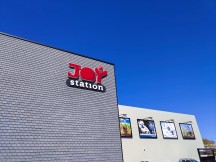 iQOO 9 SE: 12MP main camera samples
Switching over to full-res 48MP mode really illustrates just how far overboard the processing is in regular photo mode. The 48MP stills look much more natural - colors aren't nearly as saturated, there isn't nearly as much sharpening, and more surface texture comes through.
Dynamic range is not that wide in both cases but it's not a showstopper. In this mode, you'd have to deal with slightly slower capture times and much larger file sizes by going for 48MP mode, but you also get some extra fine detail in return. While we don't typically recommend high-res modes on Quad-Bayer cameras, using this one has its benefits - at least in daylight.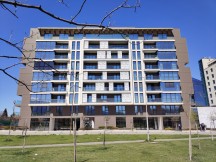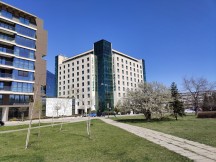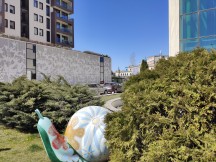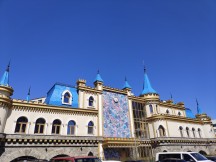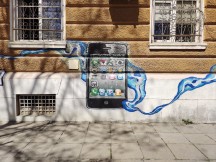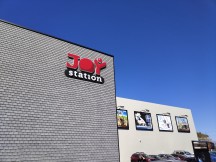 iQOO 9 SE: 48MP main camera samples
The iQOO 9 SE lacks a dedicated telephoto camera, but it can still crop and zoom from the main cam. At 2x, shots look nearly identical to 1x ones and are perfectly usable.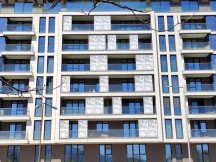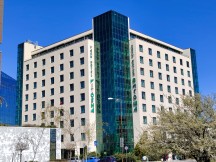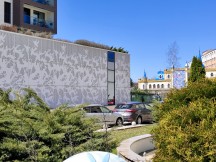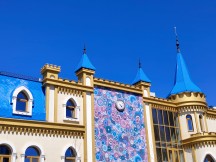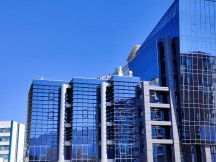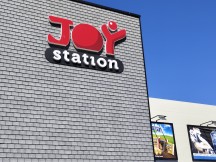 iQOO 9 SE: 12MP 2x zoom main camera samples
The main camera is also responsible for capturing portrait shots. In conjunction with the 2MP depth sensor, of course. Portraits are a bit of a mixed bag mainly does to the general shortcoming of the primary camera and its processing. Faces tend to look soft and with little texture, even when perfectly in focus. All of the color reproduction and dynamic range issues are still present as well.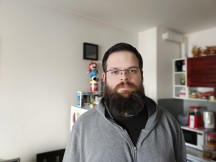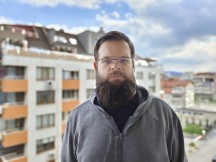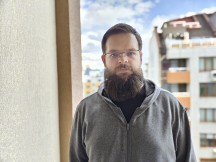 iQOO 9 SE: 12MP main camera portrait samples
Subject detection and separation are decent but far from perfect. The quality of the bokeh effect is good. No complaints there.
Portraits work decently well on non-human subjects, but it does take some fiddling to get the detection to pick up your subject precisely and in its entirety.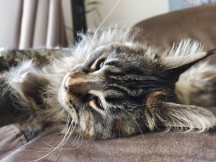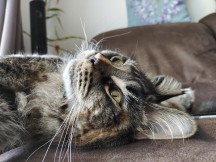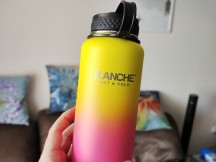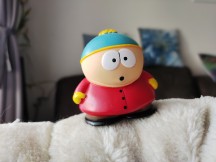 iQOO 9 SE: 12MP main camera portrait samples: non-human subjects
Before we move on, here's how the main camera stacks up against the competition in our extensive photo compare database. We made sure to include samples in both the default 12MP mode and the full-res 48MP one. Pixel-peep away.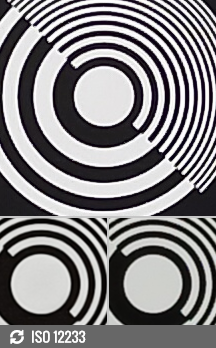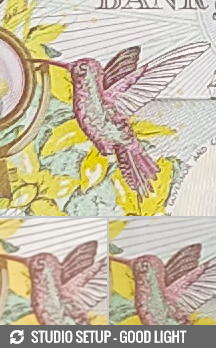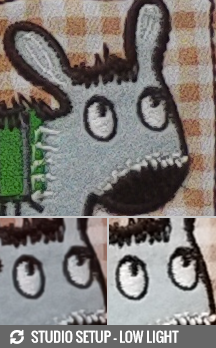 iQOO 9 SE against the Xiaomi Redmi Note 11 Pro+ 5G and the Xiaomi Poco X4 Pro 5G in our Photo compare tool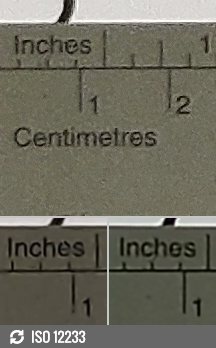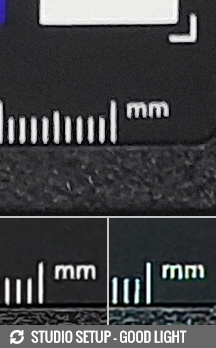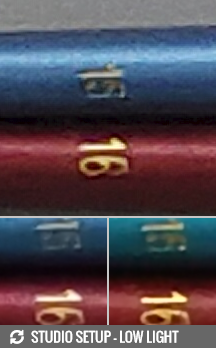 64MP: iQOO 9 SE against the Xiaomi Poco F3 and the Infinix Zero 5G in our Photo compare tool
The 13MP ultrawide camera offers solid performance for the class. The detail is decent, and sharpening is applied moderately. And while the colors are still far from realistic and quite saturated here as well, at least that makes the look very similar to the main camera, which is a desired trait.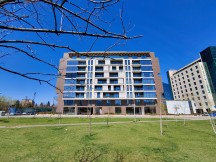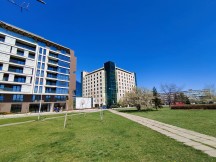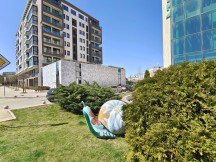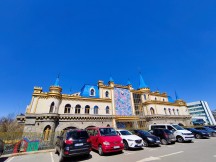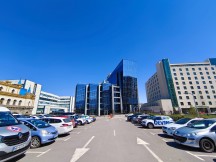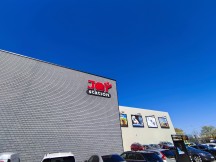 iQOO 9 SE: 13MP ultrawide camera samples
The iQOO 9 SE lacks a dedicated macro camera too. Its ultrawide camera has autofocus and is able to focus surprisingly well at very short distances, though. A special macro mode facilitates this, and you can either flip it on manually or wait for the impressively-consistent auto-detection to kick in.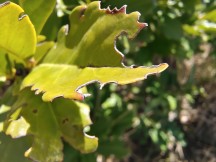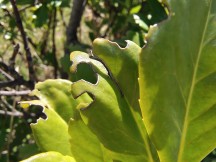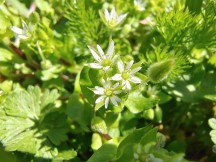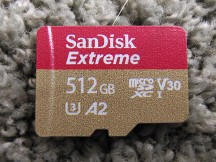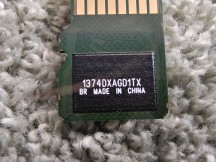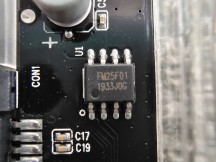 iQOO 9 SE: 13MP ultrawide camera macro samples
Honestly, these macros look better than most similar shots from a dedicated, fixed-focus, lower-res macro cam, like the ones you typically see these days. The iQOO 9 SE definitely doesn't need more hardware for this job and does great with the ultrawide.
The 16MP selfie camera offers solid overall quality. There is a decent amount of detail, and the colors look nice and natural. Even though there is no autofocus, the focal plane is pretty wide and forgiving.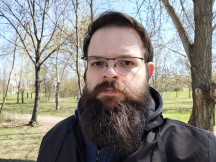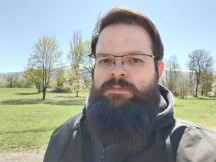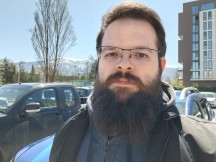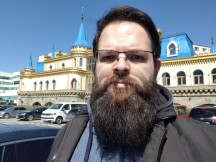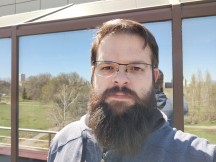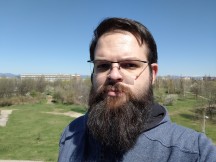 iQOO 9 SE: 16MP selfie camera samples
Portrait mode for selfies works well enough. The subject detection and separation are sloppy at times compared to portraits with the main cam and the depth sensor. Other than that - the same great look as regular selfies.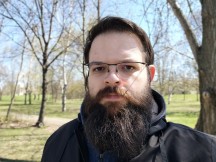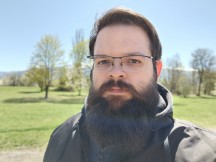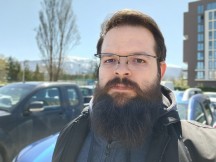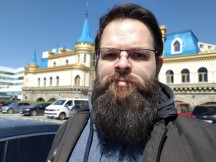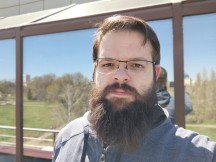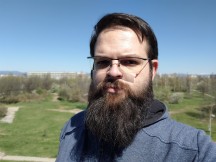 iQOO 9 SE: 16MP selfie camera portrait samples
Video quality
The iQOO 9 SE can capture video at up to 4K@60fps on its main camera and 1080p@30fps on the ultrawide. Pretty standard considering its hardware. In terms of additional video capture features and options, you can choose between the h.264 codec or the higher compression of h.265 (HEVC) if you want to save space. The iQOO 9 SE also offers a few motion autofocus options like tweaks to Eye or Body autofocus, which is not something you typically see on phones.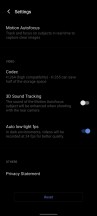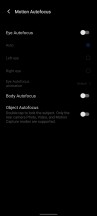 Advanced video capture options
It can also do 3D sound tracking or, in other words, try its best to match audio and video focus. There is also an automatic drop down to 24fps for low-light video. This mode triggers when the scene is really dark, and it gives the iQOO 9 SE to drop the shutter speed and apply some extra processing to the frames.
Video from the main camera looks very good in 4K. Detail is good and natural lookinng, and we also like the colors. The aggressive saturation applied to stills seems to be absent here or at least turned way down.
Limited dynamic range is arguably the biggest issue here. Highlights, in particular, are almost entirely clipped. And it's not simply a matter of the iQOO 9 SE overexposing the scene.
2x zoom clips from the main camera generally share most of the characteristics of 1x videos. The dynamic range issues are still there, and some noise tends to creep up in the frame too. Still, these videos are perfectly usable.
Here is how the iQOO 9 SE compares to other devices in our video compare database.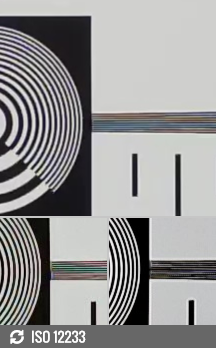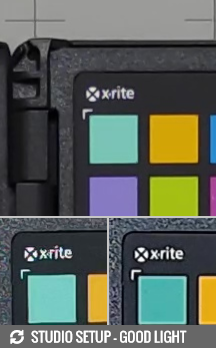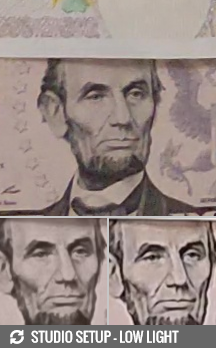 iQOO 9 SE against the Xiaomi Redmi Note 11 Pro+ 5G and the Samsung Galaxy A53 5G in our Video compare tool
1080p videos from the ultrawide camera have noticeably different colors and contrast. Detail is decent, though unimpressive and dynamic range is even more of an issue here.
The iQOO 9 SE has a couple of stabilization modes. A regular one works across both the main and ultrawide cameras and does not necessitate a lower capture resolution. It does a great job smoothing out most big shakes and bumps and doesn't crop too much away from the frame.
Unless you are trying to frame a video perfectly and film with a tripod, we would honestly just recommend having it on all of the time.
Then there is also "Ultra" stabilization. It only works in 1080p@60fps and records using the ultrawide camera. It also crops away a massive part of the frame.
Honestly, the results it offers aren't all that impressive, and we would much rather stick with regular EIS at 4K on the primary camera instead.
Finally, there is the selfie camera which can capture 1080p@30fps videos. These look good overall. Detail is above average, particularly for 1080p, and we like the color rendition.
Their biggest shortcoming is probably the limited dynamic range which means a lot of clipped and crushed detail. The framing is a bit tight. Also, there is no stabilization of any kind available for the selfie cam.
Low-light camera quality
The main camera holds up decently well in low-light conditions. It captures well-balanced shots with nicely boosted shadows, well-contained highlights, and an impressively even exposure rendering. Detail is pretty good too.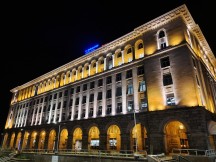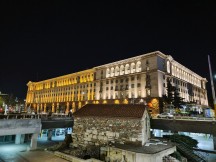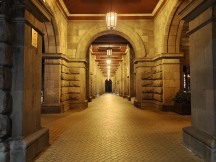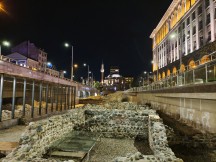 iQOO 9 SE: 12MP main camera low-light samples
2x zoom shots from the main camera are decent in low-light and tend to retain the quality characteristics of 1x ones. However, defects left behind due to the sharpening and noise reduction are easier to spot.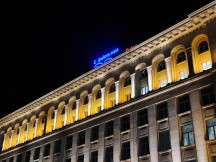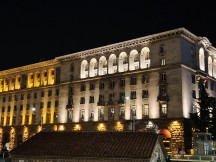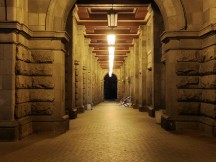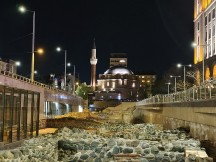 iQOO 9 SE: 12MP main camera 2x zoom low-light samples
The ultrawide camera is a bit fiddly in low-light conditions mainly since its autofocus is a bit slow and not entirely accurate or consistent in the absence of good light sources. If you are patient enough and do get a shot in focus, it looks decent, and noise is handled well.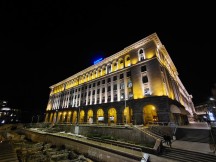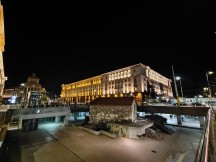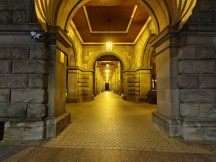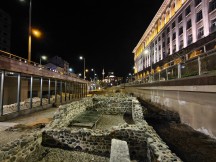 iQOO 9 SE: 13MP ultrawide camera low-light samples
The iQOO 9 SE has automatic night mode that kicks in through the Ai scene detection and a dedicated camera mode. The two don't differ drastically in terms of shooting time and end results, which is to say that all of our other low-light samples already have some night mode processing applied. Still, you generally stand to gain a bit of quality by shooting in the dedicated mode. These photos tend to be just a bit cleaner with less noise and softness than the regular ones.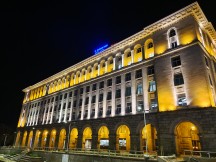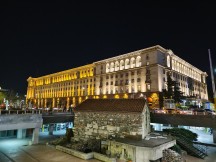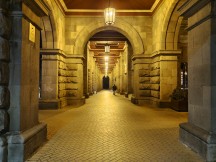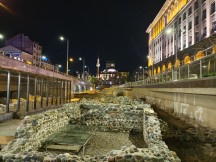 iQOO 9 SE: 12MP main camera night mode samples
Night mode never actually managed to ruin a shot for us, so if you have the patience and a steady hand, there is no reason not to use it.
The same is generally true for night mode on the ultrawide camera. You still need to be mindful of its slower and less accurate fucus, but these shots seem a bit cleaner and sharper as a whole. Don't expect miracles, though.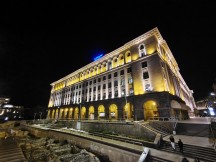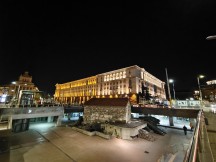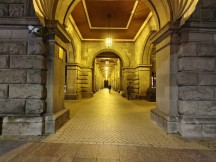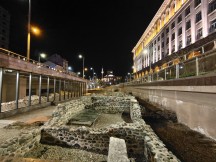 iQOO 9 SE: 13MP ultrawide camera night mode samples
The 16MP selfie camera performs surprisingly well in low-light conditions. Detail is great, and the wide and relatively forgiving focal plane typically leaves the subject in focus. Any dynamic range and skin texture deficiencies we noted with daylight selfies are a lot easier to accept and ignore in low=light conditions.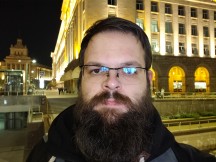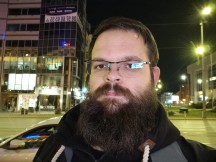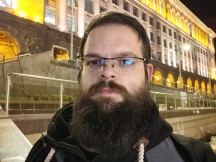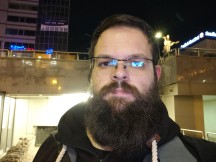 iQOO 9 SE: 16MP selfie camera low-light samples
The iQOO 9 SE has an "Aura screen light" feature, which basically mimics a selfie flash by lighting up parts of the display. It works rather well. Though, wearing glasses does make for an odd effect. There is a night mode available for selfies as well. It can make for a slightly more natural look but sometimes tends to smooth over and destroy some of the skin texture, making it a bit of a mixed bag.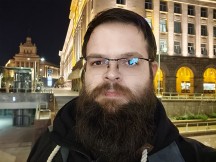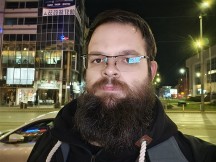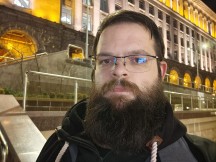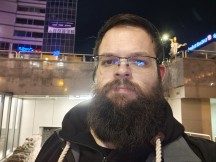 iQOO 9 SE: 16MP selfie camera night mode samples
Low-light video from the main camera looks great. There is plenty of detail, light sources are well-contained and noise, while present, is relatively low. Colors are a bit oversaturated, but that's not a major issue.
At 2x zoom, noise becomes more of a problem, and light sources tend to get blown out more frequently. Other than that, these clips are perfectly usable. The same can pretty much be said about the ultrawide camera. It handles light sources worse still and has more noise also less overall detail. Though, considering its lower 1080p video resolution, we can't complain. Colors are exaggerated but not exactly a game-breaker.