Funtouch OS 12 on top of Android 12
Vivo is still amidst a major software transition, for lack of a better term. Its new OriginOS is already a thing but still exclusive to just the Chinese market. Globally, the FuntouchOS skin was fairly recently bumped up to version 12, originally with an Android 11 core underneath, but more recently with Android 12. Independent or not, iQOO has been in pretty much the same boat with its devices, including the iQOO 9 SE.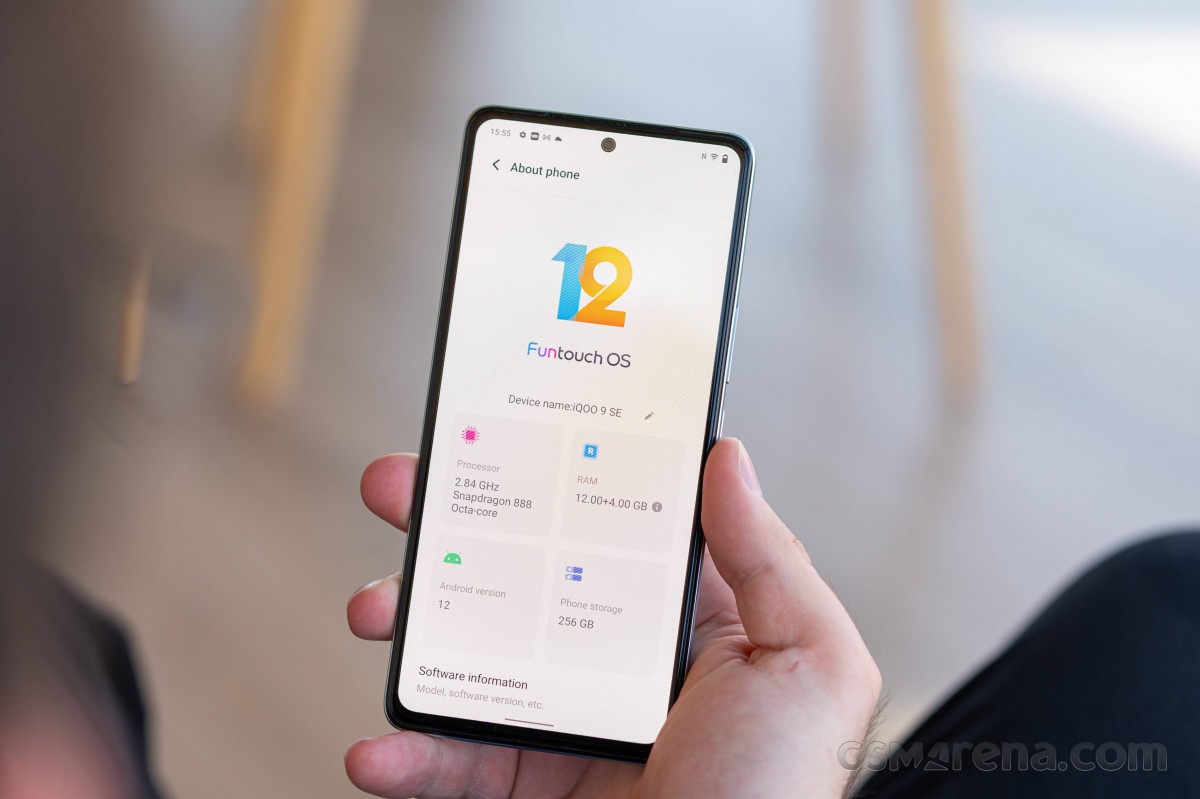 You can find more than a few traces of the new Android core scattered about here and there, like Google's new privacy-focused green notification dot that indicates when the camera or microphone are being used or the increased "bounce back" animations on most UI components.
Overall, however, the UI and UX are distinctly custom, courtesy of Funtouch OS 12. The stock-ish-looking UI elements that were kind of the norm in FunTouch OS 11 have been substituted with a highly customized and customizable UI. Some of the changes are nifty, too, including the system menus being tailored towards a single-handed use. Some of the menus' content moves to the lower half of the screen when you swipe down, but not all, which is odd. The default selection of widgets has been revamped to make them more intuitive and easier to use.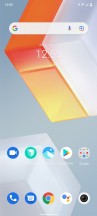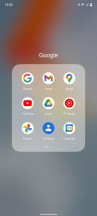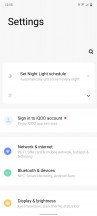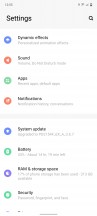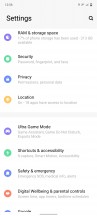 Lockscreen • Homescreen • Folder view • Settings menu
The recent apps menu, for example, has one of those useful proprietary features. You can choose between the standard carousel formation and a horizontal tiles layout - sort of like MIUI, only scrollable horizontally.
The app drawer, although stock-ish looking, has an expandable recommended apps category on the top (most commonly used ones), whereas using the vertical scroller on the right would highlight the apps beginning with the selected letter.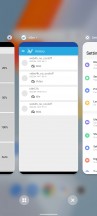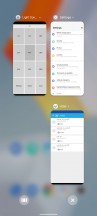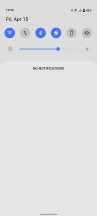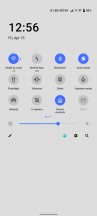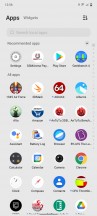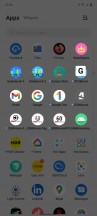 Recent apps • Recent apps • Notification shade • Quick toggles • App drawer
The notification shade has been revamped, too, in terms of looks mostly - the quick toggles are now square-shaped, and the accent color around the menus (including the quick toggles icons) is blue, and there's no way to change either. Applying different themes would only change the icon pack and wallpaper.
The rest of the UI gets plenty of love too. In the Dynamic effects sub-menu, vivo has grouped quite a few customizable aspects of the home screen, lock screen, animation effects, etc. There are even various charging and facial recognition animations.
The Ambient light effect gets more granular control with the option to enable it only during a limited time period, or you can choose which apps to trigger it.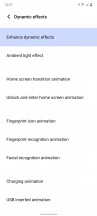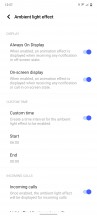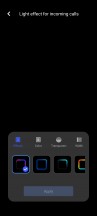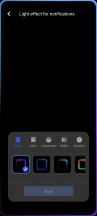 Dynamic effects • Ambient light effect
The always-on display settings are in a different sub-menu, however, but the phone still gives you plenty of options to tinker with - a wide selection of animations, clock styles, colors, backgrounds, the lot.
You can also change the animation of the fingerprint scanner, the face unlocks and even the charging animation.
Speaking of the fingerprint scanner, there's no way to summon the fingerprint reader icon on a locked screen unless the motion sensor detects movement - sure, it's very sensitive, but still. Single tap doesn't work, whereas the double-tap-to-wake function is buried in the Smart motion menu. However, if you get familiar with the scanner's position, you can just rest your fingertip on top and wait for the unlock. Which, by the way, is snappy and reliable. No issues there.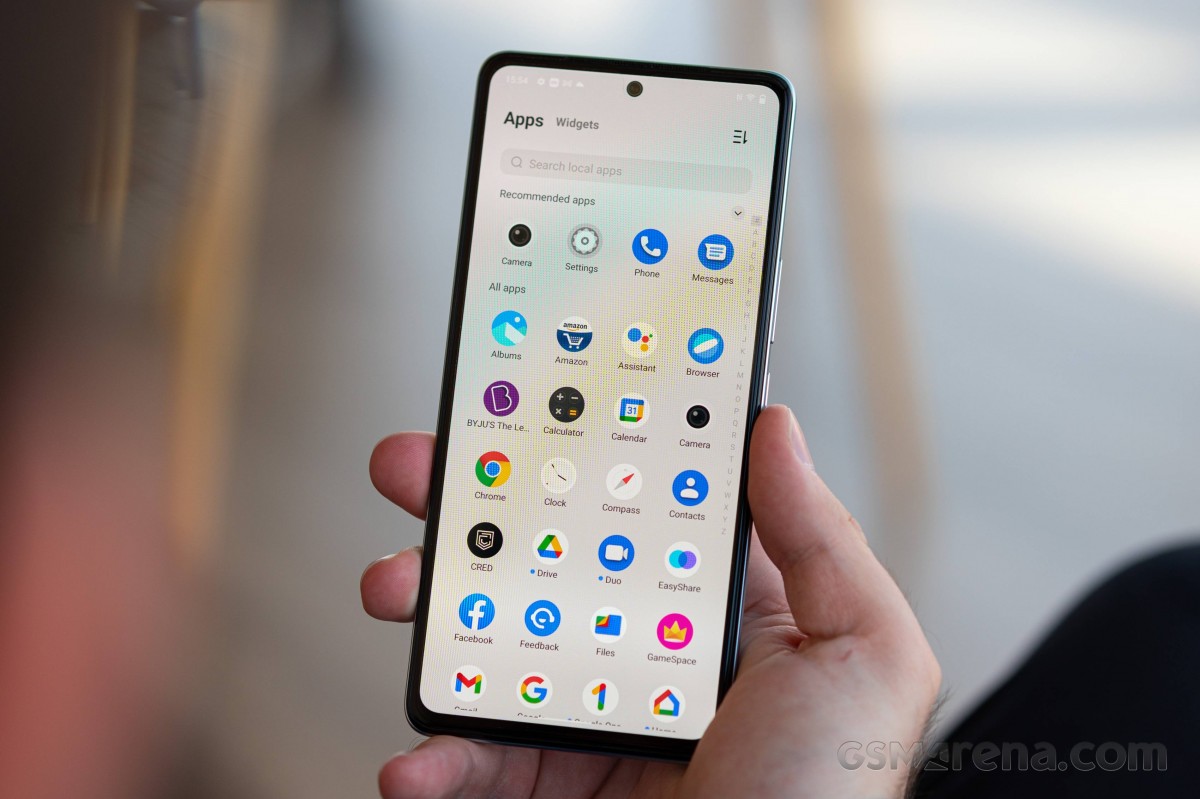 Also potentially worth noting - unlike the iQOO 9 Pro, the iQOO 9 SE lacks a fancy ultrasonic fingerprint reader and has a simpler optical under-display unit instead. The reader itself is snappy and reliable but is notably smaller in size, which is likely why the convenient Quick Action feature from the iQOO 9 Pro is absent on the SE. It allows the iQOO 9 Pro to have shortcuts on long pressing the fingerprint.
The Sound menu holds a few pleasant surprises. Just like Samsung, vivo is paying attention to people with hearing problems, and you can calibrate the sound to be heard by elderly people or those with impaired hearing. Additionally, notifications and calls get separate volume sliders. The vibration intensity can be adjusted for calls and notifications independently.
Some features are notably missing from this menu compared to the iQOO 9 Pro. Like Hi-Fi.
The Smart motion menu holds a handful of familiar screen-on and screen-off gestures along with some new additions. One of those requires you to wave in front of the screen during an incoming call to answer hands-free - useful if you're cooking, for example.
Holding the volume down key can be used to launch an app or do a certain task, although the latter list is limited to launching the camera app, turning the torch on/off, or starting recording audio. The so-called Quick action feature doesn't work when playing music for obvious reasons. Why isn't there a double-press option for Quick action, though?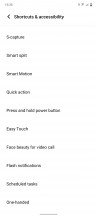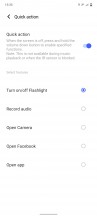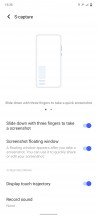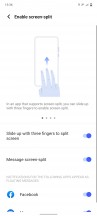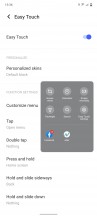 Shortcuts and accessibility • Quick action • S-capture • Screen-split • Easy Touch
There is a bunch of proprietary system apps that compete with the Funtouch 12 app suite. These include Albums, Browser, iManager, Music and Video.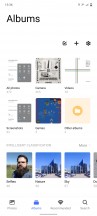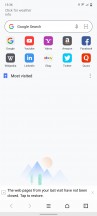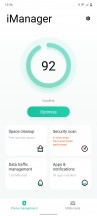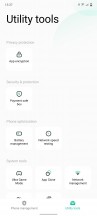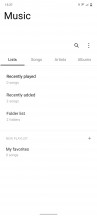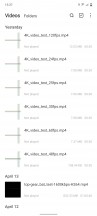 Albums • Browser • iManager • iManager • Music • Videos
There are plenty of themes available through the Themes app. Unfortunately, the theming engine isn't quite in-depth as on some other Android skins, and you can't change certain things like the quick toggles. Also, many of the themes are paid. There is at least a wide variety.
All in all, the new Funtouch 12 runs great, and you can even make it snappier by disabling most of the animations and speeding up the transitions. Yes, Funtouch 12 gives you the freedom to do so. However, those that want to use Android as Google intended might not be okay with the colorful iconography and the highly customized system menus and animations.
Performance and benchmarks
As the SE branding suggests, the iQOO 9 SE is a step-down in terms of specs and hardware compared to the vanilla iQOO 9, which, in turn, is a step down from the iQOO 9 Pro - a true 2022 flagship rocking Qualcomm's latest and greatest Snapdragon 8 Gen 1 chipset. As we mentioned, though, the iQOO 9 SE doesn't take the typical approach when it comes to a hardware downgrade. Rather than going for a mid-range current chip, it uses last year's top-dog Snapdragon 888. Definitely a costlier option, despite the age of the chip, but undoubtedly a more beneficial one for the end-user. Since even after a year or so, a flagship chipset still typically has more "flagship" features under its belt and plenty of performance to go around.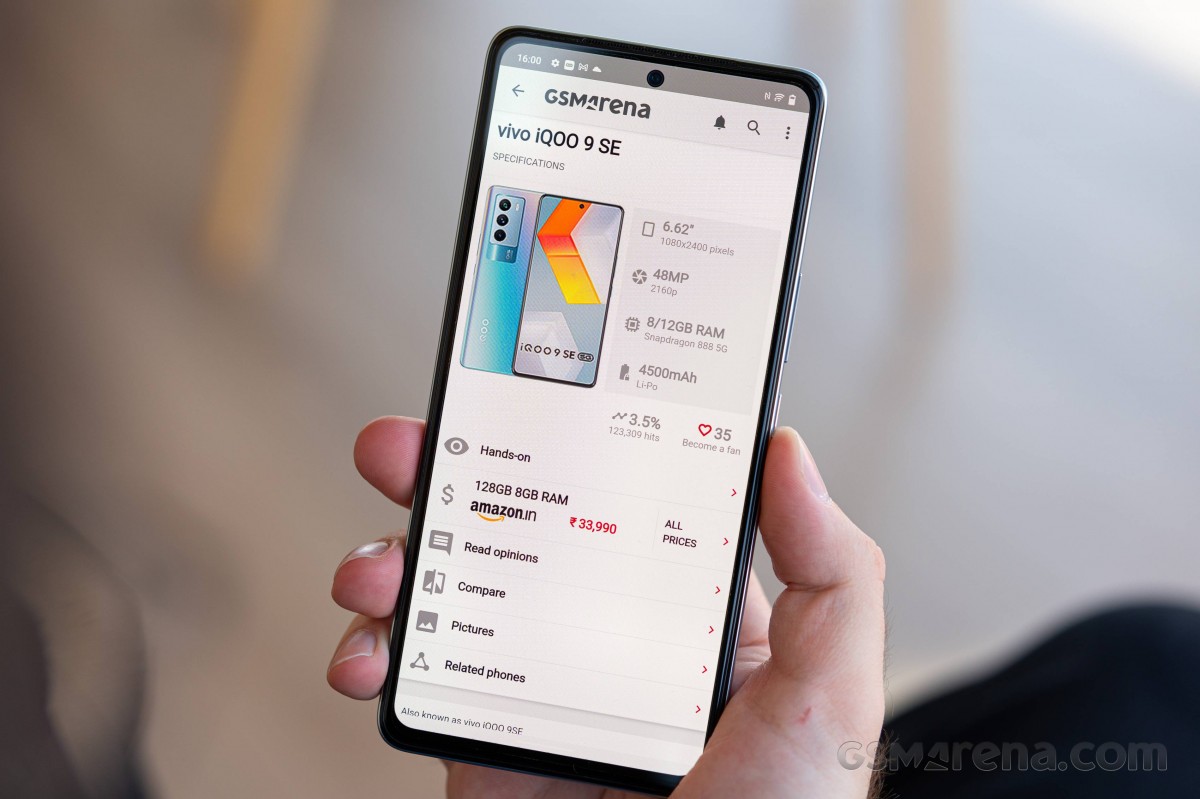 This is definitely the case with the Snapdragon 888 inside the iQOO 9 SE. It is a potent 5nm part with a 1x2.84 GHz Kryo 680 & 3x2.42 GHz Kryo 680 & 4x1.80 GHz Kryo 680 CPU setup, and an Adreno 660. In fact, the vanilla iQOO 9 SE simply uses the slightly overclocked Snapdragon 888+ variant, meaning that depending on cooling and thermal-throttling behavior, the two are likely to offer very similar real-world performance. The iQOO 9 SE pairs the potent Snapdragon 888 with either 8GB or 12GB of RAM and 128GB or 256GB of UFS 3.1 storage, respectively. Our review unit is the higher-tier 12GB+256GB one in Sunset Sierra color.
Let's kick things off with some CPU runs and GFXBench. We made sure to include some Snapdragon 8 Gen 1 phones in the charts as well, mostly to showcase that thermal management and performance tuning and profiles often play a crucial role, particularly with top-end chips that bump up against limits.
GeekBench 5 (multi-core)
Higher is better
ZTE nubia Red Magic 7
3855
vivo iQOO 7 Legend
3715
iQOO 9 Pro
3708
Realme GT2 Pro
3501
Realme GT2
3487
iQOO 9 SE
3442
Oppo Find X5
3331
Xiaomi 11T
2834
Samsung Galaxy A52s 5G
2801
OnePlus Nord 2
2792
Poco X3 Pro
2574
Realme 9 Pro+
2335
Xiaomi Redmi Note 11 Pro+ 5G
2225
Poco X4 Pro 5G
2063
Samsung Galaxy A53 5G
1891
Poco M4 Pro 5G
1797
GeekBench 5 (single-core)
Higher is better
ZTE nubia Red Magic 7
1246
Realme GT2 Pro
1238
iQOO 9 Pro
1231
vivo iQOO 7 Legend
1142
Realme GT2
1131
Oppo Find X5
1110
iQOO 9 SE
1095
Realme 9 Pro+
814
OnePlus Nord 2
814
Samsung Galaxy A52s 5G
771
Samsung Galaxy A53 5G
743
Xiaomi 11T
742
Xiaomi Redmi Note 11 Pro+ 5G
736
Poco X3 Pro
735
Poco X4 Pro 5G
687
Poco M4 Pro 5G
597
Case in point, we can clearly see devices like the Realme GT2 and GT2 Pro scoring close to one another regardless of racking a Snapdragon 888 and a Snapdragon 8 Gen 1, respectively. All the while, the nubia Red Magic 7, with its aggressive cooling and performance tuning, is squeezing a lot more out of the newer chip. But the same goes for the vivo iQOO Legend, which is not that far behind with a Snapdragon 888.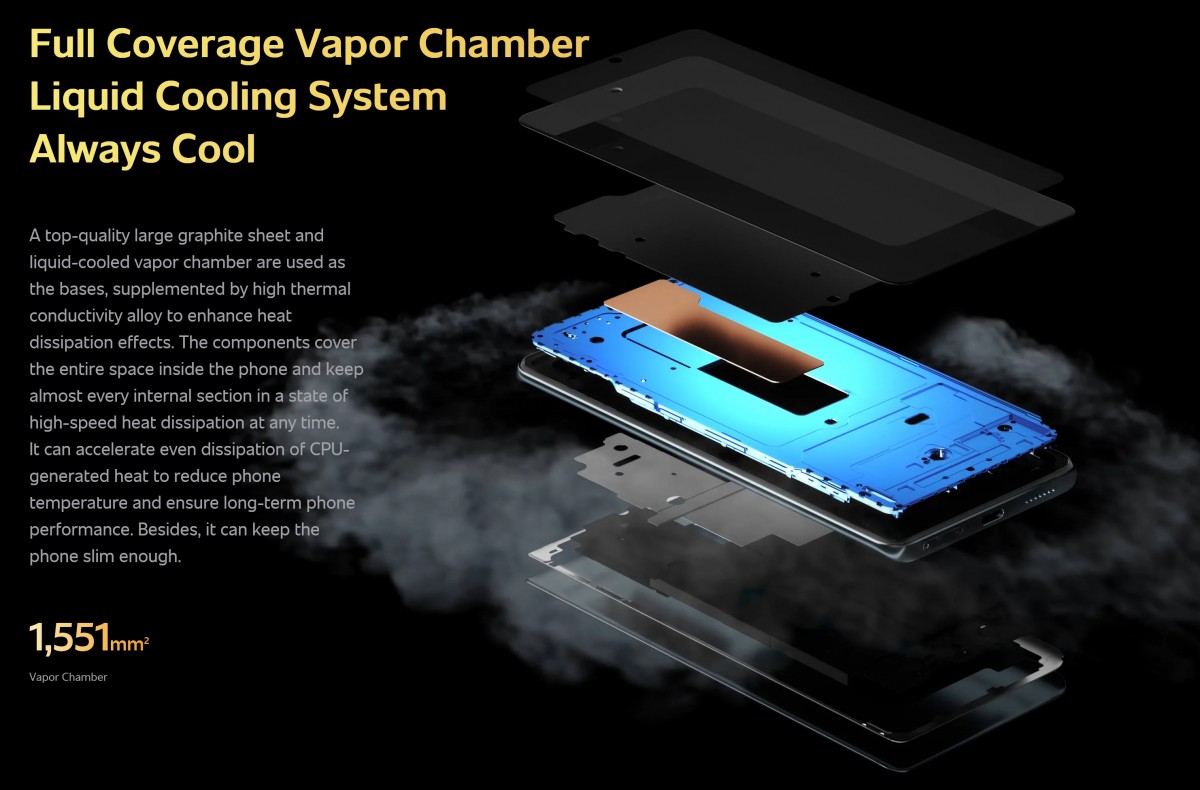 By the same logic, the iQOO 9 SE isn't actually squeezing every last drop of performance from the Snapdragon 888. Then again, it doesn't really need to push it to its thermal limits for anything other than superficial benchmark scores. The iQOO 9 SE actually boasts a sophisticated liquid vapor chamber setup with a graphite sheer and thermal-conductive alloys meant to keep the heat down in the long run. iQOO is clearly tuning its phone for stable, prolonged gaming instead of burst loads, which is also evident by its thermal-throttling behavior we will discuss in a bit. This is a much better approach overall.
And it's not like the iQOO 9 SE is a slouch. Not at all. AnTuTu and its much more compound loads offer very favorable results. These runs also take into account things like memory and storage and thus offer a slightly more realistic, even if still synthetic, the idea of the overall performance.
AnTuTu 8
Higher is better
iQOO 9 Pro
862324
iQOO 9 SE
727771
Poco F3
631850
OnePlus Nord 2
512164
Realme 9 Pro+
495096
Poco X3 Pro
453223
Samsung Galaxy A52s 5G
429675
Xiaomi Redmi Note 11 Pro+ 5G
375528
Poco X4 Pro 5G
335353
Samsung Galaxy A53 5G
329802
Poco M4 Pro 5G
296721
AnTuTu 9
Higher is better
ZTE nubia Red Magic 7
1056488
iQOO 9 Pro
997948
Realme GT2 Pro
966251
iQOO 9 SE
846231
Oppo Find X5
810715
Realme GT2
810512
OnePlus Nord 2
598022
Xiaomi 11T
590837
Samsung Galaxy A52s 5G
506432
Xiaomi Redmi Note 11 Pro+ 5G
437872
Realme 9 Pro+
416031
Poco X4 Pro 5G
384646
Samsung Galaxy A53 5G
379313
Poco M4 Pro 5G
353663
Speaking of taking another aspect of the hardware into account, the Adreno 660 is no slouch when it comes to pushing pixels. It has already proven its salt in the past. In the iQOO 9 SE, it only needs to render a FullHD+ resolution of 10800 x 2400 pixels to saturate the native resolution of the display. We are only noting this since other competitive devices like the iQOO 9 Pro, and the Realme GT2 Pro actually have 1440p native panels, which are much harder to drive, and it shows in on-screen numbers.
GFX Aztek ES 3.1 High (onscreen)
Higher is better
ZTE nubia Red Magic 7
58
iQOO 9 SE
42
Oppo Find X5
40
Realme GT2
40
iQOO 9 Pro
36
Realme GT2 Pro
36
Xiaomi 11T
30
OnePlus Nord 2
30
Poco X3 Pro
26
Samsung Galaxy A52s 5G
19
Realme 9 Pro+
17
Samsung Galaxy A53 5G
15
Poco X4 Pro 5G
12
GFX Aztek ES 3.1 High (offscreen 1440p)
Higher is better
ZTE nubia Red Magic 7
43
Realme GT2 Pro
42
iQOO 9 Pro
40
iQOO 9 SE
29
Oppo Find X5
27
Realme GT2
27
Xiaomi 11T
21
OnePlus Nord 2
21
Poco X3 Pro
17
Samsung Galaxy A52s 5G
13
Realme 9 Pro+
11
Samsung Galaxy A53 5G
10
Poco X4 Pro 5G
7.8
GFX Aztek Vulkan High (onscreen)
Higher is better
ZTE nubia Red Magic 7
64
iQOO 9 SE
43
Realme GT2 Pro
39
Oppo Find X5
38
Realme GT2
38
iQOO 9 Pro
37
Xiaomi 11T
29
Poco X3 Pro
27
OnePlus Nord 2
26
Samsung Galaxy A52s 5G
20
Realme 9 Pro+
16
Samsung Galaxy A53 5G
15
Poco X4 Pro 5G
12
GFX Aztek Vulkan High (offscreen 1440p)
Higher is better
ZTE nubia Red Magic 7
48
Realme GT2 Pro
46
iQOO 9 Pro
44
iQOO 9 SE
30
Oppo Find X5
30
Realme GT2
30
Xiaomi 11T
20
OnePlus Nord 2
20
Poco X3 Pro
18
Samsung Galaxy A52s 5G
14
Samsung Galaxy A53 5G
10
Realme 9 Pro+
10
Poco X4 Pro 5G
8.1
Of course, if you want to compare graphical scores between devices, you need to do so with off-screen rendering tests to take the display resolution out of the equation. Even then, these scores are purely scientific since any modern game and game engine worth its salt is able to adjust resolution and detail on the fly to offer the best possible experience instead of just rendering the same scene and the native resolution with the same detail as a benchmark does.
GFX Car Chase ES 3.1 (onscreen)
Higher is better
ZTE nubia Red Magic 7
77
iQOO 9 SE
64
vivo iQOO 7 Legend
62
Realme GT2
56
Oppo Find X5
55
Realme GT2 Pro
48
iQOO 9 Pro
46
Xiaomi 11T
40
Poco X3 Pro
38
OnePlus Nord 2
38
Samsung Galaxy A52s 5G
28
Realme 9 Pro+
23
Xiaomi Redmi Note 11 Pro+ 5G
22
Samsung Galaxy A53 5G
19
Poco X4 Pro 5G
17
Poco M4 Pro 5G
13
GFX Car Chase ES 3.1 (offscreen 1080p)
Higher is better
ZTE nubia Red Magic 7
97
iQOO 9 Pro
95
Realme GT2 Pro
95
iQOO 9 SE
73
vivo iQOO 7 Legend
70
Oppo Find X5
69
Realme GT2
68
Xiaomi 11T
47
OnePlus Nord 2
46
Poco X3 Pro
45
Samsung Galaxy A52s 5G
33
Realme 9 Pro+
27
Xiaomi Redmi Note 11 Pro+ 5G
25
Samsung Galaxy A53 5G
23
Poco X4 Pro 5G
20
Poco M4 Pro 5G
16
GFX Manhattan ES 3.1 (onscreen)
Higher is better
ZTE nubia Red Magic 7
146
iQOO 9 SE
103
vivo iQOO 7 Legend
101
iQOO 9 Pro
84
Xiaomi 11T
72
Poco X3 Pro
67
Oppo Find X5
60
Realme GT2
60
Realme GT2 Pro
60
OnePlus Nord 2
57
Samsung Galaxy A52s 5G
49
Realme 9 Pro+
41
Xiaomi Redmi Note 11 Pro+ 5G
38
Samsung Galaxy A53 5G
35
Poco X4 Pro 5G
30
Poco M4 Pro 5G
23
GFX Manhattan ES 3.1 (offscreen 1080p)
Higher is better
ZTE nubia Red Magic 7
174
Realme GT2 Pro
165
iQOO 9 Pro
160
iQOO 9 SE
117
Oppo Find X5
115
Realme GT2
115
vivo iQOO 7 Legend
114
Xiaomi 11T
77
Poco X3 Pro
75
OnePlus Nord 2
75
Samsung Galaxy A52s 5G
56
Realme 9 Pro+
45
Xiaomi Redmi Note 11 Pro+ 5G
43
Samsung Galaxy A53 5G
38
Poco X4 Pro 5G
34
Poco M4 Pro 5G
26
Once we go down in intensity to some older OpenGL ES 3.0 tests we can really see the iQOO 9 SE spread its wings and post fps numbers well into the triple digits.
GFX Manhattan ES 3.0 (onscreen)
Higher is better
ZTE nubia Red Magic 7
163
iQOO 9 SE
118
vivo iQOO 7 Legend
117
iQOO 9 Pro
115
Xiaomi 11T
96
Poco X3 Pro
93
Samsung Galaxy A52s 5G
69
Oppo Find X5
60
Realme GT2
60
Realme GT2 Pro
60
OnePlus Nord 2
59
Xiaomi Redmi Note 11 Pro+ 5G
57
Realme 9 Pro+
56
Samsung Galaxy A53 5G
55
Poco X4 Pro 5G
42
Poco M4 Pro 5G
37
GFX Manhattan ES 3.0 (offscreen 1080p)
Higher is better
ZTE nubia Red Magic 7
263
Realme GT2 Pro
251
iQOO 9 Pro
236
Oppo Find X5
169
Realme GT2
168
iQOO 9 SE
165
vivo iQOO 7 Legend
160
OnePlus Nord 2
123
Xiaomi 11T
121
Poco X3 Pro
102
Samsung Galaxy A52s 5G
77
Realme 9 Pro+
68
Xiaomi Redmi Note 11 Pro+ 5G
64
Samsung Galaxy A53 5G
60
Poco X4 Pro 5G
47
Poco M4 Pro 5G
40
3D Mark paints a similar overall picture, with the iQOO 9 SE maxing out the Slight Shot Extreme runs, as expected and posting very similar, though granted slightly lower results than other Snapdragon 888 devices.
3DMark Wild Life Vulkan 1.1 (offscreen 1440p)
Higher is better
ZTE nubia Red Magic 7
10118
iQOO 9 Pro
9673
Realme GT2 Pro
9487
Realme GT2
5879
vivo iQOO 7 Legend
5873
Oppo Find X5
5851
iQOO 9 SE
5463
OnePlus Nord 2
4224
Xiaomi 11T
4172
Poco X3 Pro
3401
Samsung Galaxy A52s 5G
2491
Realme 9 Pro+
2296
Samsung Galaxy A53 5G
2292
Xiaomi Redmi Note 11 Pro+ 5G
2014
Poco M4 Pro 5G
1232
Poco X4 Pro 5G
1211
We actually have a theory as to why these particular lower scores might be happening. Unfortunately, it comes down to the poor and inconsistent handling of high refresh rate operation on the iQOO 9 SE. The phone and its Snapdragon 888 clearly have plenty of power to go around, but unfortunately, that doesn't translate to an excellent gaming experience due to poor refresh rate behavior. It is just wasted potential.
Other than that, you can expect nothing short of excellent performance in general and productivity tasks from the iQOO 9 SE.
As far as thermal management and throttling goes, the iQOO 9 SE does a good job of dissipating heat and can get a bit toasty on the surface with prolonged loads. Never actually uncomfortable to hold, though, like the "proper gaming phones" out there.
It is also clear that it is tuned well for long-term stable performance with a nice, gentle and controlled ramp down in performance as heat builds up. No sudden and jarring drops and a respectable amount of salvaged performance by the end of an hour-long all-core CPU load session. Great showing overall.