Gorgeous Super AMOLED display
The iQOO 9 SE has a very capable display. Not quite on the level of the vanilla iQOO 9, which has a 10-bit panel, nor the iQOO 9 Pro, with tits LTPO2 panel for a more dynamic refresh rate. Even so, the step down is a very reasonable one. You still get a Samsung Super AMOLED panel with a 6.62-inch diagonal and FullHD+ (1080 x 2400 pixel), 20:9 display. That works out to about a perfectly crisp 398 ppi.
Advertised brightness peaks at 1200 nits, which is stellar. Even though the iQOO 9 SE has 8-bit color, it still retains its HDR10+ certification. The 120Hz refresh rate is still there, even if with just LTPS TFT backplane. The point being - this is an amazing, even if not cutting-edge, panel overall.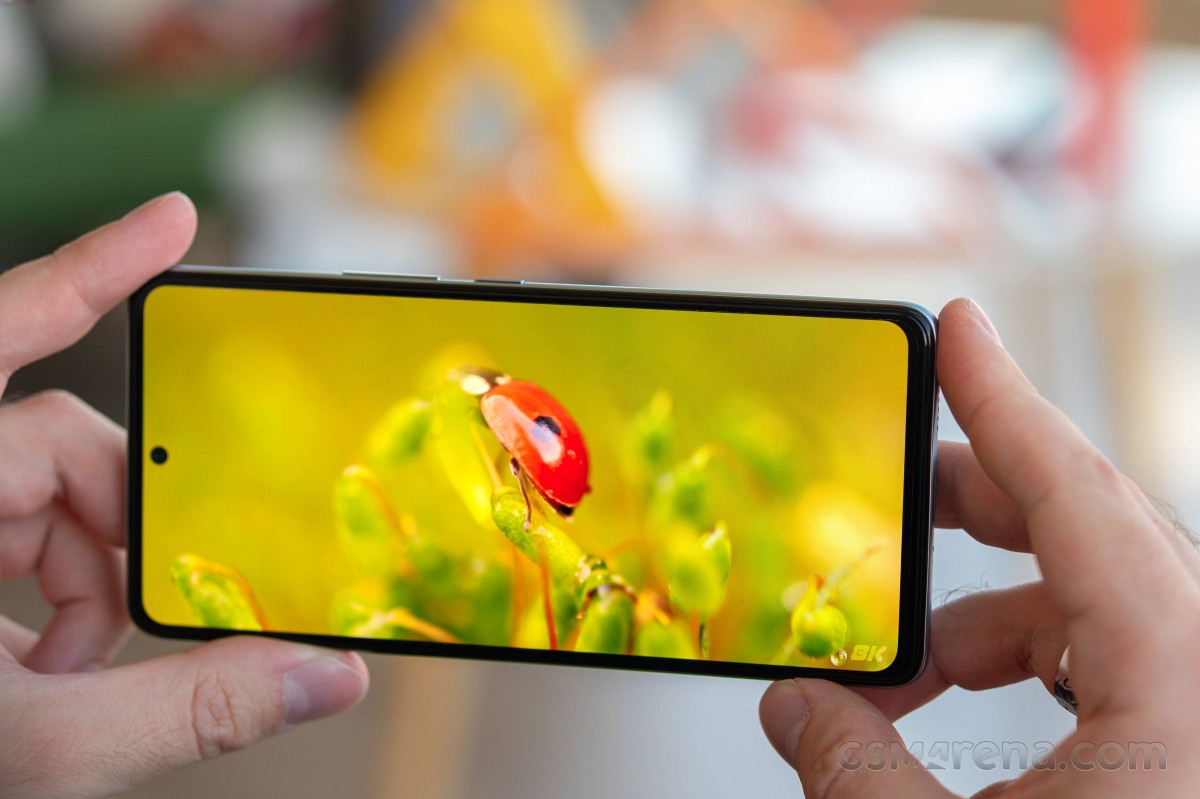 Let's kick things off with brightness testing. The iQOO 9 SE managed 481 nits of maximum brightness on the slider. Mind you, this was achieved in the bright color mode, which, like the name suggests, does indeed offer a bit more brightness than the other two modes but has worse color reproduction overall.
Our iQOO 9 SE reached 863 nits with auto-brightness turned on and in bright sunlight. Not exactly on the same level as the iQOO 9 Pro and definitely not Samsung's industry-leading S22 Ultra panel. Still, not bad at all and perfectly usable outdoors, regardless of conditions.
Display test
100% brightness
Black,cd/m2
White,cd/m2
Contrast ratio
Samsung Galaxy S22 Ultra (Max Auto)
0
1266
∞
Samsung Galaxy S22+ (Max Auto)
0
1214
∞
vivo iQOO 9 Pro (Max Auto)
0
1000
∞
iQOO 9 SE (Max Auto)
0
863
∞
Samsung Galaxy A53 5G (Max Auto)
0
830
∞
Xiaomi Redmi Note 11 Pro+ 5G (Max Auto)
0
760
∞
Poco X4 Pro (Max Auto)
0
754
∞
Poco F3 (Max Auto)
0
716
∞
Realme 9 Pro+ (Max Auito)
0
613
∞
Realme 9 Pro (Max Auto)
0.385
567
1473:1
Poco F3
0
511
∞
Samsung Galaxy S22 Ultra
0
494
∞
iQOO 9 SE
0
481
∞
Xiaomi Redmi Note 11 Pro+ 5G
0
479
∞
Poco X4 Pro
0
477
∞
Samsung Galaxy S22+
0
468
∞
Realme 9 Pro
0.288
461
1601:1
vivo iQOO 9 Pro
0
438
∞
Realme 9 Pro+
0
433
∞
Samsung Galaxy A53 5G
0
427
∞
The iQOO 9 SE has a total of three color modes: standard, bright and professional. Both standard and bright strive to cover the wider DCI-P3 color space and do a decent job of it. Though far from what we would consider color-accurate. Bright mode ups the saturation quite a bit for that OLED "pop" that some users are looking for. Colors are less accurate overall, though. Professional mode basically nails sRGB with perfect coverage and deltaE value low enough to be considered perfectly color-accurate and good for color-sensitive work.
The iQOO 9 SE has HDR10+ certification on its display. In software, it reports HDR10, HDR10+ and HLG decoding capabilities. The highest possible Widevine L1 certification is also present, which means you can enjoy high-resolution streaming for platforms like Netflix. The latter is more than happy to offer FullHD version of its content in HDR on the phone.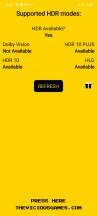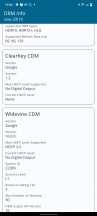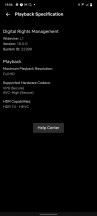 HDR support • Widevine • Netflix playback capabilities
High refresh rate handling
The iQOO 9 SE has a 120Hz display. Also, 300Hz touch sampling rate for improved gaming performance. iQOO software handles refresh rate modes and automatic switching in a slightly odd manner. There are a total of three refresh rate modes to choose from - 60Hz, 120Hz and Smart Switch. One might assume that two of these behave like fixed fps modes.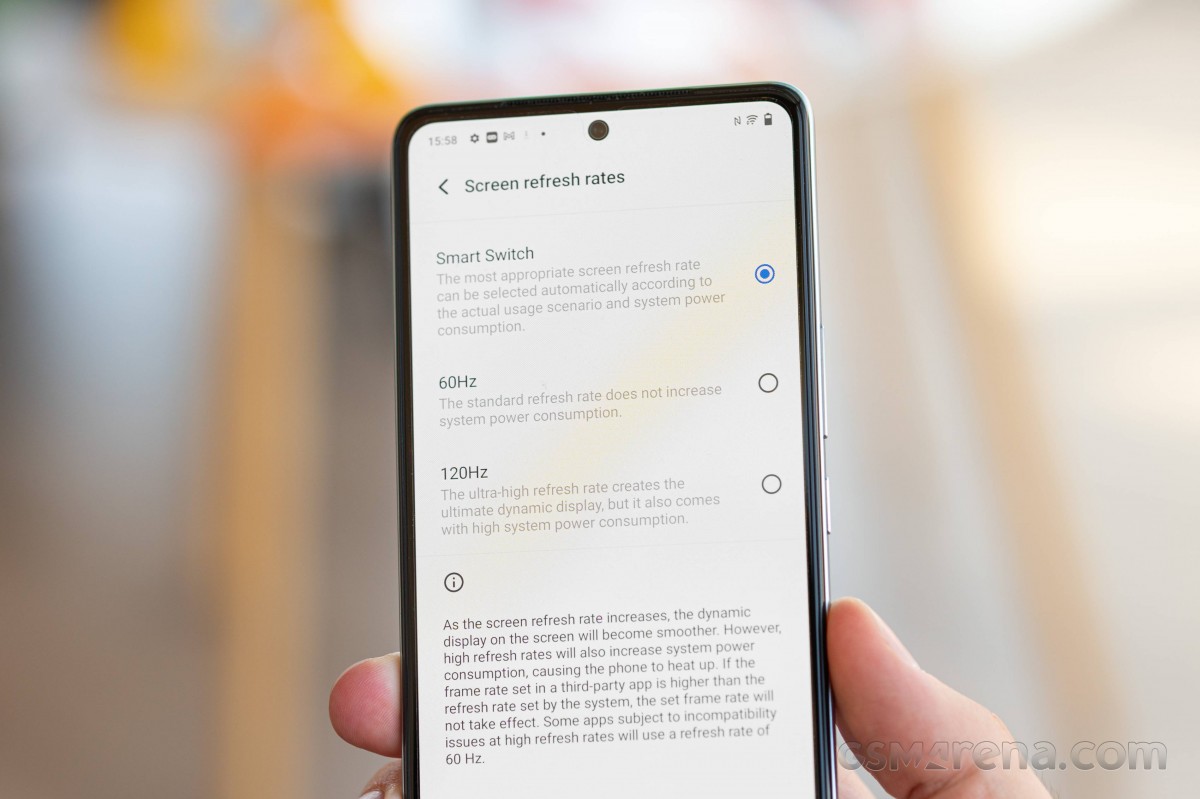 However, that's not the case. Looking through the supported refresh rate modes, as reported in the software, the iQOO 9 SE has just two modes - 120Hz and 60Hz. It is a bit limited in that regard. It can't do 30Hz, let alone anything lower, and while it claims it can do 90Hz, we never actually saw it in practice. Most other phones tend to have more available modes.
Both Smart Switch and 120Hz mode have the same general overarching logic to them - the phone operates at 120Hz for as long as you are interacting with it, and then once you leave it alone, it drops down to 60Hz. That's usually regardless of what is actually happening on screen.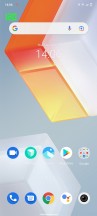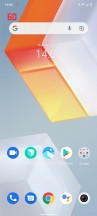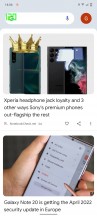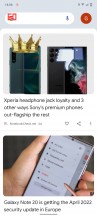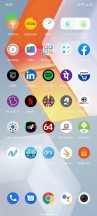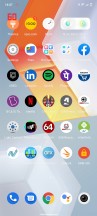 Phone working at 120Hz for as long as you touch the display
The main difference between the two seems to be that 120Hz is more "liberal" than Smart Switch, which doesn't exactly make a lot of sense. What we mean is that 120Hz allows more apps to work in 120Hz. For instance, all of the web browsers we tried in Smart Switch mode just launched and operated at a constant 60Hz, whereas 120Hz mode allowed them to at least be in 120Hz as the display was being touched.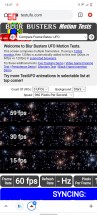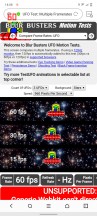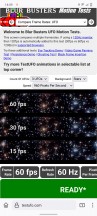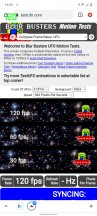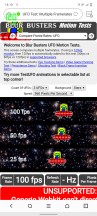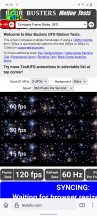 Web browsers working in 120Hz and 60Hz
This general "120Hz while touching the display" logic appears to be present in most other popular apps we tried, too, like Instagram, TikTok and Facebook. We noticed that the Facebook video player page, in particular, was always running at 60Hz, which is technically a correct and beneficial behavior that can save battery life.
Unfortunately, that was not a sign of the software actually being aware of video content being played. YouTube just had the exact same general "120Hz while touching the display" logic regardless of what video was on screen.
The same goes for local video playback. We tried videos at varying fps and always simply ended up with the same simple refresh rate logic. So, there is no truly smart refresh rate switching.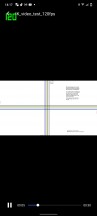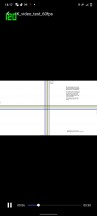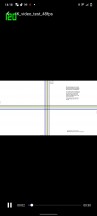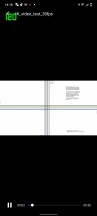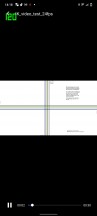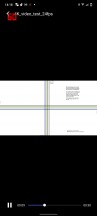 Playing local videos with a different frame rate
Gaming at high refresh rate was a bit of a letdown on the iQOO 9 SE. Most games seem to follow the same simple switching logic. However, some games handle touch input a bit differently and either require you to touch the display as the game is loading or minimize and maximize the game once it is loaded to get the 120Hz mode working. And for some games, even that wasn't enough to get the game to just stay at 120Hz.
This frequently led to stutters and odd slowdowns as the game's engine was trying to adapt to a constantly-changing FPS "cap". Honestly, the only way we got a good gaming experience with many games on the iQOO 9 SE was to lock the refresh rate to 60Hz. That is a real bummer, especially for a company that places so much emphasis on gaming.
Overall, the high refresh rate on the iQOO 9 SE is quite a mess in its current state and needs a lot of work. The automatic switching behavior needs some polish and, frankly, shouldn't just be applied to two out of three available refresh rate modes. The gaming situation is particularly dire, and there is no real excuse for it since the OS is well aware which apps are games, even launching all of the gaming services and assistants automatically. There should be at least a simple way to lock refresh rate at 120Hz for games.
Other gaming and visual enhancements
Honestly, the refresh rate management deficiencies start to look even more unfortunate when you consider the multitude of additional features baked into the iQOO 9 SE. We'll go over these here instead of in the software section.
The iQOO 9 SE has something called Visual Enhancement (like SDR to HDR) in settings, which optimizes the colors and contrast in some streaming apps like Netflix and YouTube (you can pick the apps manually from the compatible list). It does offer a minor boost in color saturation and contrast, but it will probably increase your battery consumption.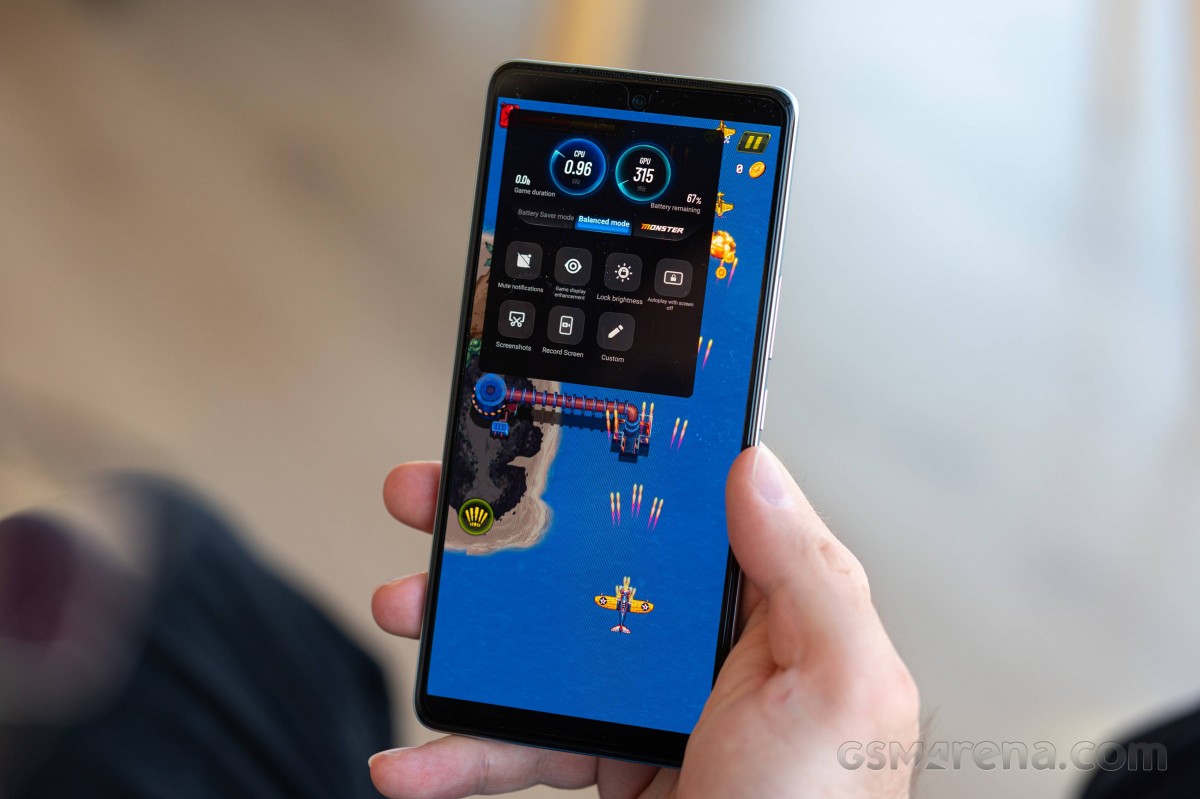 The rest of the enhancements are part of the Ultra Game Mode. Most of the features are about mitigating disturbance during gameplay or letting certain apps display heads-up notifications. One of the most intriguing features that have been around on vivo phones for a while is the ability to turn off the screen and keep the game running in the background. Especially useful for turn-based games or those requiring some sort of "farming" and "grinding".
There is also Game Display Enhancement, which dynamically adjusts contrast, colors (auto SDR to HDR), sharpness and even in-game parameters. You can turn that off only if you disable the entire Ultra Game Mode from within the quick toggles.
Then there is Game Frame interpolation (MEMC), which allows you to lift the in-game frame rate from 60fps up to 90fps with automatic interpolation (at the expense of hardware and battery resources, of course). Currently, only Call of Duty Mobile and BGMI are supported. The iQOO 9 SE actually has a dedicated "Intelligent Display Chip" to handle MEMC.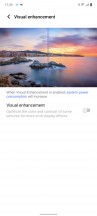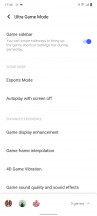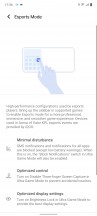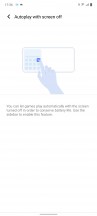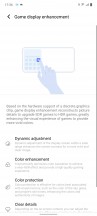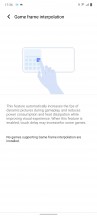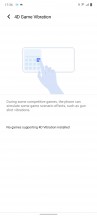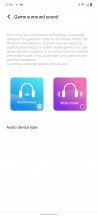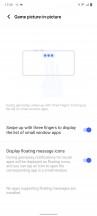 Additional gaming and display features
The Esports mode, available for selected games, allows for automatic DND mode. It disables unnecessary screen gestures, locks the brightness and balances frame rate and temperature to keep the best possible FPS. It is currently compatible with Call of Duty Mobile and BGMI.
Last but not least, the iQOO 9 SE has 4D Game Vibration, which uses the phone's built-in z-axis linear motor to provide dynamic haptic feedback in games.
Battery life
The iQOO 9 SE is equipped with a 4,500 mAh battery. That's not exactly a huge battery by modern standards, but not small either. It is smack in the middle between the iQOO 9 Pro and its 4,700 mAh and the vanilla iQOO 9 with 4,350 mAh.
In our standardized testing, the iQOO 9 SE managed a respectable 87 hours of total endurance. That's a whole 10 hours less than its iQOO 9 Pro sibling. However, the latter does have a newer and technically more efficient Snapdragon 8 Gen 1 chipset and a slightly bigger battery. The Snapdragon 888 is not exactly known for its stellar efficiency, to begin with. Its modem does well enough with 3G calling but is and always has been a bit on the lower end when it comes to networks standby.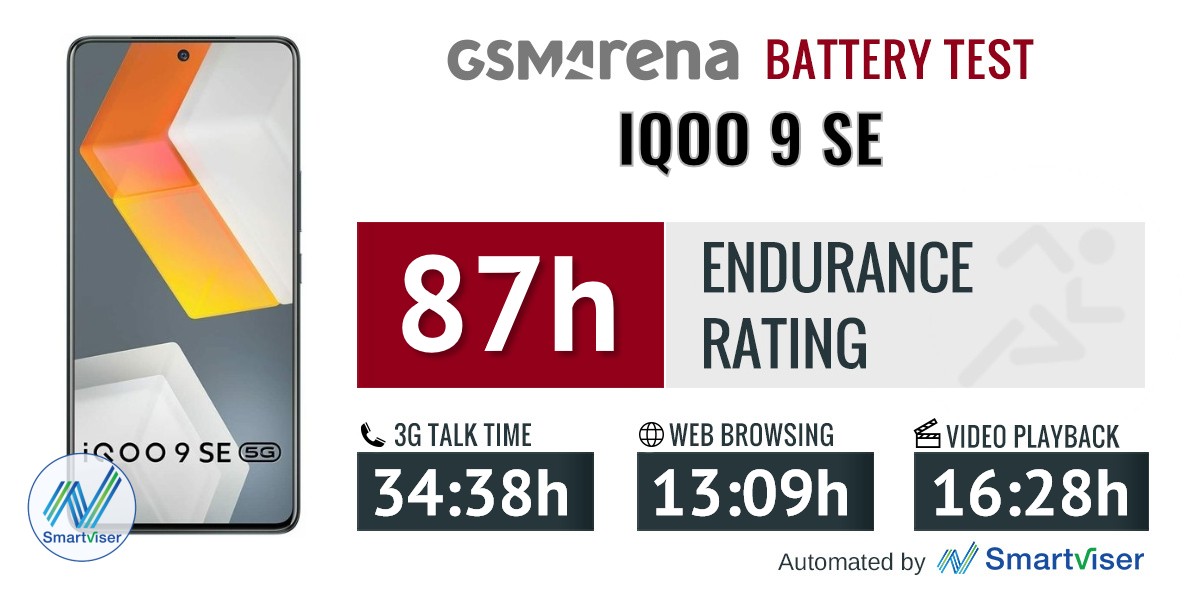 That's mostly behind the lower overall endurance number on the iQOO 9 SE. While browsing on the phone can be a bit of a mixed bag in terms of efficiency, likely due to the refresh rate auto management inconsistencies, 13 hours are still very respectable, and we have no complaints about the great 16 hours of offline video playback.
Our battery tests were automated thanks to SmartViser, using its viSerDevice app. The endurance rating denotes how long the battery charge will last you if you use the device for an hour of telephony, web browsing, and video playback daily. More details can be found here.
Video test carried out in 60Hz refresh rate mode. Web browsing test done at the display's highest refresh rate whenever possible. Refer to the respective reviews for specifics. To adjust the endurance rating formula to match your own usage patterns check out our all-time battery test results chart where you can also find all phones we've tested.
Charging
The iQOO 9 SE is an incredibly fast-charging device. No question about it. It supports 66W Flash Charge technology courtesy of vivo, which is done through a proprietary charger included in the retail box. The iQOO 9 SE will accept standard Power Delivery or, of course, even slower 10W USB power and charge through that as well, but its own solution is very much a proprietary one.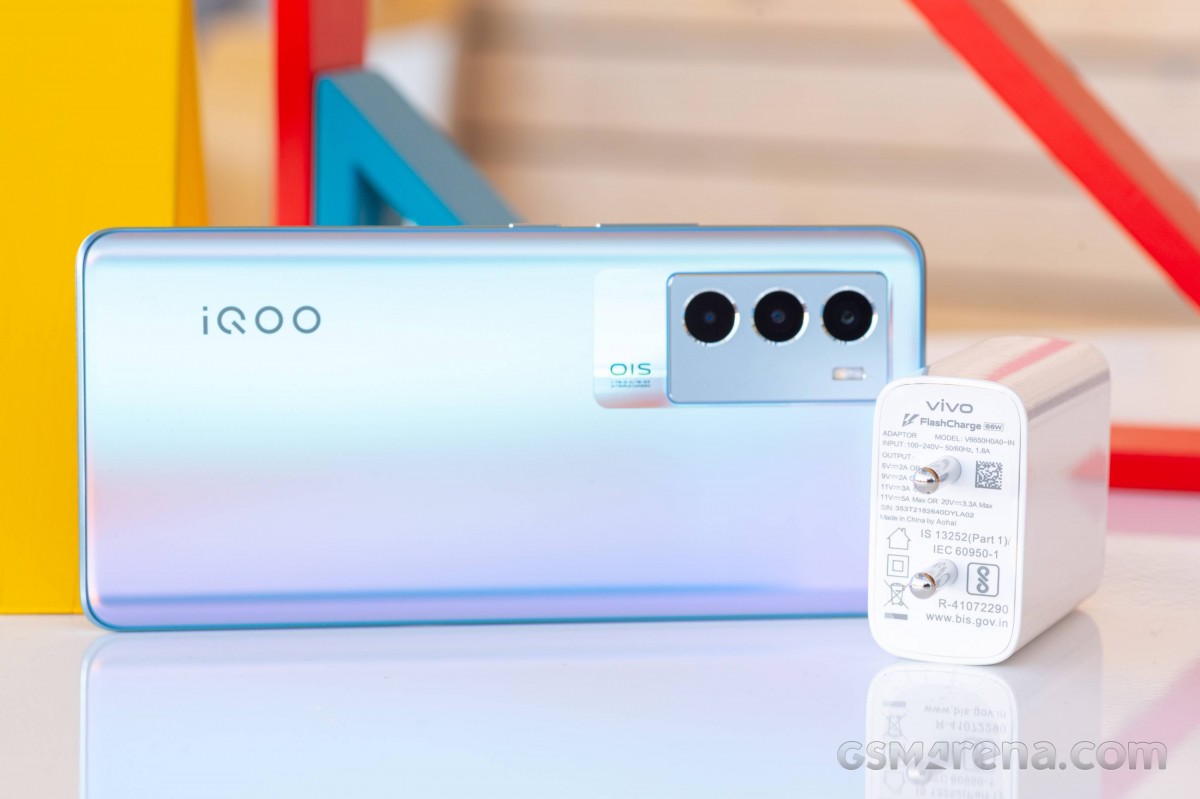 That's perhaps the only downside of this particular setup. The iQOO 9 SE claims to be able to charge fully in 39 minutes, which we pretty much perfectly matched and even exceeded in our testing. While its bigger sibling - the iQOO 9 Pro, is definitely speedier, it is not nearly "twice as fast" as its whopping 120W advertised charging rate might suggest. Instead, it claims to be able to recharge the battery in 18 minutes, which was more like a little over 20 minutes in our testing.
We are sure most will agree that there is hardly a practical difference between the two. And sure, the Xiaomi Redmi Note 11 Pro+ 5G was technically able to get a full charge over twice as fast as the iQOO 9 SE, but we are bumping against all sorts of practical, not to mention physical and chemical limitations. After spending just 30 minutes on the charger fully dead, our iQOO 9 SE walked away with a whopping 91% battery. That is more than plenty to facilitate a "quick top-off" lifestyle with the iQOO 9 SE, which never actually needs to have a dedicated charging schedule. And that's kind of the point of having super-fast charging to begin with. No complaints there.
30min charging test (from 0%)
Higher is better
iQOO 9 Pro
100%
Xiaomi Redmi Note 11 Pro+ 5G
100%
Realme GT Master
100%
OnePlus Nord 2
98%
iQOO 9 SE
91%
Realme 9 Pro+
77%
Poco X4 Pro 5G
75%
Poco F3
67%
vivo V23 Pro
65%
Realme 8
56%
Poco M4 Pro 5G
54%
Samsung Galaxy A52s 5G
53%
Realme 9 Pro
52%
Xiaomi Redmi Note 11
51%
Poco X3 Pro
50%
Samsung Galaxy A53 5G
45%
Nokia G21 (65W PD)
37%
Samsung Galaxy A32
25%
Nokia G21
22%
Time to full charge (from 0%)
Lower is better
Xiaomi Redmi Note 11 Pro+ 5G
0:16h
iQOO 9 Pro
0:21h
Realme GT Master
0:30h
OnePlus Nord 2
0:31h
iQOO 9 SE
0:38h
Poco X4 Pro 5G
0:49h
Realme 9 Pro+
0:49h
Poco F3
0:56h
vivo V23 Pro
0:57h
Poco M4 Pro 5G
1:07h
Poco X3 Pro
1:08h
Realme 8
1:09h
Realme 9 Pro
1:14h
Xiaomi Redmi Note 11
1:18h
Samsung Galaxy A53 5G
1:24h
Samsung Galaxy A52s 5G
1:28h
Nokia G21 (65W PD)
2:09h
Samsung Galaxy A32
2:19h
Nokia G21
2:49h
Speakers
The iQOO 9 SE has a hybrid stereo setup. The amplified earpiece handles the second channel and generally does a decent job of it. The balance between the two is decent. The earpiece does sound a bit "thinner," but it does make up a lot of that with its forward-facing orientation, whereas the bottom channel is blasting perpendicular to the user.
It is clear that this setup is a step down from the flagship one on devices like the iQOO 9 Pro or the vivo X70 Pro+. It is not a major step down, though and still very much enjoyable. The iQOO 9 SE doesn't get quite as loud as those two either, managing a "GOOD" loudness score.
The frequency response isn't quite as tight either but is still very decent. Mids are slightly muddier, and highs can get just a little "tinny" at high volumes. Bass is not as prominent either.
Use the Playback controls to listen to the phone sample recordings (best use headphones). We measure the average loudness of the speakers in LUFS. A lower absolute value means a louder sound. A look at the frequency response chart will tell you how far off the ideal "0db" flat line is the reproduction of the bass, treble, and mid frequencies. You can add more phones to compare how they differ. The scores and ratings are not comparable with our older loudspeaker test. Learn more about how we test here.