Funtouch 12 on top of Android 12
The iQOO 9 Pro boots the latest Android 12 with vivo's newest Funtouch 12 launcher. The Chinese model, just like other vivo and iQOO phones, gets OriginOS instead.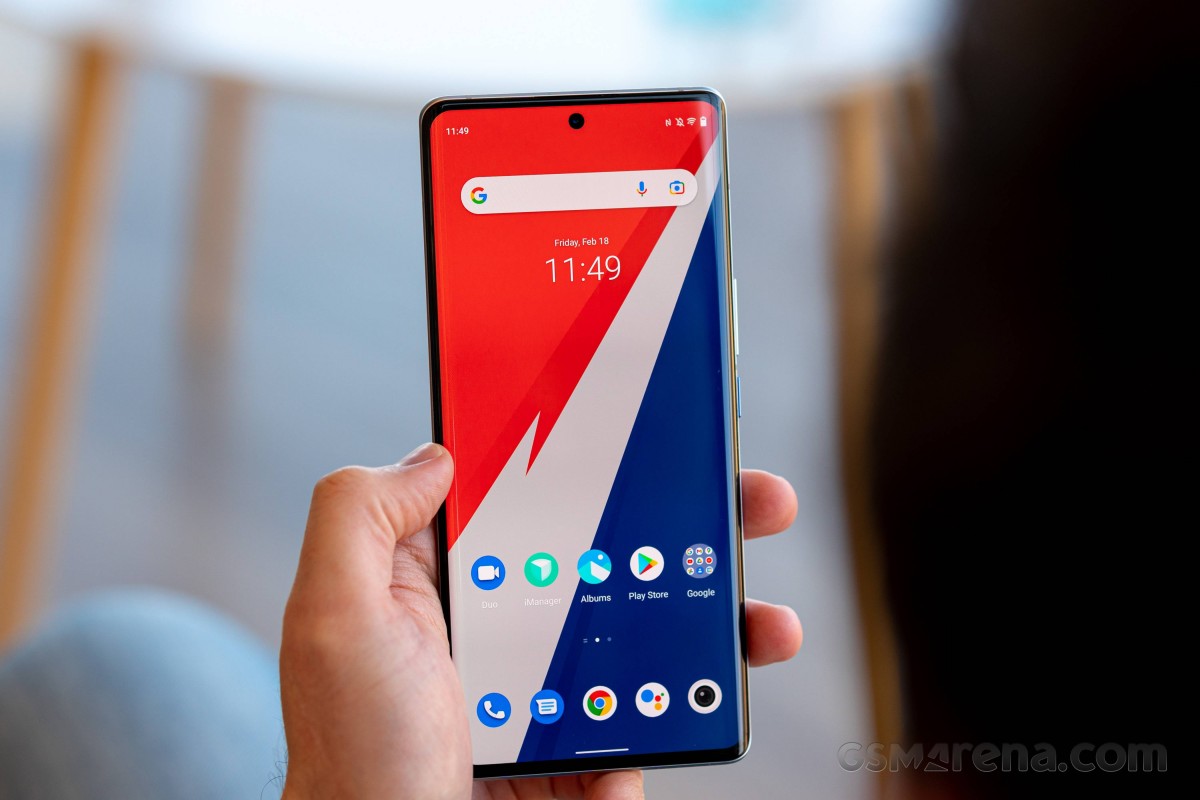 Funtouch 12 significantly departs from Funtouch 11's "core values". The stock-ish looking and functioning main UI elements and menus have been substituted with a highly customized and customizable UI. Some of the changes are pretty nifty, too, including the system menus being tailored towards a single-handed use. Some of the menus' content moves to the lower half of the screen when you swipe down, but not all, which is odd.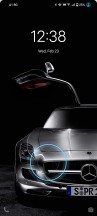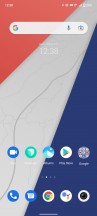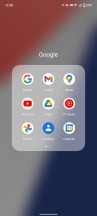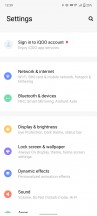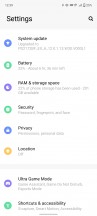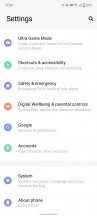 Lockscreen • Homescreen • Folder view • Settings menu
The recent apps menu, for example, has one of those useful proprietary features. You can choose between the standard carousel formation and a horizontal tiles layout - sort of like MIUI, only scrollable horizontally.
The app drawer, although stock-ish looking, has an expandable recommended apps category on the top (most commonly used ones), whereas using the vertical scroller on the right would highlight the apps beginning with the selected letter.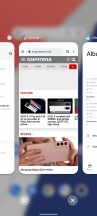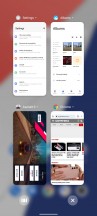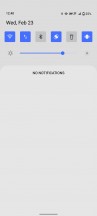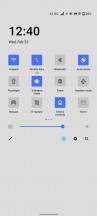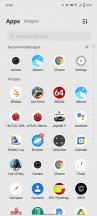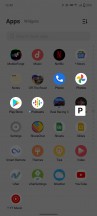 Recent apps • Recent apps • Notification shade • Quick toggles • App drawer
The notification shade has been revamped too, in terms of looks mostly - the quick toggles are now square-shaped, and the accent color around the menus (including the quick toggles icons) is blue, and there's no way to change either. Applying different themes would only change the icon pack and wallpaper.
The rest of the UI gets plenty of love too. In the Dynamic effects sub-menu, vivo has grouped quite a few customizable aspects of the home screen, lock screen, animation effects, etc. There are even various charging and facial recognition animations.
The Ambient light effect gets more granular control with the option to enable it only during a limited time period, or you can choose which apps to trigger it.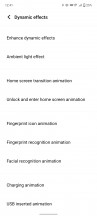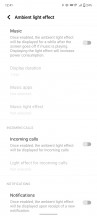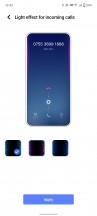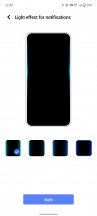 Dynamic effects • Ambient light effect
The always-on display settings are in a different sub-menu, however, but the phone still gives you plenty of options to tinker with - a wide selection of animations, clock styles, colors, backgrounds, the lot.
You can also change the animation of the fingerprint scanner, the face unlocks and even the charging animation.
Speaking of the fingerprint scanner, there's no way to summon the fingerprint reader icon on a locked screen unless the motion sensor detects movement - sure, it's very sensitive, but still. Single tap doesn't work, whereas the double-tap-to-wake function is buried in the Smart motion menu. However, if you get familiar with the scanner's position, you can just rest your fingertip on top and wait for the unlock. Which, by the way, is snappy and reliable. No issues there.
And there is one more thing available as part of the iQOO 9 Pro and its Funtouch 12 - Quick Action for the fingerprint scanner. Since the ultrasonic fingerprint reader has a larger working area than the optical sensors, its capability to scan your tips across a large rectangle is utilized in one really clever way by iQOO. See, you can add up to two shortcuts around the scanning area. If you place your finger within the usual circle, you will get to your homescreen. But if you rest it on the Facebook/YouTube/Camera/GSMArena app, or whatever you choose to put here, it will unlock and open this app immediately.
The Sound menu holds a few pleasant surprises. Just like Samsung, vivo is paying attention to people with hearing problems, and you can calibrate the sound to be heard by elderly people or those with impaired hearing. Additionally, notifications and calls get separate volume sliders. The vibration intensity can be adjusted for calls and notifications independently.
The previously mentioned Smart motion menu holds a handful of familiar screen-on and screen-off gestures along with some new additions. One of those requires you to wave in front of the screen during an incoming call to answer hands-free - useful if you're cooking, for example.
Holding the volume down key can be used to launch an app or do a certain task, although the list of the latter is limited to launching the camera app, turn on/off the torch or start recording audio. The so-called Quick action feature doesn't work when playing music for obvious reasons. Why isn't there a double-press option for Quick action though?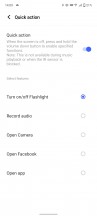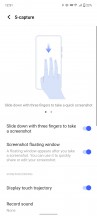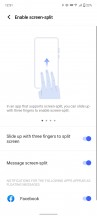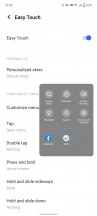 Quick action • S-capture • Screen-split • Easy Touch
There is a bunch of proprietary system apps that compete with the Funtouch 12 app suite. These include Albums, Browser, iManager, Music and Video.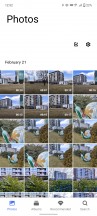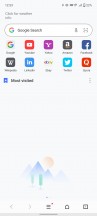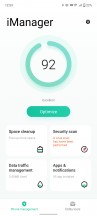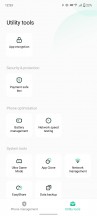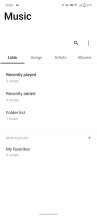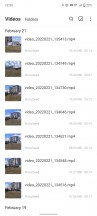 Albums • Browser • iManager • iManager • Music • Videos
Smart Remote app that uses the IR blaster comes preinstalled on the phone.
Themes app with many free themes is available, too.
All in all, the new Funtouch 12 runs great, and you can even make it snappier by disabling most of the animations and speeding up the transitions. Yes, Funtouch 12 gives you the freedom to do so. However, those that want to use Android as Google intended might not be okay with the colorful iconography and the highly customized system menus and animations.
Performance and benchmarks
The iQOO 9 Pro is the first smartphone we meet running on the latest Qualcomm Snapdragon 8 Gen 1 chipset. It is available with 8GB or 12GB LPDDR5 RAM, and you can choose between 256GB and 512GB UFS3.1 storage. Our model here has 12GB RAM + 256GB storage.
So, the new Snapdragon 8 Gen 1 chipset is manufactured on the Samsung's 4nm process. It employs an octa-core processor with a familiar 1+3+4 configuration. The Prime core is based on the Cortex-X2 and is clocked at 3.2GHz. The three performance cores are Cortex-A710 based with 2.5GHz clocks. And the four efficiency cores use Cortex-A510 design with 1.8GHz clocks. This new CPU should offer up to 20% higher performance and 30% better power efficiency compared to the SD888 chipset.
There is a new GPU - the Adreno 730 with 30% faster performance and 25% more power efficiency than the last generation. There is a new Adreno Frame Motion Engine that allows the GPU to render a game at double the frame rate while using the same amount of power. Alternatively, it can keep the FPS the same while cutting power draw by half.
Another new feature is desktop-class volumetric rendering. Volumetric lighting is used for dramatic lighting effects, e.g. the God rays that level designers seem to love so much. Also new is Variable Rate Shading Pro, an image-based VRS that should streamline the integration of VRS into more games. Qualcomm has partnered with some of the largest game developers to ensure their games make the best out of the hardware.
The Snapdragon 8 Gen 1 also comes with an integrated X65 5G modem, which supports both sub-6 and mmWave operation and can deliver theoretical peak speeds of 10 Gbps. For the first time, it also supports carrier aggregation for the uplink.
Of course, the chipset includes drastically improved Wi-Fi and Bluetooth, as well as brand-new ISP and DSP. You can read more about the new features that come with the new hardware here and here, if you are interested.
And now, let's run some benchmarks!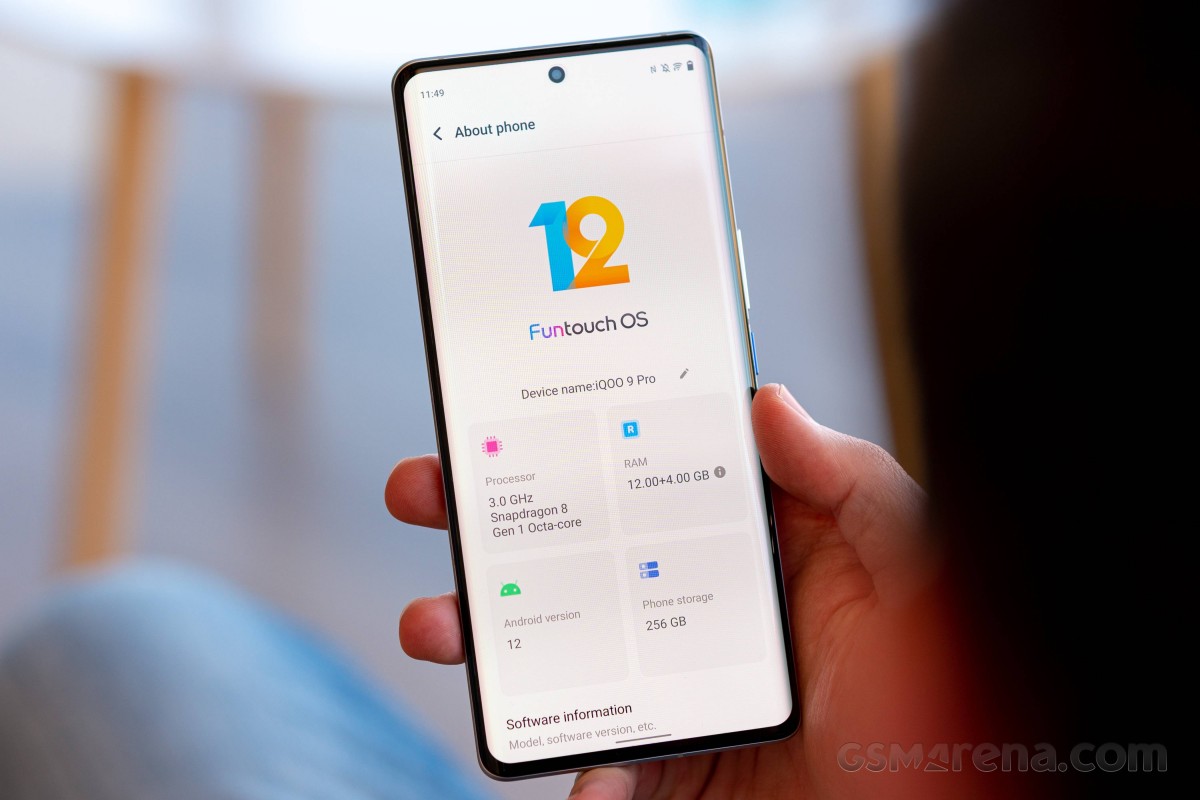 Well, there is no surprise the new Snapdragon 8 Gen 1 processor is a chart-topper. It indeed offers about 20% theoretical performance over the Snapdragon 888 (Mi 11 Ultra, Huawei P50 Pro), when multi-core calculations are concerned, that is.
The SD 8 Gen 1 is even a hair faster than the most current Exynos 2200 inside the Galaxy S22 series.
GeekBench 5 (multi-core)
Higher is better
iQOO 9 Pro
3708
Samsung Galaxy S22 Ultra (1440p)
3657
OnePlus 9
3629
Samsung Galaxy S22+
3528
vivo X70 Pro+
3469
vivo iQOO 3 5G
3402
Xiaomi Mi 11 Ultra
3191
Huawei P50 Pro
3145
vivo X70 Pro
2956
The single-core edge is about 10% over the SD888.
GeekBench 5 (single-core)
Higher is better
iQOO 9 Pro
1231
Samsung Galaxy S22 Ultra (1440p)
1180
Samsung Galaxy S22+
1165
OnePlus 9
1129
Xiaomi Mi 11 Ultra
1126
vivo X70 Pro+
1106
Huawei P50 Pro
1105
vivo iQOO 3 5G
928
vivo X70 Pro
875
The Adreno 730 is supposed to be 30% faster than the Adreno 660 GPU inside the SD888 (Mi 11 Ultra, P50 Pro, vivo X70 Pro+). And indeed, according to the offscreen benchmarks we ran, it is at least 30%, often 40% more powerful than the previous generation. Nice!
GFX Aztek Vulkan High (offscreen 1440p)
Higher is better
iQOO 9 Pro
44
Samsung Galaxy S22 Ultra (1440p)
35
Samsung Galaxy S22+
34
OnePlus 9
30
Huawei P50 Pro
30
vivo X70 Pro+
29
Xiaomi Mi 11 Ultra
29
vivo X70 Pro
20
GFX Car Chase ES 3.1 (offscreen 1080p)
Higher is better
iQOO 9 Pro
95
Samsung Galaxy S22 Ultra (1440p)
76
Samsung Galaxy S22+
76
OnePlus 9
70
Xiaomi Mi 11 Ultra
69
vivo X70 Pro+
66
Huawei P50 Pro
64
vivo iQOO 3 5G
51
vivo X70 Pro
45
GFX Manhattan ES 3.1 (offscreen 1080p)
Higher is better
iQOO 9 Pro
160
OnePlus 9
119
Xiaomi Mi 11 Ultra
116
Samsung Galaxy S22 Ultra (1440p)
109
vivo X70 Pro+
105
Samsung Galaxy S22+
105
Huawei P50 Pro
99
vivo iQOO 3 5G
86
vivo X70 Pro
85
3DMark Wild Life Vulkan 1.1 (offscreen 1440p)
Higher is better
iQOO 9 Pro
9673
Samsung Galaxy S22 Ultra (1440p)
7437
Samsung Galaxy S22+
7405
Xiaomi Mi 11 Ultra
5676
OnePlus 9
5667
Huawei P50 Pro
5651
vivo X70 Pro+
5332
vivo X70 Pro
4148
The iQOO 9 Pro, just like the Galaxy S22 Ultra and the Mi 11 Ultra, has a 1440p display, and that's why it scores lower than the 1080p flagships on our charts.
GFX Aztek Vulkan High (onscreen)
Higher is better
Samsung Galaxy S22+
51
OnePlus 9
43
iQOO 9 Pro
37
vivo X70 Pro
29
Samsung Galaxy S22 Ultra (1440p)
29
vivo iQOO 3 5G
28
vivo X70 Pro+
26
Huawei P50 Pro
26
Xiaomi Mi 11 Ultra
25
GFX Car Chase ES 3.1 (onscreen)
Higher is better
Samsung Galaxy S22+
68
OnePlus 9
58
iQOO 9 Pro
46
Huawei P50 Pro
44
vivo iQOO 3 5G
42
vivo X70 Pro
40
Samsung Galaxy S22 Ultra (1440p)
37
Xiaomi Mi 11 Ultra
34
vivo X70 Pro+
33
GFX Manhattan ES 3.1 (onscreen)
Higher is better
Samsung Galaxy S22+
94
iQOO 9 Pro
84
vivo X70 Pro
77
Huawei P50 Pro
72
vivo iQOO 3 5G
61
Xiaomi Mi 11 Ultra
60
OnePlus 9
60
vivo X70 Pro+
58
Samsung Galaxy S22 Ultra (1440p)
58
The compound AnTuTu test puts the iQOO 9 Pro and its Snapdragon 8 Gen 1 chipset on top of any other phone we've tested to date. The Samsung Galaxy S22 Ultra is the second-best device, a whisker below the iQOO.
AnTuTu 8
Higher is better
iQOO 9 Pro
862324
Huawei P50 Pro
793876
Samsung Galaxy S22+
722495
OnePlus 9
715196
Xiaomi Mi 11 Ultra
688720
vivo iQOO 3 5G
575601
AnTuTu 9
Higher is better
iQOO 9 Pro
997948
Samsung Galaxy S22 Ultra (1440p)
968359
Samsung Galaxy S22+
886916
vivo X70 Pro+
837833
Xiaomi Mi 11 Ultra
794016
Huawei P50 Pro
786215
vivo X70 Pro
694499
The iQOO 9 Pro with its Snapdragon 8 Gen 1 chipset is currently the fastest Android smartphone on the market, and this statement should be enough for anyone looking for a true flagship. iQOO is all about performance, and the iQOO 9 Pro is a performance beast, that's for sure.
Stability, thermals, and sustained performance
The flagship Snapdragon chipsets have always been powerful, but they are also known for their high temperatures when under stress and heavy throttling, of course. So, we ran our traditional stress tests, and we got mixed results.
The CPU Throttling test ran for 60 minutes and the processor managed to keep 70% of its performance - this way it managed to limit its internal temperature up to 50C. The phone or more specifically the left and right part of the frame, were notably warm, but not too hot, and we could comfortably keep the iQOO 9 Pro in hands.
The Snapdragon 888 usually kept about 75% of its CPU performance, which means the new processor runs hotter, but the performance drop isn't significant. Note, that no app would use a processor at 100% usage for long durations.
Then we ran the 3D Mark Wild Life Stress test. It makes 20 loops of 1-minute graphics test, which uses 100% of the GPU power. The iQOO 9 Pro and its Adreno 730 managed to retain 71% of the theoretical graphics performance, better than the Snapdragon 888 that often dropped down to 65%. This is the good news.
Unfortunately, while running the GPU stress test, the phone reached 55C internal temperatures, and the frame got hot, and we mean HOT! It was impossible to hold the iQOO 9 Pro in hand for more than 7 seconds or we would have gotten nasty burns. We are not kidding!
If you are going to use the phone with the supplied case, your hands will be safe, but it will create an even hotter environment for the phone's internals, and the throttling will be more significant.
There is one more thing to consider. First - no game or app will ever use 100% of the hardware. We played CoD Mobile for an hour, and the phone was nowhere near this hot, it was just normally warm. So, unless it's a stress test, some sort of emulator, or video editing/exporting app, the phone should not be expected to reach such temperatures.
Then there is the fact that the iQOO 9 Pro so far doesn't support high refresh rate gaming, which means it will be even less challenged when playing games. This omission goes into our Cons list immediately, of course.
Overall, the new Snapdragon 8 Gen 1 chipset is hotter than the Snapdragon 888 when used with the traditional passive cooling solutions. While it offers good stability, it comes at the expense of more heat. But unless something employs 100% of the hardware resources, you won't have any issues.
Disclaimer: Our non-commercial iQOO 9 Pro is running on a pre-release software. We received the first OTA, reran the performance tests, and contrary to the expectations, the heating issue is still present in the same way. The good news is that iQOO is aware of the issues and seems to be working on them.