Display
The biggest showstopper on the iQOO 9 Pro is undoubtedly its 6.78-inch LTPO 2.0 AMOLED display. It uses a Samsung-made E5 OLED panel with 1,440 x 3,200 px resolution or 518ppi, and it can show up to 1 billion colors thanks to the native 10-bit color support. There is also adaptive 120Hz refresh rate support, 300Hz touch sampling rate, and HDR10+.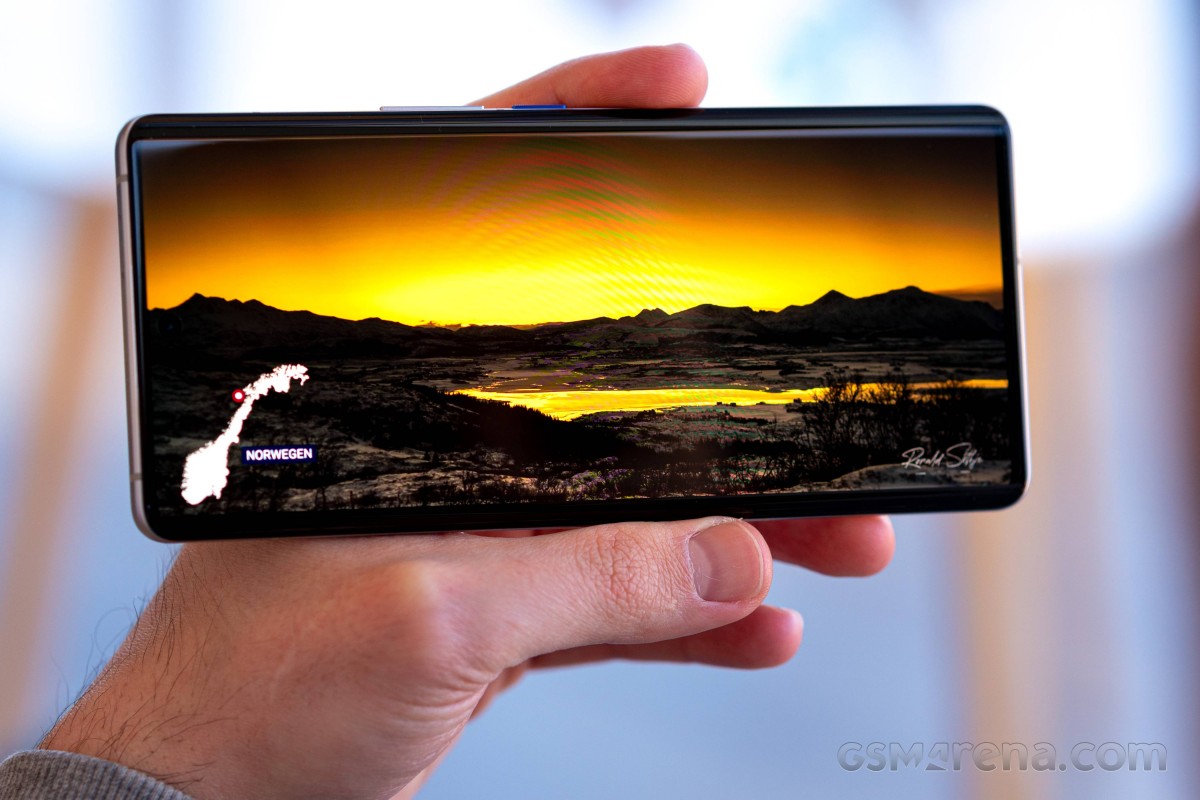 The OLED panel has the usual rounded corners, and there is also a small perforation centered around the top - the selfie camera is in there.
Let's start with our traditional display test. iQOO has listed 500 nits of typical, 1000 nits of high-brightness mode and 1500 nits of peak brightness. And the panel delivers on these promises.
We measured 438nits of typical brightness - that's when Auto Brightness is disabled, and we push the slider to the far-right end. Changing the color modes may result in a slight boost up to 470 nits at times.
Then we measured the promised 1000nits when we faced the screen with a bright light, an outstanding performance!
Finally, another excellent mark goes for the lowest possible brightness at point white, which was just 2 nits.
Display test
100% brightness
Black,cd/m2
White,cd/m2
Contrast ratio
iQOO 9 Pro
0
438
∞
iQOO 9 Pro (Max Auto)
0
1000
∞
vivo X70 Pro+
0
458
∞
vivo X70 Pro+ (Max Auto)
0
1022
∞
vivo X70 Pro
0
457
∞
vivo X70 Pro (Max Auto)
0
993
∞
Xiaomi Mi 11 Ultra
0
514
∞
Xiaomi Mi 11 Ultra (Max Auto)
0
943
∞
Xiaomi Mi 11T Pro
0
516
∞
Xiaomi Mi 11T Pro (Max Auto)
0
837
∞
Samsung Galaxy S22 Ultra
0
494
∞
Samsung Galaxy S22 Ultra (Extra brightness)
0
829
∞
Samsung Galaxy S22 Ultra (Max Auto)
0
1266
∞
vivo iQOO 3 5G
0
518
∞
vivo iQOO 3 5G (Max Auto)
0
848
∞
Oppo Find X3 Pro
0
493
∞
Oppo Find X3 Pro (Max Auto)
0
774
∞
Realme GT 5G
0
443
∞
Realme GT 5G (Max Auto)
0
650
∞
Realme GT Explorer Master
0
504
∞
Realme GT Explorer Master (Max Auto)
0
805
∞
Huawei P50 Pro
0
609
∞
Huawei P50 Pro (Max Auto)
0
754
∞
Apple iPhone 13 Pro Max
0
852
∞
Apple iPhone 13 Pro Max (Max Auto)
0
1050
∞
Color accuracy
The iQOO 9 Pro offers three colors modes - Standard (default), Professional, and Bright. You can adjust the color temperature in each of those. Standard and Bright coved the DCI-P3 color space and offer fairly accurate color presentation sans the slightly bluish white and gray hues. Meanwhile, the Professional mode corresponds to sRGB and we captured a perfect color accuracy with an average deltaE of 2.
Resolution and refresh rate
You can choose the screen resolution from settings - there are two options - the native 3200 x 1440 and the more balanced 2400 x 1080. Choosing a lower resolution may result in improved battery life when playing games.
Then there are three refresh rate options - 60Hz, 120Hz, and Smart Switch. In reality, all three of these are always dynamically switching the refresh rate, it's just that 60Hz is capped at 60Hz, while the 120Hz and Smart Switch options go as high as 120Hz, and there is no difference between them.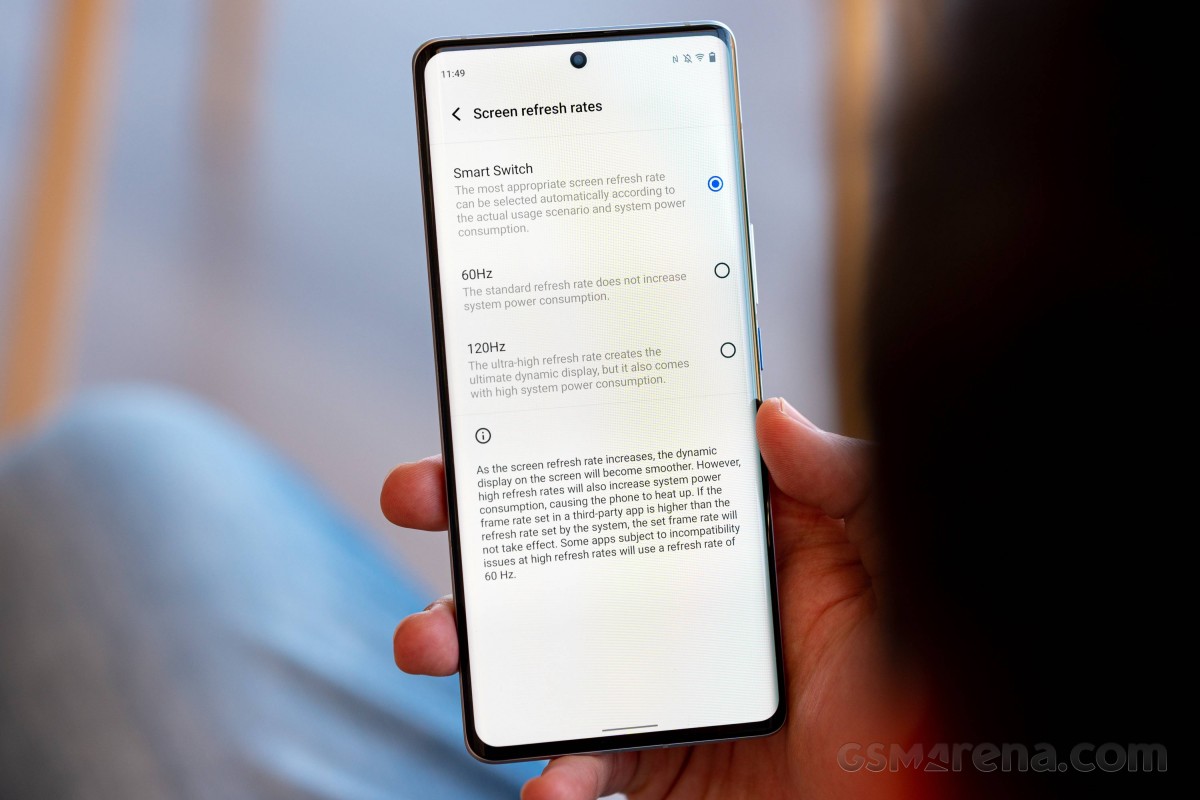 So, no matter the RR option, the screen refresh rate will drop down to 10Hz when the picture is static. The only exception is the always-on display, which uses 30Hz.
Many apps that can use high refresh rate are able to make use of it on the IQOO 9 Pro. This includes the entire interface and all system apps. Video apps usually draw their interface at 60fps, while the videos usually play at 24Hz, 30Hz, 48Hz or 60Hz, depending on the video frame rate. Unfortunately, outside the benchmarks, there were no games that were able to use an unlocked refresh rate. Whatever game we tried, it always ran at 60Hz.
HDR and other enhancements
The iQOO 9 Pro supports HDR10+, and Widevine L1 DRM is present. Compatible apps like YouTube and Amazon Prime Video can stream HDR content in high resolution. Netflix supports Full HD streaming but hasn't whitelisted the phone as HDR10 compatible just yet.
The iQOO 9 Pro has something called Visual Enhancement (like SDR to HDR) in settings, which optimizes the colors and contrast in some streaming apps like Netflix and YouTube (you can pick the apps manually from the compatible list). It does offer a minor boost in color saturation and contrast, but it will probably reduce your battery consumption.
The rest of the enhancements are part of the Ultra Game Mode. Most of the features are about mitigating disturbance during gameplay or letting certain apps display heads-up notifications. One of the most intriguing features that have been around on vivo phones for a while is the ability to turn off the screen and keep the game running in the background. Especially useful for turn-based games or those requiring some sort of "farming" and "grinding".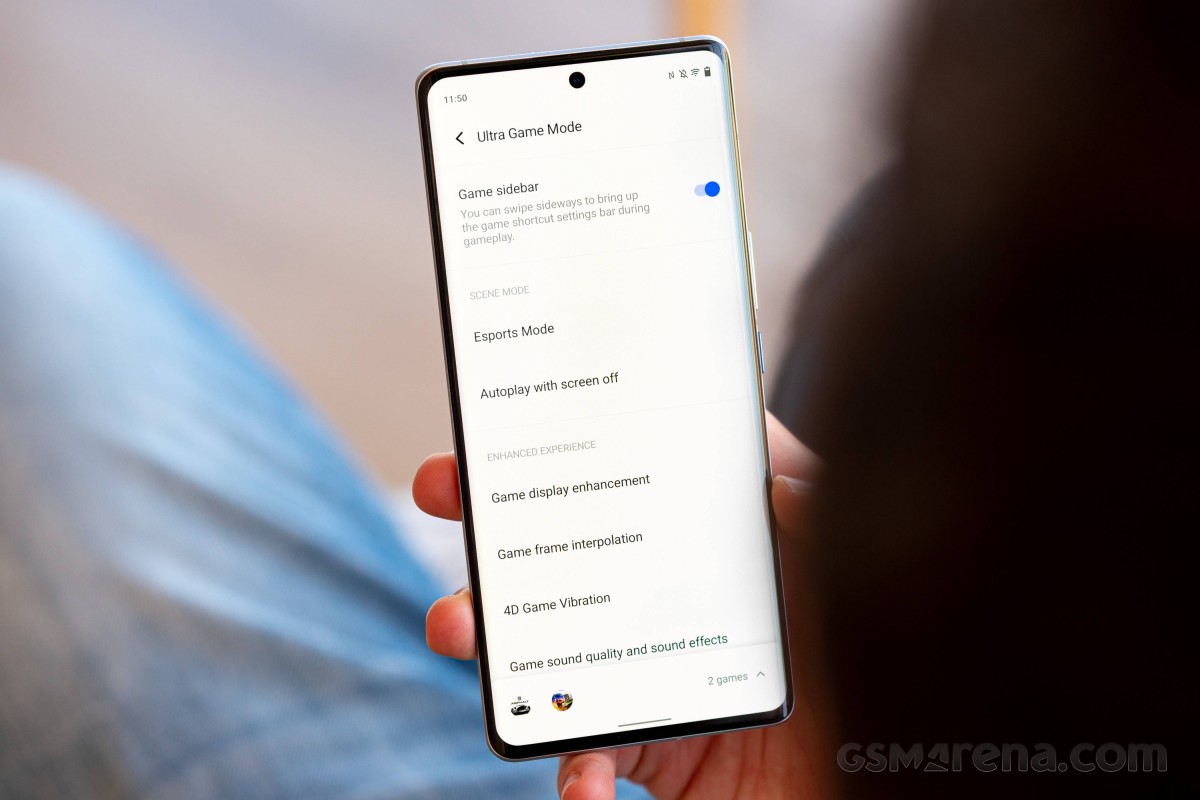 There is also Game Display Enhancement, which dynamically adjusts contrast, colors (auto SDR to HDR), sharpness and even in-game parameters. You can turn that off only if you disable the entire Ultra Game Mode from within the quick toggles.
Then there is Game Frame interpolation (MEMC), which allows you to lift the in-game frame rate from 60fps up to 90fps with automatic interpolation (at the expense of hardware and battery resources, of course). Currently, only Call of Duty Mobile, and BGMI are supported.
Finally, the Esports mode, available for selected games, allows for automatic DND mode, it disables unnecessary screen gestures, locks the brightness and balance frame rate and temperature to keep the best possible FPS. It is currently compatible with Call of Duty Mobile and BGMI.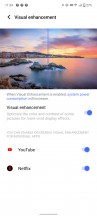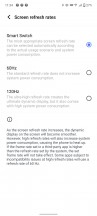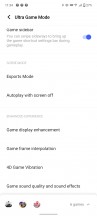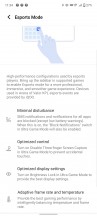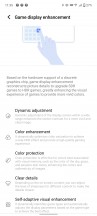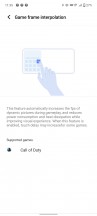 Visual enhancement • Refresh rate options • Ultra Game mode
Battery life
The iQOO 9 Pro is powered by a 4,700mAh battery, supporting 120W wired and 50W wireless charging. The battery is split into two cells, and they charge independently to achieve the advertised fast charging times. The thing that's most important for this chapter, though, is the fact that the battery has a promised lifespan of 1,000 cycles before its health degradation causes its effective capacity to drop below 80%. According to IQOO, the industry's accepted standard in this regard is 800 cycles.
So, the iQOO 9 Pro, its high-end display, its brand-new Snapdragon 8 Gen 1 chipset and the 4,700mAh battery scored a total endurance rating of 97 hours, which is a very good result for a flagship.
We are happy to report excellent screen-on times, as well as over a day of talk times. The standby consumption turned out better than expected from a flagship Snapdragon chipset, an improvement over the SD888 and the SD865.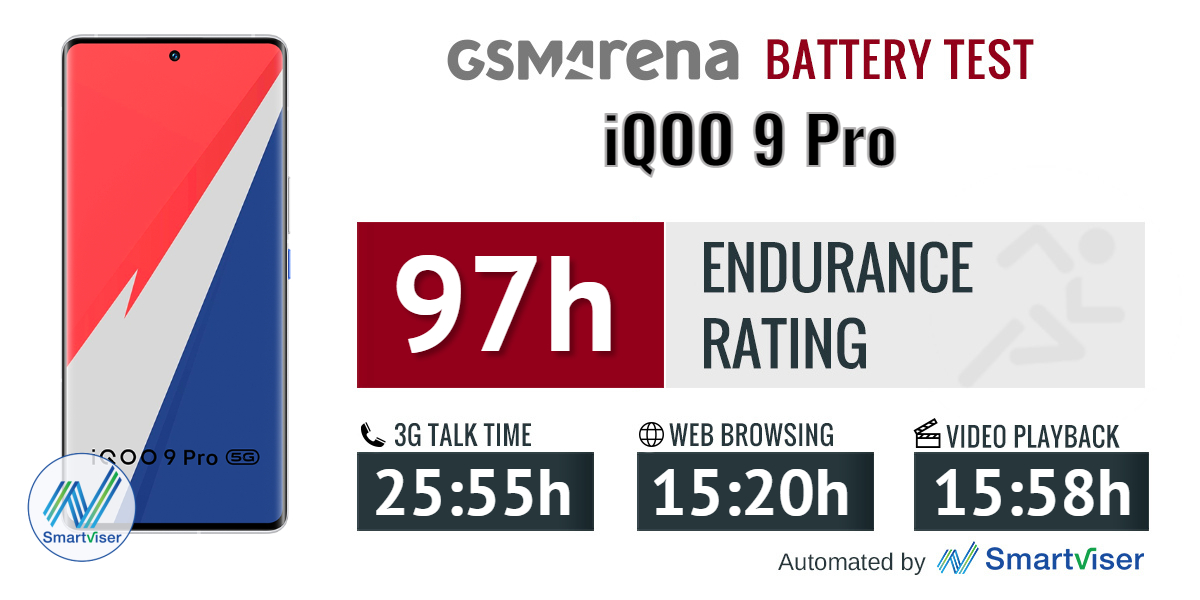 Our battery tests were automated thanks to SmartViser, using its viSerDevice app. The endurance rating denotes how long the battery charge will last you if you use the device for an hour of telephony, web browsing, and video playback daily. More details can be found here.
Video test carried out in 60Hz refresh rate mode. Web browsing test done at the display's highest refresh rate whenever possible. Refer to the respective reviews for specifics. To adjust the endurance rating formula to match your own usage patterns check out our all-time battery test results chart where you can also find all phones we've tested.
Charging speed
This is probably going to be even more interesting than the battery life chapter, so welcome, wanderers, who skipped straight to here. The iQOO 9 Pro battery supports up to 120W wired and 50W wireless Flash Charge. The phone ships with a 120W brick and a 6A-rated cable, while the 50W Flash wireless charger is sold separately.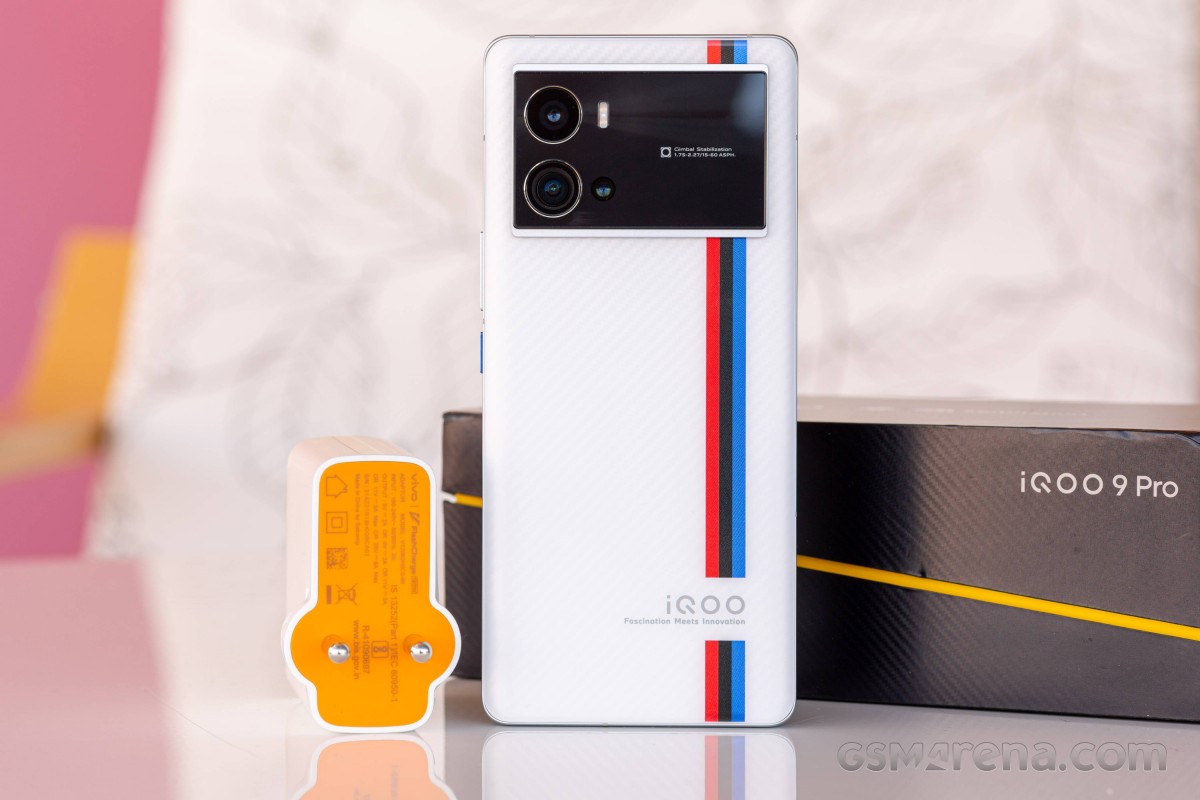 The battery itself is split into two cells with two charge pumps - this is how iQOO achieves such rapid charging. This method has been used in a few phones already, so it's not pioneered here. iQOO has made some improvements to the battery and the charger, of course, which should help the battery longevity.
So, iQOO promises the 120W charger refills 50% of the battery in 8 minutes and 100% of the battery in 20 minutes. And we can confirm these numbers - we got 50% in 8 minutes sharp, and a full charge took 21 minutes.
Time to full charge (from 0%)
Lower is better
Xiaomi Black Shark 4
0:19h
Xiaomi 11T Pro
0:21h
iQOO 9 Pro
0:21h
Xiaomi Mi 10 Ultra
0:27h
Oppo Find X3 Pro
0:28h
OnePlus 9 Pro
0:32h
ZTE nubia Red Magic 7
0:38h
Realme GT 5G (65W)
0:39h
vivo iQOO 3 5G
0:50h
As you can see, there is only one phone that recharges faster than the iQOO 9 Pro, and that's the Black Shark 4. It has a smaller battery and a similar 120W charging, which explains its edge.
Seeing the iQOO 9 Pro lives up to its wired charging promises, we have no doubt the phone will recharge on the 50W wireless charger for the promised 46 minutes.
Finally, the iQOO 9 Pro supports up to 10W reverse wireless charging on its back; you just need to turn this feature on from within the battery settings. We tried it, and it indeed charged our favorite pair of TWS earbuds. You don't need to turn it off each time; it will go off by itself after an hour or two of no activity.
Speakers loudness and quality
The iQOO 9 Pro features a stereo speaker setup. One of the speakers is above the screen and also doubles as an earpiece, the other one is at the bottom. This configuration is usually referred to as a hybrid setup.
The balance is alright - the top speaker is quieter and mostly focuses on mid-tones and voice, while the bottom one is louder and offers richer bass and high notes.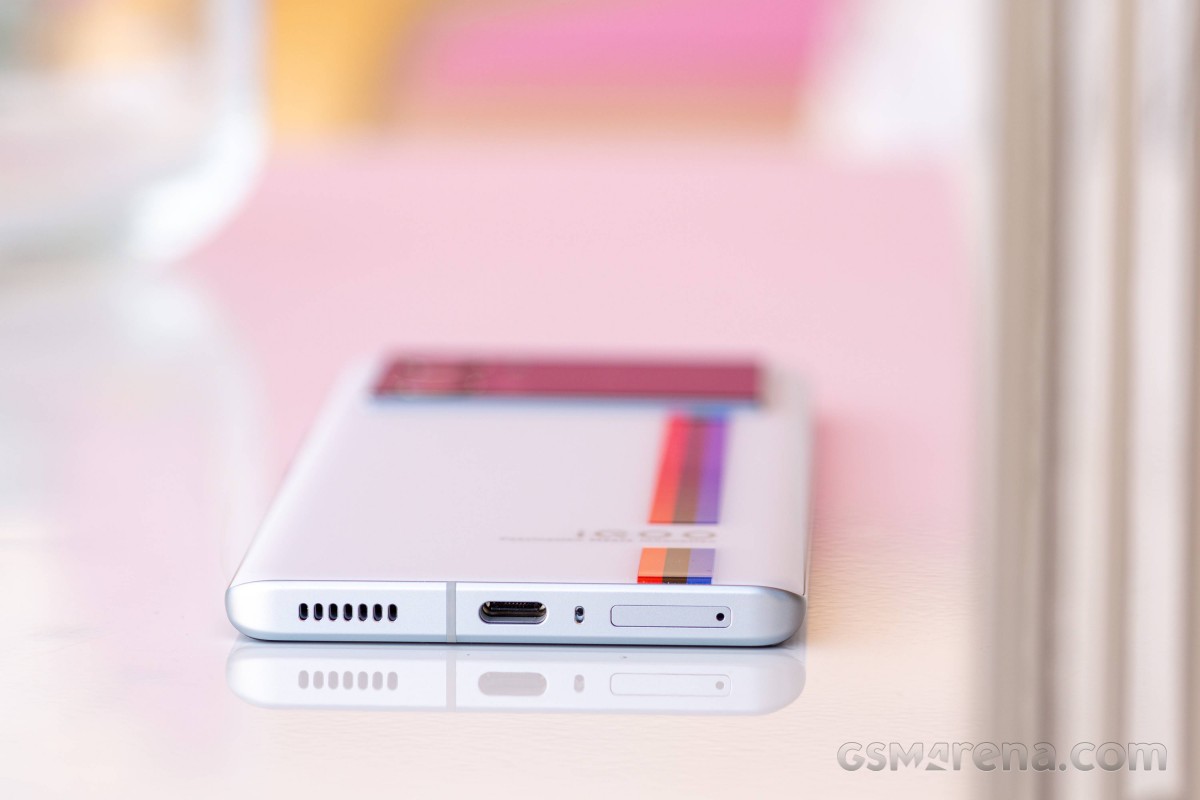 The iQOO 9 Pro scored a Very Good mark on our loudness test. Its speakers are indeed balanced, no matter if you are listening to music/video in portrait or landscape orientation. Even better, the audio quality deserves a Very Good mark as well, as we can hear bass, rich and deep mid-tones and vocals, as well as crispy high notes where it matters. We have heard better phones, sure, but not that many, hence the Very Good mark instead of Excellent.
Use the Playback controls to listen to the phone sample recordings (best use headphones). We measure the average loudness of the speakers in LUFS. A lower absolute value means a louder sound. A look at the frequency response chart will tell you how far off the ideal "0db" flat line is the reproduction of the bass, treble, and mid frequencies. You can add more phones to compare how they differ. The scores and ratings are not comparable with our older loudspeaker test. Learn more about how we test here.