Display is 144Hz only sometimes, pretty great otherwise
The iQOO 11 features a 6.78-inch display, and it's got some top-notch specs. The E6 LTPO AMOLED panel has a proper flagship 1440p resolution, a higher-than-most 144Hz refresh rate with granular adaptive switching down to 1Hz, and 1440Hz pulse-width modulation for flicker-free dimming. The spec sheet also includes HDR10+ support and a promise for 1100nits of full-screen peak brightness.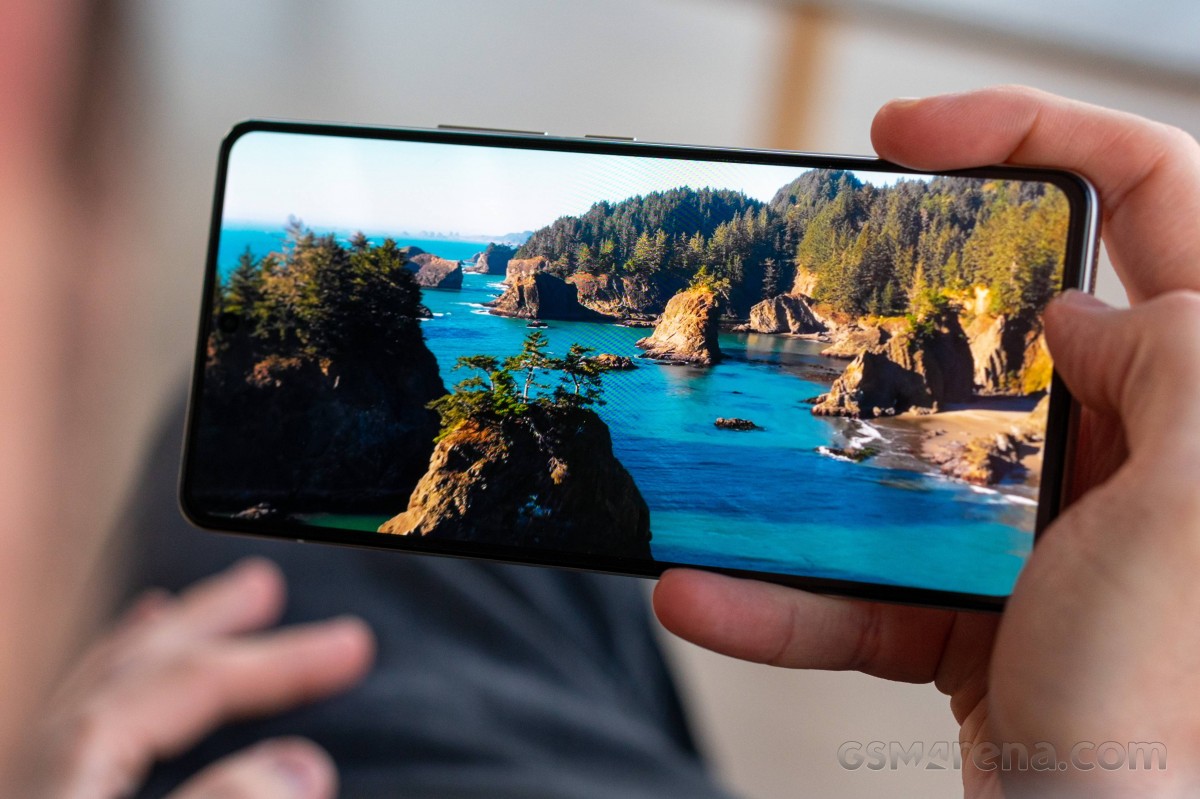 We measured 1174nits for our standard non-full-screen 75% lit-up area test. As usual, such a high value is only achievable with adaptive brightness enabled and the phone under bright light. When adjusting the slider manually, we got 488nits. Those are more or less Galaxy S22+ numbers, and the auto-boosted figure in particular is a step up from pretty much any competitor that's not Samsung.
Display test
100% brightness
Black,cd/m2
White,cd/m2
Contrast ratio
iQOO 11
0
488
∞
iQOO 11 (Max Auto)
0
1174
∞
iQOO 9T
0
503
∞
iQOO 9T (Max Auto)
0
1033
∞
iQOO 9 Pro
0
438
∞
iQOO 9 Pro (Max Auto)
0
1000
∞
Motorola Edge 30 Ultra
0
499
∞
Motorola Edge 30 Ultra (Max Auto)
0
1047
∞
Xiaomi 12T Pro
0
509
∞
Xiaomi 12T Pro (Max Auto)
0
913
∞
OnePlus 10 Pro
0
498
∞
OnePlus 10 Pro (Max Auto)
0
780
∞
Samsung Galaxy S22+
0
468
∞
Samsung Galaxy S22+ (Extra brightness)
0
782
∞
Samsung Galaxy S22+ (Max Auto)
0
1214
∞
Realme GT2 Pro
0
482
∞
Realme GT2 Pro (Max Auto)
0
778
∞
Color accuracy is reasonable, but not perfect in the default 'Standard' mode, with a relatively visible cold shift to the white point. You can minimize that by bumping the temperature slider midway to the warm position. The 'Pro' mode, on the other hand, is nearly spot-on for our set of sRGB targets.
When it comes to HDR, we did get HDR streams from YouTube. Netflix wasn't as cooperative, but it did allow FullHD streaming thanks to the Widevine L1 certification.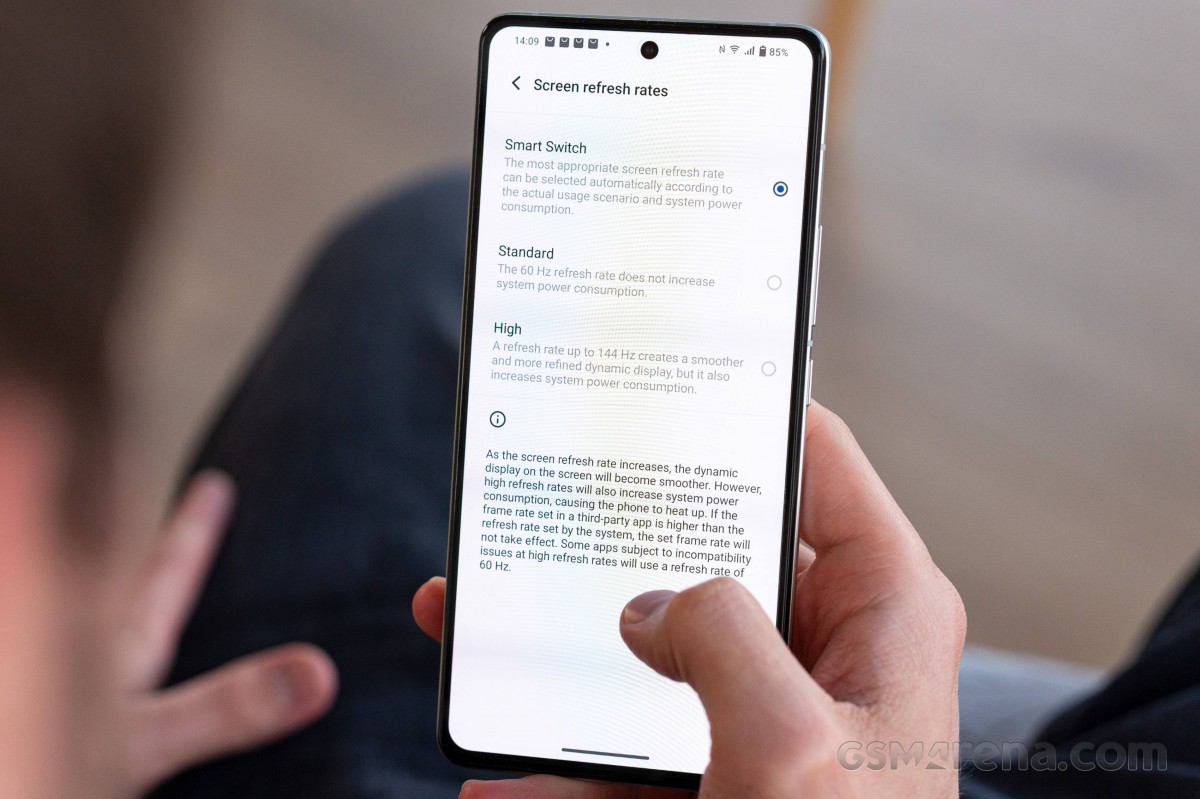 The iQOO 11's display supports refresh rates up to 144Hz, and it can also slow down to as low as 1Hz when you're not interacting with it. As usual, the behavior is dependent on other factors as well, like the app being used and the display brightness - dimmer settings keeping the refresh rate threshold higher.
There are three refresh rate modes - Smart Switch, Standard, and High. As best as we can tell, Smart Switch and High work in mostly the same fashion and will max out at 144Hz for very limited use cases - benchmarks only, really, in our experience. Both modes will happily maintain 120Hz in games that support high frame rates, which is nice. Even the Standard mode, which caps the refresh rate at 60Hz, will ramp down to lower values when it deems 60Hz is too wasteful at the moment.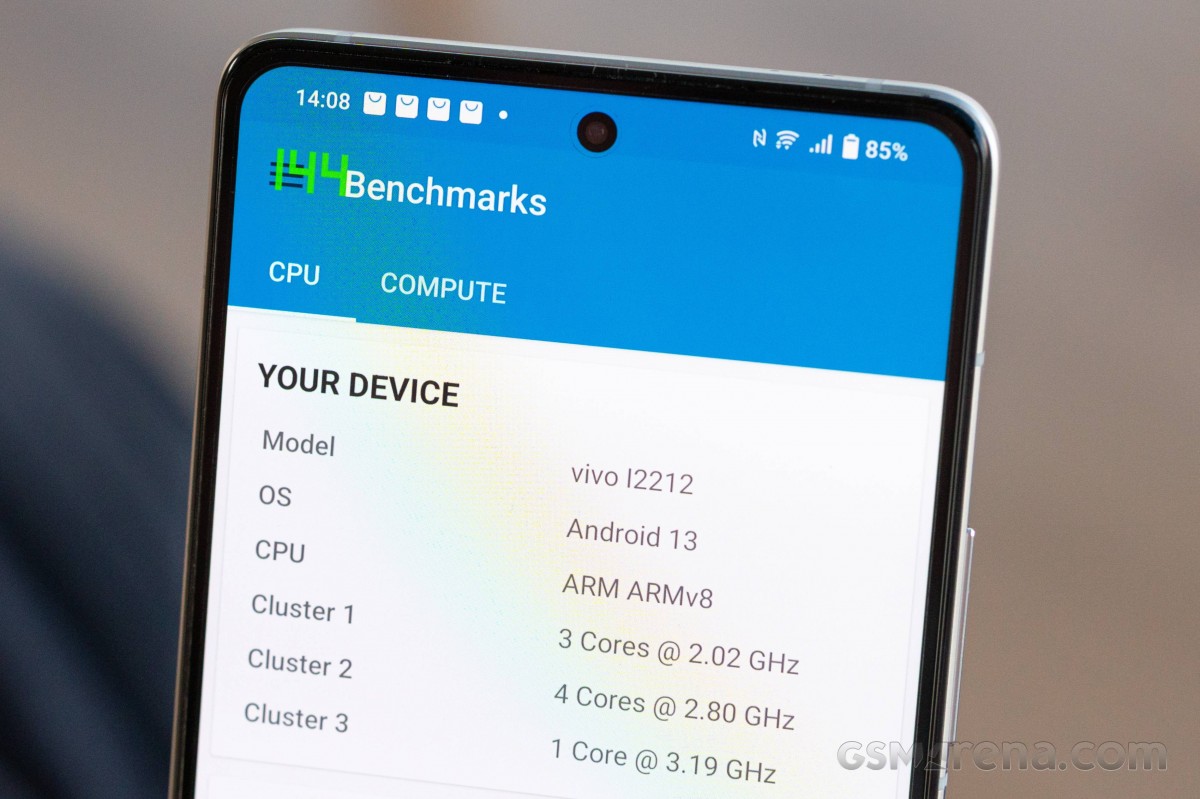 Overall, it looks like a very logical adaptive refresh rate implementation without artificially imposed limits other than the fact that the 144Hz mode appears to be available only for a short selection of whitelisted apps.
iQOO 11 battery life
The iQOO 11 is powered by a 5,000mAh cell - a small but nonetheless appreciated upgrade over the 4,700mAh power pack of the iQOO 10 and 9T. The 9T already had a solid battery life in our experience, so we expected a great showing from the 11. Indeed, it delivered.
We clocked 20 hours on our Wi-Fi web browsing script with the auto-refresh rate varying between 5Hz and 60Hz - there was no way to force the maximum refresh rate for the purposes of this test. Moving on, the phone could loop our test video for over 23 hours (maintaining a 24Hz refresh rate) - another respectable result. Above-average numbers in voice calls and standby efficiency added to an overall excellent performance, and the iQOO 11 earned an Endurance rating of 127h.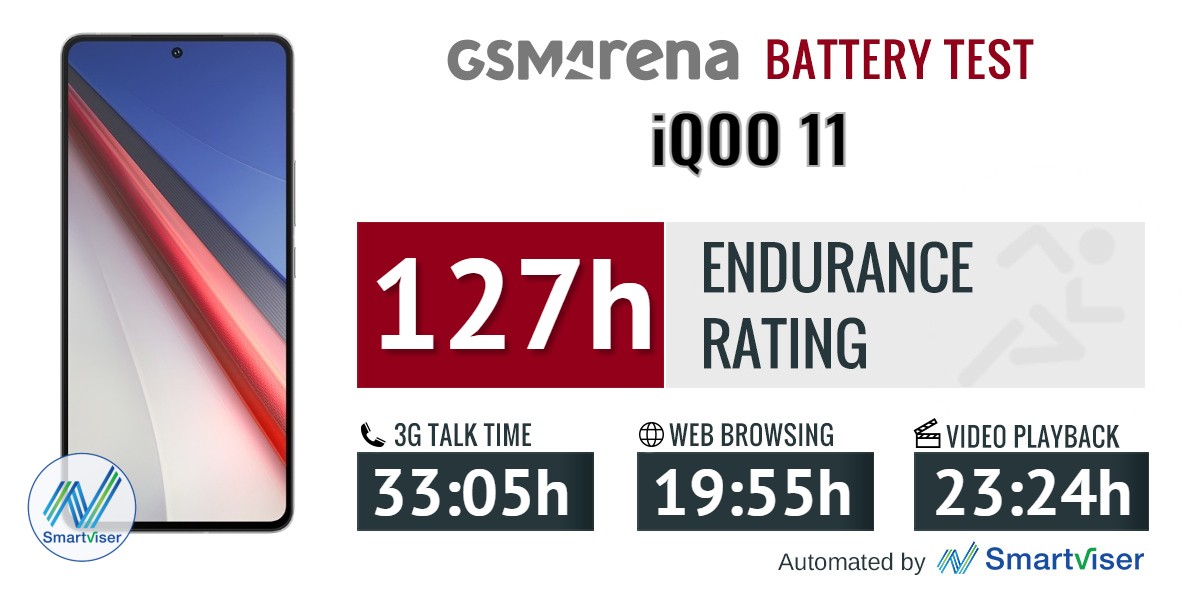 Our battery tests were automated thanks to SmartViser, using its viSerDevice app. The endurance rating denotes how long the battery charge will last you if you use the device for an hour of telephony, web browsing, and video playback daily. More details can be found here.
Video test carried out in 60Hz refresh rate mode whenever possible. Web browsing test done at the display's highest refresh rate whenever possible. Refer to the respective reviews for specifics. To adjust the endurance rating formula to match your own usage - check out our all-time battery test results chart.
We carried out the screen-on tests on the iQOO 11 at both the native resolution of 1,440x3,200px and the out-of-the-box setting of 1,080x2,400px, and we got virtually identical results.
Charging speed
iQOOs have been acing our charging speed tests, and the 11, with its 120W charging capability and included charger, joined the ranks of other super-fast charging models from the brand.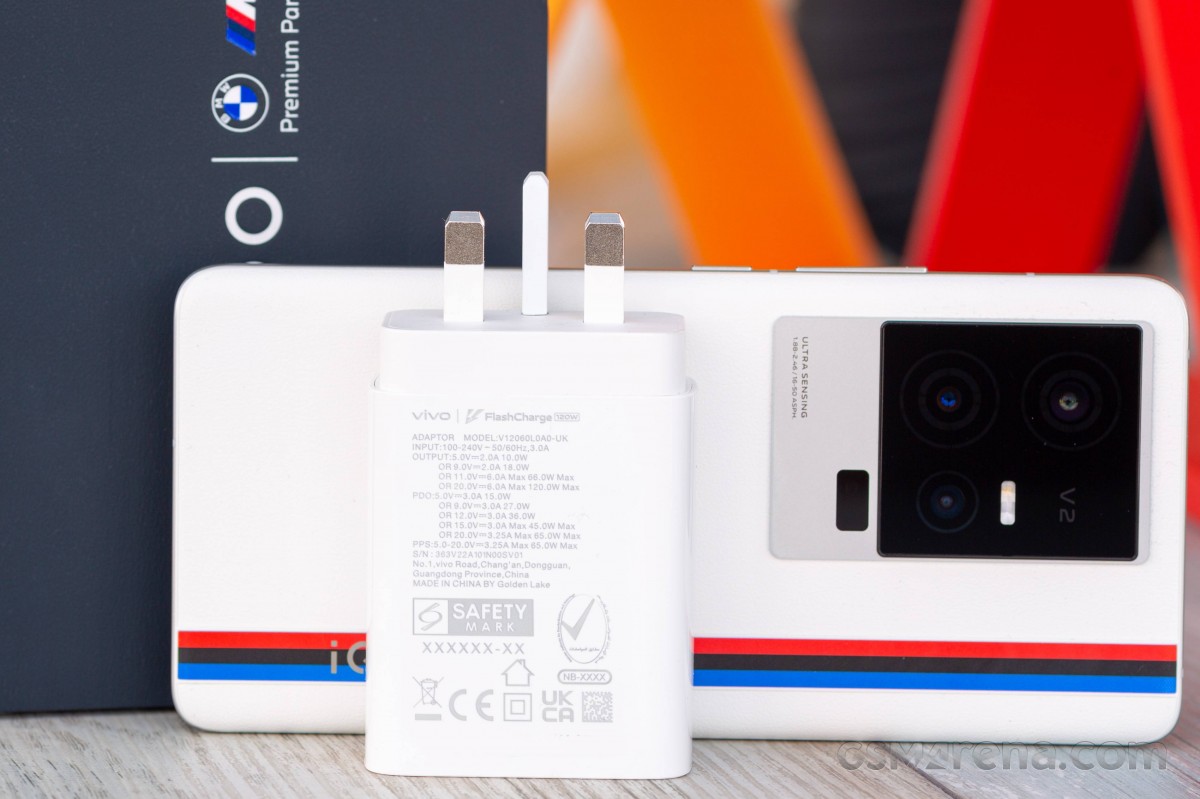 Starting from flat, it took 22 minutes for the iQOO 11 to reach 100% - we're perfectly okay with the extra couple of minutes compared to the record holders. The first 15 minutes will get you to 83%, which, coupled with the great endurance, is probably good enough for a full day of real-life use.
15min/30min charging test (from 0%)
Higher is better
Sort by
Name
15 min time
30 min time
Realme GT Neo3 150W

100%

96%

iQOO 9T

100%

92%

Xiaomi 12 Pro

100%

88%

iQOO 11

100%

83%

Realme GT2 Explorer Master

100%

71%

Xiaomi 12T Pro

100%

58%

iQOO 9 Pro

100%

N/A

OnePlus 10T

100%

N/A

OnePlus 10 Pro

98%

N/A

Motorola Edge 30 Ultra

95%

N/A

Realme GT2 Pro

91%

N/A

vivo X80 Pro

88%

N/A

Motorola Edge 30 Pro

85%

N/A

Samsung Galaxy S22+ (25W)

62%

N/A
* Tap/hover over the device names for more info
% charge in 15 minutes % charge in 30 minutes
Time to full charge (from 0%)
Lower is better
| | |
| --- | --- |
| Realme GT Neo3 150W | 0:16h |
| iQOO 9T | 0:18h |
| OnePlus 10T | 0:19h |
| iQOO 9 Pro | 0:21h |
| Xiaomi 12 Pro | 0:21h |
| iQOO 11 | 0:22h |
| Xiaomi 12T Pro | 0:23h |
| Realme GT2 Explorer Master | 0:25h |
| OnePlus 10 Pro | 0:32h |
| Motorola Edge 30 Ultra | 0:33h |
| vivo X80 Pro | 0:39h |
| Realme GT2 Pro | 0:40h |
| Motorola Edge 30 Pro | 0:53h |
| Samsung Galaxy S22+ (25W) | 1:02h |
* Tap/hover over the device names for more info
There's no wireless charging on the iQOO 11 - that feature appears to be limited to the Pro models in the lineup.
Speaker test
The iQOO 11 has a stereo speaker setup of the usual type - a 'main' speaker on the bottom and an earpiece doubling as a second speaker. The earpiece gets the left channel when the phone is held vertically, and the channels get switched around depending on the orientation in landscape.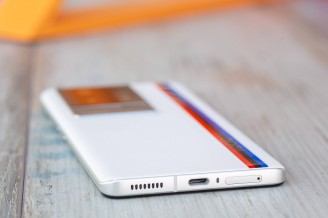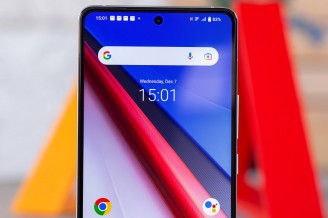 Bottom speaker • Top speaker/earpiece
The iQOO 11 earned a 'Good' rating for loudness in our test, in between the 'Average' 9T and the 'Very Good' 9 Pro. The 11 has clear vocals, sparkly treble and some presence in the low end, and it's possibly the best overall out of these three iQOOs. It's miles better than the Motorola Edge 30 Ultra, for example, and arguably nicer than the Xiaomi 12T Pro, too.
Use the Playback controls to listen to the phone sample recordings (best use headphones). We measure the average loudness of the speakers in LUFS. A lower absolute value means a louder sound. A look at the frequency response chart will tell you how far off the ideal "0db" flat line is the reproduction of the bass, treble, and mid frequencies. You can add more phones to compare how they differ. The scores and ratings are not comparable with our older loudspeaker test. Learn more about how we test here.