Display
The iPhone XR has a 6.1-inch, IPS LCD with a resolution of 1792x828. This gives it a pixel density of 326PPI, which is identical to the iPhone 8 and previous small screen iPhones but less than the Plus sized iPhones (401PPI), and the iPhone X, XS and XS Max (458PPI).
Apple calls this the Liquid Retina HD display because it's LCD, Retina, HD and because Apple likes coming up with these silly marketing names.
That aside, the display has an advertised 1400:1 contrast ratio and supports DCI-P3 wide color and Apple's True Tone technology that adjusts the color temperature based on ambient lighting. What you don't get on this display is hardware support for Dolby Vision and HDR-10 (only software support), and 3D Touch.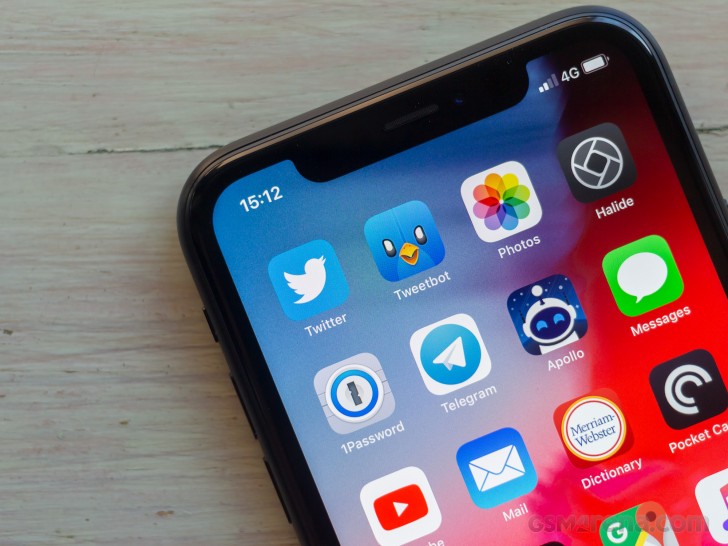 Update, November 2: We ran our brightness test and got precisely 700nits out of the iPhone XR - mightily impressive. The OLED iPhones are a bit dimmer at full blast, and so are most of the competitors. That said, the LCD of the Mate 20 can go as high as 778nits and the LG G7 ThinQ's outdoor mode pumps out some 900nits. Black levels weren't overly high either, and the math for contrast works out to over 1600:1 - well over the claimed number.
Display test
100% brightness
Black, cd/m2
White, cd/m2
Contrast ratio
Apple iPhone XR
0.425
700
1647
Apple iPhone XS
0
660
∞
Apple iPhone XS Max
0
653
∞
Apple iPhone 8 Plus (True Tone)
0.392
530
1352
Apple iPhone 8 Plus (Standard)
0.392
530
1352
Apple iPhone 8 Plus (Max Auto)
0.471
621
1318
HTC U12+
0.2
366
1830
HTC U12+ (Max Auto)
0.214
389
1818
LG G7 ThinQ
0.225
460
2044
LG G7 ThinQ (outdoor)
0.499
920
1844
Xiaomi Mi 8
0
458
∞
Xiaomi Mi 8 (Max Auto)
0.002
624
312000
Oppo Find X
0
426
∞
Sony Xperia XZ3
0
442
∞
Sony Xperia XZ3 (Max Auto)
0
620
∞
Razer Phone 2
0.401
380
948
Razer Phone 2 (Max Auto)
0.403
426
1057
OnePlus 6T
0
453
∞
OnePlus 6T (Max Auto)
0
455
∞
Huawei Mate 20
0.347
491
1415
Huawei Mate 20 (Max Auto)
0.554
778
1404
We also measured the color accuracy and we're happy to report the XR's LCD is one super accurate LCD. The average DeltaE against an sRGB target was a negligible 0.6 with near perfect whites - nice.
The display has outstanding color performance and when Apple says it has an industry-leading color performance for an LCD, we believe it. Besides just calibrating the display properly, Apple also has support for color management baked into both the software and the hardware. This, along with the wide color support, means the phone can display content in its native color profile without the user having to manually switch modes.
The screen also has excellent viewing angles as expected from an IPS LCD. It also gets extremely bright and is perfectly visible outdoors under sunlight.
Where the display is lacking is in pixel density. A user upgrading from a small size iPhone won't notice a difference but a Plus-sized iPhone user will notice the slight drop in sharpness.
For the record, 326PPI is adequately sharp for most users as it's already pushing past most people's visual acuity. Text, in particular, looks perfectly sharp on the iPhone XR display. Where we noticed the most difference was in images and videos, which were slightly softer. Again, for iPhone 6s, 7 or 8 users, this wouldn't be any different than what they are used to but ideally, at this point, we would prefer if Apple phased out its sub-400PPI panels.
As for being an LCD, Apple's LCD panels have generally been some of the best in the business so we are not going to start complaining now. Yes, the contrast ratio and black levels are weaker compared to OLED panels but Apple's color accuracy is just as good regardless of panel type and the viewing angles and brightness are also satisfactory. On the upside, you don't have to worry about any burn-in, not that it has been a problem on the OLED iPhones.
However, the downside of the LCD also means thicker bezels. The bezels, much like the notch, aren't really noticeable during everyday use. However, both become a problem when watching videos. The bezels make videos appear letterboxed at times and the experience isn't particularly enjoyable. Also, the notch cuts into the video if you make it fullscreen.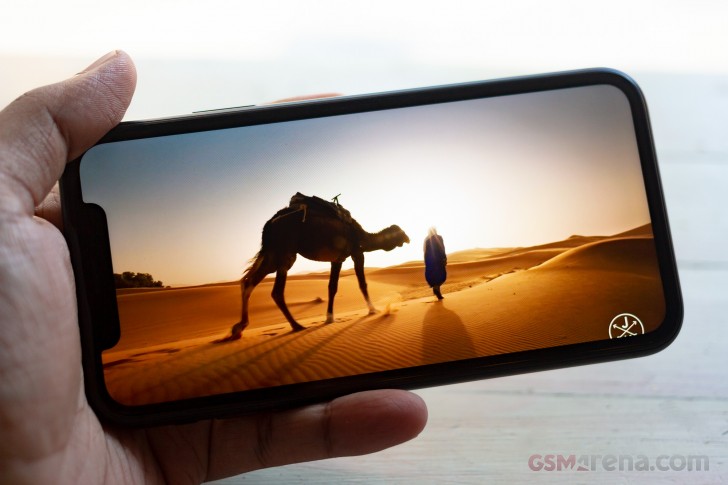 We also missed not having 3D Touch. Understandably, not many people use this feature or even know it exists, but if you're one of the few who does you'd know it's actually an awesome way to get things done quickly. You can get by on this phone in some places by pressing and holding, such as in the Control Center, or some apps like Instagram. On the keyboard, you can just long press on the Space key to move the cursor around instead of pressing down on the keyboard.
Still, you can no longer access app shortcuts by pressing down on app icons as that just makes the home screen go into app uninstall mode, nor can you press down in most other apps to access additional functionality, such as previewing links in Safari or emails in Mail. It's a shame Apple has been so wishy-washy on 3D Touch instead of doubling down and adding it to all its iOS devices. We are sure even the upcoming iPads won't have this feature.
As for other things that are missing, we would have also liked to see hardware support for HDR. Having said that, it's understandable why that is the case as LCD panels without full array local dimming aren't suitable for HDR and ideally, you'd want OLED or similar self-emitting technology. The phone has software support for Dolby Vision and HDR-10 and can emulate an HDR effect in some apps like Netflix and the default Videos app for HDR content purchased from iTunes.
The touchscreen layer on the iPhone XR supports 120Hz refresh rate, much like the iPhone X, XS and XS Max. This is not the panel itself refreshing at 120Hz but just the touchscreen layer. With twice the polling frequency, the touchscreen layer can recognize and process your inputs much quickly, which adds to the feeling of instant reactions and fluidity while scrolling or typing on the keyboard. Apple's touchscreen latency has always been the benchmark but with the increased frequency it's indistinguishable from having zero latency.
Speaking of the touchscreen, it's good to see Apple implement proper touch rejection once again. While watching videos, you can comfortably rest your thumb on the edges of the screen or even parts of the screen itself and the phone is smart enough to know you're just resting your fingers and not interacting with the screen. This has been a major problem with Android devices and their shrinking bezels that continue to lack any sort of touch rejection, even recent ones like the Pixel 3 XL.
Loudspeaker
The iPhone XR gets the same new stereo speaker system that you find on the iPhone XS.
Apple upgraded its loudspeaker system for the third year in a row. After introducing stereo speakers on the iPhone 7, Apple upgraded it last year on the iPhone 8 and X with louder sound. This year, the new iPhones get what Apple is calling wider stereo playback.
The new speaker system sounds basically like it has a surround sound effect enabled permanently. The sound is projected further outwards creating a wider soundstage. This makes the audio sound more three dimensional when listening to stereo effects.
This is obviously not really noticeable when listening in portrait mode but immediately obvious when you hold the phone sideways. Whether you are watching movies or playing games, there is a much wider sound enveloping you with improved stereo projection. It actually sounds pretty cool in games with positional audio, such as PUBG or Fortnite, where you can hear the sound of gunshots or footsteps from around you.
The effect seems optimized for movies and games particularly, as music doesn't always benefit from such wide presentation. Not that it sounds bad, but it's not ideal. Still, you're less likely to listen to music on loudspeakers than videos or games, so as a whole it's an improvement.
The speakers also sound exceptionally clean and clear all the way to the max volume. Apple applies equalization to the sound as you increase volume but the sound never drastically changes as it tends to with most smartphone speakers. Even if you blast these at full volume, it just sounds louder without the audio changing much from lower volume levels in terms of frequency response.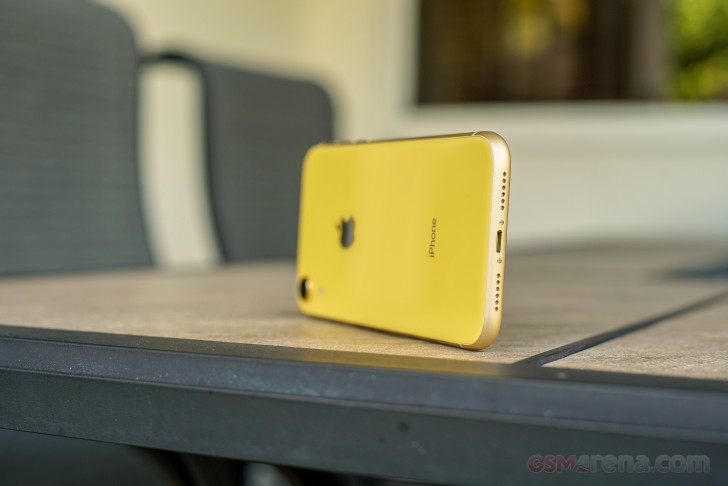 Apple's sound balance is also one of the best out there. Many manufacturers with stereo speakers struggle to get the volume even across both speakers, and although Apple's speakers also have different volume levels, they balance it out since one points directly at you and one sideways. The end result is a perfectly balanced stereo sound. The speakers also switch channels if you rotate the phone, regardless of whether the auto rotation is enabled or disabled in settings so the audio always comes out the correct side.
As with all new iPhones sold going forward, the iPhone XR does not come with the Lightning to 3.5 mm Headphone Jack Adapter. You do get the standard EarPods, which sound fairly decent and have audio controls built-in, but their fixed design means they don't fit everyone. At this point, Apple really just wants you to get wireless headphones, which isn't such a bad idea, except we'd still like to have the option to use wired headphones, even if with an adapter.
Update, November 2: We managed to put the iPhone XR and a sound meter in the same room and measure the loudspeaker loudness. Predictably, it ranked in the 'Excellent' category, just like the XS Max, both a bit louder than the XS.
| | | | | |
| --- | --- | --- | --- | --- |
| Speakerphone test | Voice, dB | Pink noise/ Music, dB | Ringing phone, dB | Overall score |
| OnePlus 6 | 70.2 | 74.7 | 70.0 | Good |
| Honor Play | 68.3 | 73.8 | 75.8 | Good |
| BlackBerry KEY2 | 66.5 | 72.0 | 79.8 | Good |
| OnePlus 6T | 67.2 | 72.5 | 84.5 | Very Good |
| Apple iPhone XS | 71.5 | 75.7 | 78.9 | Very Good |
| Samsung Galaxy Note9 | 71.2 | 74.9 | 80.2 | Very Good |
| Oppo Find X | 70.7 | 75.2 | 81.2 | Very Good |
| Huawei Mate 20 | 74.3 | 70.2 | 82.6 | Very Good |
| Sony Xperia XZ3 (ClearAudio+) | 68.0 | 75.3 | 84.0 | Very Good |
| Apple iPhone XS Max | 70.5 | 74.0 | 84.7 | Excellent |
| Sony Xperia XZ3 | 71.0 | 75.4 | 82.9 | Excellent |
| Google Pixel 3 | 77.5 | 71.7 | 81.1 | Excellent |
| Apple iPhone XR | 76.9 | 74.8 | 79.3 | Excellent |
| Motorola Moto Z3 | 80.1 | 73.2 | 85.0 | Excellent |
Apple iPhone XR battery life
The iPhone XR has a 2942mAh battery, which is larger than the battery on the iPhone XS but smaller than the one on the iPhone XS Max.
However, because most of the iPhone XS Max' extra battery capacity goes into powering that massive OLED display, the iPhone XR actually has the highest battery life out of the three new iPhones this year, according to Apple's own battery life claims.
In our usage, the overall battery life on the iPhone XR was very good. We don't have exact usage numbers and Apple also made it impossible to see the usage since the last charge in the iOS 12 update as it now shows usage in the last 24 hours instead.
Still, based on some rough calculations, we got about 6-7 hours of screen-time on this phone and about 20-22 hours of usage. Even after a day of photo taking, navigation, social media usage, calling and general usage, the iPhone XR still had about 15% battery left at the end of the day. You can use this phone as you normally would and still go through an entire day without having to worry about it dying on you before the end of the day.
Update, November 2: We got round to running our usual set of battery tests, and the results are in. We're used to IPhones posting unimpressive numbers in our voice call tests, so the 15 hours on a 3G call didn't surprise us. It's a bit remarkable that the phone can loop videos for longer than it can maintain a voice call, but that's pretty great if you're into watching videos - you'll get just over 15 hours of that on a single charge. Browsing the web over Wi-Fi, on the other hand will deplete the battery in 13 hours. That's two ours more in each screen-on test than what we got out of the XS Max. The overall Endurance rating works out to 78h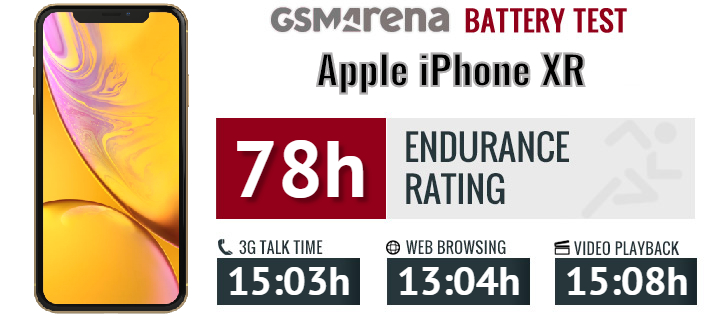 Our endurance rating denotes how long a single battery charge will last you if you use the Apple iPhone XR for an hour each of telephony, web browsing, and video playback daily. We've established this usage pattern so our battery results are comparable across devices in the most common day-to-day tasks. The battery testing procedure is described in detail in case you're interested in the nitty-gritties. You can also check out our complete battery test table, where you can see how all of the smartphones we've tested will compare under your own typical use.
What sours the experience is the charging situation. The iPhone XR comes with the same 5W charger as other iPhones. If you are an overnight charger, this would fit the bill perfectly; the three hour charge time for a full charge should fit easily within a normal sleep cycle and as a bonus, the low wattage should also ensure battery longevity.
But, if you ever need to top up the battery in a hurry, the bundled charger is absolutely frustrating, with even an hour of charging resulting in just 40% power. Our recommendation would be to invest in the 12W iPad charger, which isn't too expensive but dramatically increases the charging times.
Apple's own recommended solution is to get the 30W USB-C Power Adapter ($49) along with the USB-C to Lightning Cable ($35), but that's an expensive solution to a problem Apple created itself. This charger is also bulkier than the iPad's.
Alternatively, you can charge the iPhone XR wirelessly but that requires investing in a wireless charger and even the relatively faster 10W models aren't particularly fast, so again they are best for overnight charges or just to keep topping up your phone whenever you are at your desk and not using it.