iPhone 15 Pro owners report dead NFC modules after using wireless charging in their BMWs
Apple acknowledged that the iPhone 15 Pro and 15 Pro Max suffer from overheating issues and pointed the finger at a bug in iOS 17. A fix is in the works, but a new issue has surfaced – wireless charging might be damaging the NFC module. There are only a few isolated incidents reported for now, but it has happened often enough that it can't be ignored.
Several folks in the MacRumors forums as well as posters on X have reported issues with setting up Apple Pay – when replacing the phones at an Apple Store, the employees suggested that the NFC module had died.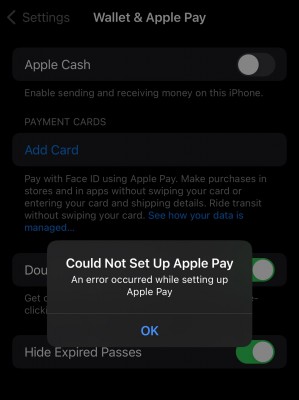 Apple Pay issues (possibly a dead NFC module) after using wireless charging in a BMW
Eventually, the people found a possible cause – the issues started after using the wireless charging pads in their BMWs. And the phone didn't just quietly suffer damage, in some cases it went into data recovery mode. And it wasn't a case of a defective unit, the replacement phones also had their NFC modules die. According to the users, they had no such issues with previous iPhone models.
So far the reports are coming mostly from iPhone 15 Pro owners who drive a BMW, though one user with a 2023 Toyota Supra chimed in to say that Apple Pay on their 15 Pro gave up the ghost.
Our sister site, ArenaEV, just did a review of the BMW i7 xDrive60 and the Android phone used during the tests survived. It got warm during charging, but that was the end of it. Heat can't be the issue, though, the iPhone 15 Pro Max ran quite hot when we benchmarked it and nothing came of it.
If you have an iPhone 15 Pro or 15 Pro Max and drive a BMW, avoid using the car's wireless charging, at least until Apple and BMW figure out what is going wrong. For now it seems that the iPhone 15 and 15 Plus don't have the same issue, but you may want to play it safe, anyway.
?
As I said before, you introduced the flip phone into the discussion not me.
D
The Supra was developed in conjunction with BMW - so likely the same component.
ADVERTISEMENT