6.67-inch 120Hz AMOLED display
One of the main selling points of the Infinix Zero X Pro is definitely its large 6.67-inch display. It has a rather standard aspect ratio of 20:9 and an area of about 107.4 square centimeters. Not too shabby at all, though some of that is cut away by the rounded corners.
You get a FullHD+ 1080 x 2400-pixel resolution, which works out to a very respectable 395 ppi. The display looks sharp and crisp in person.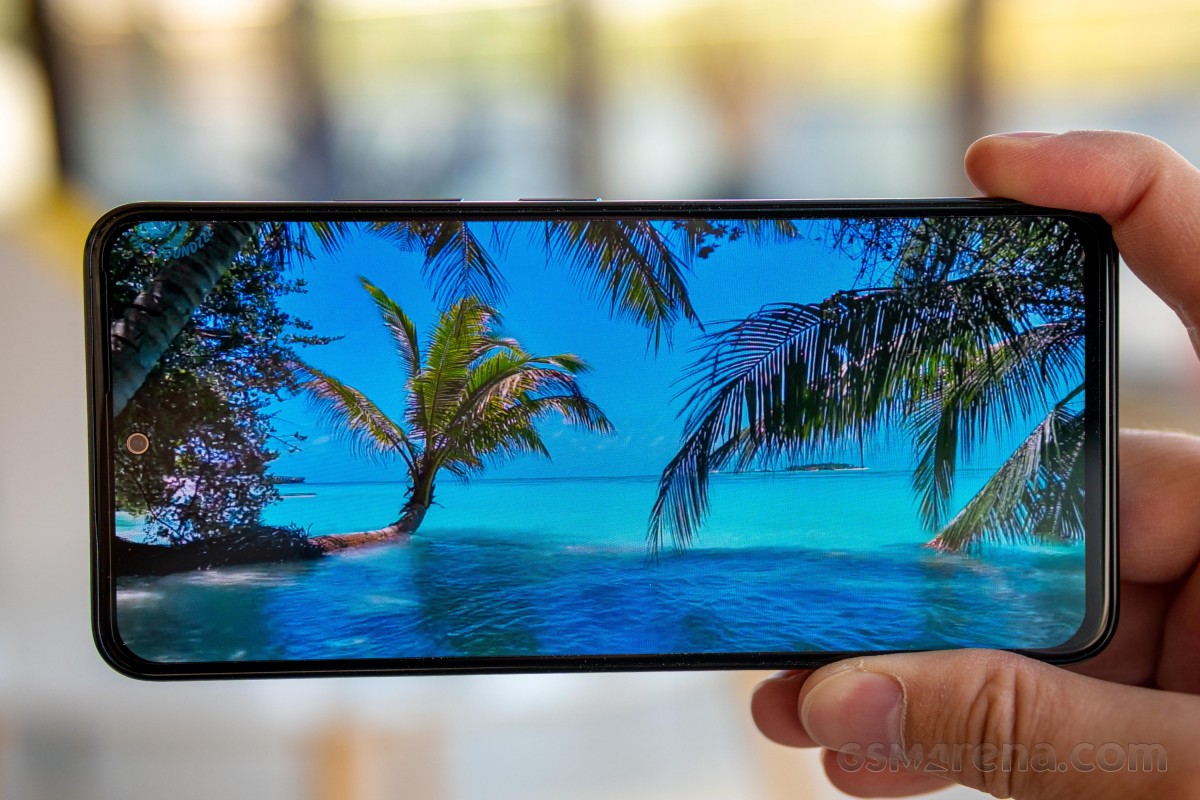 As part of its move towards a more premium segment, Infinix has opted for an AMOLED panel. It is advertised as offering 700 nits of peak brightness, though without any info on how much of the display can be turned on for that figure to come through.
The Infinix Zero X Pro managed a maximum of 515 nits in our standardized testing. That's not particularly impressive for a modern OLED, but still decent enough to be usable outdoors in anything shy of direct sunlight.
That measurement was achieved by maxing out the brightness slider. There is, unfortunately, no max auto mode. The Infinix Zero X Pro still has a light sensor, which works well with automatic brightness turned on. One criticism related to brightness is that the slider is vert non-linear, with most of the available brightness concentrated between 80% and 100%.
Display test
100% brightness
Black,cd/m2
White,cd/m2
Contrast ratio
Samsung Galaxy A32 (Max Auto)
0
814
∞
Xiaomi Redmi Note 10 Pro (Max Auto)
0
725
∞
Poco F3 (Max Auto)
0
716
∞
Xiaomi Redmi Note 10 (Max Auto)
0
682
∞
Realme 8 (Max Auto)
0
657
∞
Realme GT Master (Max Auto)
0
634
∞
OnePlus Nord CE 5G (Max Auto)
0
607
∞
Poco M3 Pro 5G (Max Auto)
0.366
536
1464:1
Poco X3 Pro (Max Auto)
0.4
534
1335:1
Infinix Zero X Pro
0
515
∞
Poco F3
0
511
∞
Samsung Galaxy A32 5G (Max Auto)
0.338
497
1470:1
Xiaomi Redmi 10 (Max Auto)
0.4
477
1193:1
Xiaomi Redmi Note 10
0
475
∞
Samsung Galaxy A12 (Max Auto)
0.349
472
1352:1
Infinix Note 11 Pro
0.292
470
1610:1
Poco X3 Pro
0.327
458
1401:1
Realme 8
0
458
∞
Xiaomi Redmi Note 10 Pro
0
457
∞
Infinix Note 10 Pro
0.337
447
1326:1
Poco M3 (Max Auto)
0.277
439
1585:1
Realme GT Master
0
437
∞
OnePlus Nord CE 5G
0
429
∞
Samsung Galaxy A32 5G
0.286
426
1490:1
Poco M3 Pro 5G
0.28
413
1475:1
Samsung Galaxy A12
0.292
398
1363:1
Xiaomi Redmi 10
0
396
1494:1
Poco M3
0.252
395
1567:1
Samsung Galaxy A32
0
393
∞
Samsung Galaxy A22 5G
0.236
385
1631:1
Color accuracy was a major issue on both the Infinix Note 11 Pro and the Note 10 Pro we recently checked out, mostly due to the total lack of color modes and adjustment options. We hoped that being a higher-end device, this would not be the case with the Zero X Pro. Unfortunately, it lacks color modes and corrections as well.
The color profile you get out of the box is quite disappointing as well. Infinix was clearly aiming for a color space wider than sRGB and more akin to DCI-P3, which is admirable. However, colors are way off on pretty much every channel. Whites have a distinct blue hue to them, cyan is particularly over-boosted, and green is not far off. All the while, reds are a bit understated.
Infinix does not officially advertise any HDR support on the Zero X Pro. However, its Android APIs report both HDR10 and HLG. Take that as you will. Unfortunately, it doesn't really matter too much, seeing how the Netflix app does not appear to show HDR support. Neither does the YouTube app. However, the worst bit is that the Zero X Pro only has Widevine L3 certification, which limits it to 480p streaming on services like Netflix. This was the case with the Infinix Note 11 Pro, as well, but interestingly enough, not the Note 10 Pro. We aren't sure how easily Infinix can address this in an update.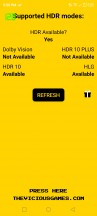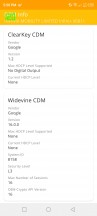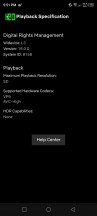 HDR • Widevine • Netflix Playback capabilities
High refresh rate handling
The Infinix Zero X Pro doesn't just pack an AMOLED panel. It's a 120Hz one as well, with 240Hz touch sampling. The 120Hz mode actually works surprisingly well too. Before we go through the practical specifics, though, it is worth noting that Infinix markets something it calls a "Boost Intelligent Display Chip", which is apparently a separate chip that handles display operation. We have seen such implementations of other devices, famously OnePlus, but unfortunately, Infinix offers no specific info on what this chip is or what it does. Frame insertion or maybe interpolation? Our guess is as good as yours. In any case, at 120Hz, the Infinix Zero X Pro is smooth and snappy in practice.

You get to choose between three different refresh rate modes in settings. 60Hz works exactly as expected - it just locks refresh rate at 60Hz.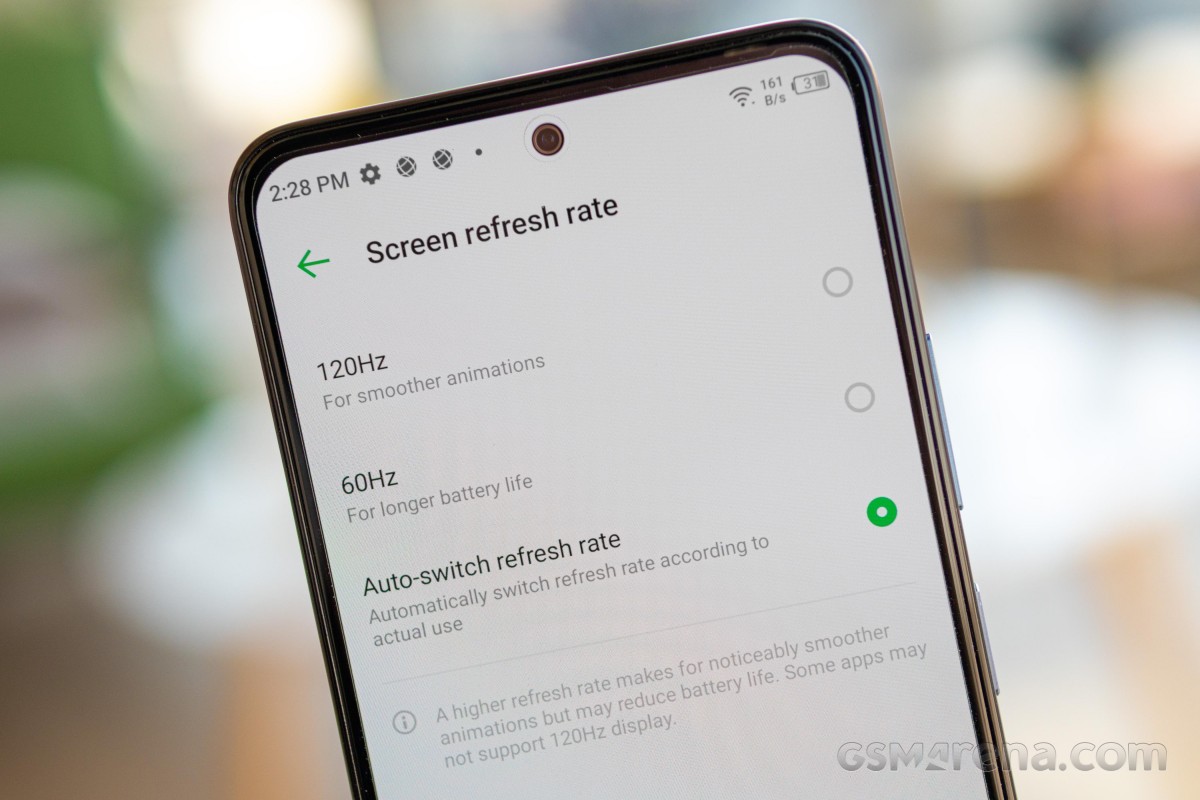 In contrast, 120Hz mode is not strictly locked at 120Hz, but rather, it favors 120Hz, while still doing some strategic changing down to 90Hz or 60Hz in some apps to save power.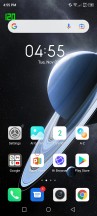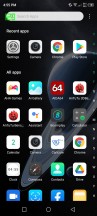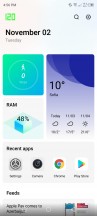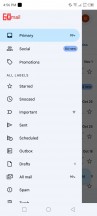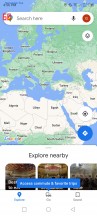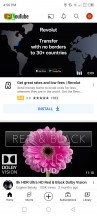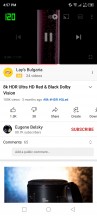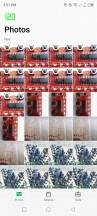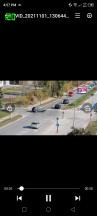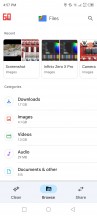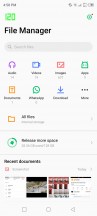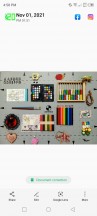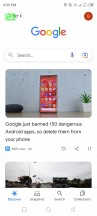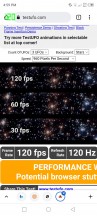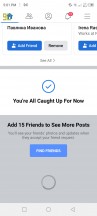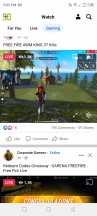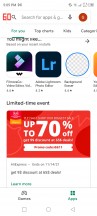 Infinix Zero X Pro working in 120Hz mode
We made sure to try a few games, known to be able to render at over 60 fps as well. All of them managed to work in 120Hz mode, and while the Infinix Zero X Pro doesn't have a built-in fps meter for us to verify actual in-game fps, we can say, with a fair level of certainty, that these games ran at over 60fps as well.
The Auto-switch refresh rate toggle tries its best to offer more dynamic refresh rate management, and indeed we noticed that the Infinix Zero X Pro dropped down to 60Hz a lot more frequently in auto mode. Notably, while playing video, which is important for battery conservation. The problem is that this often happens for apps that could benefit from 120Hz. Chrome only ran at 60Hz, which is a particularly annoying one.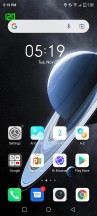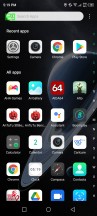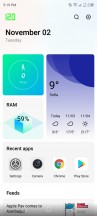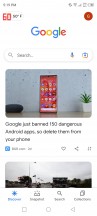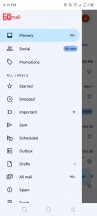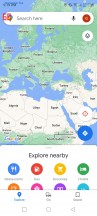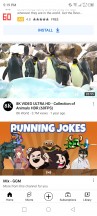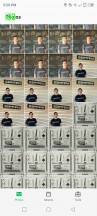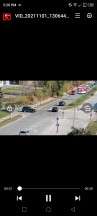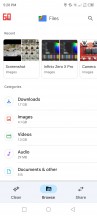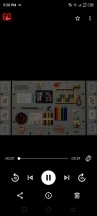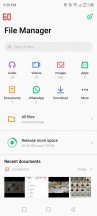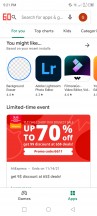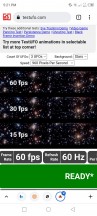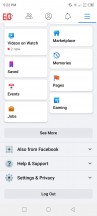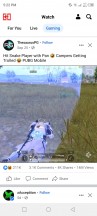 Infinix Zero X Pro working in Auto-switch refresh rate mode
The same goes for games. Out of the titles we already confirmed were running in a high refresh rate mode, and with greater than 60fps, we only managed to get one to behave as expected while in auto mode. The rest were capped at 60fps.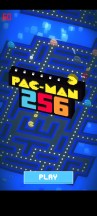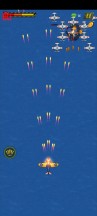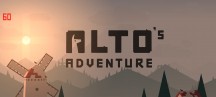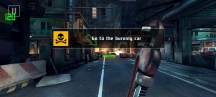 Games in Auto-switch refresh rate mode
So overall, high refresh rate handling on the Infinix is good but still not perfect. Some extra work is either required to make the auto mode better or, alternatively, Infinix could just implement a per-app refresh rate settings menu, which would allow you to just pick and choose when to save on power and when to have the benefits of a smoother experience.
Battery life
The Infinix Zero X Pro has a decent size 4,500 mAh battery. Not quite as big as the 5,000 mAh packs on the Infinix Note 11 Pro and the Note 10 Pro, but still very respectable. Then again, the Zero X Pro isn't nearly as big as those Note devices as a whole, measuring 164.1 x 75.7 x 7.8 mm and is also notably lighter at 193 grams. All in all, the battery fits the body, which is what we are getting at.
The MediaTek Helio G95 has already proven to be a pretty battery efficient chip, and Infinix actually manages to handle its high refresh rate and automatic switching reasonably well too, which all adds up to excellent overall battery endurance.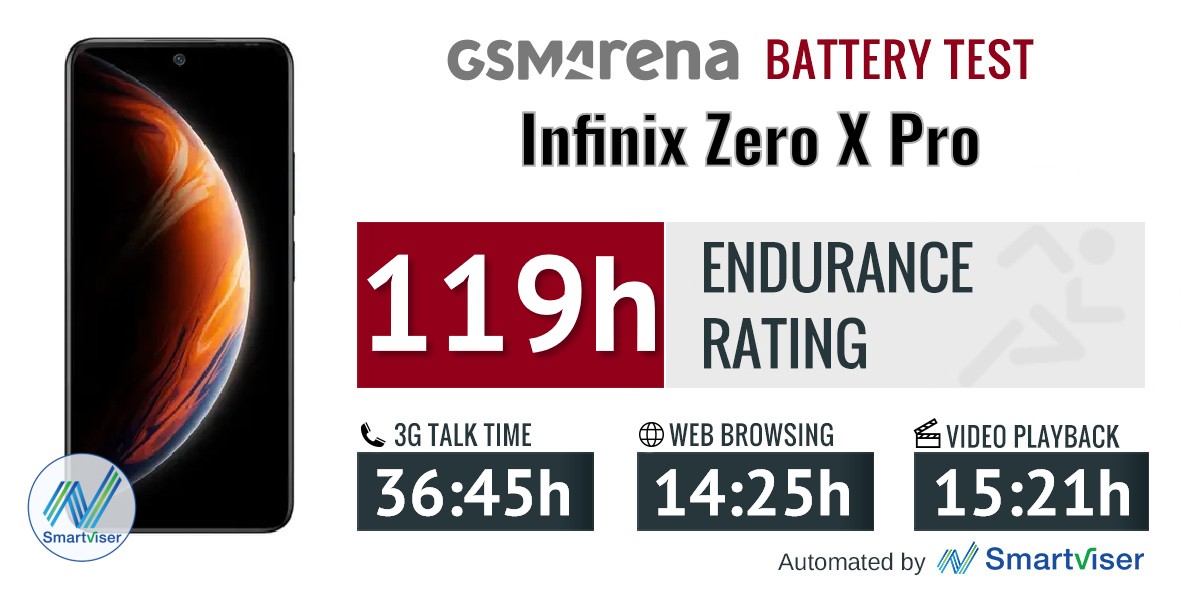 Comparing individual battery numbers to the Infinix Note 10 Pro, which has the same chipset and basically the same software, with 500 mAh more juice, shows impressive consistency all around. Great to see. The same is true when looking at other Helio G95 devices like the Realme 8. The Infinix Zero X Pro makes proper use of the battery capacity it has. No complaints there.
Our battery tests were automated thanks to SmartViser, using its viSerDevice app. The endurance rating denotes how long the battery charge will last you if you use the device for an hour of telephony, web browsing, and video playback daily. More details can be found here.
Video test carried out in 60Hz refresh rate mode. Web browsing test done at the display's highest refresh rate whenever possible. Refer to the respective reviews for specifics. To adjust the endurance rating formula to match your own usage patterns check out our all-time battery test results chart where you can also find all phones we've tested.
Charging speed
The Infinix Zero X Pro supports up to 45W charging. This appears to be done via some custom charging solution since the 45W Infinix charger is rated for an output of 11V@4.1A MAX, besides the standard 5V@2A.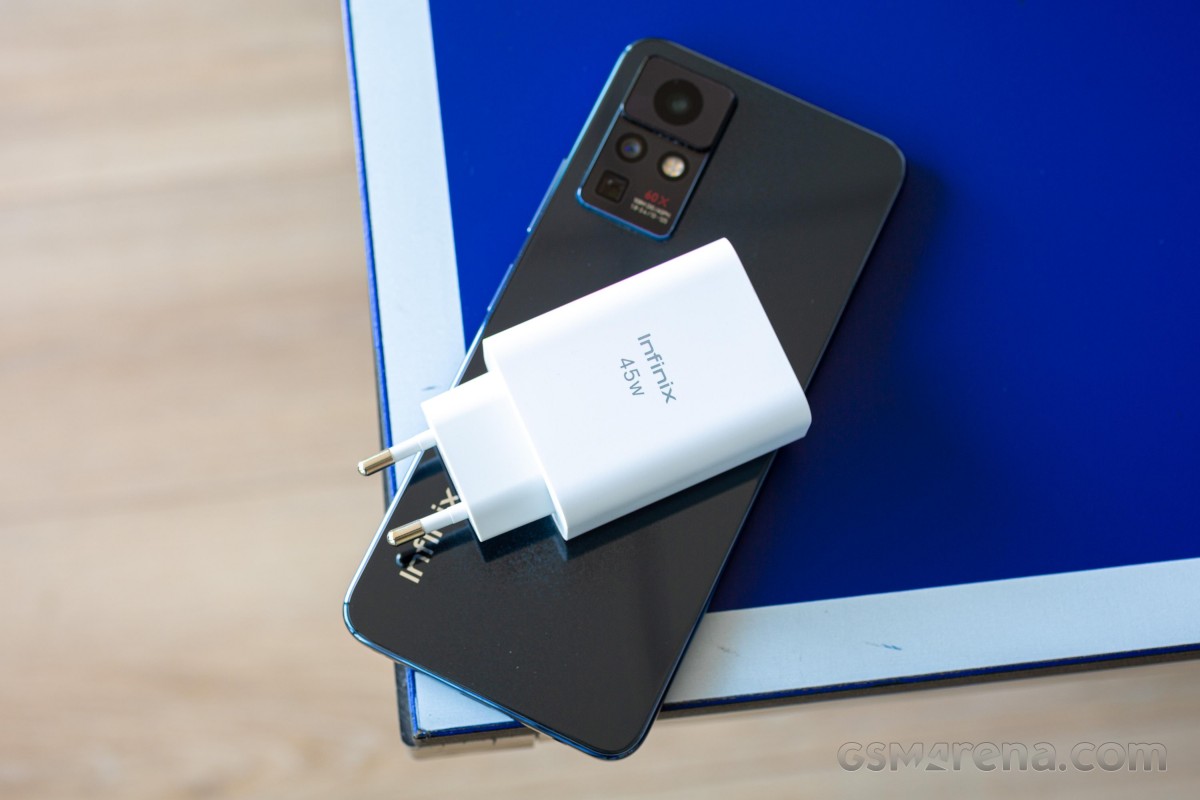 This is not an instantly recognizable voltage and amperage combination for us, so you should probably hold on to that charger that Infinix thankfully includes in the box. The USB Type-A to Type-C cable is probably a good idea to keep around as well. It does not appear to use any additional pins but is probably rated for the higher current, while a different cable might not be able to handle the same.
30min charging test (from 0%)
Higher is better
Realme GT Master
100%
Infinix Zero X Pro
76%
Poco F3
67%
Xiaomi Redmi Note 10
65%
Xiaomi Mi 11 Lite 5G
58%
Xiaomi Mi 11 Lite 4G
58%
Samsung Galaxy A52 (25W)
52%
Xiaomi Redmi Note 10 Pro
50%
Poco X3 Pro
50%
Samsung Galaxy A52
34%
Poco M3 Pro 5G
33%
Infinix Note 10 Pro
26%
Xiaomi Redmi 10
26%
Infinix Note 11 Pro
25%
Samsung Galaxy A32
25%
Poco M3
25%
Samsung Galaxy A22 5G
23%
Samsung Galaxy A32 5G
23%
Samsung Galaxy A12
20%
Samsung Galaxy A12
20%
Time to full charge (from 0%)
Lower is better
Realme GT Master
0:30h
Poco F3
0:56h
Infinix Zero X Pro
0:58h
Xiaomi Mi 11 Lite 5G
1:04h
Xiaomi Mi 11 Lite 4G
1:04h
Poco X3 Pro
1:08h
Xiaomi Redmi Note 10
1:13h
Xiaomi Redmi Note 10 Pro
1:21h
Samsung Galaxy A52 (25W)
1:30h
Poco M3 Pro 5G
2:00h
Samsung Galaxy A52
2:03h
Infinix Note 10 Pro
2:05h
Infinix Note 11 Pro
2:07h
Xiaomi Redmi 10
2:13h
Samsung Galaxy A32
2:19h
Samsung Galaxy A32 5G
2:24h
Samsung Galaxy A22 5G
2:29h
Poco M3
2:30h
Samsung Galaxy A12
3:03h
Samsung Galaxy A12
3:03h
In practice, the Infinix Zero X Pro charger surprisingly quickly. Thirty minutes on the charger give you right around 76% of charge from a dead phone, with a full charge taking just shy of an hour. Impressive stuff.
Speaker
The Infinix Zero X Pro just has a single bottom-firing speaker. Not even a hybrid stereo system, which is doubly disappointing seeing how the Infinix Note 11 Pro does have a hybrid setup and a very respectable one at that.
Loudness is only AVERAGE on the Zero X Pro, and it doesn't do particularly well in terms of performance either, with a frequency response that is a bit all over the place, particularly in mids and highs.
You can, however, tune out a big chunk of these deficiencies if you invest enough time inside the included DTS Sound platform. Audio options are surprisingly in-depth and abundant. Unfortunately, a bit wasted on the basic speaker setup. Kind of the polar opposite of the display situation, where you get a promising AMOLED panel but absolutely zero control over colors.
Use the Playback controls to listen to the phone sample recordings (best use headphones). We measure the average loudness of the speakers in LUFS. A lower absolute value means a louder sound. A look at the frequency response chart will tell you how far off the ideal "0db" flat line is the reproduction of the bass, treble, and mid frequencies. You can add more phones to compare how they differ. The scores and ratings are not comparable with our older loudspeaker test. Learn more about how we test here.