6.85-inch 90Hz, LCD display
The 6.85-inch display on the Infinix Zero 8 is definitely an attention-grabber. That's primarily since the FullHD panel in question supports 90Hz refresh rate and 180Hz touch sampling rate.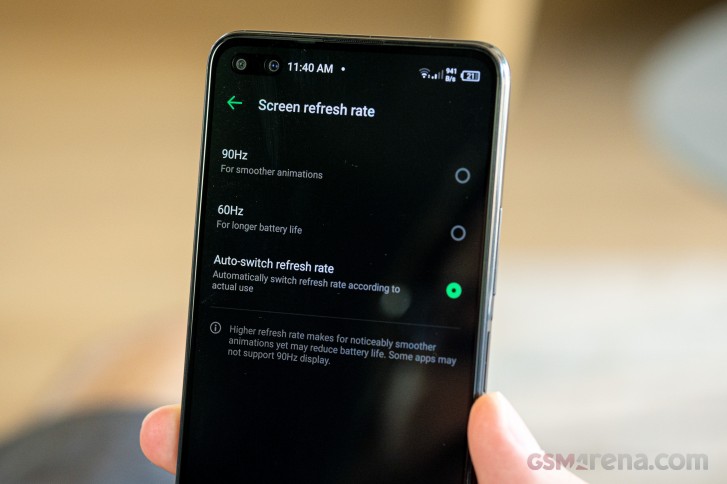 The jump to 90Hz refresh rate makes a noticeable difference is smoothness, both for gaming and daily use. However, this situation with modern panels and their quality and behavior, especially the new high refresh rate ones is rarely is clear-cut as simply pointing-out the extra smoothness.
The panel on the Zero 8 is definitely smoother than a regular 60Hz IPS, but also exhibits a lot of fringing and ghosting, especially in text, while scrolling. The speed on the individual pixels seems to be a bit low. This results in smeared and harder to read text, at times and does slightly soil the extra smoothness the 90Hz mode offers. And it's not an issue related to 90Hz operation either. Dropping the refresh rate on the Zero 8 down to 60Hz does not fix the issue. Pixel response times are just sluggish.
Display test
100% brightness
Black,cd/m2
White,cd/m2
Contrast ratio
Xiaomi Redmi Note 8 Pro (Max Auto)
0.486
640
1317:1
Xiaomi Redmi Note 8 (Max Auto)
0.475
631
1328:1
Realme 6i
0.328
528
1610:1
Huawei P30 Lite (Max Auto)
0.413
501
1213:1
Samsung Galaxy A21s (Max Auto)
0.384
491
1279:1
Huawei P30 Lite
0.39
480
1231:1
Xiaomi Redmi Note 8
0.311
473
1521:1
Xiaomi Redmi Note 9 (Max Auto)
0
466
∞
Xiaomi Redmi Note 8 Pro
0.347
460
1326:1
Realme 6
0.343
451
1315:1
Infinix Zero 8
0.206
450
2184:1
Xiaomi Redmi 9 (Max Auto)
0.253
426
1684:1
Samsung Galaxy A21s
0.317
408
1287:1
Xiaomi Redmi Note 9
0.298
370
1242:1
Xiaomi Redmi 9
0.202
328
1624:1
Even ignoring all of that weirdness, the panel on the Infinix Zero 8 simply fails to impress in other aspects. Its maximum brightness, as best we managed to measure, reached 450 nits, which is not too hot for an LCD.
The slow-to-react auto brightness mode also makes the Zero 8 hard to recommend for a good outdoors experience.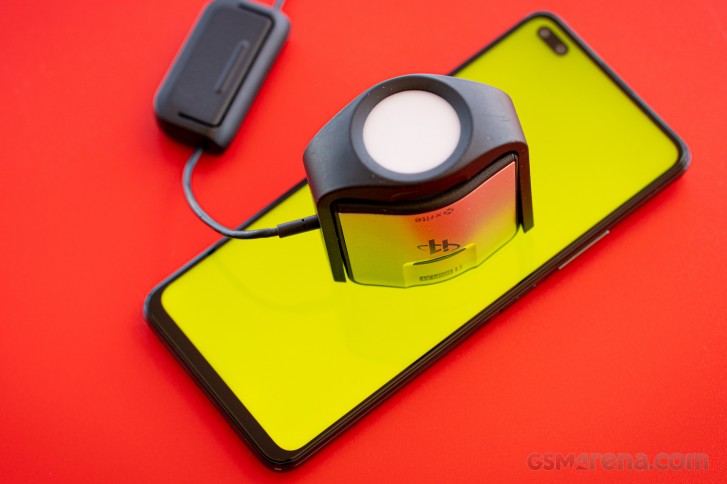 There is also a total lack of color modes on our review unit. A bit weird, seeing how even the cheapest budget handsets nowadays try to at least offer some control to the user. Points off there. Testing in the only color mode results in sub-par color accuracy, with an average deltaE of 7.6 and a maximum of 13.3. A simple white point adjustment slider could have gone a long way here as whites and grays have a bluish tint.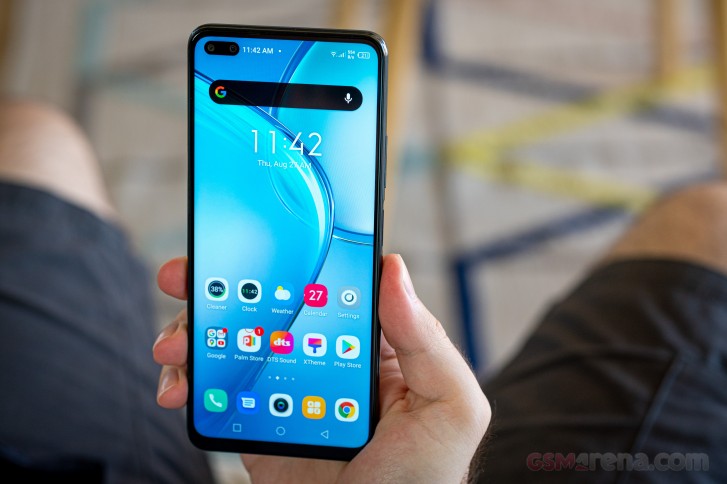 At least the contrast ratio isn't too bad and the panel has minimal light bleed at 0% brightness. However 450nits of max brightness remains lackluster.
HDR support adds yet another extra bit of weirdness to the mix. Yes, you read that right, at least on a software level, the Infinix Zero 8 reports that it supports both HDR10 and HLG. This is also backed-up by the fact that the YouTube app did, in fact, allow us to select HDR options in the quality selector.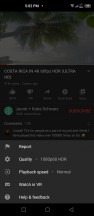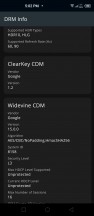 YouTube HDR options • DRM check
In person, this didn't really result in a spectacular effect, though. If the Infinix Zero 8 does, indeed have support to interpret HDR data, it can't really do much to display it properly. We saw very little actual HDR benefits while watching some shadow-heavy HDR clips, we are familiar with. Even if somehow HDR worked and looked better on the Zero 8, though, another issue is the Widevine L3 certification. That means that none of the major streaming services, with available HDR content, like Netflix and Amazon will even serve that content to the Infinix Zero 8.
With the ongoing surge of high refresh rate smartphone panels, we have started to pay more attention to just how they handle their refresh rate. Like many others, Infinix decided to include an auto refresh rate option, alongside its toggles for 60Hz and 90Hz, but in our testing, the auto refresh rate mode never put the display in 90Hz. Not even once.
The forced 90Hz mode, however, worked just as expected. All system and downloaded apps ran in sync with the high refresh rate. We had no way of verifying which games hit the 90fps but there certainly was no framerate cap at 60fps like there is in Auto mode.
Battery life
The Infinix Zero 8 has a pretty sizeable 4,500 battery pack at its disposal. It also manages to mage pretty good use of that juice, delivering a solid endurance rating of 116 hours in its native 90Hz mode.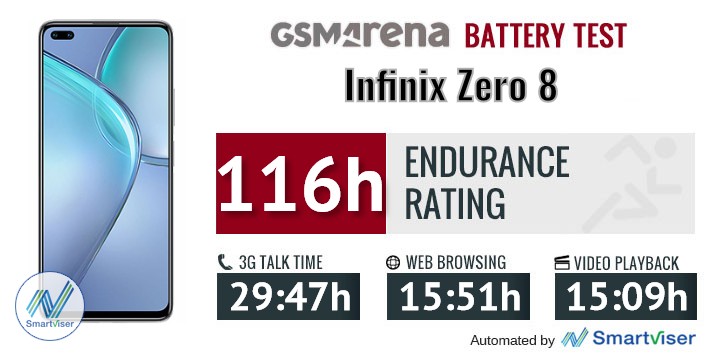 Drop the refresh rate down to a more comfortable 60Hz and the numbers start looking even more impressive.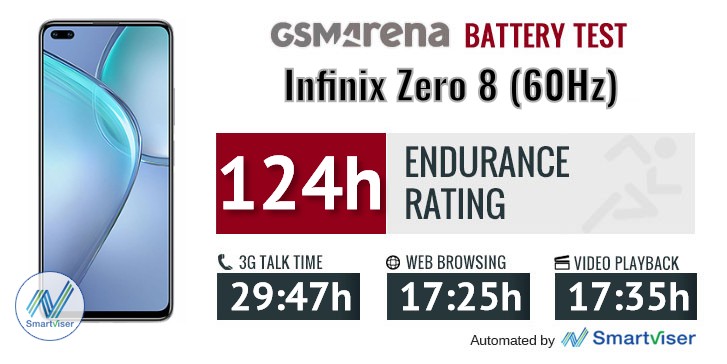 That's not an insignificant difference in on-screen performance to observe. However, the flip side of the story is that the Zero 8 is clearly leaving unused battery life on the table and outright wasting it in its 90Hz mode. That's not a stab at the 90Hz mode, directly, though. It does what it is supposed to do - manually fix the refresh rate at 90Hz regardless of what is currently on screen, like a video player, playing our 24ish fps sample video.
If Auto mode worked as intended, instead of simply behaving as a second 60Hz toggle, we could have theoretically had the best of both worlds here. Especially considering how well the Zero 8 managed to hold its charge while in standby. It is worth noting, though, that its attitude towards notifications while in standby is a bit too aggressive for our taste. The IMs we tried did manage to push a notification through, even if a few minutes late, but many other apps had to wait until we woke the phone, resulting in an avalanche of new notifications. Not ideal, but potentially fixable.
Using the included 33W charger to top-off the Infinix Zero 8 is a very speedy affair. Especially for a budget device. You need less than 20 minutes to get from zero to 20% charge. 25 minutes gets you to 50% and you are looking at around 65% at the half hour mark. Things naturally start to gradually slow down in the higher percentages, though, with a full charge taking an hour and twenty minutes in total. That's really solid performance from a budget device.
Plus, we have to appreciate the little battery care extras that Infinix has included in its XOS7, like the ability to toggle a battery full chime, so the phone doesn't have to pointlessly stay pinned at 100% and charging for prolonged periods of time, to the detriment of the battery. Also, to the same end - an automatic battery trickle charge function for overnight charging.
Loudspeaker quality
The Infinix Zero 8 has a single bottom-firing speaker at its disposal. That means you only get mono audio. There is no hybrid setup with the earpiece or anything of the sort. The speaker itself is largely unimpressive. It only managed an average loudness score in out tests and its frequency response is acceptable, but unremarkable too.
Infinix does include a fairly feature-rich DTS equalizer for the Zero 8. We tried running our test with it set to auto mode, as well and got very similar results. Having DTS on also hurts maximum loudness a little bit, but seems to generally provide a small, but still measurable boost to bass. That's the curve we included in the database. Since there is a full manual equalizer, you can, at least, tune the speaker to be a bit more pleasant to your ears. Or, alternatively, provide it with something like a treble boost, for the sake of clearer dialog, if you do a lot of movie watching. It's something.