Display
The Infinix S5 Pro has a 6.53" IPS LCD screen of FullHD+ resolution, and it is the key selling point of the phone. The panel has no cutout(s), which makes for a more immersive experience when watching movies or playing games.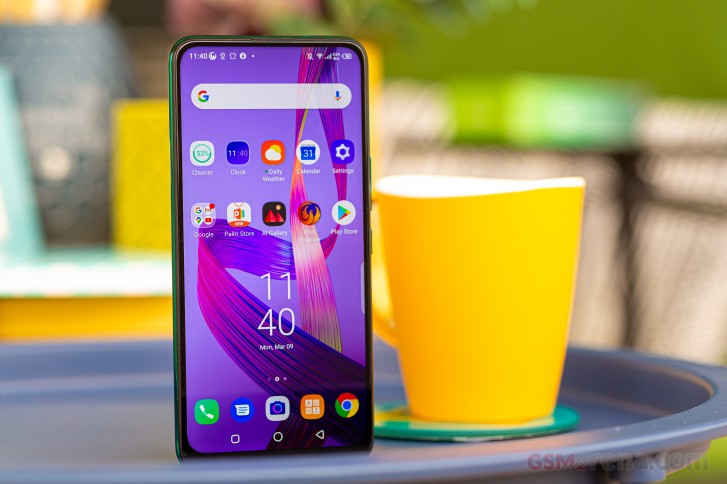 There is no information on the maker of the screen front glass layer, but if you are concerned for scratches or cracks, you have a screen protector waiting for you right inside the retail box.
The S5 Pro display has a resolution of 1,080 x 2,340, which makes for a sharp picture at 395ppi and 19.5:9 aspect ratio.
In our display testing, the S5 Pro showed an excellent contrast ratio if 1677:1. It demonstrated deep blacks, but the maximum brightness is way below the average for an LCD at 360 nits. What's even worse, is that most of the time, the screen maxes out at 320 nits and it's only on rare occasions that it jumps to 360nits. There is no sunlight boost either, so the whimsical 360 nits is as good as it gets.
The minimal brightness we measured was 5.3 nits.
Display test
100% brightness
Black,cd/m2
White,cd/m2
Contrast ratio
Infinix S5 Pro
0.217
364
1677:1
Realme 5
0.345
485
1406:1
Realme 5s
0.345
487
1412:1
Realme 3
0.263
385
1464:1
Realme 3 Pro
0.285
508
1782:1
Samsung Galaxy M30
0
437
∞
Samsung Galaxy M30 (Max Auto)
0
641
∞
Sony Xperia 10
0.362
549
1517:1
Xiaomi Redmi Note 8T
0.331
450
1360:1
Xiaomi Redmi Note 8T (Max Auto)
0.453
600
1325:1
Now let's talk color accuracy. As we mentioned earlier, the screen colors are eye-popping - punchy and very saturated. Indeed, our measurements confirm this - the average deltaE we got was 7.4, with a maximum deviation of 12.5. There is a noticeable blue tinge, but the reds and greens are quite off, too. We can only guess if this was intentional, or just a result of the lack of color calibration in the factory.
Note that the phone only supports the lowest Widevine CDM level - L3 - meaning it won't be able to play high-res content from Netflix, Prime, or other streaming platforms. You can still use these services, but they will serve you 480p content - which, depending on your network connection, might be all you need anyway.
Battery life
The Infinix S5 Pro is powered by a 4,000 mAh battery. It supports 10W charging, and the provided 5V/2A adapter refills about 30% of the phone's depleted battery in half an hour.
The results from our battery life test are in, and the Infinix S5 Pro scored an excellent mark! The phone lasted north of 14 hours on our web browsing test, more than 13 hours when playing videos, and 30+ hours on 3G talks. Finally, when we added the very good standby performance, we got an overall Endurance Rating of 106 hours.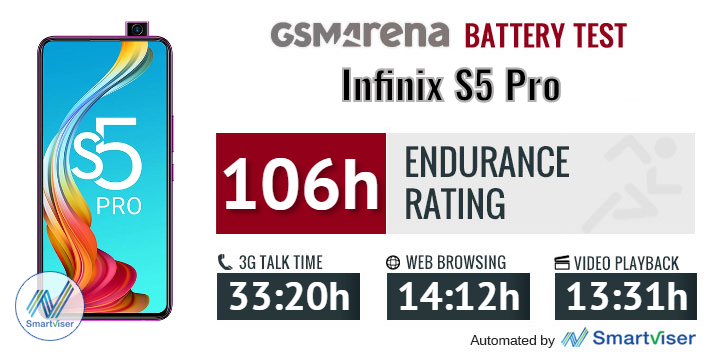 Our battery tests were automated thanks to SmartViser, using its viSer App. The endurance rating above denotes how long a single battery charge will last you if you use the Infinix S5 Pro for an hour each of telephony, web browsing, and video playback daily. We've established this usage pattern so that our battery results are comparable across devices in the most common day-to-day tasks. The battery testing procedure is described in detail in case you're interested in the nitty-gritty. You can check out our complete battery test table, where you can see how all of the smartphones we've tested will compare under your own typical use.
Speaker test
The Infinix S5 Pro has a single loudspeaker firing down from the bottom and posted an 'Average' result for loudness in our seven-track music test. It's lacking in low-frequency thump but handles vocals nicely and is easily adequate for its price range.
Use the Playback controls to listen to the phone sample recordings (best use headphones). We measure the average loudness of the speakers in LUFS. A lower absolute value means a louder sound. A look at the frequency response chart will tell you how far off the ideal "0db" flat line is the reproduction of the bass, treble, and mid frequencies. You can add more phones to compare how they differ. The scores and ratings are not comparable with our older loudspeaker test. Learn more about how we test here.