IDC: Smartphone shipments declined in India during Q1, Realme grew by 46%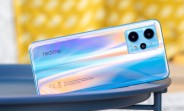 Smartphone shipments in India declined for the third quarter in a row. The January-March period saw 37 million smartphone shipments which is a 4.8% decline compared to the same period last year. Xiaomi was the market leader with 8.5 million shipments, followed by Samsung with 7 million and Realme with 6 million. Realme was the only company that managed yearly growth in India during the period with a 46.3% rise compared to Q1 2021.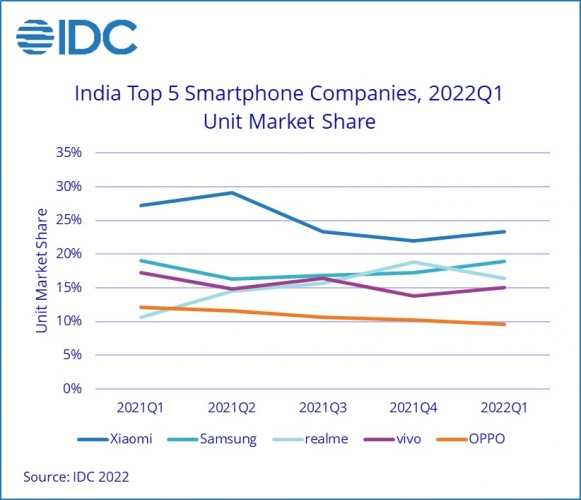 Top-five smartphone companies in India Q1 2022
Vivo (5.5 million shipments) and Oppo (3.5 million) rounded out the top-five vendors list. Analysts suggest the combination of the third COVID wave, supply shortages and rising inflation all contributed to the lower shipment levels. At the same time, average selling prices (ASPs) continued to rise reaching INR 17,000 ($221) which is an all-time high. Offline shipments fell by 13%.
India smartphone smartphone shipments and annual growth IDC Worldwide Quarterly Mobile Phone Tracker: Q1 2022
Vendor
Q1 2022 shipments (million)
Q1 2022 market share
Q1 2021 shipments (million)
Q1 2021 market share
Annual growth
Xiaomi
8.5
23.3%
10.4
27.2%
-18.2%
Samsung
7.0
19.0%
7.3
19.0%
-4.7%
Realme
6.0
16.4%
4.1
10.7%
46.3%
vivo
5.5
15.0%
6.6
17.3%
-17.0%
Oppo
3.5
9.6%
4.6
12.2%
-24.9%
Others 
6.1
16.7%
5.2
13.6%
16.8%
Total 
37.0
100%
38.0
100%
-4.8%
Notes: Figures in tables rounded to the first decimal point
Source: IDC Worldwide Quarterly Mobile Phone Tracker, May 2022
Xiaomi dominated online channels with a 32% share of all smartphones sold online. Samsung managed strong sales of its new Galaxy S22 series and saw great sales results from more budget entries like the Galaxy A22 5G and Galaxy M32 5G. Realme's C-series smartphones helped the brand secure the third spot and also had 23% of all online shipments. Oppo and vivo are focusing on the online segment and are expecting improved shipment results with their newly launched devices.
Looking ahead, rising inflation and longer smartphone refresh cycles alongside supply chain interruptions will likely result in slow recovery. Smartphone supply chains are expected to return to regular in the second half of the year,
K
I hope sales even fall further next year.Not just in India but in the whole world. Excess consumerism and consumption is destroying the planet.
?
Or should I say that reviewers should stop saying 695 is better than 750
N
Also the SD695, which does not support 4K or HDR.
ADVERTISEMENT