IDC: Global smartphone market grew by 13.2% in Q2 with Samsung in the lead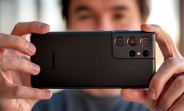 The latest IDC report brings more clarity into the global smartphone shipments for the April-June period. Samsung led the way with 59 million shipments ahead of Xiaomi with 53.1 million and Apple with 44.2 million. Xiaomi posted an impressive 86.6% yearly growth as it and other Chinese rivals aim to fill the void left by Huawei.
The combined shipments volume outpaced last year's Q2 performance by 13.2% affirming the rebound in smartphone sales compared to last year. Oppo with its 32.8 million shipments and vivo with 31.6 million round out the top-five largest companies while the rest of the market contributed 92.4 million units.
Company
Q2 2021 Shipments
(in million)
Q2 2021
Market share
Q2 2020 Shipments
(in million)
Q2 2020
Market share
Yearly change
Samsung
59.0
18.8%
54.0
19.5%
+9.3%
Xiaomi
53.1
16.9%
28.5
10.3%
+86.6%
Apple
44.2
14.1%
37.6
13.6%
+17.8%
Oppo
32.8
10.5%
24.0
8.7%
+37.0%
vivo
31.6
10.1%
23.7
8.6%
+33.7%
Others
92.4
29.5%
109.0
39.4%
-15.2%
Total
313.2
100%
276.6
100%
+13.2%
The report notes that China was the only region that saw negative growth over the last three months due to factors like no new flagship launches and the continued demand for Huawei phones. The smartphone market was more fortunate than the PC, automotive and display industries in terms of supply chain limits despite the ongoing pandemic and semiconductor shortages.
Looking forward IDC predicts an even larger increase in shipments for the Chinese brands which could eventually cut into Samsung and Apple's dominance.
N
I use and very satisfied & happy with my Xiaomi phone I think it give too much in very less. It is better than so many expensive smartphone.
V
I love Oppo because 1. Color os is now lot improved it's even better than miui ..its easy for multitasking 2. Build and ln hand feel is great .. 3. Performance is good too ... Including gaming 4.Camera is excellent 5. Its a good comp...
ADVERTISEMENTS