6.67-inch LCD is adequate for the money
The P smart 2021 packs a fairly large 6.67-inch display - it's the largest P smart to date, for what that's worth. It's an LCD panel with 1080x2400px resolution in a 20:9 aspect ratio for a pixel density of 395ppi.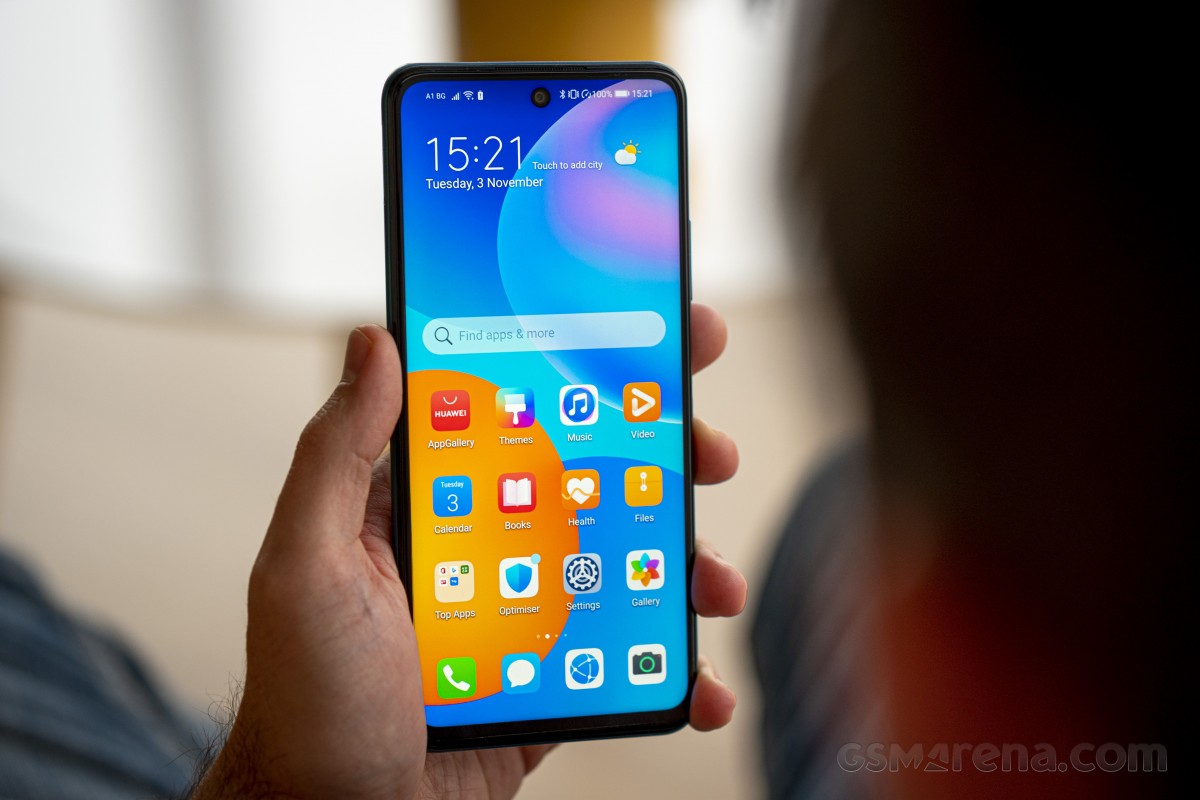 We measured a maximum brightness of 442nits on the P smart 2021, a relatively modest number, particularly for an LCD. We also didn't see a boost with the adaptive brightness enabled.
Black levels are reasonably well contained, and this results in a contrast of around 1200:1 - about average for a modern-day LCD.
Display test
100% brightness
Black,cd/m2
White,cd/m2
Contrast ratio
Huawei P Smart 2019
0.325
437
1345:1
Huawei P smart 2021
0.353
442
1252:1
Huawei P40 Lite
0.425
461
1085:1
Huawei P40 Lite (Max Auto)
0.501
515
1028:1
Xiaomi Poco X3 NFC
0.354
460
1299:1
Xiaomi Poco X3 NFC (Max Auto)
0.515
631
1225:1
Samsung Galaxy A31
0
423
∞
Samsung Galaxy A31 (Max Auto)
0
635
∞
Samsung Galaxy A51
0
413
∞
Samsung Galaxy A51 (Max Auto)
0
636
∞
Xiaomi Redmi Note 9 Pro
0.355
456
1285:1
Xiaomi Redmi Note 9 Pro (Max Auto)
0.487
616
1265:1
Realme 6
0.343
451
1315:1
Realme 7
0.31
457
1474:1
Realme 7 (Max Auto)
0.374
526
1406:1
Color reproduction is handled in a way that is familiar from previous Huaweis. There are two modes - Natural and Vivid, each with a Default/Warm/Cool selector and a color wheel for custom settings.
The P smart 2021 comes with Vivid mode pre-set out of the box. With the 'Default' setting for color temperature, we measured an average dE2000 of 6.3 for our set of DCI-P3 test swatches, and a noticeable blue shift - white was about 10 units off the target. The 'Warm' setting actually made things worse for white (dE2000 of 12 and a strong green tint) though the average improved marginally to 5.9. However, playing around with the color wheel got us a very accurate white point (dE2000 of 2.0) and a reasonable 2.8 average.
Normal mode is the one for sRGB content, and it's good enough with the 'Default' color temperature - 2.9 average dE2000 and only slightly bluish whites. 'Warm' was markedly worse, yielding a 6.5 average and a very yellow white point. However, with a custom setting on the color wheel, things got as close to perfect as we can hope for - a practically ideal white point and an average dE2000 of 1.1.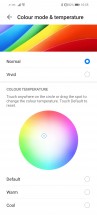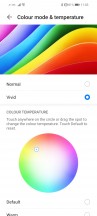 Custom setting for sRGB • Custom setting for DCI-P3
The P smart 2021 makes no HDR claims, and indeed its display has no HDR capability.
Huawei P smart 2021 battery life
The P smart 2021 has a 5,000mAh battery inside, a generous capacity in general and more or less the standard for the segment - the Poco X3 NFC has a marginally bigger 5,160mAh cell, the Galaxy A31 and the Realme 7 match Huawei's number.
In our testing, the P smart 2021 fared admirably, exceeding 15 hours in each of our screen-on tests and lasting over 41 hours on a voice call. Standby performance was good too, and all of that added up to an Endurance rating of 119 hours.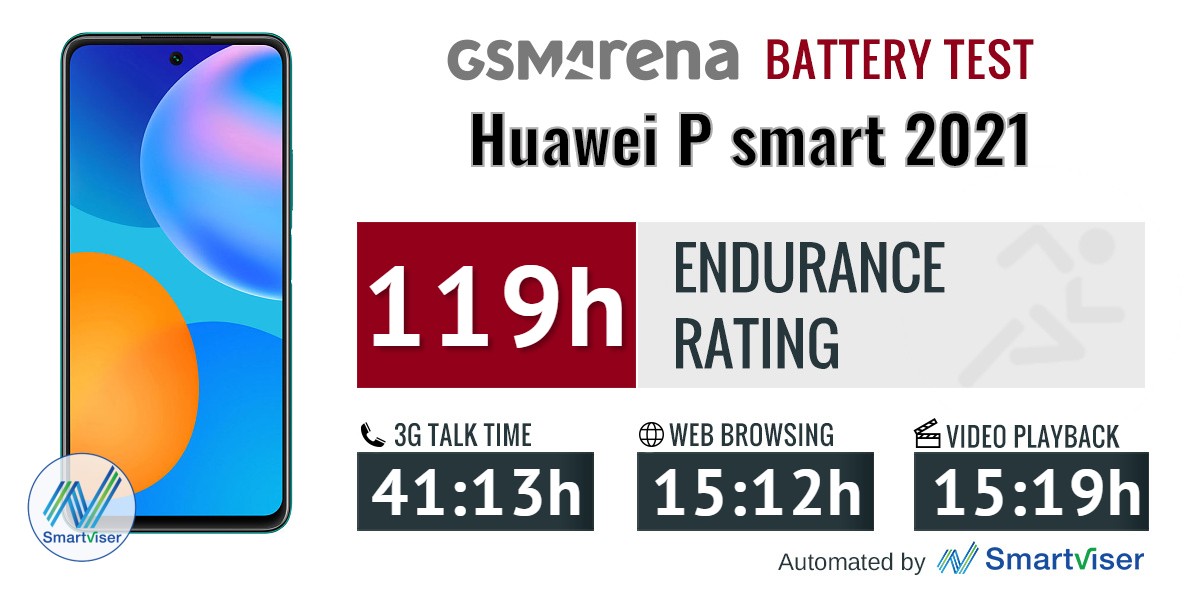 Our battery tests were automated thanks to SmartViser, using its viSer App. The endurance rating above denotes how long a single battery charge will last you if you use the Huawei Y7a/P smart 2021 for an hour each of telephony, web browsing, and video playback daily. We've established this usage pattern so that our battery results are comparable across devices in the most common day-to-day tasks. The battery testing procedure is described in detail in case you're interested in the nitty-gritty. You can check out our complete battery test table, where you can see how all of the smartphones we've tested will compare under your own typical use.
Both the Realme 7 and the Poco NFC post slightly higher endurance scores, and both last a bit longer in web browsing than the P smart 2021, but are a tiny bit worse for video playback and not quite there in voice calls. The Galaxy A31, meanwhile, comfortably outlasts the P smart 2021 in botch screen-on tests.
Battery charging
The P smart 2021 comes bundled with a Huawei SuperCharge 22.5W adapter, a reasonable middle ground for a phone in this price bracket. It charges the handset from zero to full in 1:42h, with 42% showing at the half-hour mark. Realmes are champs at charging speeds, particularly in this segment, though Xiaomi competitors are also quicker to top up than the Huawei. Samsung's entries in the class are nowhere as fast, though.
30min charging test (from 0%)
Realme 6
70%
Xiaomi Redmi Note 9 Pro
63%
Realme 7
58%
Poco X3 NFC
55%
Motorola Moto G9 Plus
54%
Huawei P Smart 2021
42%
Samsung Galaxy A41
38%
Samsung Galaxy A51
35%
Xiaomi Redmi Note 9
31%
Motorola Moto G9 Play
31%
Samsung Galaxy A31
30%
Motorola Moto G8 Power
29%
Time to full charge (from 0%)
Realme 6
0:51h
Realme 7
1:05h
Xiaomi Redmi Note 9 Pro
1:11h
Poco X3 NFC
1:15h
Motorola Moto G9 Plus
1:15h
Huawei P Smart 2021
1:42h
Samsung Galaxy A41
2:00h
Samsung Galaxy A51
2:14h
Xiaomi Redmi Note 9
2:33h
Motorola Moto G9 Play
2:39h
Samsung Galaxy A31
2:48h
The P smart 2021 has a couple of features to prolong the battery's health over time. One of these is Smart Charge that will delay topping up to 100% depending on your charging habits. Unlike Sony or Asus, there are no settings for this one where you can dial in full charge target times or tie it to your morning alarm - it's just a simple on/off toggle (on by default, by the way). But if the flagship Mate 40 Pro doesn't let you customize that, we wouldn't expect it from the P smart, right?
Smart Battery Capacity is also here - it limits full charges to just short of the battery's top capacity so that your lithium-ion battery doesn't stay at a maximum charge, which is detrimental to its long-term health.
Speaker test
The P smart 2021 has a single speaker firing out of the bottom of the handset - the default setup for the segment, though the Poco X3 NFC and some Motos in this price ballpark have stereo speakers.
The P smart 2021 posted an 'Average' score for loudness in our speaker test. As for quality, the handset is unimpressive and on par with the Realme 6 and the Redmi Note 9. The Moto G8 Power and G Pro and the Poco X3 NFC offer superior listening experience.
Use the Playback controls to listen to the phone sample recordings (best use headphones). We measure the average loudness of the speakers in LUFS. A lower absolute value means a louder sound. A look at the frequency response chart will tell you how far off the ideal "0db" flat line is the reproduction of the bass, treble, and mid frequencies. You can add more phones to compare how they differ. The scores and ratings are not comparable with our older loudspeaker test. Learn more about how we test here.
Audio output quality
We've recently discontinued our audio output quality test.
The reason for that is that most phones that arrived for testing were already excellent in this regard, and whatever difference there was, it was marginal and probably indistinguishable to anything but our lab equipment.