Even though Huawei launched the beta testing of the Android 8.0 Oreo on some of its older devices two months ago, including the Huawei P9 and P9 Plus, someone from the UK support staff claims that the P9 won't be getting the much-needed Oreo treatment after all.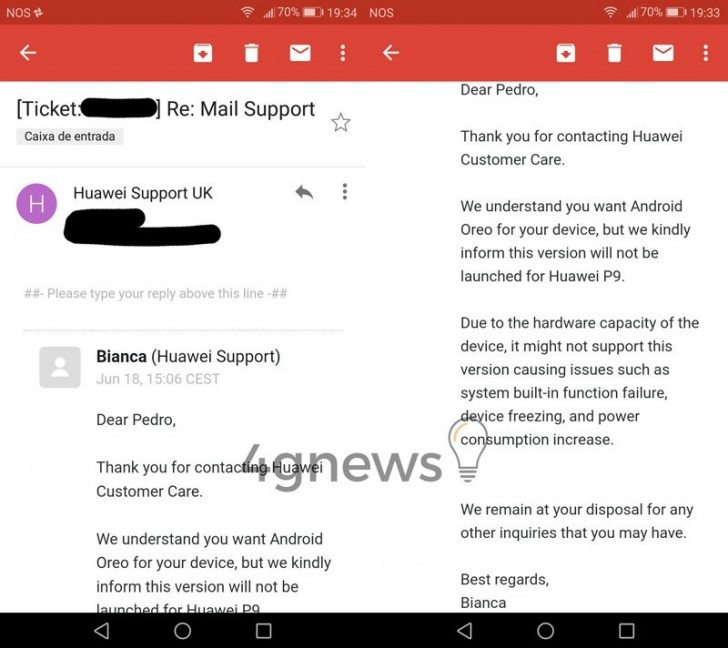 A UK customer has sent an email to Huawei's UK support team asking when will the P9 be getting the Android 8.0. The support team replied that some hardware limitations are leading to malfunctions, freezes and battery drain that keep the OEM from releasing the OTA update to its customers.
It's really odd to see Huawei terminating the software development so late into the process, but it's also possible that the support staff isn't well-aware of the situation. We hope this is the case because it would be a huge disappointment since the Huawei P9 is a two-year-old phone that received only one major update - the Android 7.0 Nougat while most of the competitors have received at least two OS updates since their release.
There's no word on the P9 Plus and the P9 Lite but assuming the hardware restrictions are the culprit, both variants will find themselves in the very same situation as the standard version. Stay tuned for an official response from Huawei.
Source (in Portuguese)
h
my huawei p9 got emui 8.0 and android oreo 8.0.0
G
Uhhh, okay, so the EMUI 5.0.1 NOUGAT firmware on my Huawei P9 is just imaginary. Doesn't exist. The Huawei P9 did get the Nougat update. A simple Google search would tell you that. Just because YOU and your region didn't get it doesn't mean it doesn'...
k
I have P9 and it's nougat ¬¬
ADVERTISEMENT