A 6.6-inch high-res OLED
The Huawei P50 Pro employs a 6.6-inch OLED screen with a curved protective glass on top of it. The panel has 2,700 x 1,228 px resolution (450ppi) and has a small perforation to make way for the selfie camera.
The most notable display features, beyond the high resolution, include 10-bit color support, dynamic 120Hz refresh rate, up to 300Hz touch sampling rate, and HDR10+ support.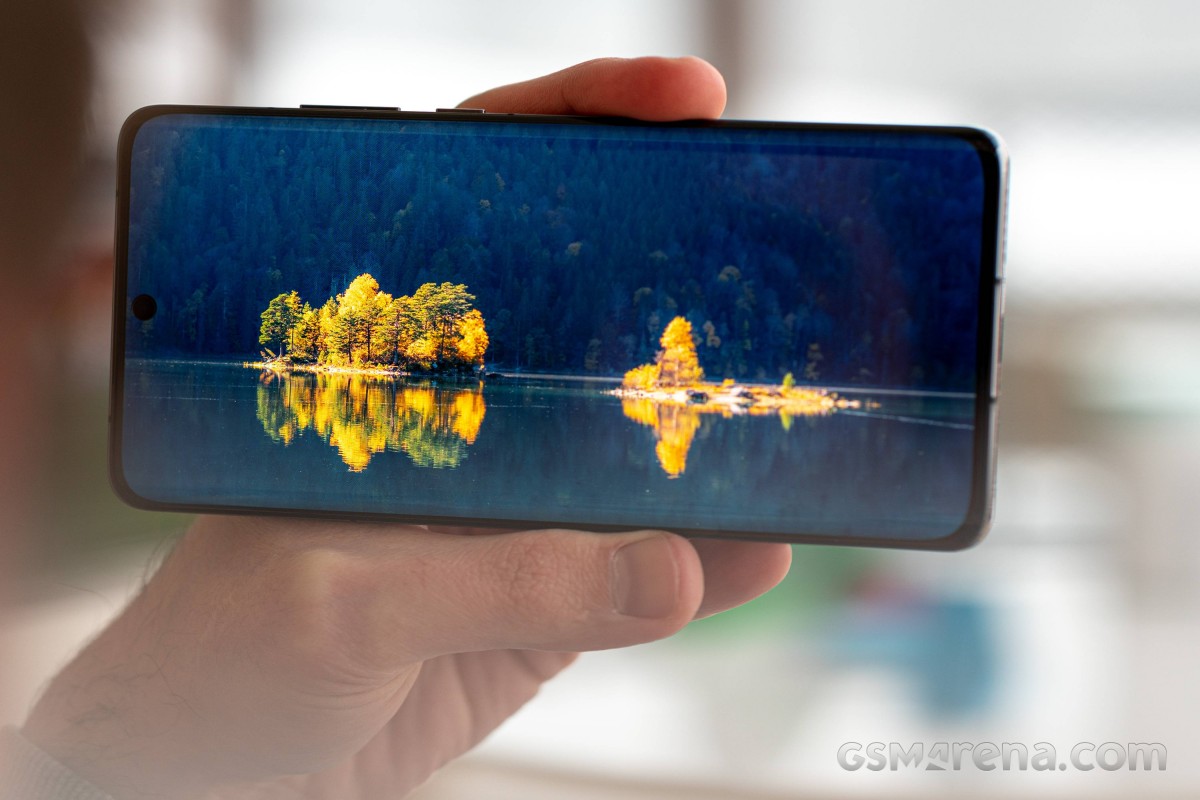 This is an updated screen over the P40 Pro with a much smaller cutout, more colors (1 billion vs. 16 million), and a faster refresh rate (120Hz vs. 90Hz). And while all of these matter, the absence of the eyesore pill-shaped notch is probably the best improvement from a usability perspective.
First, let's talk about brightness. The Huawei P50 Pro has a brighter panel than the P40 Pro - the screen's maximum brightness is north of 600 nits when adjusting the setting manually. There is an automatic 25% sunlight boost in Auto Brightness mode, increasing the maximum brightness up to 750 nits.
Naturally, the minimum brightness at point white is outstanding - 1.7 nits! Huawei says this panel features a much-improved dimming process, reducing flickering at low brightness and is quite easy on the eyes even at the lowest point.
Display test
100% brightness
Black,cd/m2
White,cd/m2
Contrast ratio
Huawei P50 Pro
0
609
∞
Huawei P50 Pro (Max Auto)
0
754
∞
Huawei P40 Pro
0
425
∞
Huawei P40 Pro (Max Auto)
0
531
∞
Huawei P40 Pro+
0
455
∞
Huawei P40 Pro+ (Max Auto)
0
760
∞
Huawei P30 Pro
0
571
∞
Huawei P30 Pro (Max Auto)
0
605
∞
Xiaomi Mi 11 Ultra
0
514
∞
Xiaomi Mi 11 Ultra (Max Auto)
0
943
∞
Samsung Galaxy S21 Ultra 5G
0
458
∞
Samsung Galaxy S21 Ultra 5G (Max Auto)
0
1023
∞
Apple iPhone 13 Pro Max
0
852
∞
Apple iPhone 13 Pro Max (Max Auto)
0
1050
∞
Sony Xperia Pro-I
0
406
∞
Sony Xperia Pro-I (Max Auto, Creator mode)
0
644
∞
OnePlus 9 Pro
0
525
∞
OnePlus 9 Pro (Max Auto)
0.038
871
22921:1
Moving on to the color rendering. There are two modes in Display settings - Normal and Vivid. Those work differently than on previous Huawei smartphones, though. Now, the Normal option automatically switches between DCI-P3 and sRGB - depending on the current output and targets. And it has an excellent color accuracy with an average deltaE of 2.2.
The Vivid option does what the name suggests - boosts the saturation and pops the colors.
There are three refresh rate options - Dynamic, High, and Standard. The Standard one limits the refresh rate to 60Hz.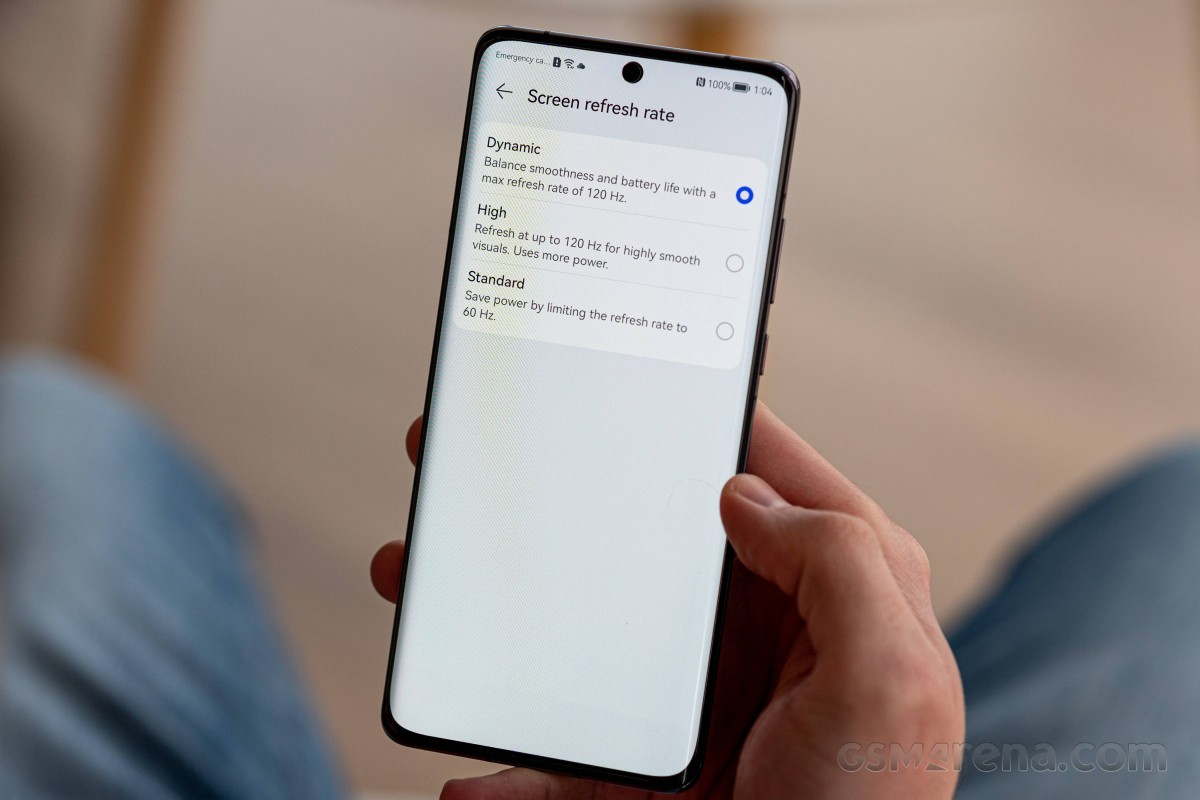 The Dynamic uses 90Hz across the UI and most apps to provide smooth scrolling but doesn't limit games and apps that specifically request 120Hz. When a static image is present, the refresh rate drops to 60Hz.
Finally, the High RR option uses 120Hz where possible - meaning UI, browsers, videos, among others. And when the picture is static, the refresh rate reverts back to 60Hz or 90Hz.
And before we wrap this chapter up, here is something interesting - the P50 Pro does come with Widevine L1 DRM support - meaning it is capable of high-res HDR streaming. Of course, the apps need to recognize the phone and be officially available for this device. We tried sideloading Netflix, but it is limited to SD streaming only. Amazon Prime and the web version of YouTube allow for HD (720p) streaming, but still no HDR.
Battery life
The Huawei P50 Pro is powered by a 4,360mAh battery, a slightly increased capacity since the P40 Pro and its 4,200mAh cell.
We've completed our traditional battery life test, and the scores are a mixed bag. We'd say a day of calls and 10 hours of non-stop web browsing are just fine, but 11 hours of video playback is subpar. The final endurance rating of 76 hours is also hurt by the rather average standby consumption.
It seems the Snapdragon 880 4G and the new OLED screen are less efficient than the P40 Pro with the previous OLED and its Kirin chip.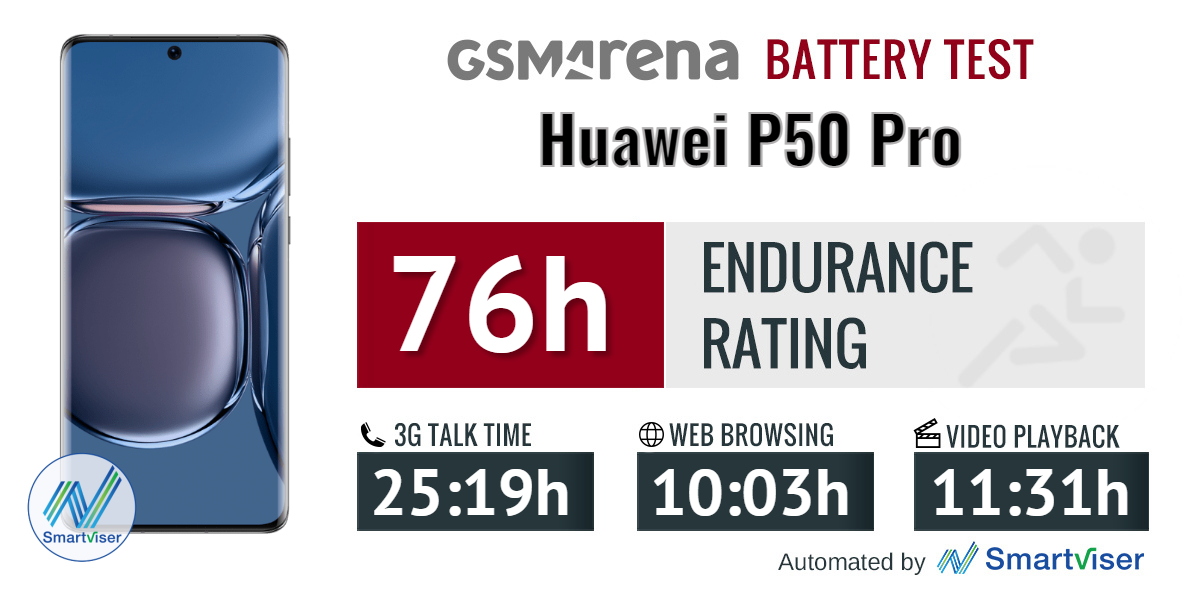 Our battery tests were automated thanks to SmartViser, using its viSerDevice app. The endurance rating denotes how long the battery charge will last you if you use the device for an hour of telephony, web browsing, and video playback daily. More details can be found here.
Video test carried out in 60Hz refresh rate mode. Web browsing test done at the display's highest refresh rate whenever possible. Refer to the respective reviews for specifics. To adjust the endurance rating formula to match your own usage patterns check out our all-time battery test results chart where you can also find all phones we've tested.
Charging speed
The Huawei P50 Pro supports 66W Huawei SuperCharge and ships with the corresponding power adapter and 6A rated cable. It can also do up to 50W Huawei Wireless SuperCharge, but you need to purchase this charger separately.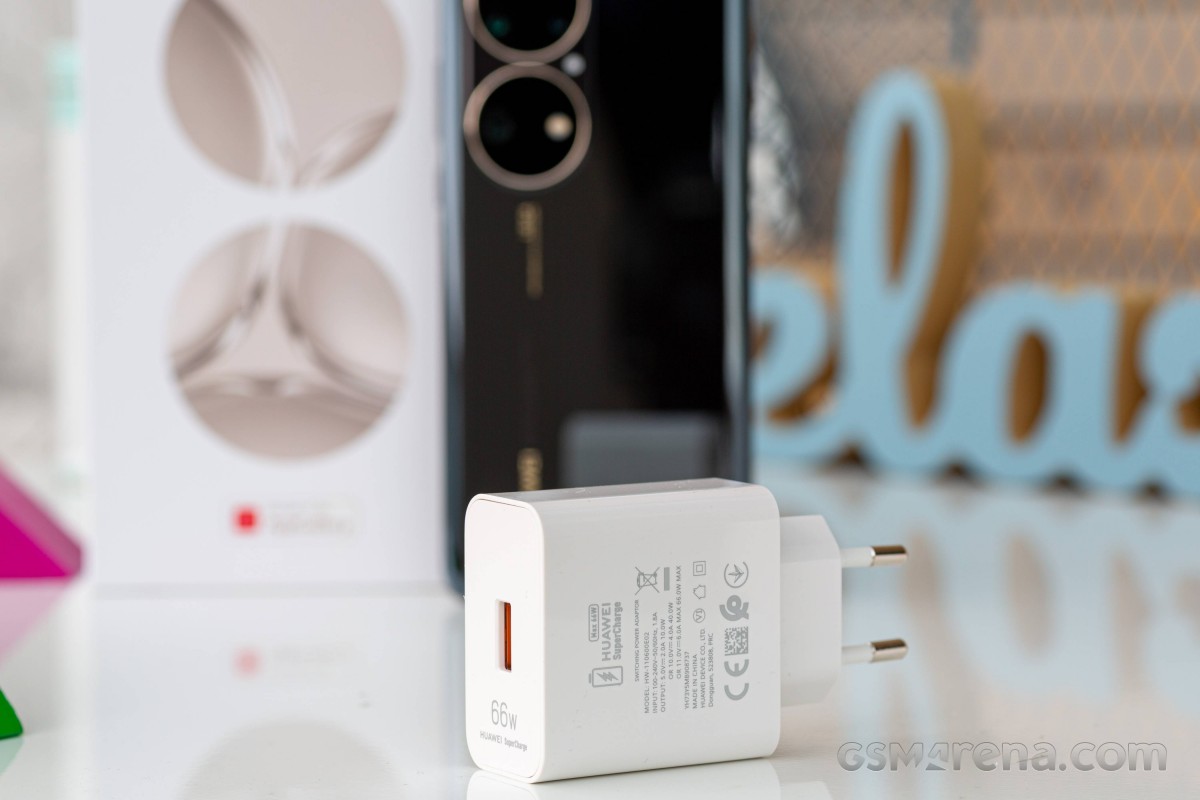 The bundled 66W charger refills 42% of the P50 Pro's dead battery in 15 minutes and 73% in 30 minutes - outstanding results!
30min charging test (from 0%)
Higher is better
OnePlus 9 Pro
99%
Xiaomi Mi 11 Ultra
89%
Huawei Mate 40 Pro (66W bundled)
87%
Huawei P40 Pro
80%
Huawei P50 Pro
73%
Huawei P30 Pro
70%
Samsung Galaxy S21 Ultra 5G
54%
Sony Xperia Pro-I
53%
Apple iPhone 13 Pro Max (20W)
42%
Add some extra 10 minutes, and you'll get a 90% charger. Finally, a full charge takes 50 minutes sharp.
Time to full charge (from 0%)
Lower is better
OnePlus 9 Pro
0:32h
Xiaomi Mi 11 Ultra
0:37h
Huawei Mate 40 Pro (66W bundled)
0:45h
Huawei P50 Pro
0:50h
Huawei P40 Pro
0:50h
Huawei P30 Pro
1:00h
Samsung Galaxy S21 Ultra 5G
1:11h
Apple iPhone 13 Pro Max (20W)
1:46h
Sony Xperia Pro-I
1:49h
Speakers
The Huawei P50 Pro features two speakers symmetrically placed on its top and bottom. The one on top has two outlets (front and top) as it also serves as an earpiece. The previous P40 Pro had a single speaker only, and the new setup is a great improvement.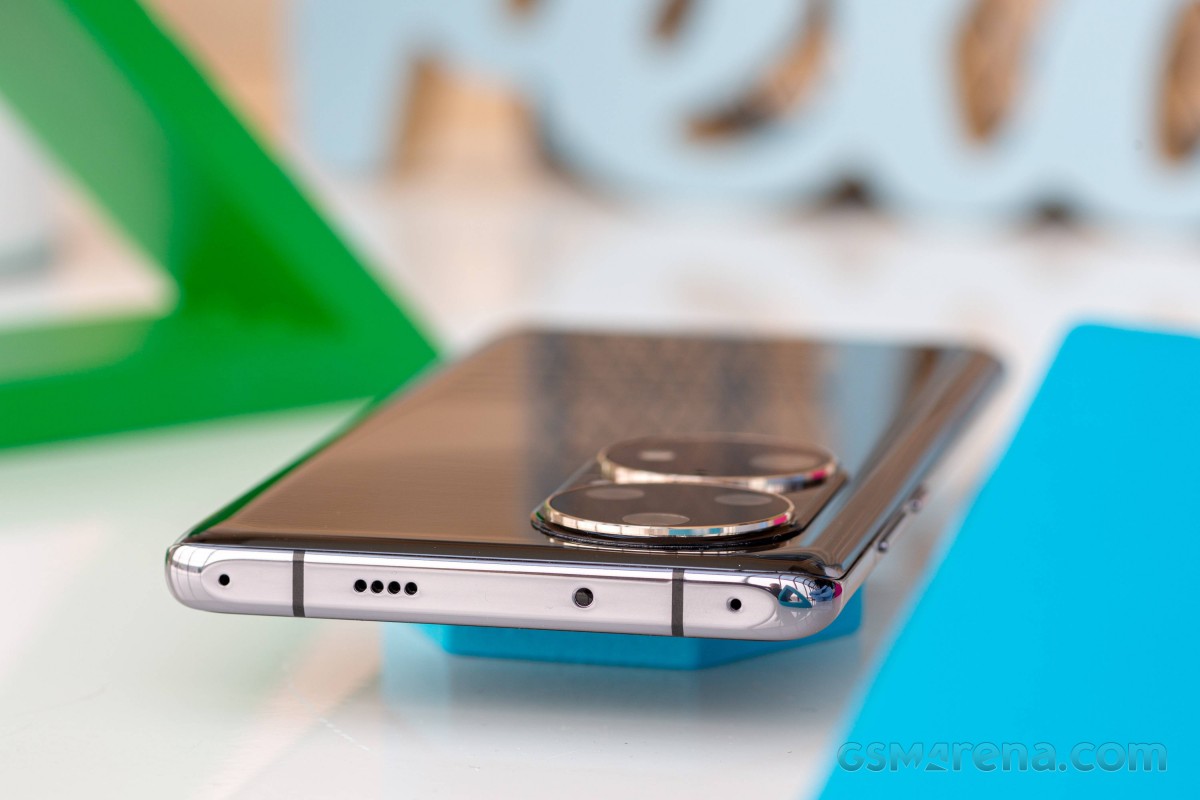 Naturally, the bottom one is a bit louder and punchier, but thanks to the multi-outlet top speaker, the sound is nicely balanced, and you cannot hear a difference unless you jam one of them.
The stereo speakers on the Huawei P50 Pro scored a Good mark on our loudness test, and it does sound loud enough in real-life scenarios.
The audio quality is excellent - the sound is rich and clean, and we can hear good bass (for a phone), too.
Use the Playback controls to listen to the phone sample recordings (best use headphones). We measure the average loudness of the speakers in LUFS. A lower absolute value means a louder sound. A look at the frequency response chart will tell you how far off the ideal "0db" flat line is the reproduction of the bass, treble, and mid frequencies. You can add more phones to compare how they differ. The scores and ratings are not comparable with our older loudspeaker test. Learn more about how we test here.