A curved 90Hz OLED display, gigantic notch
The high refresh rate train is now at full steam and Huawei is jumping on the bandwagon with the P40 Pro. The smartphone features maker's first 90Hz OLED panel, though the good news doesn't stop with the refresh rate - the screen is also of high resolution and has all the trendy curves.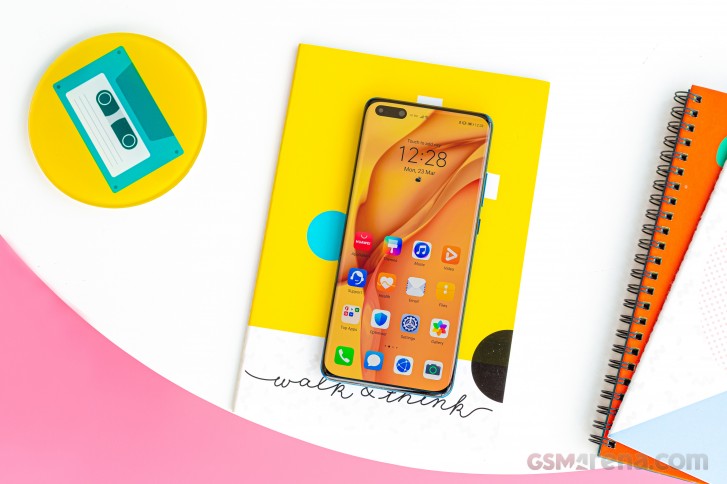 So, the panel has an actual resolution of 1,200 x 2,640 pixels that make for 441ppi and 19.8:9 aspect ratio. The OLED wraps halfway around all sides of the P40 Pro, meaning it's even curvier than previous Huawei displays.
The cutout is quite large as it houses the selfie camera, the ToF sensor and the IR flood illuminator, and the ambient light sensor is around, too. Its elliptical shape helps lower the impact on the eyes, but the left corner of the display still remains largely unusable.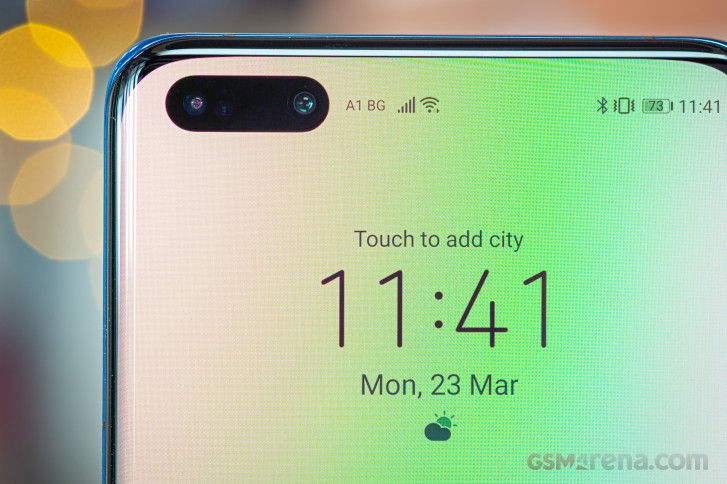 We measured a maximum brightness of 425 nits when adjusting the slider manually, which in line with most of the Samsung OLEDs but is lower than what you could get on a Mate 20 Pro and a P30 Pro. With Auto enabled, unfortunately, the P40 Pro is lighting up to 531 nits - not a massive improvement.
Update, March 30: Our unit received a firmware update and we repeated our display test. Our measurements still stand, but the screen achieved a bit higher maximum brightness om Auto mode - 531 nits, up from 495 nits.
The minimum brightness we captured on the P40 Pro screen was mere 1.8 nits - an excellent one.
Display test
100% brightness
Black,cd/m2
White,cd/m2
Contrast ratio
Huawei P40 Pro
0
425
∞
Huawei P40 Pro (Max Auto)
0
531
∞
Huawei P30 Pro
0
571
∞
Huawei P30 Pro (Max Auto)
0
605
∞
Huawei Mate 30 Pro
0
464
∞
Huawei Mate 30 Pro (Max Auto)
0.028
683
24393:1
Huawei Mate 20 Pro
0.002
508
254000:1
Huawei Mate 20 Pro (Max Auto)
0.003
657
219000:1
Samsung Galaxy S20 Ultra 5G
0
398
∞
Samsung Galaxy S20 Ultra 5G (Max Auto)
0
894
∞
Samsung Galaxy S20
0
397
∞
Samsung Galaxy S20 (Max Auto)
0
814
∞
Apple iPhone 11 Pro Max
0
820
∞
Oppo Find X2 Pro
0
536
∞
Oppo Find X2 Pro (Max Auto)
0
871
∞
Oppo Reno 10x zoom
0
440
∞
Sony Xperia 1
0
391
∞
Sony Xperia 1 (Max Auto)
0
665
∞
Now let's talk color accuracy. There are two Display options - Vivid and Normal, each representing a different color space - DCI-P3 and sRGB respectively. Each of these settings offers further color saturation fine tuning.
The default screen mode is Vivid and at its default saturation state the display has a very good color accuracy to DCI-P3 with an average deltaE of 3.6 and maximum deviation of 6.6. If you switch to Normal (sRGB) mode, you will get a perfect calibration with an average deltaE of 1.9.
The P40 Pro's display supports HDR10+. It is not listed on the Netflix supported devices page for HDR10, however, and the reasons is that the phone supports the basic Widevine L3 level meaning it can play only SD content on Netflix and Amazon Prime apps. HBO Go won't run without Google Play Service, so it's a no-go.
Battery life
The Huawei P40 Pro packs a 4,200 mAh Li-Po battery - same as P30 Pro's. It supports Huawei's 40W SuperCharge and the phone is bundled with the said charger. Quite expectedly it does a splendid job - in 30 minutes it will refill 80% of the P40 Pro's empty battery, while a full charge is achieved in 50 minutes.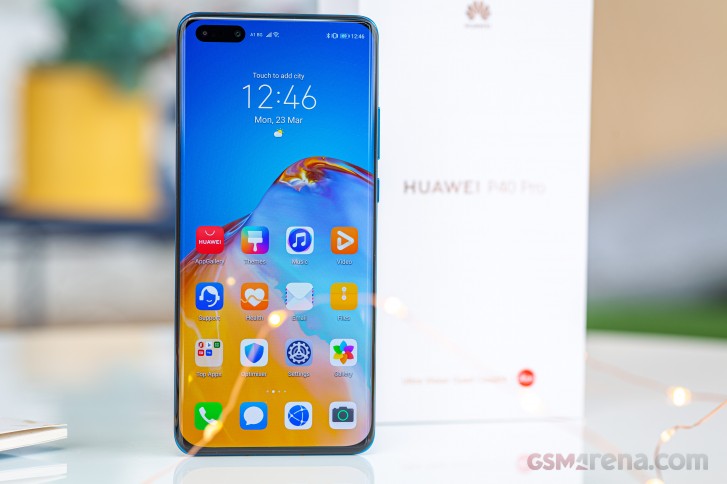 Huawei P40 Pro supports smart battery charging - if you hook the P40 for an overnight charge, it will eventually lower the speed and complete the full charge just before sunrise.
The P40 Pro also supports 27W wireless charging, and even reverse wireless charging. After activating the reverse charging from the battery options, you can charge your smartwatch or wireless earbuds off the phone. Or even another phone, if that's your thing.
We've completed our battery tests and the results are quite good. The phone can last north of 15 hours on web surfing, or more than 18 hours on playing videos. These battery times are identical on 60Hz and 90Hz refresh rates, so you don't have to worry about the energy drainage.
The 3G talk time isn't spectacular, and nor is the standby performance - and these led to a bit lower than expected, but still great endurance rating of 94 hours.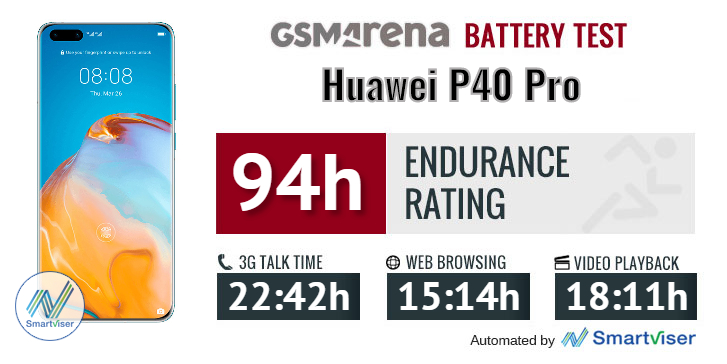 Our battery tests were automated thanks to SmartViser, using its viSerDevice app. The endurance rating above denotes how long a single battery charge will last you if you use the Huawei P40 Pro for an hour each of telephony, web browsing, and video playback daily. We've established this usage pattern so that our battery results are comparable across devices in the most common day-to-day tasks. The battery testing procedure is described in detail in case you're interested in the nitty-gritty. You can check out our complete battery test table, where you can see how all of the smartphones we've tested will compare under your own typical use.
Speaker
The Huawei P40 Pro has a single loudspeaker firing down from the bottom, and it posted a 'Good' result for loudness in our seven-track music test. It lacks a low-frequency thump, but the mids and highs are well represented. Our tool allows for comparing the sound output to any other phone we've tested so far.
Use the Playback controls to listen to the phone sample recordings (best use headphones). We measure the average loudness of the speakers in LUFS. A lower absolute value means a louder sound. A look at the frequency response chart will tell you how far off the ideal "0db" flat line is the reproduction of the bass, treble, and mid frequencies. You can add more phones to compare how they differ. The scores and ratings are not comparable with our older loudspeaker test. Learn more about how we test here.