Display
Huawei P40 has a 6.1" OLED display of extended 1080p resolution. The screen, unlike the Pro models, supports only the standard refresh rate of 60Hz and that's probably the biggest difference between the regular and Pro version.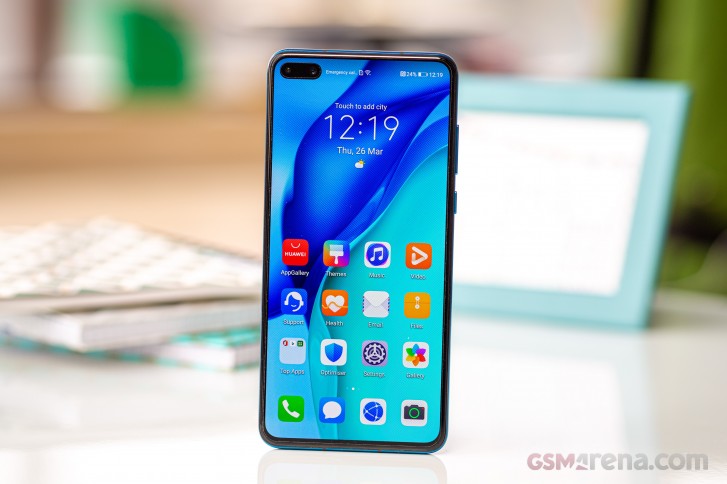 The actual screen resolution is 1,080 x 2,340, which makes for sharp 422ppi density within this 6.1" panel and 19.5:9 aspect. There is an elliptical cutout at the top left corner for the dual-selfie setup.
The screen has a flat piece of strengthened glass on top of it, but we don't know who made it. Our unit also came with a factory-applied screen protector and we had some really hard time when trying to peel it off for our display test.
We measured a maximum brightness of 440 nits when adjusting the slider manually, which in line with most of the Samsung-made OLEDs. With Auto enabled, the P40 is lighting up to 590 nits - a nice improvement and makes for a substantial boost under bright sunlight.
Display test
100% brightness
Black,cd/m2
White,cd/m2
Contrast ratio
Huawei P40
0
440
∞
Huawei P40 (Max Auto)
0
589
∞
Huawei P40 Pro
0
425
∞
Huawei P40 Pro (Max Auto)
0
531
∞
Apple iPhone 11 Pro
0
805
∞
Sony Xperia 1
0
391
∞
Sony Xperia 1 (Max Auto)
0
665
∞
Sony Xperia 5
0
353
∞
Sony Xperia 5 (Max Auto)
0
574
∞
Realme X2 Pro
0
500
∞
Realme X2 Pro (Max Auto)
0
708
∞
Apple iPhone X
0
679
∞
Samsung Galaxy S20
0
397
∞
Samsung Galaxy S20 (Max Auto)
0
814
∞
Huawei P30 Pro
0
571
∞
Huawei P30 Pro (Max Auto)
0
605
∞
Huawei P30
0
449
∞
Huawei P30 (Max Auto)
0
635
∞
Now let's talk color accuracy. There are two Display options - Vivid and Normal, each representing a different color space - DCI-P3 and sRGB respectively. Each of these settings offers further color saturation fine tuning.
The default screen mode is Vivid and at its default saturation state the display has a very good color accuracy to DCI-P3 with an average deltaE of 3.5 and maximum deviation of 7.2. If you switch to Normal (sRGB) mode, you will get a perfect calibration with an average deltaE of 1.2.
We are not sure of the P40 screen supports HDR10, but it shouldn't matter. The phone supports only the basic Widevine L3 DRM level meaning it can play only SD content on Netflix and Amazon Prime apps, so whether the P40 display has HDR support or not is irrelevant. HBO Go requires Google Play Services, so it's a no-go.
Battery life
The Huawei P40 packs a 3,800 mAh Li-Po battery. It supports Huawei's first-generation Super Charge rated at 22.5W. Naturally, the P40 is bundled with the said charger. While the 22.5W charging may not be the fastest around, it can replenish the P40's battery from 0% to 60% in just 30 minutes, while an hour of charging gets you to 90%. So, it's still competitively fast, just not the fastest around.
Huawei P40 supports smart battery charging - if you hook the P40 for an overnight charge, it will eventually lower the speed and complete the full charge just before sunrise.
Unlike the Pro models, the P40 does not support wireless charging.
We've completed our battery tests and the results are very good. The phone can last north of 13 hours on web surfing, or more than 18 hours on playing videos. The 3G talk time isn't spectacular, and nor is the standby performance - and these led to a bit lower than expected, but still great endurance rating of 89 hours.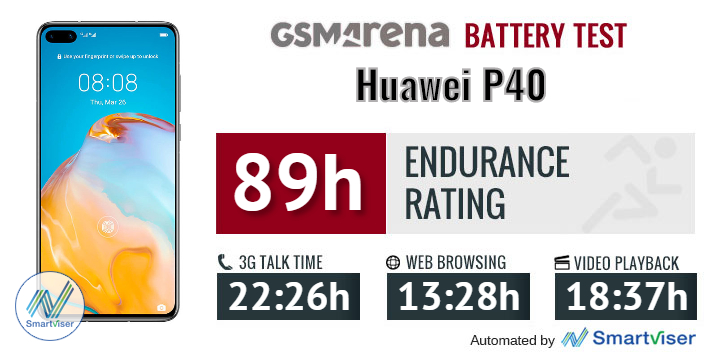 Our battery tests were automated thanks to SmartViser, using its viSerDevice app. The endurance rating above denotes how long a single battery charge will last you if you use the Huawei P40 for an hour each of telephony, web browsing, and video playback daily. We've established this usage pattern so that our battery results are comparable across devices in the most common day-to-day tasks. The battery testing procedure is described in detail in case you're interested in the nitty-gritty. You can check out our complete battery test table, where you can see how all of the smartphones we've tested will compare under your own typical use.
Speaker
The Huawei P40 has a single loudspeaker firing down from the bottom, and it posted an Average result for loudness in our seven-track music test. It lacks in bass, but also in the high tones and we'd rate its performance as average at best. You can hear the superiority of the Galaxy S20 and iPhone 11 Pro.
Use the Playback controls to listen to the phone sample recordings (best use headphones). We measure the average loudness of the speakers in LUFS. A lower absolute value means a louder sound. A look at the frequency response chart will tell you how far off the ideal "0db" flat line is the reproduction of the bass, treble, and mid frequencies. You can add more phones to compare how they differ. The scores and ratings are not comparable with our older loudspeaker test. Learn more about how we test here.