Android 8 with EMUI 8
The Huawei P20 Lite ships with Android Oreo and Huawei's EMUI 8.0 skin over it. Emotion UI is constantly getting better, with behind-the-scenes improvements, like better RAM management, sophisticated battery management, improved miss-touch detection and higher touch accuracy, to name a few. And we appreciate the constantly shrinking amount of bloat, bundled in the ROM, the sheer number and the added convenience of the baked-in features.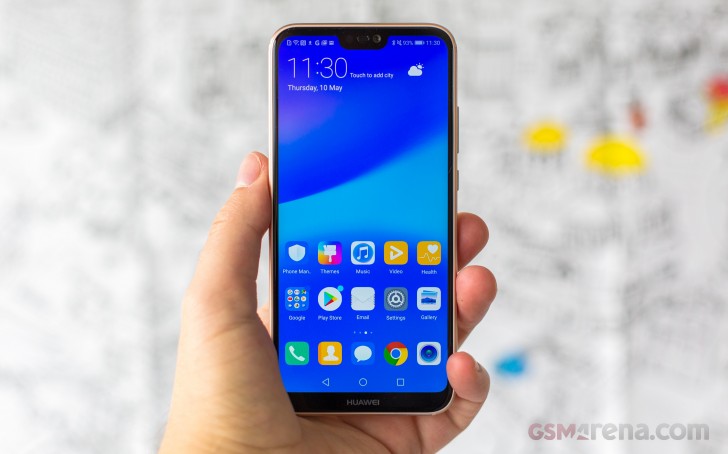 Out of the box, there is no app drawer on the EMUI 8 - it's a single tier interface like on the iPhone. However, if you miss it, you can enable it back in the Display settings. There is also a handy search feature, which can be accessed by flicking down on any empty area of any home screen.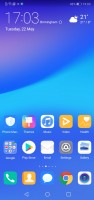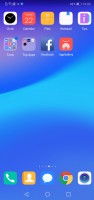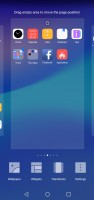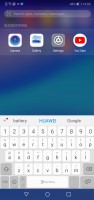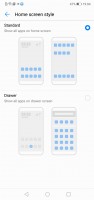 Home screen 1 • Home screen 2 • Home options • Search • Enable drawer
EMUI has something called Magazine lock screen, which rotates through a bunch of wallpapers, so you see a different one every time you fire up the display.
EMUI offers plenty of customization and features like face unlock, smart rotation, and lift to wake. Themes are supported, too, and there is a lot to choose from. There are a few themes to choose from with the option to change the icons, the skin, and wallpaper.
From the Phone Manager app, you can access shortcuts to storage cleanup, battery settings, blocked numbers, Virus scan powered by Avast, and mobile data usage.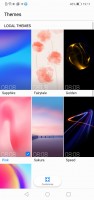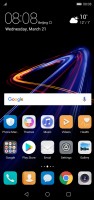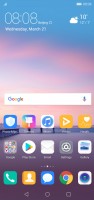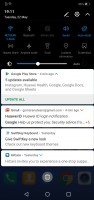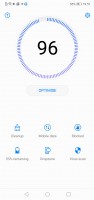 Theme chooser • Theme • Theme • Theme • Phone Manager
The notification shade is pretty much a standard affair. There's a brightness bar with an Auto toggle - pull down again for more toggles.
Multitasking is pretty standard as well. Tap-holding the Recents key will let you activate split screen.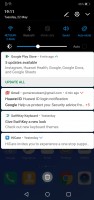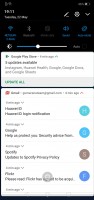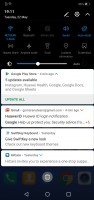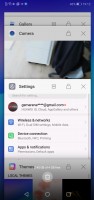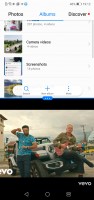 Notification area • Notifications • Toggles • Recent apps • Split screen
Huawei's own Music app is here and offers a way to listen to stored MP3s. An FM radio app is present, and the Gallery is here to stay.
Huawei's Health app is also pre-installed. It offers Google Fit syncing and step counting. There's a file manager app and a note-taking app. There is an abundance of replacements for these in the Play Store, however.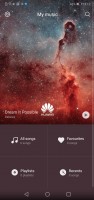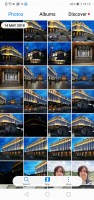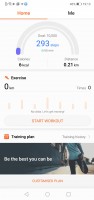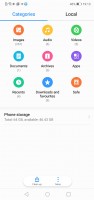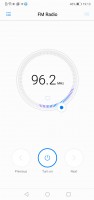 Music Player • Gallery • Huawei Health • Files • FM radio
Performance
The Huawei P20 Lite employs the same Kirin 659 chipset as the P10 Lite and Mate 10 Lite, as well as the Honor 7X. Those already offered some benchmark numbers and painted a clear picture of what can be expected from the chipset. The P20 Lite fell in line with those expectations. Its scores are pretty much the same (within margin of error).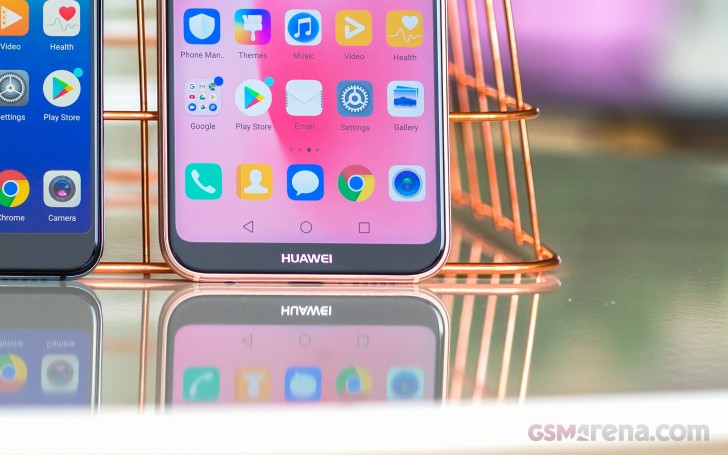 The Kirin 659 has a total of eight Cortex-A53 cores. Four of those take the heavy lifting and work at 2.36GHz, while the other four take care of less power-intensive tasks while ticking at 1.7GHz. The CPU is up to the task of handling everything, though it seriously trails behind the A73 cores inside the Oppo F7 (Helio P60), for instance.
GeekBench 4.1 (single-core)
Higher is better
Oppo F7
1531
Huawei P Smart
939
Huawei P20 Lite
938
Huawei Mate 10 Lite
913
Motorola Moto G6 Plus
882
Nokia 6 (2018)
882
Xiaomi Mi A1
877
Xiaomi Redmi 5 Plus
874
Sony Xperia XA2
865
Huawei P10 lite
834
GeekBench 4.1 (multi-core)
Higher is better
Oppo F7
5901
Xiaomi Redmi 5 Plus
4309
Xiaomi Mi A1
4292
Nokia 6 (2018)
4225
Sony Xperia XA2
4215
Motorola Moto G6 Plus
4160
Huawei P20 Lite
3756
Huawei P Smart
3736
Huawei Mate 10 Lite
3603
Huawei P10 lite
3344
There are only two Mali-T830 GPU cores inside the P20 Lite, as on the rest of the budget Huawei phones, and those really struggle with modern graphics loads. But just to be on the safe side, those are still enough to run a huge chunk of the games on the Play Store, but hiccups, low-quality textures, or low fps are to be expected in the more demanding ones.
GFX 3.1 Manhattan (onscreen)
Higher is better
Oppo F7
11
Sony Xperia XA2
10
Nokia 6 (2018)
10
Motorola Moto G6 Plus
9.3
Xiaomi Mi A1
6.3
Xiaomi Redmi 5 Plus
6.2
Huawei P10 lite
5
Huawei P Smart
5
Huawei P20 Lite
4.9
Huawei Mate 10 Lite
4.6
Basemark X
Higher is better
Nokia 6 (2018)
14365
Motorola Moto G6 Plus
14357
Sony Xperia XA2
14312
Oppo F7
11873
Xiaomi Redmi 5 Plus
10484
Xiaomi Mi A1
10472
Huawei P20 Lite
9090
Huawei P Smart
8834
Huawei Mate 10 Lite
8721
Huawei P10 lite
7588
While the GPU scores might be dismal, the compound benchmarks show the Huawei P20 Lite and its Kirin 659 to be as capable as the best of mid-rangers - read Nokia 6 and Moto G6 Plus with their Snapdragon 630 silicon. So, yes, the Kirin 659 is still a balanced and capable chip even now, 2 years into active service.
AnTuTu 7
Higher is better
Oppo F7
139414
Nokia 6 (2018)
90918
Motorola Moto G6 Plus
90263
Huawei P20 Lite
87431
Huawei P Smart
87156
Basemark OS 2.0
Higher is better
Oppo F7
1953
Sony Xperia XA2
1545
Motorola Moto G6 Plus
1525
Nokia 6 (2018)
1517
Huawei P Smart
1486
Huawei P20 Lite
1455
Huawei Mate 10 Lite
1408
Huawei P10 lite
1284
Xiaomi Mi A1
1262
Xiaomi Redmi 5 Plus
1226
The P20 Lite runs cool even at full throttle, so don't expect any heat issues no matter how you use it. It isn't a chart-topper, sure, not even next to fellow mid-ranges, but the Lite offers some nicely calculated balanced performance.
The thing is balanced scores won't do it for long. The Kirin 659 has been around for two years already and while offering enough punch, it's hardly future-proof. It's about time Huawei comes up with something new, because its mid-rangers are seriously behind the competition in terms of theoretical performance and it will become an issue sooner rather than later.