Display
If you are considering the P10 Plus over its smaller sibling, chances are that the bigger 5.5-inch display is a significant factor in that equation.
The 5.5-inch IPS-NEO LCD panel has a resolution of 1440 x 2560 pixels, which at 540ppi is definitively sharper than the 1080p P10. Still, there are also the well-known downsides that come with a higher resolution display, like a bigger strain on the GPU and lower battery endurance. But, we'll cover that in the performance chapter.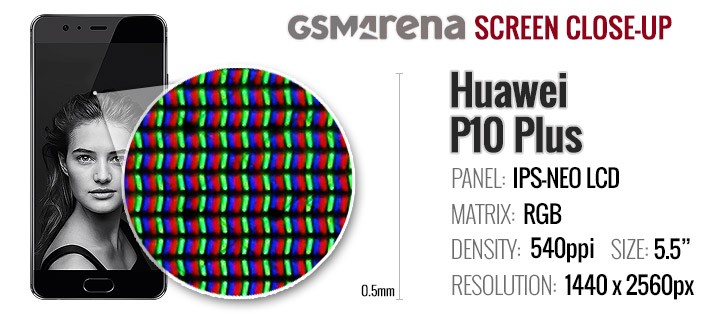 One thing we definitely can't overlook though is the surprisingly frequent ghosting we experienced on the P10 Plus. There're definitely some issues with the screen's response time. Display brightness seems to play some part in the equation as well; with lower settings, the issue is bigger, and at max brightness it's hardly visible. When you scroll through lists of text items, like emails or even menu entries on the P10 Plus, you can see a very noticeable halo effect left behind moving shapes and text.
The regular Huawei P10 doesn't exhibit this behavior. Frankly, we haven't experienced this type of issue on any other recent phone. It may even be specific to our review unit.
Other than that, the panel seems to be pretty decent in terms of contrast and brightness. The regular P10 seems to outshine it a bit at 100% pure white, but in daily use to an untrained eye, they look about equal.
Display test
100% brightness
Black, cd/m2
White, cd/m2
Contrast ratio
Huawei P10
0.416
592
1423
Huawei P10 Plus
0.335
547
1633
Huawei Mate 9
0.41
665
1622
Huawei Mate 9 Pro
0.011
366
33273
Huawei P9 Plus
0.00
400
∞
Huawei Honor 8
0.34
374
1101
Huawei Honor 8 (Max auto)
0.34
395
1161
Huawei Nexus 6P
0.00
352
∞
OnePlus 3T
0
447
∞
ZTE Axon 7
0.00
352
∞
Xiaomi Mi 5s Plus
0.44
637
1448
Xiaomi Mi 5s Plus (warm)
0.43
673
1565
Xiaomi Mi Mix
0.45
589
1309
Xiaomi Mi Mix (auto contrast)
0.37
551
1489
Xiaomi Mi Note 2
0.005
341
68200
Apple iPhone 7 Plus
0.41
573
1398
Apple iPhone 7 Plus (max auto)
0.50
681
1362
Google Pixel XL
0
432
∞
Samsung Galaxy S7 edge
0.00
392
∞
Samsung Galaxy S7 edge max auto
0.00
610
∞
LG V20
0.43
475
1097
LG V20 Max auto
0.59
628
1064
LG G6
0.228
468
2053
LG G6 max auto
0.277
564
2036
The P10 Plus' screen isn't particularly great in terms of color reproduction. There is a very noticeable blue tint in the image, quite reminiscent of early OLED units. Color calibration is pretty uniformly off for most colors with an average deltaE of 5.5 and a maximum of 9.3 in the default color mode. Switching over to the Warm preset does yield better accuracy - an average deltaE of 4.1 and a maximum of 5.8.
There are manual settings available which may further improve the color accuracy. However, you won't be able to do much better with the naked eye without a colorimeter.
Sunlight legibility is pretty good, especially for an LCD. The P10 Plus remains perfectly usable outdoors - a strong testament to the second merit of IPS NEO panel after the above-average contrast with relatively deep blacks.
Sunlight contrast ratio
Samsung Galaxy S6 edge+
4.615
Samsung Galaxy S7 edge
4.439
OnePlus 3
4.424
Samsung Galaxy S7
4.376
HTC One A9
4.274
Samsung Galaxy Note7
4.247
Samsung Galaxy A3
4.241
OnePlus 3T
4.232
Google Pixel XL
4.164
ZTE Axon 7
4.154
Samsung Galaxy S6 edge
4.124
Samsung Galaxy A7 (2017)
4.124
Samsung Galaxy Note5
4.09
Huawei Nexus 6P
4.019
OnePlus X
3.983
Vivo Xplay5 Elite
3.983
Oppo R7s
3.964
Apple iPhone 7
3.964
Huawei P9 Plus
3.956
Meizu Pro 6 Plus
3.935
Lenovo Moto Z
3.931
Samsung Galaxy A7 (2016)
3.918
Samsung Galaxy C5
3.911
Samsung Galaxy C7
3.896
Samsung Galaxy A5
3.895
Samsung Galaxy J7 outdoor
3.879
Samsung Galaxy J2 outdoor
3.873
Samsung Galaxy A8
3.859
Samsung Galaxy A9 (2016)
3.817
Motorola Moto X (2014)
3.816
Samsung Galaxy A5 (2017)
3.804
Samsung Galaxy J7 (2016) outdoor mode
3.802
Xiaomi Redmi Pro
3.798
LG V20 Max auto
3.798
Sony Xperia XZ
3.795
Samsung Galaxy A5 (2016)
3.789
Apple iPhone 6s
3.783
Meizu Pro 5
3.781
Microsoft Lumia 650
3.772
Samsung Galaxy J7 (2016)
3.756
Oppo F1 Plus
3.709
Vivo X5Pro
3.706
Sony Xperia X Compact
3.694
Samsung Galaxy A3 (2017)
3.688
Apple iPhone SE
3.681
Huawei Mate 9
3.68
Samsung Galaxy A7
3.679
Meizu PRO 6
3.659
BlackBerry Priv
3.645
Apple iPhone 7 Plus
3.588
Apple iPhone 6s Plus
3.53
Motorola Moto Z Play
3.526
Samsung Galaxy J3 (2016)
3.523
Samsung Galaxy J3 (2016) outdoor mode
3.523
Acer Jade Primo
3.521
Microsoft Lumia 950
3.512
Oppo R7 Plus
3.499
nubia Z11
3.466
Huawei P10 Plus
3.456
HTC U Ultra
3.453
Samsung Galaxy J7
3.422
Meizu MX5
3.416
LG V20
3.402
Huawei P10
3.379
Oppo R9s
3.352
Oppo R7
3.32
Lenovo P2
3.316
Xiaomi Mi 5s
3.276
Nokia 6 (Chinese version)
3.244
Samsung Galaxy J2
3.235
Sony Xperia X Performance
3.234
Xiaomi Mi Note 2
3.228
Motorola Moto X Play
3.222
Huawei Mate 9 Pro
3.206
Huawei P9
3.195
Lenovo Vibe Shot
3.113
Motorola Moto X Force
3.105
LG Nexus 5X
3.092
Huawei Mate S
3.073
Microsoft Lumia 640 XL
3.065
Sony Xperia X
2.989
Huawei Mate 8
2.949
Xiaomi Redmi 3S
2.913
Sony Xperia XA Ultra
2.906
LG G5
2.905
HTC One S
2.901
Xiaomi Redmi 3s Prime
2.893
Xiaomi Mi 5s Plus
2.884
Sony Xperia Z5
2.876
Microsoft Lumia 550
2.851
Lenovo Moto M
2.813
Xiaomi Redmi 3 Pro
2.803
Sony Xperia Z5 compact
2.784
Meizu MX6
2.751
LG V10
2.744
Xiaomi Redmi 3
2.735
Xiaomi Redmi Note 4 (S625)
2.714
Meizu M5
2.71
Sony Xperia M5
2.69
Huawei P9 Lite
2.679
Xiaomi Redmi 4 Prime
2.679
Vivo V3Max
2.659
Xiaomi Mi Mix
2.658
Xiaomi Mi 4i
2.641
Sony Xperia XA
2.609
Motorola Moto G4 Plus
2.582
Motorola Moto G4 Plus (max auto)
2.582
Meizu M5s
2.58
Xiaomi Mi 4c
2.574
LeEco Le Max 2
2.567
Microsoft Lumia 640
2.563
Asus Zenfone 3 ZE552KL
2.563
Lenovo Moto G4
2.544
Lenovo K6 Note
2.544
Oppo F1
2.528
Sony Xperia Z5 Premium
2.525
Huawei Honor 7 Lite / Honor 5c
2.506
Sony Xperia M4 Aqua
2.503
Oppo F1s
2.481
Motorola Moto G
2.477
Lenovo Vibe K5 Plus
2.473
Huawei G8
2.471
Huawei nova
2.467
Sony Xperia Z
2.462
Lenovo Vibe K5
2.459
Meizu m3 max
2.447
HTC 10 evo
2.407
Huawei Honor 7
2.406
Sony Xperia E5
2.386
ZUK Z1 by Lenovo
2.382
HTC 10
2.378
Samsung Galaxy J5 (2016)
2.378
vivo V5 Plus
2.371
Meizu m1 note
2.362
Huawei nova plus
2.329
HTC One E9+
2.305
Alcatel One Touch Hero
2.272
Apple iPhone 4S
2.269
Lenovo Vibe K4 Note
2.254
Sony Xperia C5 Ultra
2.253
Xiaomi Redmi Note 3 (MediaTek)
2.249
Sony Xperia C4 Dual
2.235
Xiaomi Mi Note
2.234
Motorola Moto G (2014)
2.233
Huawei P8
2.196
Meizu M5 Note
2.189
Huawei Honor 6
2.169
Xiaomi Redmi Note 2
2.166
OnePlus Two
2.165
HTC One X
2.158
LG Aka
2.145
Xiaomi Redmi Note 4 (X20)
2.145
Archos 50 Diamond
2.134
Xiaomi Redmi Note
2.119
Acer Liquid X2
2.084
Huawei P8lite
2.078
vivo V5
2.059
Moto G 3rd gen max manual
2.026
Xiaomi Mi Max
1.996
Sony Xperia E4g
1.972
OnePlus One
1.961
Meizu m3 note
1.923
BlackBerry Leap
1.892
Meizu m2 note
1.892
ZTE Nubia Z9 mini
1.759
Sony Xperia U
1.758
Asus Zenfone Selfie
1.68
Motorola Moto E (2nd Gen)
1.675
ZTE Nubia Z9
1.659
Jolla Jolla
1.605
Motorola Moto E
1.545
Sony Xperia M
1.473
Sony Xperia L
1.351
Xiaomi Redmi 2
1.311
HTC Desire C
1.3
Sony Xperia C
1.283
Sony Xperia E
1.215
Battery
The Huawei P10 Plus is powered by a sealed 3,750mAh battery. The phone ships with a beefy charger capable of outputting 5V/4.5A, 4.5V/5A, and 5V/2A, with the maximum power of 22.5W exceeded only by Oppo with their VOOC chargers (some of them 25W). Low voltage ratings also allow all the internal components to remain cool during charging.
To reiterate our point from a few chapters back, the only real problem with Huawei's fast charging is the proprietary combo of a SuperCharger and cable. Mixing and matching won't break anything, but could leave you charging at 5V/2A or even 1A.
Using the SuperCharger and right cable, we were able to charge the P10 Plus flat to just over 50% in around 30 minutes. Not bad at all.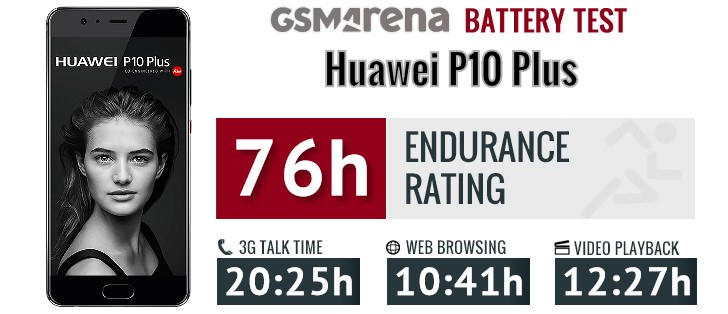 The P10 Plus managed to score a total of 76 hours in our battery endurance test. That's hardly any better than the P10. So what happened to the extra 550mAh?
We can instantly spot a decrease in browsing endurance - 10:41 hours, compared to the P10's 11:47. This is easily due to the higher resolution screen. On the flip side, when the display is not in play at all during a call, we see a bump in endurance up to 20:25 hours. Video playback seems to be virtually identical, so we can only presume the player is smart enough to run full-screen at 1080p when presented with our 1080p video file.
The battery testing procedure is described in detail in case you're interested in the nitty-gritties. You can also check out our complete battery test table, where you can see how all of the smartphones we've tested will compare under your own typical use.
Connectivity
Just like its little sibling, the Huawei P10 Plus is decked out in terms of connectivity. Its LTE-Advanced modem supports 3-carrier aggregation and is rated at Cat.12, for theoretical speeds of up to 600Mbps down and 150Mbps up. There are 20 LTE standards on the supported list, along with six 3G and four 2G bands, so the phone should feel welcome on almost any carrier anywhere. Huawei also prides itself in providing a higher rate of successful call connections than some unnamed competing products. Even though we didn't test that claim in particular, we find it easy to believe having in mind their expertise in networking.
On the local side of things, you get a dual-band Wi-Fi a/b/g/n/ac module. Also, Bluetooth v4.2, NFC, and a versatile GPS receiver, with support for A-GPS, GLONASS, Beidou, and Galileo. One thing the P10 Plus has over its sibling is an IR blaster - a convenient little feature, which we appreciate.
The USB Type-C port at the bottom of the P10 Plus definitely gives off a modern vibe. However, Huawei still hasn't moved to USB 3.0 or 3.1 and the Type-C interface supports only the older USB 2.0 standard. OTG is supported, though.
Last, but not least, you also get a good old 3.5mm audio jack on the bottom of the P10 Plus.