Flagship-grade curved OLED
It's quite obvious that the nova 9's display is one of the centerpiece features. Putting the curvatures aside, since it's a subjective matter, the display also uses a high-end 120Hz OLED with 10-bit color reproduction. Standard resolution and aspect ratio, though - 1080 x 2340px at 19.5:9.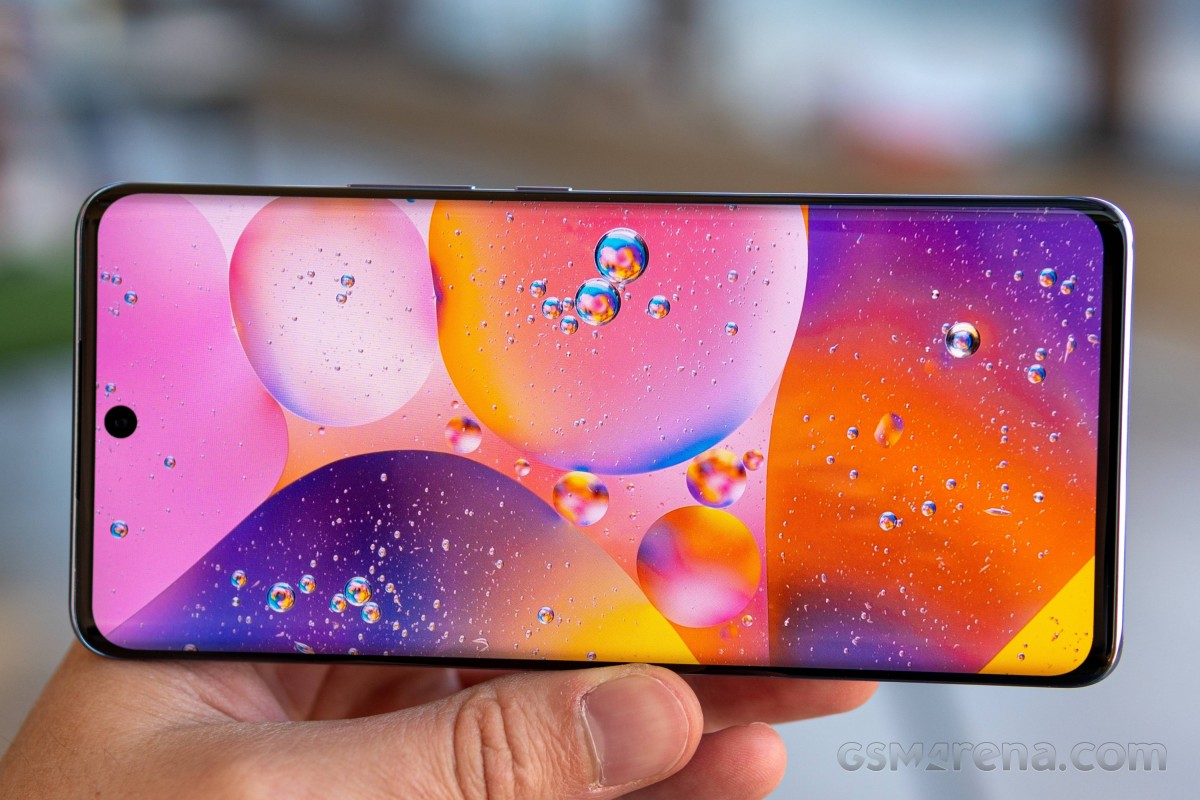 Brightness-wise, the OLED panel isn't impressive, but it's right up there with the rest. In manual mode and the brightness slider cranked up to maximum, the display produced 433 nits, while in auto mode, it peaked at 608 nits - standard stuff. We found it excellent outdoors, so we doubt you will have any issues on a bright sunny day.
Display test
100% brightness
Black,cd/m2
White,cd/m2
Contrast ratio
Huawei nova 9
0
433
∞
Huawei nova 9 (Max Auto)
0
608
∞
Motorola Moto G100
0.349
498
1427:1
Motorola Moto G100 (Max Auto)
0.434
613
1412:1
Xiaomi Mi 11i
0
514
∞
Xiaomi Mi 11i (Max Auto)
0
939
∞
Xiaomi Mi 11T
0
498
∞
Xiaomi Mi 11T (Max Auto)
0
798
∞
Realme GT 5G
0
443
∞
Realme GT 5G (Max Auto)
0
650
∞
Samsung Galaxy A72
0
396
∞
Samsung Galaxy A72 (Max Auto)
0
825
∞
Color accuracy is a whole another story, though. Right off the bat, even without consulting the testing equipment, it's apparent that the color temperature is way too cold. All the grays and whites have a strong blue or purple-ish tinge. The rest of the colors are also off. Luckily, the Normal color mode gets most colors within a reasonable dE2000 range, but the whites and grays would still look blueish.
There's a color wheel that lets you adjust the color temperature, so you might want to use that even if you don't have the right equipment to check the D65, so just adjust it to your own liking.
HRR control isn't very sophisticated, but it's simple and mostly effective. There are three settings - Dynamic, High and Standard. However, we are hard-pressed to find any difference between the first two. At High preset, one would expect the refresh rate to be locked at 120Hz, but it seems to act just like the Dynamic preset. Not touching the screen for a while lowers the refresh rate to 60Hz, and the same goes for some apps as well.
Still, it's good to see that the system utilizes the screen's refresh rate in most cases and saves power in certain scenarios. For instance, the refresh rate is limited to 60Hz when watching full-screen YouTube videos using the default browser (after all, there's no GMS, so we weren't able to make the YouTube app work, the same goes for Google Chrome). Launching the Netflix app instantly locks the display at 60Hz, while the default Gallery does that only when playing videos. You are free to scroll at 120Hz when browsing through the Gallery.
Battery life
The Huawei nova 9 sports a slightly smaller battery than most handsets in its price range, perhaps in an attempt to keep the profile slim (7.8mm). Anyway, the 4,300 mAh battery managed to keep the lights on just enough to call the endurance score "average". However, there's a big difference between the nova 9 and its competitors - they run more powerful SoCs.
Most of the nova 9's rivals are either powered by the Snapdragon 888 or the 870 - both very potent and more power-hungry chipsets compared to the Snapdragon 778G. The Galaxy A72, on the other hand, is running a Snapdragon 720G with an overall endurance score of 117h. We would have liked to see the nova 9 somewhere in that ballpark.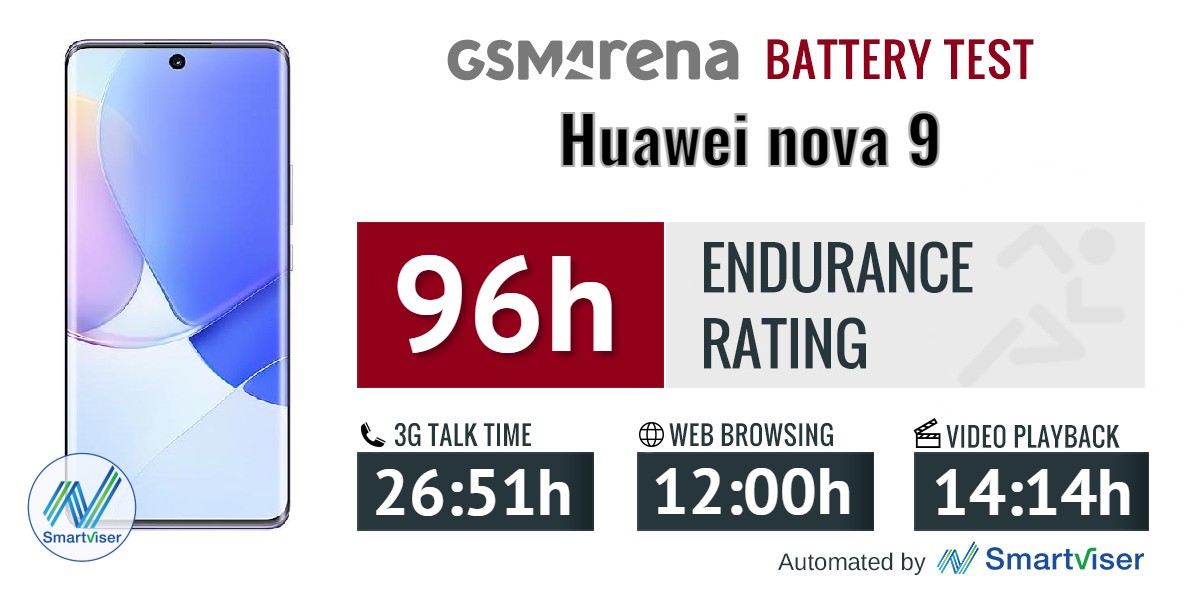 Our battery tests were automated thanks to SmartViser, using its viSerDevice app. The endurance rating denotes how long the battery charge will last you if you use the device for an hour of telephony, web browsing, and video playback daily. More details can be found here.
Video test carried out in 60Hz refresh rate mode. Web browsing test done at the display's highest refresh rate whenever possible. Refer to the respective reviews for specifics. To adjust the endurance rating formula to match your own usage - check out our all-time battery test results chart.
Charging speed
The nova 9 may not be the fastest in town, but it's definitely far from slow too. You get about 61% of the charge in the first 30 minutes, and interestingly enough, it keeps the pace up until 100%, which takes about 54 minutes. That's just a little slower than the Xiaomi Mi 11i and 11T. Those two are considerably faster in the 30-minute charge test, though.
30min charging test (from 0%)
Higher is better
Realme GT 5G (65W)
87%
Xiaomi 11T
86%
Xiaomi Mi 11i
69%
Huawei nova 9
61%
Samsung Galaxy A72
54%
Motorola Moto G100
37%
Time to full charge (from 0%)
Lower is better
Realme GT 5G (65W)
0:39h
Xiaomi 11T
0:41h
Xiaomi Mi 11i
0:52h
Huawei nova 9
0:54h
Samsung Galaxy A72
1:15h
Motorola Moto G100
1:54h
Speaker
Unlike most of its rivals, the nova 9 doesn't have a set of stereo speakers and instead relies on its single, bottom-facing speaker. It's decently loud for a single speaker and sounds rather clean. But as you go north with the volume, it starts to ring. The speaker is also a bit on the flat side, which is to be expected from a small cavity and just one loudspeaker.
Use the Playback controls to listen to the phone sample recordings (best use headphones). We measure the average loudness of the speakers in LUFS. A lower absolute value means a louder sound. A look at the frequency response chart will tell you how far off the ideal "0db" flat line is the reproduction of the bass, treble, and mid frequencies. You can add more phones to compare how they differ. The scores and ratings are not comparable with our older loudspeaker test. Learn more about how we test here.