When Google announced the Android 7.1.2 beta roll out late last month, it was said that Nexus 6P's beta update is still being worked on, and is expected "to release soon." Well, those who've been waiting for it will be glad to know that the the update has started rolling out.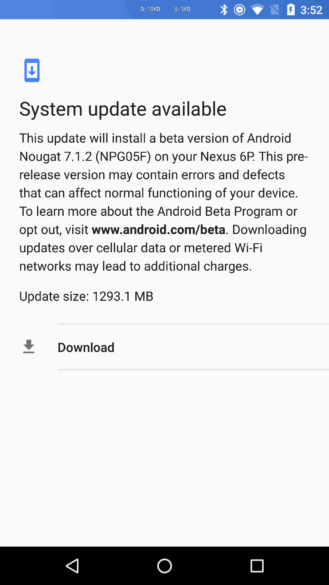 It's a large update, weighing in at around 1.30GB. Needless to say that your Nexus 6P device should be part of the beta program to get this update. A point worth mentioning here is that the update doesn't bring along the fingerprint gestures support that the Nexus 5X got as part of its Android 7.1.2 beta update.
S
7.1.2 is running in my nexus 6p' Everything is perfectly working 😍
D
If somebody does happen to come across a full list for this update could they link it here pls? I am currently looking with no luck
D
Exactly! I want to new the new features especially when the update is so "yuge" at 1.3 GB.........
ADVERTISEMENT