Telephony
The Nexus 6P's phone calls sound great with VoLTE on the T-Mobile network in New York City and greater Miami. VoLTE may not be available in most regions, although, HD Voice (used over 3G) is also an available feature with compatible carriers. Your service provider and the recipient you are calling must both have compatible carriers and hardware in order to take advantage of HD Voice or VoLTE.
Wi-Fi calls placed on the T-Mobile network are comparable to HD Voice quality and calls are able to carry over from Wi-Fi to LTE. This transition, though, is not very graceful. There are about 5 seconds of silence or stuttering on both ends while the call becomes rerouted through LTE upon leaving a Wi-Fi area.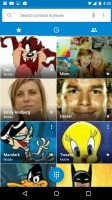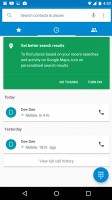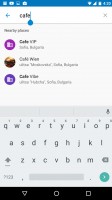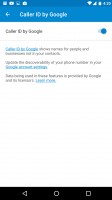 Making calls through the stock dialer app is pleasant
Thanks to Smart Dialing finding contacts is super easy. Looking for "Taz" in your contacts? Dial 8-2-9 and the dialer finds a match. You can also tap the contacts tab to scroll through or manually type a name from your list of contacts (if you'd rather do it that way).
The stock dialer is also capable of finding local listings by typing in a search term, though, you are required to go into the dialer's setting and enable the location permission so it knows what area to look in.
Although the Nexus 6P features in-call noise cancellation, a few users have reported a noise cancellation bug which was causing audio inconsistencies on the recipient's end. Users suggest it's a software issue that's existed since the previous two Nexus iterations and puts the blame on Google's software team. Google has officially acknowledged the bug and promised to look into it.
The Nexus 6P received a "Very Good" rating in our sound tests and it's even borderline "Excellent". A smartphone with a speaker this loud is not too common these days. You shouldn't be missing any calls with it.
| | | | | |
| --- | --- | --- | --- | --- |
| Speakerphone test | Voice, dB | Pink noise/ Music, dB | Ringing phone, dB | Overall score |
| LG Nexus 5X | 61.2 | 65.8 | 61.7 | Below Average |
| Apple iPhone 6s Plus | 65.8 | 65.1 | 64.6 | Below Average |
| Motorola Nexus 6 | 66.5 | 66.2 | 66.3 | Below Average |
| Samsung Galaxy S6 edge+ | 65.8 | 64.8 | 70.4 | Average |
| LG V10 | 66.1 | 64.7 | 70.7 | Average |
| Samsung Galaxy Note5 | 65.3 | 64.6 | 73.5 | Average |
| Huawei Nexus 6P | 74.7 | 77.8 | 72.1 | Very Good |
Google Messenger, Not Hangouts
Google's own Messenger app is the default SMS handler for the Nexus 6P. It's a very simple and minimally designed app with many features and customizations. The Messenger app lets you set individual notification sounds for specific contacts, as well as assign a color for the conversation bubbles on a per-contact basis.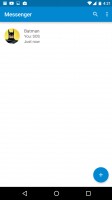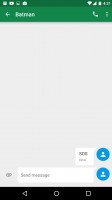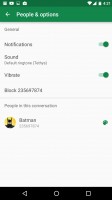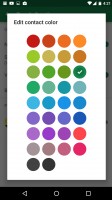 Google's SMS app offers simple texting with customizable contact color schemes
The Messenger app lets you snap an MMS image or video clip directly in a mini-viewfinder that pops up over the input box. You can also attach existing images and videos, Google's stickers, voice notes, and a location pin-drop.
Google Messenger also allows for quick replies directly from the notification shade, expanding an SMS notification from the shade will give you the option to "Reply" from whatever screen you may be in.