User interface: security and privacy get a boost
Early on in Android's life phone makers and app developers took over the role of innovators, adding cool new functionality that the base OS did not have. Google has been incorporating the best ideas, but stock Android these days serves as a stable base on which value-added features are added by makers.
Google's innovation in Android mostly takes place in the internals, things like Doze that change how the fundamentals of the OS works. Even there Google is not without competition as basically every phone maker has its own power-saving implementation.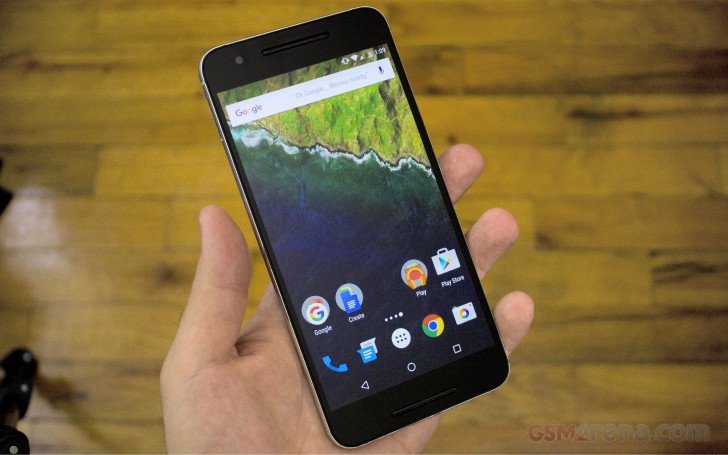 On the plus side, there's no bloat of features that may or may not prove useful, stock Android is a "Best of" album.
One of the niceties uses motion sensing to dimly light up a monochrome version of the lockscreen - just enough to see the time and any new notifications when you pick up the phone or take it out of your pocket. You can tap the screen to get the full color picture.
This feature is called Ambient Display and also triggers when a new notification comes in. There's no tap to wake though. The responsiveness of Ambient Display is just as inconsistent and unpredictable as ever. We personally prefer to use the LED notification.
The lockscreen itself is very familiar - a clock, notifications and a couple of shortcuts (voice assistant and camera, instead of the usual phone and camera, camera can also be triggered by double pressing the power button). Swiping down shows the quick toggles and the brightness slider.
The one thing we wish stock Android would bring from the skinned implementations is the Auto brightness toggle. You'll have to dig through settings for that.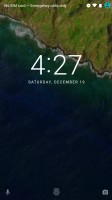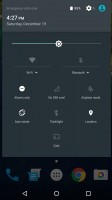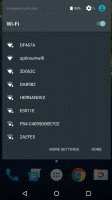 The lockscreen • quick settings • expanding the Wi-Fi options
Other than that you can pick the large-size toggles, the ones you'll use most often (Wi-Fi and Bluetooth by default). Long-pressing a toggle or hitting its down arrow brings out additional details, e.g. Wi-Fi settings and detected Wi-Fi networks respectively.
Nexus Imprint is the native implementation of fingerprint reader support on Android. We've seen makers already roll their own, but this one will make a common base for all apps. Imprint can be used to authorize purchases and sign you into apps, not just unlock the phone.
The fingerprint reader on the Huawei Nexus 6P is excellent. The setup was very quick and painless, you place your finger on the reader 5-6 times and you're done (some phones make you do it a dozen times and then want the tip of your finger).
The reader is active even when the screen is off, just place any finger you've set up and less than a second later the phone is ready (having skipped the lockscreen altogether).
Google has developed a number of ways to reduce the hassle. Secure locks can be disabled in trusted situations. This can be anything from a trusted place, through a trusted device (e.g. your smartwatch) to three biometric options: your face (susceptible to doppelgangers), your voice and even your body (unlock the device once and it stays unlocked while it's on your person).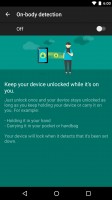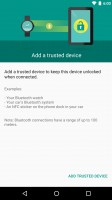 Secure lock options: on-body detection • trusted devices
After all this talk about locking options, we're finally at the homescreen and there's not much here - the Nexus 6P has one of the leanest app packages we've seen. This is the result of Google's promise to reduce the number of pre-installed apps for Marshmallow. At first it has just a single homescreen pane and most of it is empty. Even the list of all apps fits on one screen.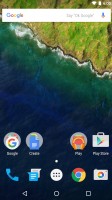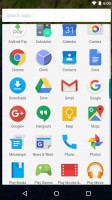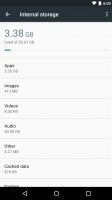 The homescreen is pretty empty • preinstalled apps in the app drawer • just about 3.4GB used by the system
One thing, perhaps the biggest that the Google team continues to push back is the launch of multi-window support. Lollipop had the basics, but was never enabled in practice, same goes for Marshmallow. Several smartphone makers - even Apple! - have working, even good multi-window solutions but not stock Android.
Multitasking is done through the app switcher, a 3D rolodex menu. You can swipe apps to dismiss them. You can also check how much RAM was used by any app in the last few hours so memory hogs are immediately visible.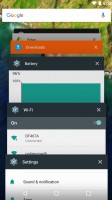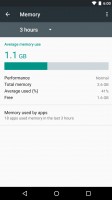 The app switcher rolodex • checking on what apps have been using the most RAM
Another thing that has gained popularity, but is absent from the Nexus 6P, is theming support. To be fair, some of the most popular themes just make TouchWiz/Optimus/Sense/Whatever look like stock Android, but there are some fun themes out there too.
Multiple users are supported, you get an Owner and a Guest account to start you off. You can add more users, each with their own apps, their own wallpaper and so on. It's not a total division though, some settings (like Wi-Fi or app updates) affect all accounts.
While the experience of Android on the 5X was not to where we would have hoped, this is not the case with the Nexus 6P. The fusion of the Snapdragon 810, 3GB of RAM, and the Adreno 430 GPU result in a wonderful UI experience, absolutely free of hiccups or stutters.
With the announcement of Marshmallow at Google I/O, Google promised to cut back even more bloatware that comes preinstalled in the OS. We have to say, Google really delivered on this promise.
The App drawer is populated by only 29 pre-installed app icons, and many of the non-essential apps (like Play Games or News & Weather) can be uninstalled from the device. This may come in handy if you got the 32GB model and need to squeeze out every megabyte you possibly can.
Permissions
Permissions finally landed on Android. Each app - even the pre-installed ones - will ask permission before accessing your data. Permissions will only work assuming the developers have updated the apps to take advantage of permissions meaning that older or abandoned apps will use the old permissions Once you hit "Allow" they won't ask again (you can revoke the permission from the settings). To save you from spammy apps, the Deny option comes with a handy checkbox to make the denial permanent.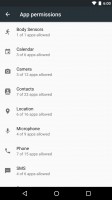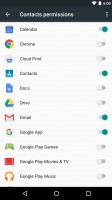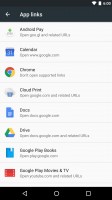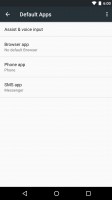 Viewing permissions by permission type • permissions by app
In the settings there's an App permissions option where you can see how many apps have been granted specific permissions or which permission have been granted to a specific app.
Also here is the Battery optimization feature. It lists which apps are not being optimized for minimal battery usage to make it easier to track down memory hogs. If this feature causes problems with some older apps, you can disable it individually.
Android Pay
Google Marshmallow introduces Android Pay for the very first time. The Tap & pay option in the settings menu helps you set up your mobile payment solution of choice. The default is the new Android Pay, but you can pick another one if you have it installed.
Google has further made sure that different payment options can co-exist peacefully by giving you the option to use the default payment option (say, Android Pay), unless you have another payment app open.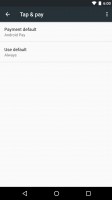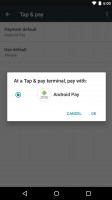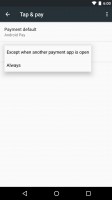 The Tap & pay menu features the new Android Pay service
Naturally, any such app can use the fingerprint reader to ensure that people can't just pick up your phone and pay for stuff.
We tried using Android Pay at a Duane-Reade pharmacy. Unlock the phone and open the Android Pay app, choose your card, then tap the camera hump to the NFC terminal.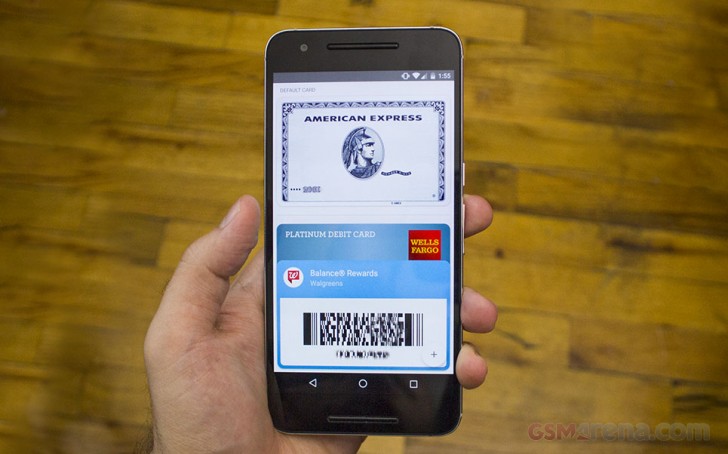 When using a debit card, sometimes the pay terminal will ask you for that card's PIN number. This feels counter intuitive to the whole tap-and-go experience. If you would like a smoother transaction experience, we recommend you use a credit card as your default fund source.