Screen
The Nexus 6p uses a 5.7 inch QHD AMOLED display - this makes for a pixel density of 515 ppi. During an AskMeAnything session on Reddit the Nexus team claimed that they've in fact sourced a current gen Samsung AMOLED panel for the Nexus 6p.
Under our digital microscope, you can clearly see the Diamond Pentile pixel arrangement.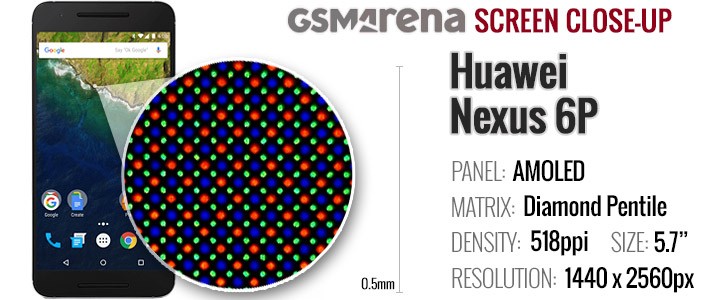 At its maximum setting, the screen outputs 352nits of brightness, which is about average for an AMOLED screen. This means it's about as bright as the Moto Nexus 6, the Huawei Mate S, and the Meizu PRO 5. It's certainly bright enough for viewing during the day though it falls short of Samsung's flagship range.
On the positive side, at its minimum setting, it gets comfortably dim at only 5.4nits.
Color accuracy of the screen is not perfect and it's certainly far from the calibrated output of the LG Nexus 5X though this one comes with an LCD. It's got an average color deviation (DeltaE) of 6.5 and color calibrated output should have that under 3. The phone doesn't offer any sliders for adjusting the default color rendition.
Display test
50% brightness
100% brightness
Black, cd/m2
White, cd/m2
Contrast ratio
Black, cd/m2
White, cd/m2
Contrast ratio
Huawei Nexus 6P
0.00
180
∞
0.00
352
∞
LG Nexus 5X
0.17
236
1430
0.30
455
1542
Motorola Nexus 6
0.00
149
∞
0.00
372
∞
Samsung Galaxy Note5
0.00
183
∞
-
439
∞
Sony Xperia Z5 Premium
0.08
78
963
0.59
566
966
Meizu Pro 5
0
102
∞
0
321
∞
Huawei Mate S
0.00
60
∞
0.00
372
∞
Samsung Galaxy J7
0.00
150
∞
0
358.00
∞
Apple iPhone 6s Plus
0.10
150
1563
0.43
590
1382
The relatively low brightness didn't hamper the sunlight legibility though, in that respect, the Nexus 6P is one of the best phones we've seen. It essentially matches the Galaxy Note5.
Sunlight contrast ratio
Samsung Galaxy S6 edge+
4.615
HTC One A9
4.274
Samsung Galaxy S6 edge
4.124
Samsung Galaxy Note5
4.09
Huawei Nexus 6P
4.019
OnePlus X
3.983
Oppo R7s
3.964
Samsung Galaxy J7 outdoor
3.879
Samsung Galaxy J2 outdoor
3.873
Samsung Galaxy A8
3.859
Apple iPhone 6
3.838
Microsoft Lumia 950XL
3.837
Motorola Moto X (2014)
3.816
Apple iPhone 6s
3.783
Meizu Pro 5
3.781
Vivo X5Pro
3.706
BlackBerry Priv
3.645
Motorola Nexus 6
3.543
Apple iPhone 6s Plus
3.53
Microsoft Lumia 950
3.512
Oppo R7 Plus
3.499
Samsung Galaxy J7
3.422
Meizu MX5
3.416
Oppo R7
3.32
Samsung Galaxy J2
3.235
Motorola Moto X Play
3.222
Lenovo Vibe Shot
3.113
LG Nexus 5X
3.092
Huawei Mate S
3.073
Microsoft Lumia 640 XL
3.065
Apple iPhone 6 Plus
3.023
Samsung Galaxy Note
2.97
HTC One S
2.901
Sony Xperia Z5
2.876
Microsoft Lumia 550
2.851
Sony Xperia Z5 compact
2.784
LG V10
2.744
Sony Xperia M5
2.69
Xiaomi Mi 4i
2.641
Xiaomi Mi 4c
2.574
Microsoft Lumia 640
2.563
Motorola Moto G 4G
2.546
Sony Xperia Z5 Premium
2.525
HTC One
2.504
Sony Xperia M4 Aqua
2.503
Motorola Moto G
2.477
Huawei G8
2.471
Sony Xperia Z
2.462
Xiaomi Mi 4
2.424
Huawei Honor 7
2.406
ZUK Z1 by Lenovo
2.382
HTC One E9+
2.305
Sony Xperia C5 Ultra
2.253
Xiaomi Redmi Note 3
2.249
Sony Xperia C4 Dual
2.235
Motorola Moto G (2014)
2.233
LG Nexus 5
2.228
Huawei P8
2.196
Xiaomi Redmi Note 2
2.166
OnePlus Two
2.165
HTC One X
2.158
Archos 50 Diamond
2.134
Xiaomi Redmi Note
2.119
Huawei P8lite
2.078
Moto G 3rd gen max manual
2.026
Sony Xperia E4g
1.972
OnePlus One
1.961
Meizu m2 note
1.892
BlackBerry Leap
1.892
HTC Butterfly
1.873
ZTE Nubia Z9 mini
1.759
Sony Xperia U
1.758
Asus Zenfone Selfie
1.68
Motorola Moto E (2nd Gen)
1.675
ZTE Nubia Z9
1.659
Motorola Moto E
1.545
Sony Xperia M
1.473
Xiaomi Redmi 2
1.311
Sony Xperia C
1.283
Meizu MX
1.221
Indeed, the screen looks stunning, although, when viewed even at a slight angle, there is a noticeable color shift to a cooler tonality. This remains the case even when viewing the screen from the widest angle possible.
Speaking of colors, they are a little bit over saturated but not to the point of exaggeration. Upon digging through the developer settings, we found that you can turn off the punchy over saturated colors in favor of sRGB for a more natural looking color reproduction.
Our eyes feel a little relief when switching this option on. It really is a matter or preference, but it all boils down to personal preference. Unfortunately, however, this setting does not stick after a reboot.
Connectivity
There are two different models for the Nexus 6P, a North American model and an international worldwide model with the only difference between the two is network compatibility.
Both models offer LTE Cat. 6 @ 300Mbps down and 50Mbps up, HSPA @ 42.2 down and 5.76 up, but the North American model has a CDMA radio on-board for compatibility with Verizon, Sprint, and Google's own Project Fi MVNO. All of this of course comes besides the regular GSM/EDGE connectivity.
The Nexus 6P offers 2.4GHz and 5GHz dual-band Wi-Fi, Bluetooth 4.2, and NFC, which is needed for Google's new Android Pay service.
Unfortunately, the Nexus 6P only supports data transferring at USB 2.0 speeds despite using the new USB-Type C connection.
Remember that 6-inch cable that came in the packaging with the phone? It can be plugged into a PC for file transfer but a minor annoyance is the connection will default to "Charge Only" and you need to manually switch to "File Transfer" in order to access the phone's files every time you plug it in.
If you want standard HDMI output there is a Type-C to HDMI adapter you can buy (Type-C monitors are still rare).
Huawei Nexus 6P battery life test
The Nexus 6p battery capacity has received a modest capacity bump of 200 mAh from the Nexus 6's 3250 mAh to a 3450 mAh battery. Android's new Doze feature allows Android to use data from the device's motion chip to detect when a phone has been lying on a table for a while without being used. In this case it will automatically reduce email polling and social media notifications, which are two potentially battery hogs.
Our tests found that the Nexus 6P has excellent idle battery drain thanks to Marshmallow's Doze feature. Our call test scored generous 20:50h and the video test also did quite well at 9:59h, which comes out to losing about 10% for every hour of video. We feel, however, that the browser test could have performed a bit better, it scored lower than the video test at 8:35h.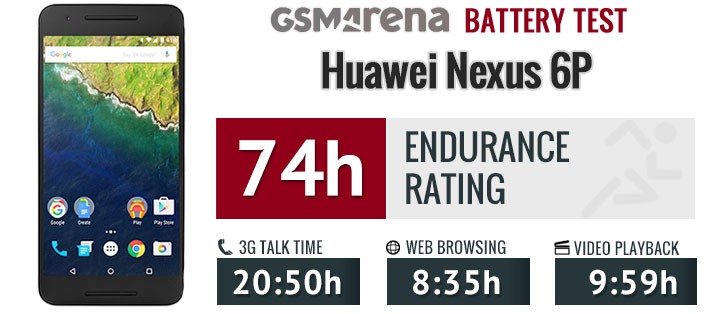 Thanks to the fast-charging USB-Type C adapter. The Nexus 6P can get a full charge from under 15 to 100 in a little over an hour. This phone charges pretty fast. Even a 5 minute charge can make the difference between the phone staying alive when going out for a late night vs. running out of juice by the time you get home.
For either of these cases, the battery saver feature built into Android can help squeeze every last bit of juice. The Nexus 6P does an excellent job of keeping battery life overnight.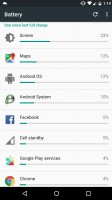 Android's breakdown of battery usage
The Nexus 6P is finally the first time a Nexus device performed exceptionally well in the battery department, while the Nexus 6 has very similar battery life, Lollipop's lack of optimization didn't let the battery last as long as it does now with Marshmallow.
Our proprietary rating denotes the number of hours the phone will be operational if you are to make an hour of 3G talks, web browsing and video playback per day. Such usage pattern is of course entirely artificial, but we've established it so our battery results are comparable across devices.
The proprietary score also includes a standby battery draw test, which is not featured in our battery test scorecard but is calculated in the total endurance rating. Our battery testing procedure is described in detail in case you want to learn more about it.