Bright and contrasty 5.9-inch FullHD display
The Huawei Mate 9 continues a trend in the Mate lineup the big-screen lovers among us don't really appreciate - every two generations the display diagonal gets cut by 0.1 inches. The original Ascend Mate boasted a 6.1-inch screen, which the Mate 2 kept, then the Mate 7 and Mate 8 came with 6 inches flat, and now the Mate 9 has shrunk even further to 5.9 inches. What's going on Huawei, why is the Mate getting smaller every other iteration?
Anyway, the FullHD resolution stretched to a 5.9-inch diagonal results in a 373ppi pixel density. The IPS LCD panel has a traditional RGB arrangement with equal number of subpixels for each primary color.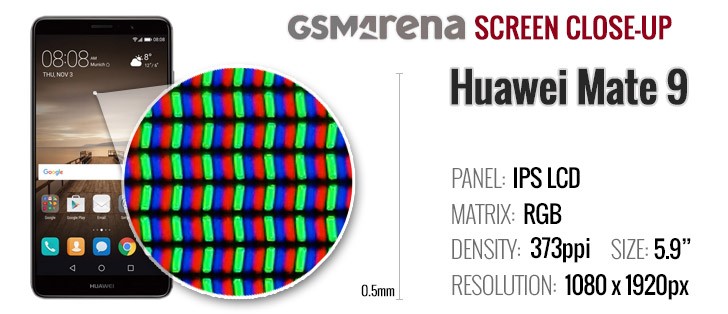 The Mate 9's maximum brightness is excellent, just short of the iPhone 7 Plus and higher than the LG V20 when the two competitors are set to Auto and exposed to bright light. The Mate's Auto mode doesn't boost its brightness further, but it's super bright already, so it's all good.
Black levels are also kept well in check, and the Mate gets a superb contrast value exceeding 1600:1. Of course, the AMOLED team with its infinite contrast is out of reach, but the Mate 9 sets the benchmark for LCDs.
Display test
100% brightness
Black, cd/m2
White, cd/m2
Contrast ratio
Huawei Mate 9
0.41
665
1622
Huawei Mate 8
0.346
471
1361
Huawei Ascend Mate7
0.37
530
1428
LG V20
0.43
475
1097
LG V20 Max auto
0.59
628
1064
Apple iPhone 7 Plus
0.41
573
1398
Apple iPhone 7 Plus (max auto)
0.50
681
1362
Samsung Galaxy S7 edge
0.00
392
∞
Samsung Galaxy S7 edge max auto
0.00
610
∞
Google Pixel XL
0
432
∞
It's not as great in color accuracy, where it manages an average DeltaE of 5.2 with a maximum of 9.5 in its default display mode. White and shades of grey are off the most, leaning heavily towards blue. The Warm setting brings the average DeltaE to 4.6, but whites do remain bluish.
You get a color wheel in the display settings where you can adjust the color reproduction to your liking, but you'd be unable to get rid of the blue cast. Not to mention that fiddling with those controls without a reference will more likely bring you less accurate results. Still, it's a nice option to have.
Ah, there's also a night reading mode, which warms up the output severely in line with the studies that have shown that the blue light emitted by the phone's screen might disrupt your nomral sleep cycle if you use it in the evening. The minimum brightness of 4.2nits should help put less strain on your eyes when using the phone in dark environments.
As for sunlight legibility, the Mate 9 does a wonderful job here as well.
Sunlight contrast ratio
Samsung Galaxy S6 edge+
4.615
Samsung Galaxy S7 edge
4.439
OnePlus 3
4.424
Samsung Galaxy S7
4.376
HTC One A9
4.274
Samsung Galaxy Note7
4.247
Samsung Galaxy A3
4.241
Google Pixel XL
4.164
ZTE Axon 7
4.154
Samsung Galaxy S6 edge
4.124
Samsung Galaxy Note5
4.09
Huawei Nexus 6P
4.019
OnePlus X
3.983
Vivo Xplay5 Elite
3.983
Oppo R7s
3.964
Apple iPhone 7
3.964
Huawei P9 Plus
3.956
Samsung Galaxy A7 (2016)
3.918
Samsung Galaxy C5
3.911
Samsung Galaxy C7
3.896
Samsung Galaxy A5
3.895
Samsung Galaxy J7 outdoor
3.879
Samsung Galaxy J2 outdoor
3.873
Samsung Galaxy A8
3.859
Samsung Galaxy A9 (2016)
3.817
Motorola Moto X (2014)
3.816
Samsung Galaxy J7 (2016) outdoor mode
3.802
Xiaomi Redmi Pro
3.798
LG V20 Max auto
3.798
Sony Xperia XZ
3.795
Samsung Galaxy A5 (2016)
3.789
Apple iPhone 6s
3.783
Meizu Pro 5
3.781
Microsoft Lumia 650
3.772
Samsung Galaxy J7 (2016)
3.756
Oppo F1 Plus
3.709
Vivo X5Pro
3.706
Sony Xperia X Compact
3.694
Apple iPhone SE
3.681
Huawei Mate 9
3.680
Samsung Galaxy A7
3.679
Meizu PRO 6
3.659
BlackBerry Priv
3.645
Apple iPhone 7 Plus
3.588
Apple iPhone 6s Plus
3.53
Samsung Galaxy J3 (2016)
3.523
Samsung Galaxy J3 (2016) outdoor mode
3.523
Acer Jade Primo
3.521
Microsoft Lumia 950
3.512
Oppo R7 Plus
3.499
nubia Z11
3.466
Samsung Galaxy J7
3.422
Meizu MX5
3.416
LG V20
3.402
Oppo R7
3.32
Xiaomi Mi 5s
3.276
Samsung Galaxy J2
3.235
Sony Xperia X Performance
3.234
Motorola Moto X Play
3.222
Huawei P9
3.195
Lenovo Vibe Shot
3.113
Motorola Moto X Force
3.105
LG Nexus 5X
3.092
Huawei Mate S
3.073
Microsoft Lumia 640 XL
3.065
Sony Xperia X
2.989
Huawei Mate 8
2.949
Xiaomi Redmi 3S
2.913
Sony Xperia XA Ultra
2.906
LG G5
2.905
HTC One S
2.901
Xiaomi Mi 5s Plus
2.884
Sony Xperia Z5
2.876
Microsoft Lumia 550
2.851
Xiaomi Redmi 3 Pro
2.803
Sony Xperia Z5 compact
2.784
LG V10
2.744
Xiaomi Redmi 3
2.735
Sony Xperia M5
2.69
Huawei P9 Lite
2.679
Vivo V3Max
2.659
Xiaomi Mi 4i
2.641
Sony Xperia XA
2.609
Motorola Moto G4 Plus
2.582
Motorola Moto G4 Plus (max auto)
2.582
Xiaomi Mi 4c
2.574
LeEco Le Max 2
2.567
Microsoft Lumia 640
2.563
Lenovo Moto G4
2.544
Oppo F1
2.528
Sony Xperia Z5 Premium
2.525
Huawei Honor 7 Lite / Honor 5c
2.506
Sony Xperia M4 Aqua
2.503
Oppo F1s
2.481
Motorola Moto G
2.477
Lenovo Vibe K5 Plus
2.473
Huawei G8
2.471
Huawei nova
2.467
Sony Xperia Z
2.462
Lenovo Vibe K5
2.459
Huawei Honor 7
2.406
Sony Xperia E5
2.386
ZUK Z1 by Lenovo
2.382
Samsung Galaxy J5 (2016)
2.378
HTC 10
2.378
Huawei nova plus
2.329
HTC One E9+
2.305
Alcatel One Touch Hero
2.272
Apple iPhone 4S
2.269
Lenovo Vibe K4 Note
2.254
Sony Xperia C5 Ultra
2.253
Xiaomi Redmi Note 3 (MediaTek)
2.249
Sony Xperia C4 Dual
2.235
Xiaomi Mi Note
2.234
Motorola Moto G (2014)
2.233
LG Nexus 5
2.228
Huawei P8
2.196
Huawei Honor 6
2.169
Xiaomi Redmi Note 2
2.166
OnePlus Two
2.165
HTC One X
2.158
LG Aka
2.145
Xiaomi Redmi Note 4
2.145
Archos 50 Diamond
2.134
Xiaomi Redmi Note
2.119
Xiaomi Mi 4S
2.095
Acer Liquid X2
2.084
Huawei P8lite
2.078
Moto G 3rd gen max manual
2.026
Huawei Ascend Mate7
2.024
Xiaomi Mi Max
1.996
Sony Xperia E4g
1.972
OnePlus One
1.961
Meizu m3 note
1.923
BlackBerry Leap
1.892
Meizu m2 note
1.892
HTC Butterfly
1.873
ZTE Nubia Z9 mini
1.759
Sony Xperia U
1.758
Asus Zenfone Selfie
1.68
Motorola Moto E (2nd Gen)
1.675
ZTE Nubia Z9
1.659
Jolla Jolla
1.605
Motorola Moto E
1.545
Sony Xperia M
1.473
Xiaomi Redmi 2
1.311
HTC Desire C
1.3
Sony Xperia C
1.283
Meizu MX
1.221
Sony Xperia E
1.215
Connectivity
We'll start with the FM radio receiver, for a change - the Mate 9 has none. Then again, the feature had already gone missing on the P9, so you could've seen that coming.
As for the fundamental stuff, the Mate 9 supports LTE-Advanced with 3-carrier aggregation, Cat.12 LTE for theoretical speeds up to 600Mbps down and 150Mbps up, 20 LTE bands, 6 3G bands and the usual quad-band 2G. The dual-SIM version we have for review (MHA-L29) also works on CDMA networks. The single-SIM MHA-L09 version supports one LTE band fewer, and no CDMA.
There's full-fledged Wi-Fi support - a/b/g/n/ac, dual-band, with Wi-Fi Direct and hotspot support. You also get Bluetooth v4.2 for peripherals, A-GPS, GLONASS, Beidou, and Galileo for positioning, and NFC for, well, near field communication, right. We know some of you we'll be glad to hear there's also an IR emitter on the Mate 9.
The Type-C USB port only adheres to the USB 2.0 spec (480Mbps theoretical) and not USB 3.0 or 3.1. It's not your average Type-C port either, as it has two more contacts for the SuperCharge tech, but those don't interfere with using standard-spec Type-C accessories.
There's an old-school 3.5mm headphone jack too.
Huawei Mate 9 battery life
Large batteries have been a staple of the mate lineup since its inception, and the Mate 9 is no different. Its 4,000mAh capacity is no longer jaw-droppingly huge, but it's still one of the most generous offerings in the premium segment.
The Kirin 960 chipset is made on the same 16nm process as the Kirin 950 in the Mate 8 and the 5.9" vs. 6.0" display diagonal is marginal at best, so we approached the Mate 9's battery test expecting similar results to the ones from last year's model.
Not quite, but part of the difference could very well be attributed to our move to a standardized 200-nit brightness, while the Mate 8 last year was tested at 50% on the slider, which equaled 148nits in its case.
With that preface, the Mate 9's battery life is excellent. The web browsing endurance upwards of 14 hours is longer than the iPhone 7 Plus and Galaxy S7 edge (if only by some 45 minutes), and substantially better than the Pixel Xl's 9:20 hours.
In video playback, the Mate 9 can last 11 and half hours, more or less a match for the Pixel's 11:09h, much longer than the iPhone 7 Plus' 8h, yet nowhere near the S7 edge's 20 hours.
As for voice calls, 19 and a half hours are what you can expect to get out of the Mate, again outlasting the iPhone 7 Plus, but not as good as the Pixel XL and the S7 edge.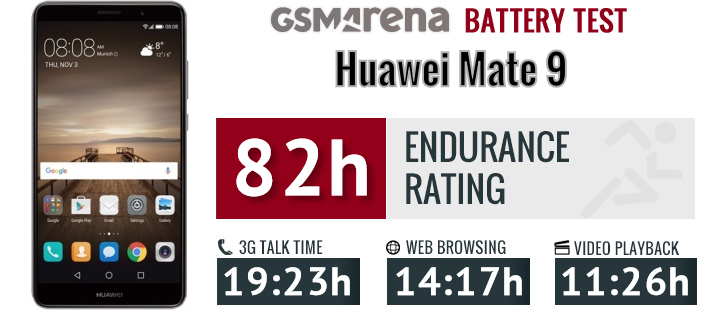 The battery testing procedure is described in detail in case you're interested in the nitty-gritties. You can also check out our complete battery test table, where you can see how all of the smartphones we've tested will compare under your own typical use.
There's a few things to be said about Huawei's charging procedures. The phone ships with a beefy charger capable of outputting 5V/4.5A, 4.5V/5A and 5V/2A, with the 22.5-Watt maximum only exceeded by Oppo with their VOOC chargers (some of them 25W), and Motorola with its own 25-Watt TurboCharger, which doesn't seem to be available for purchase.
Now, similarly to Oppo's phones, to achieve these crazy numbers you need to use the Mate 9's charger with the Mate 9's USB cable (and the Mate 9 itself, duh). You do get some nice purple accents on the connectors, though.
Swap just the cable and you're down to 5V/2A, which is still not the worst case scenario - some third-party Qualcomm QuickCharge 3.0 chargers we had lying around were rendered nearly worthless as the Mate would only draw 1A at 5V. Then again, most existing 5V/2A chargers (say Samsung's bundled one with the Galaxy S7) will output exactly that with any decent cable.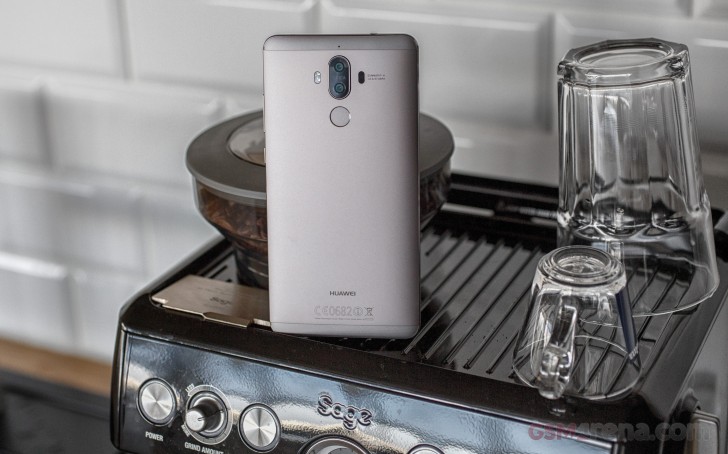 We did suspect there's some VOOC-style trickery at play just by hearing the numbers at the Mate 9's announcement and it's proven to be the case. The Mate's cable has four extra pins on the Type-C end, two of those used when charging, the other two just for symmetry. Those are in addition to the standard Type-C power pins, obviously. So, much like the Oppo VOOC charging, Huawei's SuperCharge is actually filling two separate batteries. Nothing inherently wrong about that, just don't expect to get the same charging times with run-of-the-mill chargers as with the Mate 9's bundled one.
And speaking of, the Mate 9 with its own adapter and cable charges ridiculously fast. 10 minutes gets you from 2% (that's the lowest point before the device powers off) to 20%, another 10min and you're looking at 40%, and the graph still being linear in this range, 50% is achieved 25min after plugging it in. After the 60% mark charging speed starts tapering off, and 40 minutes into it you're a little over 70%. A full hour and you're at about 90% and the last mAhs take a while to fill up, so flat to full is two hours in total.
The phone does get warm in the early stages, but only slightly so, and past the fast charging stage it goes back down to room temperature. Quite an impressive feat overall, but with the caveat that all the bits of the charging system are proprietary.
There's the additional matter of the USB Power Delivery protocol, which is one of the key aspects of the Type-C appeal. We tried the Pixel XL charger and we tested it on the Mate 9 - it charged the phone at 5V/2A tops. So while the charger itself can output up to 18W, the Mate will only take 10W.