6.53-inch OLED flows over the sides
The Mate 30 Pro is equipped with one of the more impressive displays in the industry at the moment - an OLED that wraps halfway around the sides of the device. It's got a 1176x2400px resolution in a weird 18.4:9 aspect ratio (or 2.04:1) resulting in a pixel density of 409ppi.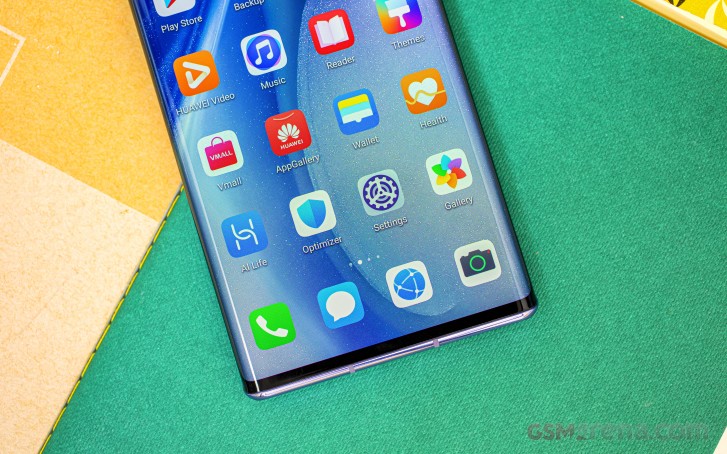 We measured a maximum brightness of 464nits when adjusting the slider manually, which is a rather high value if you compare to high-end Samsungs, but is actually lower than what you could get on a Mate 20 Pro, or a P30 Pro. With Auto enabled, however, the Mate 30 Pro is capable of going all the way to 683nits - higher than the company's previous efforts, though still a good 100+ nits less than the Galaxy Note10+ or the iPhone 11 Pro Max.
Not that you'll notice it when the sun is glaring at you, but the Mate 30 Pro does show some minor illumination in the blacks when it pumps up the brightness in Auto mode. It does remain perfectly well usable outdoors too, and you'll have no trouble composing your photos, for example.
Display test
100% brightness
Black, cd/m2
White, cd/m2
Contrast ratio
Huawei Mate 30 Pro
0
464
∞
Huawei Mate 30 Pro (Max Auto)
0.028
683
24393
Huawei Mate 20 Pro
0.002
508
254000
Huawei Mate 20 Pro (Max Auto)
0.003
657
219000
Huawei P30 Pro
0
571
∞
Huawei P30 Pro (Max Auto)
0
605
∞
Samsung Galaxy Note10+
0
381
∞
Samsung Galaxy Note10+ (Max Auto)
0
794
∞
Apple iPhone 11 Pro Max
0
820
∞
OnePlus 7 Pro
0
436
∞
OnePlus 7 Pro (Max Auto)
0
616
∞
Xiaomi Mi 9
0
428
∞
Xiaomi Mi 9 (Max Auto)
0
620
∞
Sony Xperia 1
0
391
∞
Sony Xperia 1 (Max Auto)
0
665
∞
Asus ROG Phone II
0
479
∞
Asus ROG Phone II (Max Auto)
0
626
∞
The Mate 30 Pro has a Color & Eye Comfort submenu in the display settings with more than the usual amount of options. The Natural tone toggle adapts the display output to the ambient lighting, sort of like Apple's True tone setting. Within Eye comfort, you'll find the blue light filter which you can enable manually or have it activate to a schedule, as well as a flicker reduction toggle which we couldn't tell when it was on or off.
It's the Color mode and temperature portion of that submenu that's more interesting to us though. Out of the box, the Mate 30 Pro is in the Vivid mode with color temperature set to Default. That yields an average deltaE of 4.4 when examining test swatches for DCI-P3 reproduction which isn't amazing, but isn't too bad either. If you want faithful sRGB rendition the Normal color mode with Default color temperature can do that - we measured an average deltaE of 2.2.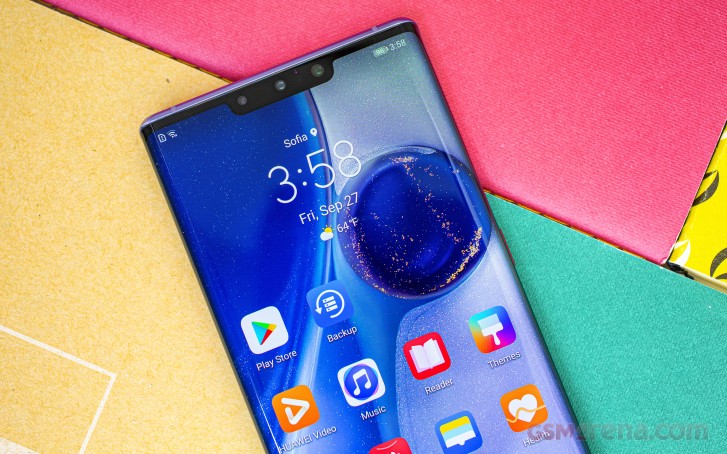 The Mate 30 Pro's display supports HDR playback and indeed we were able to play HDR YouTube videos. It's not listed on the Netflix supported devices page for HDR10, however, and the Netflix app wouldn't even run on the phone, instead displaying a 'This app is not compatible with your device.' message. This could be a consequence of the whole US-China thing, and could be resolved eventually or it could be a different issue, fixable in a software update. So the conclusion is along the lines of 'the hardware is HDR-capable, the software slightly less so'.
Huawei Mate 30 Pro battery life
The Mate 30 Pro comes with a battery capacity bump and now stands at 4,500mAh, compared to the Mate 20 Pro and P30 Pro's 4,200mAh. Key rivals are typically below the Mate 30 Pro's number with OnePlus 7 Pro packing a 4,000mAh cell, the iPhone 11 Pro Max having 3,969mAh, and the Galaxy Note10+ coming closest at 4,300mAh.
At 18:19h in video playback the Mate comes half an hour short of the Note10+ and a full hour less than the iPhone, all three great results, while the OnePlus 7 Pro, when set to 60Hz, calls it quits 2 hours before the Mate - still more than respectable. With 15 hours on our Wi-Fi web browsing script, the Mate 30 Pro matches the iPhone 11 Pro Max, the two outlasting the Note and the OP7P by three hours. Both the Note10+ (32:32h) and the OnePlus 7 Pro (34:24h) are better options for voice calls, as we clocked just 20:10h on the Mate 30 Pro. Even the iPhone, traditionally not very efficient at voice calls, managed 21 hours in our testing.
Thanks to the excellent numbers in the screen-on tests, the Huawei Mate 30 Pro posted a 103h overall Endurance rating.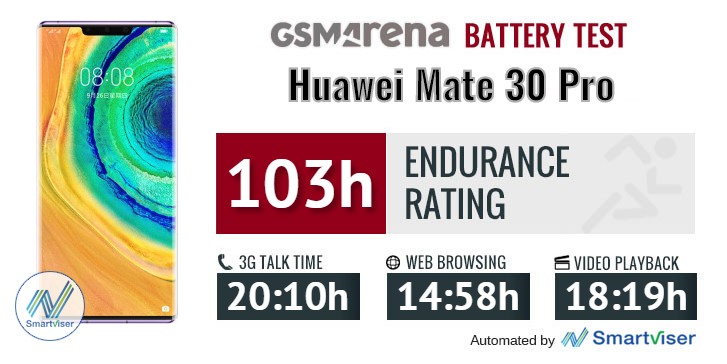 Our battery tests were automated thanks to SmartViser, using its viSer App. The endurance rating above denotes how long a single battery charge will last you if you use the Huawei Mate 30 Pro for an hour each of telephony, web browsing, and video playback daily. We've established this usage pattern so that our battery results are comparable across devices in the most common day-to-day tasks. The battery testing procedure is described in detail in case you're interested in the nitty-gritty. You can check out our complete battery test table, where you can see how all of the smartphones we've tested will compare under your own typical use.
The bundled 40W proprietary Huawei SuperCharge adapter tops up the phone in a little over an hour (1:05h), and we were looking at 72% 30 minutes into the process - mighty impressive for a battery this big and very convenient when you're in a hurry. If you don't use the supplied accessories, however, you won't be able to achieve these speeds.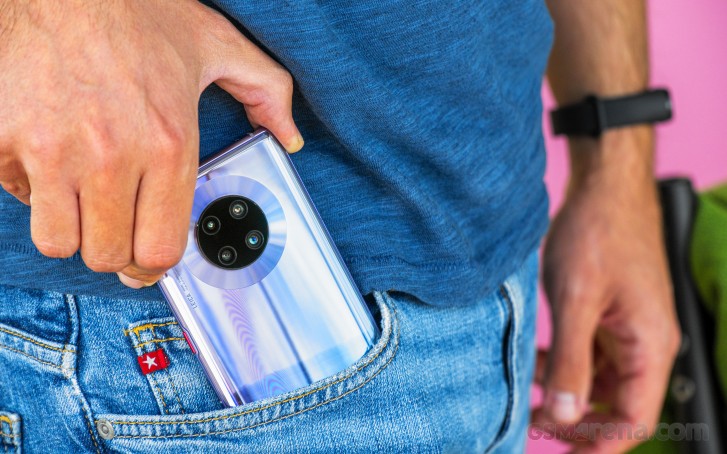 The Mate 30 Pro also supports 27W wireless charging, though we couldn't test that out as we couldn't get our hands on the Huawei wireless charger that can do it. Generic Qi chargers in the office only got us 5 watts, even if we tried with (admittedly not strictly standard) 10W units. Reverse wireless charging is also supported so you can charge your smartwatch off the phone, for example.
Update, 11 Oct: Huawei sent us the 27W SuperCharge wireless charger and we quickly tested it out. Indeed, it's fast - a full charge took 1:34h which is what a lot of phones can barely manage with a cable. At the 30-minute mark, the Mate showed 41% - still pretty good.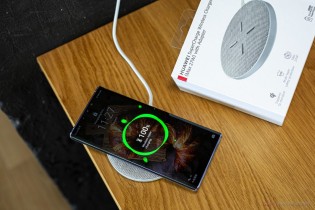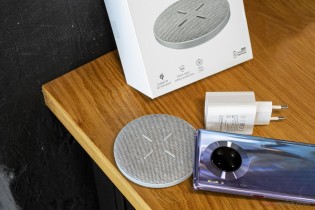 Huawei SuperCharge wireless charger
Speaker test (old, new one below)
The Mate 30 Pro only has one loudspeaker ported through a grille on the bottom of the phone. Pretty much all competitors now have stereo setups, and it's not like the Mate doesn't have a notch where Huawei could have squeezed a conventional earpiece to then double as an extra channel.
Speaking of earpiece, the Mate 30 Pro vibrates its Acoustic display for voice calls, just like the P30 Pro before it. It's a very successful implementation and delivers good clarity, works in loud environments as well, plus sound leakage isn't really an issue.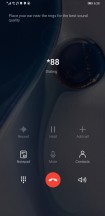 In-call screen with a reminder where to place your ear
Back to the actual loudspeaker. We measured high numbers in all of our three tests, and the Mate 30 Pro earned an 'Excellent' rating. It's notably louder than the P30 Pro and Mate 20 in the mid register where voices are, though our old-school ringing phone test got fewer decibels out of the newest phone. It's not just loud, but it also sounds very nicely across the frequency range. Now if only there were one more speaker on board.
| | | | | |
| --- | --- | --- | --- | --- |
| Speakerphone test | Voice, dB | Pink noise/ Music, dB | Ringing phone, dB | Overall score |
| Apple iPhone 11 Pro Max | 71.3 | 74.3 | 79.7 | Very Good |
| Sony Xperia 1 | 69.8 | 74.5 | 81.0 | Very Good |
| Xiaomi Mi 9 | 70.1 | 74.2 | 81.6 | Very Good |
| Huawei Mate 20 Pro | 70.3 | 73.4 | 83.8 | Very Good |
| Samsung Galaxy Note10+ | 68.4 | 73.7 | 86.3 | Excellent |
| Huawei Mate 30 Pro | 78.4 | 74.4 | 79.9 | Excellent |
| LG G8 ThinQ | 68.0 | 74.5 | 92.0 | Excellent |
| Huawei P30 Pro | 70.9 | 73.8 | 90.9 | Excellent |
| OnePlus 7 Pro | 79.6 | 77.7 | 87.2 | Excellent |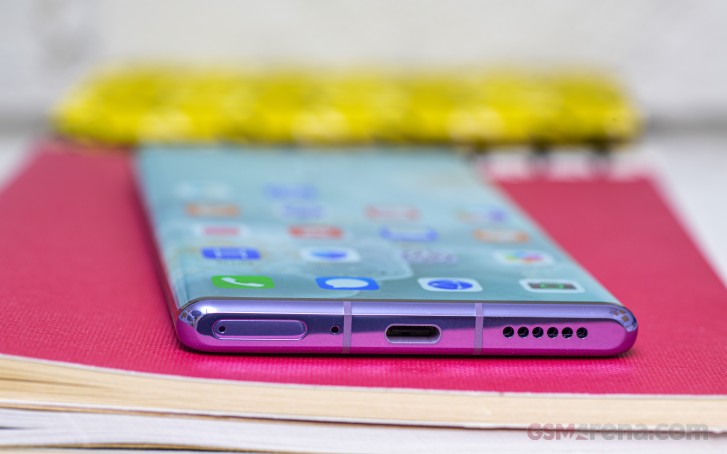 Speaker test (new)
Use the Playback controls to listen to the phone sample recordings (best use headphones). We measure the average loudness of the speakers in LUFS. A lower absolute value means a louder sound. A look at the frequency response chart will tell you how far off the ideal "0db" flat line is the reproduction of the bass, treble, and mid frequencies. You can add more phones to compare how they differ. The scores and ratings are not comparable with our older loudspeaker test. Learn more about how we test here.