Display
The Huawei Mate 10 brings a long overdue update and the 5.9" IPS LCD screen now boasts 1440p resolution and 499ppi. There is also HDR10 support, but no Dolby Vision. The high-res screen was previously exclusive to the Pro model but this time around it's only available on the regular version. Go figure.
Huawei Mate 10's screen uses a PenTile RGBW matrix with an extra white subpixel. This allows the screen to reach higher brightness levels while using less power than the traditional QuadHD LCD panels.
As you will notice, this subpixel arrangement replaces every second blue pixel with a white one - or rather every second blue filter is removed to let more light. Even for an RGBW screen, this sub-pixel arrangement is unusual. Instead of having a string of red-green-blue-white subpixels (RGBW), here you get a string, which looks something like RGB-RGW.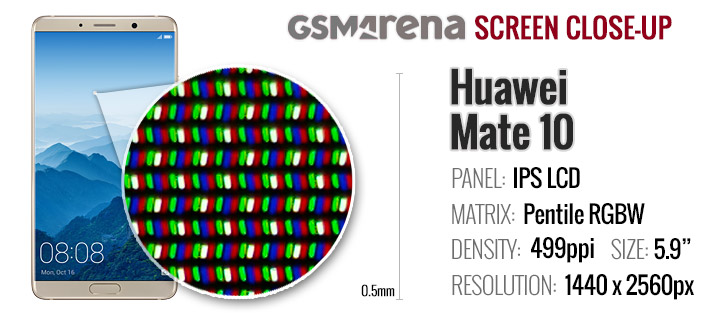 The screen of the Mate 10 has two modes, Normal and Vivid. Some units have the Normal option chosen by default, while others come with the Vivid mode pre-selected. Those two settings offer different levels of brightness and color accuracy.
Normal allows for 415 nits of maximum brightness, while the screen can automatically light up to 630nits under sunlight if needed. The blacks are some of the deepest we've seen on an LCD screen and the contrast is excellent.
The color accuracy is fine with an average deltaE of 4.2 with the most notable deviation being the bluish whites. If you want superior accuracy you can achieve it by setting the display's color temperature to warm - then you'll get an average deltaE of 2.5 with mostly accurate hues. This looks so much better than the Mate 9's screen, which had a color cast that we could never get rid of no matter how long we played with the custom settings.
The Vivid mode on the Mate 10 offers 430 nits of maximum brightness, deep blacks and, once again, excellent contrast. The maximum automatic brightness in Vivid mode, however, is 670 nits under bright sunlight.
Since Vivid tries to emulate the punch of an AMOLED screen, the color accuracy is all over the place with an average deltaE of 6.8 and maximum deviation of 12.
Unfortunately, we couldn't get the advertised max brightness of 730nits but the margin is not huge and could be down to the methodology of measurement. In any case, 670 nits is about as much we got back when we reviewed the Mate 9 using an identical measurement methodology.
Display test
100% brightness
Black, cd/m2
White, cd/m2
Contrast ratio
Huawei Mate 10 (normal)
0.3
415
1383
Huawei Mate 10 (normal max auto)
0.456
630
1382
Huawei Mate 10 (vivid)
0.314
433
1379
Huawei Mate 10 (max auto vivid)
0.468
667
1425
Huawei Mate 9
0.41
665
1622
Huawei P10
0.416
592
1423
Samsung Galaxy S8+
0
442
∞
Samsung Galaxy S8+ Max auto
0
647
∞
Samsung Galaxy Note8
0
412
∞
Samsung Galaxy Note8 (Max Auto)
0
647
∞
Apple iPhone 8 Plus (Standard)
0.392
530
1352
Apple iPhone 8 Plus (Max Auto)
0.471
621
1318
LG V30
0.002
414
207000
LG V30 (Max Auto)
0.032
616
19250
Sony Xperia XZ1
0.409
575
1406
OnePlus 5
0
435
∞
As for sunlight legibility, the Mate 10 does an OK job here producing a good enough contrast for an LCD unit.
Sunlight contrast ratio
Samsung Galaxy S8
4.768
Samsung Galaxy S8+
4.658
Samsung Galaxy S6 edge+
4.615
Motorola Moto Z2 Play
4.459
Oppo R11
4.454
Samsung Galaxy S7 edge
4.439
OnePlus 3
4.424
Samsung Galaxy S7
4.376
HTC One A9
4.274
Samsung Galaxy Note7
4.247
Samsung Galaxy A3
4.241
Nokia 8
4.239
OnePlus 3T
4.232
Google Pixel XL
4.164
ZTE Axon 7
4.154
Samsung Galaxy Note8
4.148
Meizu Pro 7 Plus
4.147
Samsung Galaxy A7 (2017)
4.124
Samsung Galaxy S6 edge
4.124
Huawei Mate 10 Pro (normal)
4.096
Samsung Galaxy Note5
4.09
LG V30
4.022
Huawei Nexus 6P
4.019
OnePlus X
3.983
Vivo Xplay5 Elite
3.983
Oppo R7s
3.964
Apple iPhone 7
3.964
Apple iPhone 8 (True Tone)
3.957
Huawei P9 Plus
3.956
Meizu Pro 6 Plus
3.935
Lenovo Moto Z
3.931
Samsung Galaxy A7 (2016)
3.918
OnePlus 5
3.914
Samsung Galaxy C5
3.911
Samsung Galaxy C7
3.896
Samsung Galaxy A5
3.895
Samsung Galaxy J7 outdoor
3.879
Samsung Galaxy J2 outdoor
3.873
Samsung Galaxy A8
3.859
Sony Xperia XZs
3.818
Samsung Galaxy A9 (2016)
3.817
Motorola Moto X (2014)
3.816
Samsung Galaxy J7 (2017)
3.812
Samsung Galaxy A5 (2017)
3.804
Samsung Galaxy J7 (2016) outdoor mode
3.802
Xiaomi Redmi Pro
3.798
LG V20 Max auto
3.798
Sony Xperia XZ
3.795
Samsung Galaxy A5 (2016)
3.789
Apple iPhone 6s
3.783
Meizu Pro 5
3.781
Microsoft Lumia 650
3.772
Xiaomi Mi 6
3.767
Sony Xperia XZ1
3.765
Samsung Galaxy J7 (2016)
3.756
Sony Xperia XZ1 Compact
3.729
Apple iPhone 8 Plus (True Tone)
3.725
Oppo F1 Plus
3.709
Vivo X5Pro
3.706
Samsung Galaxy A3 (2017)
3.688
Apple iPhone SE
3.681
Huawei Mate 9
3.68
Samsung Galaxy A7
3.679
Meizu PRO 6
3.659
BlackBerry Priv
3.645
Sony Xperia XA1 Ultra
3.597
Apple iPhone 7 Plus
3.588
LG G6
3.556
Apple iPhone 6s Plus
3.53
Motorola Moto Z Play
3.526
Samsung Galaxy J3 (2016) outdoor mode
3.523
Samsung Galaxy J3 (2016)
3.523
Acer Jade Primo
3.521
Microsoft Lumia 950
3.512
Oppo R7 Plus
3.499
nubia Z11
3.466
Huawei P10 Plus
3.456
HTC U Ultra
3.453
Samsung Galaxy J7
3.422
Meizu MX5
3.416
LG V20
3.402
Huawei P10
3.379
Samsung Galaxy J5 (2016)
3.378
Oppo R9s
3.352
Honor 8 Pro
3.341
Oppo R7
3.32
Lenovo P2
3.316
Honor 9
3.289
Xiaomi Mi 5s
3.276
Nokia 5
3.261
Nokia 6 (Chinese version)
3.244
Nokia 6 (Global version)
3.238
Samsung Galaxy J2
3.235
Sony Xperia X Performance
3.234
Xiaomi Mi Note 2
3.228
Motorola Moto X Play
3.222
Oppo F3 Plus
3.218
Huawei Mate 9 Pro
3.206
Huawei P9
3.195
Xiaomi Mi Mix 2
3.19
ZTE Nubia Z17
3.159
Lenovo Vibe Shot
3.113
Motorola Moto X Force
3.105
LG Nexus 5X
3.092
HTC U11
3.089
Huawei Mate S
3.073
Microsoft Lumia 640 XL
3.065
Sony Xperia XA1
3.012
Sony Xperia L1
2.994
Huawei P10 Lite
2.974
Samsung Galaxy Note
2.97
Sony Xperia Z1
2.95
Huawei Mate 8
2.949
Xiaomi Redmi 4
2.92
Xiaomi Redmi 3S
2.913
Sony Xperia XA Ultra
2.906
LG G5
2.905
HTC One S
2.901
Xiaomi Redmi 3s Prime
2.893
Xiaomi Mi 5s Plus
2.884
Sony Xperia XZ Premium (sRGB)
2.877
Sony Xperia XZ Premium
2.877
Sony Xperia Z5
2.876
Nokia 3
2.871
Microsoft Lumia 550
2.851
Lenovo Moto M
2.813
Xiaomi Redmi 3 Pro
2.803
Sony Xperia Z5 compact
2.784
Meizu MX6
2.751
LG V10
2.744
Huawei Mate 10
2.742
Xiaomi Redmi 3
2.735
Xiaomi Redmi Note 4 (S625)
2.714
Meizu M5
2.71
Sony Xperia M5
2.69
Xiaomi Mi A1
2.689
Huawei P9 Lite
2.679
Xiaomi Redmi 4 Prime
2.679
Vivo V3Max
2.659
Xiaomi Mi Mix
2.658
Doogee Mix
2.642
Xiaomi Mi 4i
2.641
Xiaomi Redmi 4a
2.635
Xiaomi Mi 5X (Standard)
2.616
Sony Xperia XA
2.609
Motorola Moto G4 Plus (max auto)
2.582
Motorola Moto G4 Plus
2.582
Meizu M5s
2.58
Xiaomi Mi 4c
2.574
LeEco Le Max 2
2.567
Asus Zenfone 3 ZE552KL
2.563
Microsoft Lumia 640
2.563
Xiaomi Mi Max 2
2.561
Lenovo Moto G4
2.544
Lenovo K6 Note
2.544
Oppo F1
2.528
Sony Xperia Z5 Premium
2.525
Huawei Honor 7 Lite / Honor 5c
2.506
Sony Xperia M4 Aqua
2.503
Oppo F1s
2.481
Motorola Moto G
2.477
Lenovo Vibe K5 Plus
2.473
Huawei G8
2.471
Huawei nova
2.467
Lenovo Vibe K5
2.459
Meizu m3 max
2.447
Xiaomi Mi 5X (Auto)
2.417
HTC 10 evo
2.407
Huawei Honor 7
2.406
Sony Xperia E5
2.386
ZUK Z1 by Lenovo
2.382
HTC 10
2.378
Oppo F3
2.376
vivo V5 Plus
2.371
Meizu m1 note
2.362
Huawei nova plus
2.329
HTC One E9+
2.305
Alcatel One Touch Hero
2.272
Apple iPhone 4S
2.269
Lenovo Vibe K4 Note
2.254
Sony Xperia C5 Ultra
2.253
Xiaomi Redmi Note 3 (MediaTek)
2.249
Sony Xperia C4 Dual
2.235
Xiaomi Mi Note
2.234
Motorola Moto G (2014)
2.233
LG Nexus 5
2.228
Huawei P8
2.196
Meizu M5 Note
2.189
Huawei Honor 6
2.169
Xiaomi Redmi Note 2
2.166
OnePlus Two
2.165
HTC One X
2.158
Xiaomi Redmi Note 4 (X20)
2.145
LG Aka
2.145
Archos 50 Diamond
2.134
Xiaomi Redmi Note
2.119
Xiaomi Mi 4S
2.095
Acer Liquid X2
2.084
Huawei P8lite
2.078
vivo V5
2.059
Moto G 3rd gen max manual
2.026
Xiaomi Mi 3
2.001
Xiaomi Mi Max
1.996
Sony Xperia E4g
1.972
OnePlus One
1.961
Meizu m3 note
1.923
BlackBerry Leap
1.892
Meizu m2 note
1.892
HTC Butterfly
1.873
Sony Xperia Z1 Compact
1.772
ZTE Nubia Z9 mini
1.759
Sony Xperia U
1.758
Asus Zenfone Selfie
1.68
Motorola Moto E (2nd Gen)
1.675
ZTE Nubia Z9
1.659
Jolla Jolla
1.605
Motorola Moto E
1.545
Sony Xperia M
1.473
Sony Xperia L
1.351
HTC Desire C
1.3
Meizu MX
1.221
Sony Xperia E
1.215
Battery life
Some aspects of the Mate series are now changed in the Mate 10 but the battery capacity is not among them. The Mate 10 stays true to tradition with a large 4,000mAh battery, the same commendable capacity which the Mate 7 came with back in 2014.
Huawei Mate 10 supports the company's proprietary SuperCharge at 5V and 4.5A. Because of the low voltage the battery won't heat up as much as other competing solutions while charging. And that's while the bundled cable and charger can fill a flat battery up to 58% in just 30 mins.
Huawei promised the Mate 10 would have the Mate 9's battery life and our test confirmed that. The Mate 10 did a little bit better in talk time and standby, and thus it scored an extra 5 hours to its total endurance rating.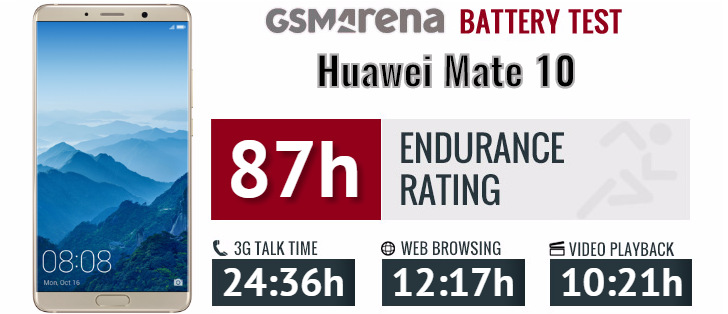 Our endurance rating indicates how long a single battery charge will last you if you use the Huawei Mate 10 for an hour each of telephony, web browsing and video playback daily. We've established this usage pattern so our battery results are comparable across devices in the most common day-to-day tasks. The battery testing procedure is described in detail in case you're interested in the nitty-gritties. You can also check out our complete battery test table, where you can see how all of the smartphones we've tested will compare under your own typical use.
In real life, we were able to get as much as two days of battery life on a single charge while having all connectivity options such as Wi-FI, location and mobile data always on. Of course, your own mileage will vary based on your usage pattern.
Connectivity
The Huawei Mate 10 supports LTE-Advanced with 3-carrier aggregation, Cat.16 LTE for theoretical speeds up to 1Gbps of download and 150Mbps of upload, 16 LTE bands, 6 3G bands, and the usual quad-band 2G.
There's a/b/g/n/ac Wi-Fi support with dual-band, Wi-Fi Direct and hotspot capabilities. You also get Bluetooth v4.2 for connecting peripherals, A-GPS, GLONASS, and Beidou for positioning and NFC for close-range communication. We expected to see Bluetooth 5.0, but we guess that's a feature for the next Kirin.
There's an analog 3.5mm headphone jack on board the phone. An IR blaster allows you to remote control your not-as-smart home appliances.
One connectivity feature the Mate 10 lacks is FM radio support.
Finally, the Type-C USB port adheres to the USB 3.1 specs and supports DisplayPort v1.2. The latter means you can use a passive USB-C-to-HDMI cable or dongle for TV-out connectivity. EMUI 8 introduced the so-called Projection mode for a PC-like Android experience, so it may be a good idea to buy the right cable.
Once you connect the Mate 10 to an external screen via a cable, you will get a dedicated desktop user interface. Then you can either use a Bluetooth mouse and keyboard, or the phone's screen as a trackpad and on-screen keyboard. Even though the phone doesn't come with Bluetooth 5.0, you can connect a Bluetooth mouse and a keyboard at the same time. Of course, you can't charge the phone while using Projection. But you can still make calls and send messages without interrupting the desktop view.