Non-Leica dual cameras
The Honor View 10's camera setup consists of two camera sensors: one is a 16MP RGB sensor while the other is a higher resolution 20MP monochrome sensor. On paper, the cameras are similar to the ones on the Huawei Mate 10, save for a couple of differences. Both of the Mate 10 (or Pro)'s sensors are optically stabilized while the View 10's are not.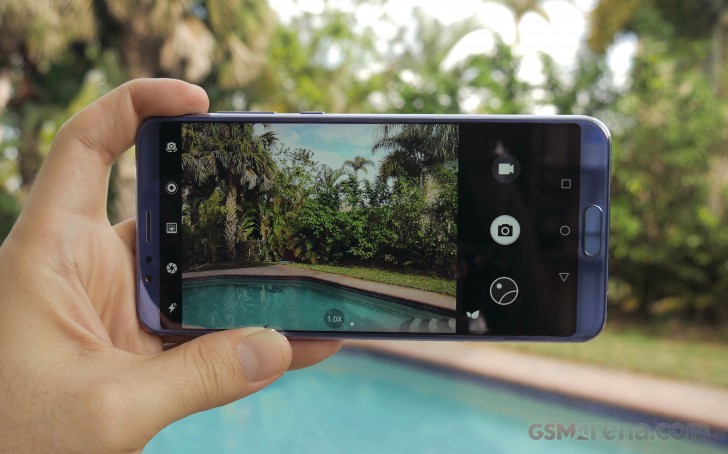 The Mate 10's cameras are also branded by Leica, one of Huawei's imaging partners. The View 10 does not have this stamp from Leica. Because of this, color tones produced by the View 10 are a bit different from the Mate 10's, whose images have certain characteristics of Leica cameras, most notably, the fuller-looking color tones.
As luck would have it. The View 10's camera has almost all the same shooting modes and features from the Mate 10. You get the same AI scene detection function, monochrome shooting, portrait, and wide aperture mode shooting. It's worth noting that the View 10 can generate a bokeh in two ways: by using data from the second camera (via wide aperture mode) or purely with software (via portrait mode).
Camera app
As part of the Kirin 970's AI function mentioned above, the View 10 can detect what kind of scene it is looking at and apply optimal settings for shooting that scene. This is all done in the camera's automatic shooting mode where an icon will show up next to the viewfinder, identifying the kind of scene.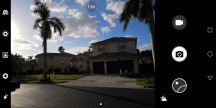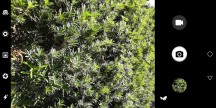 AI Scene detection: Landscape • Foliage
On the left is a column of shooting modes. The View 10 can take motion photos, portraits, and wide-aperture shots. The difference between Portrait and Wide aperture modes are that Portrait modes are pretty much reserved for taking photos of people while Wide aperture mode can be used to shoot anything.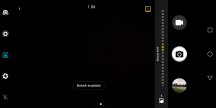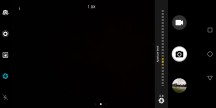 Portrait mode • Wide aperture mode
Also, Wide aperture mode is the only one that lets you refocus after taking the photo - you can't do this with Portrait mode. In addition to blurring the background, portrait mode will also let you apply a beauty filter over a face or faces.
A swipe to the left will show all the modes available: Auto, Pro photo, Video, Pro video, AR lens (fun facial filters), 3D panorama, Monochrome, HDR, Night shot, Panorama, Light painting, Time lapse, Slow-mo, Artist mode, Filter, Watermark, and Document scan.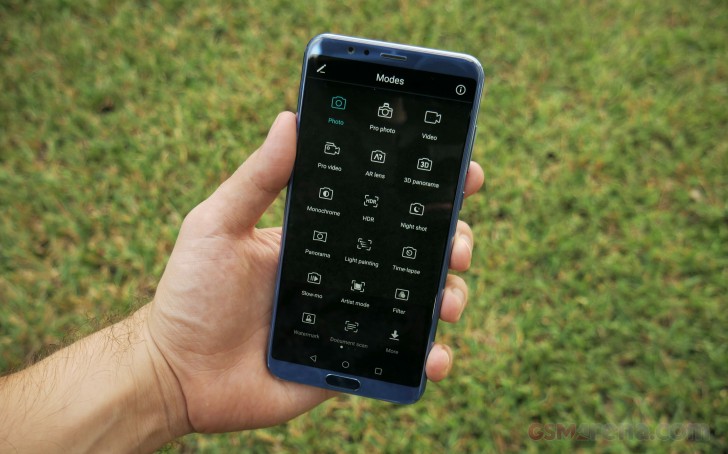 Camera Samples
We were generally happy with the images we got from the Honor View 10. Dynamic range is pretty good in most situations, but it does show struggling in scenes with lots of shadows such as near the time the sun is setting. Details are aplenty in all kinds of situations and exposure is pretty spot-on in nearly all scenes.
There is the occasional photo that appears either too cool or too warm, so while the camera's output is quite good, it is sometimes inconsistent. This is a point we've touched upon with Honor phones in the past.
What we didn't like about the View 10 is how the photos looked when reviewing them on-device. The phone's default display setting is cool-toned so photos viewed on the phone don't look like they represent the scenes shot. They appear oversaturated and far too blueish. We recommend the "warm" color temperature option under the Display setting.
Here are some comparison shots from the Huawei Mate 10 Pro.
You can see that the images look pretty similar, but the Mate 10 Pro's photos have deeper colors and superior dynamic range.
HDR
The HDR setting is tucked away in the camera app's shooting modes - EMUI has always done it this way and we wish there would be an HDR setting that is more readily available. Better yet, the Kirin 970's AI should be able to enable HDR mode in situations with highlights too bright or too many shadows.
We like the resulting HDR shots, they look natural and retain all the important details of the scene while also retaining accurate color tones.
Monochrome and Zoom
The View 10 does a pretty good job with its 2X zoom. It takes images from both cameras and superimposes them together. This, in combination with the multiple frames the camera captures, reduces noise and retains resolved detail. If you check the pixels up close, you can notice a slight deterioration of detail and some added noise, but posted on social media, chances are you won't be able to tell it was zoomed in digitally.
As far as monochrome shots go, the black and white sensor is used for artistic kinds of shots. In previous Huawei devices, the monochrome sensor produced much better dynamic range than the color images. This is not the case, however, with the View 10. We'd say dynamic range is about the same with either color or monochrome images.
It's worth noting that you could raise shadows (using an editing app like Snapseed) much more easily in a black and white photo - the image won't be deteriorated as much since there is no color to preserve. Finally, we really wish there were manual controls in monochrome mode.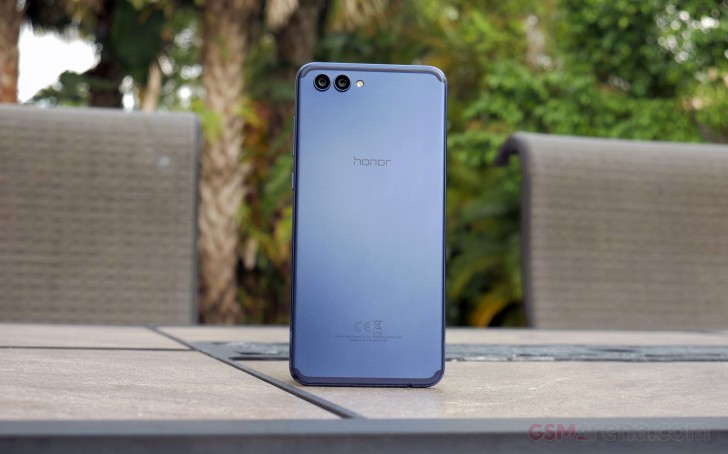 Wide aperture mode
The View 10's dual cameras can create an artificial bokeh. It does a decent job with synthesizing the blue effect around the sunglass emoji and Marv. The effect looks alright, though you can tell by the way that some of the edges have a sort of "glowing" effect between the edge the subject's silhouette and the bokeh.





Wide aperture mode: Off • On f/4 • Off • On f/4
Low light
The View 10 is able to get some pretty nice shots in low light. Without OIS, however, you won't get the same quality of image that we are showing you (we used a tripod). There is also a night shooting mode in the camera app. It takes the guesswork out of deciding which camera settings to use. Though, it does help if you know how to use manual controls to take night shots.
When shooting in the Night mode, the camera needs to be still for up to 15 seconds so the camera can capture all the exposures from the image. Here are a couple of shots at a moderately lit scene.





Low-light: Auto • Night mode • Auto • Night mode
We also tested the Honor View 10 in extreme low-light conditions. We took photos in a neighborhood at midnight and we're happy to say the photos don't look terrible. However, the monochrome photos aren't as exposed as the ones taken with the straight Auto mode. There is definitely a difference between the hardware used on the Mate 10's monochrome setup vs the View 10's.
We took the same low-light scene with Auto, Night mode, and Monochrome mode.





Super low-light: Auto • Night mode • Night mode 100 ISO • Monochrome
The View 10 does very well in low-light, especially in Night mode - the takeaway, of course, is that you'll need to have a tripod handy since we're sure you won't be able to get these results handheld. The camera does a good job of reducing noise, even in more extreme low lighting conditions. While there still are noticeable amounts of noise, we've seen other smartphones do far worse.
Because Night mode takes longer to capture the image, it is much more prone to blurring if anything in the scene is moving. You can tell by the car that moved and the tree branches that rustled in the wind.
Panorama
The View 10's Panorama mode is pretty straightforward. Point to the beginning of the shot and sweep the phone sideways. You can take panoramas with the phone in either a vertical or horizontal position.
We found that the View 10 reduced the panoramic shots resolution down to 2,304 pixels tall in landscape, and 3,008 pixels tall in portrait orientation.
By contrast, the default 16MP photo is 3,456 pixels in tall, so panoramic photos end up looking fuzzy and degraded. The panoramas are blended nicely, however.
Good looking selfie camera
The View 10's front-facing 13MP camera took some really nice-looking selfies. The first set of selfies was taken in a shady area, so all the light was softened in Ricky's face. The selfie camera tends to slightly overexpose its subjects in order to soften the skin, which made for some really flattering selfies. If this was the Pixel 2, for instance, Google's HDR+ would be retaining all the details in the face, which may not fly with some people.




Selfie: Auto • Beauty 5/10 • Portrait blur




High-contrast selfie: Auto • Portrait Blur • Portrait Blur + Beauty
While Ricky looks great in these selfies, the background - not so much. The depth of field is pretty narrow so the front camera isn't able to capture details from far away as well as it can catch the ones right in front of it. This was generally the same case with the Mate 10 Pro.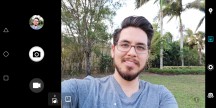 Selfie interface • Choose if you'd like mirrored selfies
Video
We have to start by saying that the Honor View 10 has no stabilization in any of the available video modes. Although there is no optical stabilization, there should at least be some sort of digital stabilization. We really hope this is something that will be addressed in a software update soon after it hits the market.
Although image quality is quite good, we feel that video quality could have been a bit better to match the images.
It is worth noting that the View 10, like Huawei devices, records video in H.265 codec, which may not play nice with some video players or certain video sharing services. Compatibility with H.265 MP4 videos is slowly but surely gaining universal support.
The View 10 can record up to 4K video at 30 frames per second or 1080p video at 60 frames per second. Let's take a look at some samples - image quality varies between shooting modes.
The conventional 1080p @ 30fps mode took video with nice contrast and dynamic range, we also liked that noise was kept to a minimum, even in the sky. What we did notice, however, is a slight flicker in exposure as cars passed by. It's nothing serious, it just means the exposure meter is a little too sensitive.
Otherwise, details are sharp and dynamic range is good. We did think the View 10 rendered overall colors a bit cooler.
When we shot in 60 frames per second, things went downhill. It isn't unusual for smartphone cameras to reduce image quality when shooting in double the frame rate, however, the View 10's drop in quality was pretty bad. It looked like the image was totally out of focus. This isn't a huge deal, unless you shoot video in 60 frames a lot. We'd also imagine this could be addressed via an OTA update.
The 4K sample is where the exposure flicker was most apparent, though this effect was likely amplified from the 1080p video since the 4K version of the scene is cropped in. Details are fairly good and colors are generally the same as 1080p video - cool toned.
As always, you can download video samples directly: 4K@30fps sample here (12s ~ 34MB) / 1080p@30fps sample here (12s ~ 20MB) / 1080p@60fps sample here (14s ~ 20MB).