Android Oreo with EMUI 8.0
The View 10 ships with the latest Android Oreo with Huawei's EMUI 8.0 layered over it. The Kirin 970 has a few AI features built-in. These AI features are all automatic, so there is not really a way to adjust or disable the handful of functions.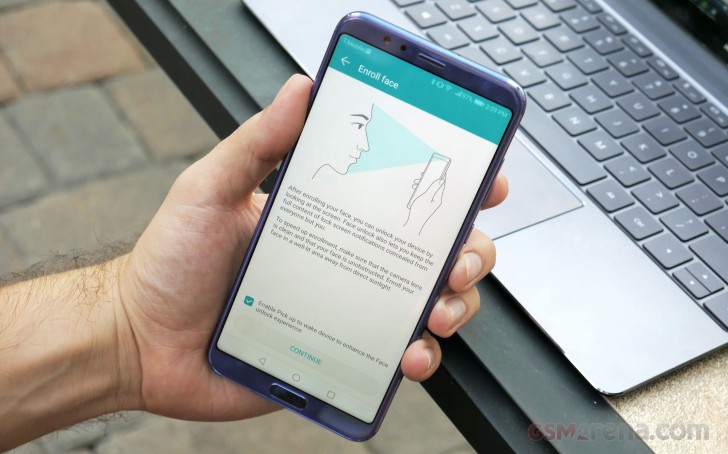 While EMUI is one of the more heavily customized Android skins, we like how fluid and snappy it feels. While it does not behave quite like stock Android, there is a lot to like but also some minor details that may be an annoyance to some.
Out of the box, there is no app drawer on the Honor View 10. However, you may choose to enable it in the Display settings. There is also a handy search feature, which can be accessed by flicking down on any empty area of any home screen.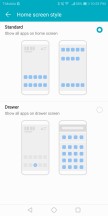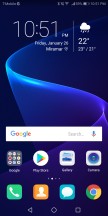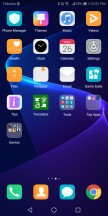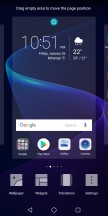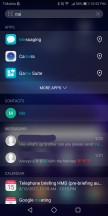 Home screen 1 • Home screen 2 • Home options • Search • Enable drawer
EMUI has something called Magazine lock screen which rotates through a bunch of wallpapers so you see a different one every time you fire up the display. There are a few themes to choose from with the option to change the icons, the skin, and wallpaper.
EMUI offers plenty of customization and features like face unlock, smart rotation, and lift to wake. Although, EMUI does come with its quirks.
From the Phone Manager app, you can access shortcuts to storage cleanup, battery settings, blocked numbers, Virus scan powered by Avast, and mobile data usage. The View 10 also includes an IR blaster, a feature that Samsung and LG used to include in their smartphones. It can control thousands of TVs, receivers, and even AC units.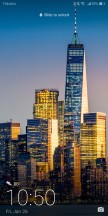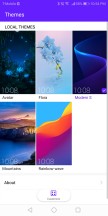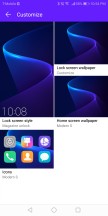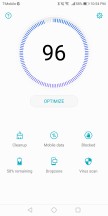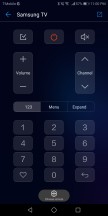 Lock screen • Theme chooser • Theme elements • Phone Manager • Smart Remote
The notification shade is pretty much a standard affair. There's a brightness bar with an Auto toggle - pull down again for more toggles. Huawei's own Music app is here and offers a way to listen to stored MP3s. Huawei's Health app is also pre-installed. It offers Google Fit syncing and step counting.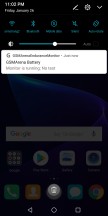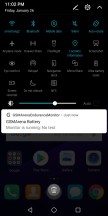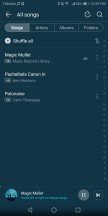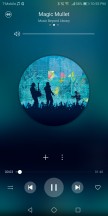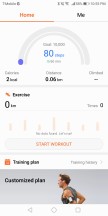 Notification shade • Quick settings • Music directory • Now Playing • Huawei Health
There's a file manager app and a note-taking app. There is an abundance of replacements for these in the Play Store, however.
Multitasking is pretty standard. Tap-holding the Recents key will let you activate split screen.
There are a few nice security options on the View 10. Aside from the usual fingerprint authentication, you can opt for facial recognition. This works quite quickly and will even wake the phone when you lift it to your face. There is even a Smart lock screen notification feature which will only let the registered face see new notifications on the lock screen.
Related to this feature is Smart rotation, which will watch for your face's orientation before rotating the display such as when you're lying on your side and the phone is turned sideways. There's also Private Space, a separate secure area of the phone which can be accessed by unlocking the phone with a particular finger.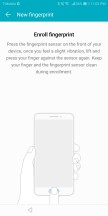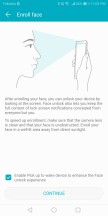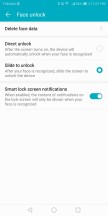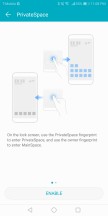 Enrolling a fingerprint • Face unlock • Smart lock screen notifications • Private Space
Finally, the Honor View 10 comes with SwiftKey pre-installed as the default input method. It offers multi-lingual typing, gesture input, and vast customization settings.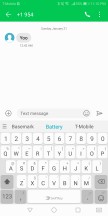 Kirin 970 CPU is a beast
Honor decided to go with Huawei's newest high-end processor for the View 10. The Kirin 970 is a very capable processor built on the 10nm process, just like the Qualcomm Snapdragon 835 and the Apple A11 chip. This positions the Honor View 10 pretty high up in terms of performance and we're putting it up against other phones with high-end CPUs.
Like the other 10nm process chips available on the market, the Kirin 970 is an octa-core CPU with four Cortex A73 cores clocked at 2.4GHz and four 1.8GHz A53 cores. The phone is paired with 4GB or 6GB of RAM depending on the market.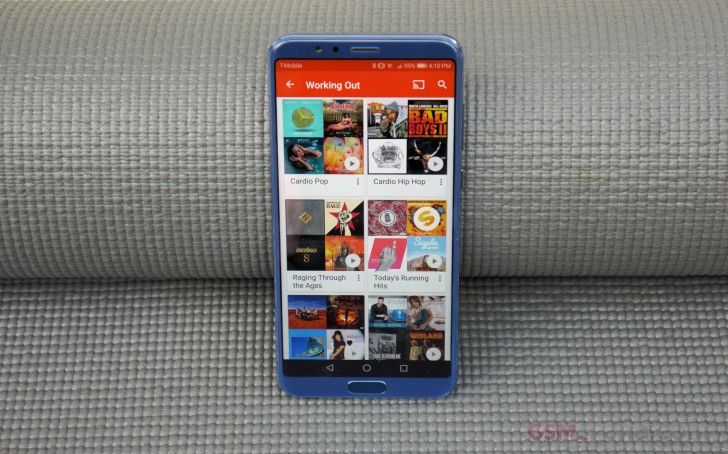 Huawei made a big deal about the Kirin 970's NPU (Neural processing unit) which is dedicated to processing images, natural language for translation, and for detecting camera scenes (among other things). This small portion of the CPU is able to process specific tasks more efficiently, thresholds are adjusted in the software as necessary depending on the inputs and desired outputs and voila, AI. That's the gist of it, anyway. The NPU works for certain things but not for CPU-intensive things like playing games or editing a video on your phone, so let's see how the Kirin 970 would do in this regard.
Starting with GeekBench mulit-core test, the View 10 was well in-line with other Snapdragon 835-powered phones as well as the Exynos-powered Galaxy S8+. The iPhone's A11 chip still takes the cake in this regard despite it only having 6 cores. The Honor 9 was able to keep up with even the Pixel 2 XL considering it has HiSilicon's last-generation Kirin 960.
GeekBench 4.1 (multi-core)
Higher is better
Apple iPhone 8
10214
Samsung Galaxy S8+
6754
Huawei Honor View 10
6738
OnePlus 5T
6701
Huawei Mate 10
6625
Essential PH-1
6490
Honor 9
6457
Google Pixel 2 XL
6428
LG V30
6365
Xiaomi Mi Mix 2
6234
The single-core benchmark was pretty much the same story, but in a different order. The iPhone still topped the chart while the Honor View 10 scored well.
GeekBench 4.1 (single-core)
Higher is better
Apple iPhone 8
4234
Samsung Galaxy S8+
1986
OnePlus 5T
1960
Essential PH-1
1928
Xiaomi Mi Mix 2
1924
Google Pixel 2 XL
1915
Huawei Honor View 10
1902
LG V30
1901
Huawei Mate 10
1882
Honor 9
1876
The Snapdragon 835 and the Exynos 8895 are great with graphics. The View 10 still did well, but here is where we can really tell that the Honor 9 has the last-gen chipset. The Kirin 970's Mali G72 MP12 is a 12-core GPU while the Honor 9's GPU has 8 cores.
GFX 3.1 Car scene (1080p offscreen)
Higher is better
Xiaomi Mi Mix 2
25
Google Pixel 2 XL
25
Samsung Galaxy S8+
25
OnePlus 5T
24
LG V30
24
Essential PH-1
24
Huawei Honor View 10
22
Huawei Mate 10
21
Honor 9
15
GFX 3.1 Car scene (onscreen)
Higher is better
Xiaomi Mi Mix 2
24
OnePlus 5T
22
Huawei Honor View 10
20
Essential PH-1
16
Honor 9
14
Huawei Mate 10
13
LG V30
13
Google Pixel 2 XL
13
Samsung Galaxy S8+
13
Antutu encompasses CPU, GPU, and RAM performance into its score and the View 10 did quite well. The View 10 was right there with the OnePlus 5T while the Mate 10, PH-1, V30, and S8+ were in the same pack.
After that, the Pixel 2 XL tapers a tad lower toward the Mi Mix 2 and Honor 9's lower scores. None of the phones were still a match for the iPhone 8, which is still the king of benchmarks (aside from the iPhone 8 Plus and iPhone X, of course).
AnTuTu 6
Higher is better
Apple iPhone 8
202645
OnePlus 5T
179790
Huawei Honor View 10
178885
Huawei Mate 10
175426
Essential PH-1
174652
LG V30
174330
Samsung Galaxy S8+
174070
Google Pixel 2 XL
170407
Xiaomi Mi Mix 2
160319
Honor 9
143583
The Honor View 10 also offers a "Game Suite" app. It detects which apps on the phone are games and allows you to play with gaming options for a smooth gaming experience. You can have all your game shortcuts here for easy access, and you can disable accidental presses of the navigation keys during a game. To go home, you'd need to press the home key three times.
You can also disable notifications and alerts like incoming phone calls, and you can change the phone's performance mode.
The Kirin 970 is a great match for both the Exynos 8895 and the Snapdragon 835. The UI is certainly optimized for this CPU and it just feels lightning fast. The Kirin 970 is a force to be reckoned with and the View 10 is powered by one of the top-performing mobile chips available.
If you like to game or multitask like crazy, the Kirin 970 can handle it with buttery smoothness and without working up a sweat.