Display
The Honor 7 Lite (5c) has a 5.2" IPS LCD screen of 1080p resolution. On paper, it's the same as the P9 lite screen. It turns out, however, that this is not the case.
The screen offers decent image quality, but it's let down by contrast - it's much lower than that of the P9 lite's screen. It gets even poorer when you view the screen at an angle too.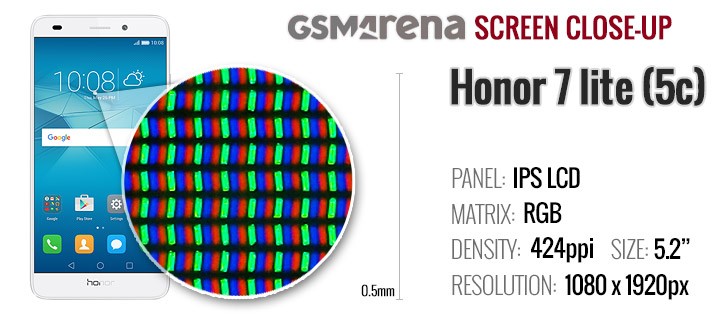 The Honor 7 screen offers average brightness, somewhat below the P9 lite. However, its black levels are higher, which has a negative impact on contrast and you can really see black backgrounds in apps glow in the dark.
Display test
100% brightness
Black, cd/m2
White, cd/m2
Contrast ratio
Huawei Honor 7 Lite (5c)
0.57
418
733
Huawei P9 Lite
0.42
497
1192
Lenovo Vibe K5 Plus
0.44
441
998
Xiaomi Mi 4S
0.49
475
975
Samsung Galaxy A5 (2016)
0.00
421
∞
Samsung Galaxy A5 (2016) max auto
0.00
601
∞
LG Nexus 5X
0.30
455
1542
Huawei Honor 7
0.32
450
1398
HTC One A9
-
366
∞
Huawei P8
0.38
584
1516
Sony Xperia M5
0.63
527
839
The sunlight legibility takes a small hit compared to the Huawei P9 lite, but it's not as big as the difference in contrast suggests. It tops last year's Huawei P8 (both the flagship and the lite version) and some of the competition, matching most others in its price bracket.
Sunlight contrast ratio
Samsung Galaxy S6 edge+
4.615
Samsung Galaxy S7 edge
4.439
OnePlus 3
4.424
Samsung Galaxy S7
4.376
HTC One A9
4.274
Samsung Galaxy A3
4.241
Samsung Galaxy S6 edge
4.124
Samsung Galaxy Note5
4.09
Huawei Nexus 6P
4.019
Vivo Xplay5 Elite
3.983
OnePlus X
3.983
Oppo R7s
3.964
Huawei P9 Plus
3.956
Samsung Galaxy A7 (2016)
3.918
Samsung Galaxy A5
3.895
Samsung Galaxy J7 outdoor
3.879
Samsung Galaxy J2 outdoor
3.873
Samsung Galaxy A8
3.859
Apple iPhone 6
3.838
Samsung Galaxy A9 (2016)
3.817
Motorola Moto X (2014)
3.816
Samsung Galaxy J7 (2016) outdoor mode
3.802
Samsung Galaxy A5 (2016)
3.789
Apple iPhone 6s
3.783
Meizu Pro 5
3.781
Microsoft Lumia 650
3.772
Samsung Galaxy J7 (2016)
3.756
Oppo F1 Plus
3.709
Vivo X5Pro
3.706
Apple iPhone SE
3.681
Samsung Galaxy A7
3.679
Meizu PRO 6
3.659
BlackBerry Priv
3.645
Apple iPhone 6s Plus
3.53
Samsung Galaxy J3 (2016) outdoor mode
3.523
Samsung Galaxy J3 (2016)
3.523
Acer Jade Primo
3.521
Microsoft Lumia 950
3.512
Oppo R7 Plus
3.499
Samsung Galaxy J7
3.422
Meizu MX5
3.416
Oppo R7
3.32
Samsung Galaxy J2
3.235
Sony Xperia X Performance
3.234
Motorola Moto X Play
3.222
Huawei P9
3.195
Lenovo Vibe Shot
3.113
Motorola Moto X Force
3.105
LG Nexus 5X
3.092
Huawei Mate S
3.073
Microsoft Lumia 640 XL
3.065
Apple iPhone 6 Plus
3.023
Sony Xperia X
2.989
Samsung Galaxy Note
2.97
Huawei Mate 8
2.949
Sony Xperia XA Ultra
2.906
LG G5
2.905
HTC One S
2.901
Sony Xperia Z5
2.876
Microsoft Lumia 550
2.851
Sony Xperia Z5 compact
2.784
LG V10
2.744
Xiaomi Redmi 3
2.735
Sony Xperia M5
2.69
Huawei P9 Lite
2.679
Vivo V3Max
2.659
Xiaomi Mi 4i
2.641
Sony Xperia XA
2.609
Xiaomi Mi 4c
2.574
LeEco Le Max 2
2.567
Microsoft Lumia 640
2.563
Lenovo Moto G4
2.544
Oppo F1
2.528
Sony Xperia Z5 Premium
2.525
Huawei Honor 7 Lite (5c)
2.506
Sony Xperia M4 Aqua
2.503
Motorola Moto G
2.477
Lenovo Vibe K5 Plus
2.473
Huawei G8
2.471
Sony Xperia Z
2.462
Huawei Honor 7
2.406
Sony Xperia E5
2.386
ZUK Z1 by Lenovo
2.382
HTC 10
2.378
Samsung Galaxy J5 (2016)
2.378
HTC One E9+
2.305
Alcatel One Touch Hero
2.272
Lenovo Vibe K4 Note
2.254
Sony Xperia C5 Ultra
2.253
Xiaomi Redmi Note 3 (MediaTek)
2.249
Sony Xperia C4 Dual
2.235
Motorola Moto G (2014)
2.233
LG Nexus 5
2.228
Huawei P8
2.196
Xiaomi Redmi Note 2
2.166
OnePlus Two
2.165
HTC One X
2.158
LG Aka
2.145
Archos 50 Diamond
2.134
Xiaomi Redmi Note
2.119
Acer Liquid X2
2.084
Huawei P8lite
2.078
Moto G 3rd gen max manual
2.026
Xiaomi Mi Max
1.996
Sony Xperia E4g
1.972
OnePlus One
1.961
Meizu m3 note
1.923
BlackBerry Leap
1.892
Meizu m2 note
1.892
HTC Butterfly
1.873
ZTE Nubia Z9 mini
1.759
Sony Xperia U
1.758
Asus Zenfone Selfie
1.68
Motorola Moto E (2nd Gen)
1.675
ZTE Nubia Z9
1.659
Motorola Moto E
1.545
Sony Xperia M
1.473
Xiaomi Redmi 2
1.311
Sony Xperia C
1.283
Meizu MX
1.221
Sony Xperia E
1.215
On the plus side, the color rendering is surprisingly good. The default color mode has the white balance a little too cool, but it offers an average deltaE of 6.7 and a maximum of 12.9. These are better than the defaults on the P9 lite.
The screen can do better when you switch it to Warm mode. The average falls to 5.3 and the maximum to 9.6, comparable to the Xiaomi Redmi 4s and Lenovo Vibe K5 Plus.
This is a very good result for the price. You have a fine-grained manual setting too, so you can get a color balance that looks best to you (in case Warm doesn't quite cut it).
Connectivity
The Huawei Honor 7 Lite (5c) is a dual-SIM phone with LTE connectivity. It's Cat. 4 (150Mbps down, 50Mbps up) instead of Cat. 6, but that won't make much of a difference on most carriers.
The phone gets solid reception thanks to its dual antenna system. It automatically switches between the two to reliably hold on to signal.
Local connectivity includes Wi-Fi b/g/n, without 5GHz or ac support. We don't miss ac as much as the 5GHz as apartment buildings often have a congested 2.4GHz band, which can lead to poor connectivity.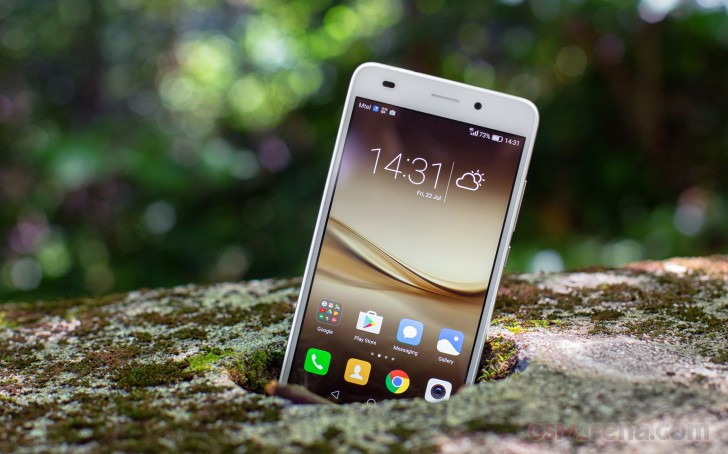 Bluetooth 4.1 with Low Energy and NFC are also on board, there's even an FM radio.
There's a microUSB 2.0 port, but that's only for charging and data transfers to a computer. USB OTG is not supported and neither is wired TV out.
Battery
The Honor 7 Lite (5c) has a 3,000mAh battery, great for a 5" screen. Better still, its Kirin 650 chipset is built on an efficient 16nm process, just like flagship chipsets so its power efficiency should be great.
And indeed, an Endurance rating of 75 hours is great at such an affordable price point. It drops a few hours if you use two SIMs, but you can still get up to three days between charges with moderate usage.
Talk time has improved compared to the Huawei P9 lite (the Honor 7 Lite has a different modem), though the other two ratings have taken a hit. We guess that it's the different screen to blame for losing two hours of web browsing and one of video playback. Even so it remains competitive against midrange 5-inchers, including ones in a higher price bracket.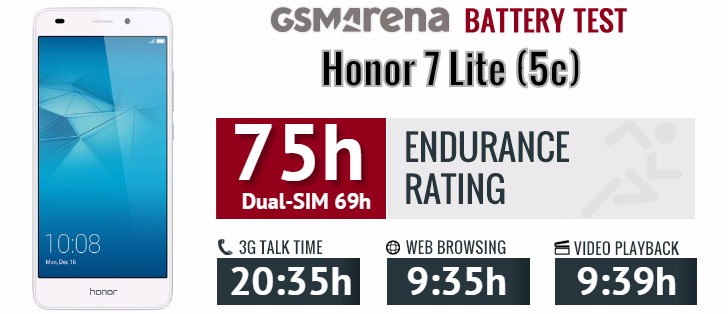 The battery testing procedure is described in detail in case you're interested in the nitty-gritties. You can also check out our complete battery test table, where you can see how all of the smartphones we've tested will compare under your own typical use.
Battery Manager is part of the Phone Manager and includes a selection of three power plans with a varying degree of limiting certain phone features. From here you can also control which apps can remain active after you send the phone to sleep and an estimate of how long the phone is expected to last in each mode.
The most frugal Ultra power saving mode essentially turns the Honor 7 Lite into a feature phone (but more than doubles the expected battery life).