HTC Wildfire E Lite shows up in the Google Play Console, has specs uncovered
Earlier this month HTC made the Wildfire E2 smartphone official in Russia, with entry-level specs and a price to match. However, it turns out that the Taiwanese company is also working on an even cheaper, even more basic handset to be launched soon under the Wildfire sub-brand.
This will be called Wildfire E Lite, and it has just showed up in the Google Play Console. The listing tells us that the phone has a screen with 720x1440 resolution, with an 18:9 aspect ratio.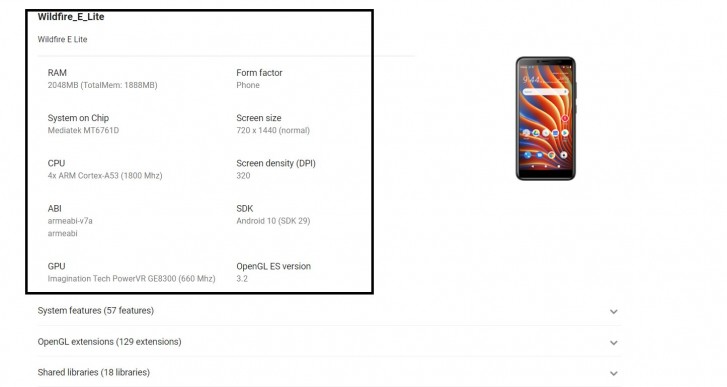 As you can see from the tiny picture showing the handset's front, there are no notches or hole punches here, instead you get substantial top and bottom bezels. The Wildfire E Lite has 2GB of RAM and it runs Android 10.
It's powered by MediaTek's Helio A20 chipset, which with its quad-core Cortex-A53 CPU is as 'entry-level' as you can get at this point in time. So you really shouldn't expect any sort of groundbreaking performance here, but the price could be very low. We'll let you know when we find out more about the HTC Wildfire E Lite.
O
2gig ram only, thats sad..make it 3gig but 5 incher
D
This is so damn sad... I miss the groundbreaking HTC that once existed
ADVERTISEMENT