Unboxing the One mini
The HTC One mini came with the exact same accessories as the HTC One - a compact charger with a detachable microUSB cable, a SIM ejector tool and a one-piece headset with spare tips. The headset is an in-ear design and has cool red accents and flat, tangle-resistant cables.


What's in the HTC One mini box
HTC One mini 360-degree spin
The HTC One mini measures 132 x 63.2 x 9.3 mm compared to 137.4 x 68.2 x 9.3 mm for the big HTC One. It doesn't sound like much of a difference, but you can really feel it when you hold the One mini in your hand, especially the width. It has also shed some weight and now weighs 122g (the One is 143g).
Design and build quality
The HTC One mini is little else, but a downscaled One on the outside - premium aluminum, with the solid feel of a unibody phone all whipped into an attractive design. While the 5" Butterfly S went with polycarbonate (perhaps due to weight considerations), the HTC One mini should earn as much praise for its design as the regular One did.



HTC One mini next to the HTC One
The mini also differs from the One in the polycarbonate strip that runs along the sides of the phone. The regular One has it too, but the one on the mini is thicker, covering the entire sides. We think this is an advantage - plastic can take a knock, while aluminum is more brittle (it dents and its paint peels off more easily when hit). We wish HTC had used the same matte plastic as on the One, this one is glossy and doesn't look quite as good.



Polycarbonate lines the sides of the One mini
Cutting down "only" 5mm from the height and width of the HTC One to make the mini might not sound like much, but that's because it's difficult to picture. In reality, the One mini feels noticeably more compact than its bigger siblings. It's roughly the size of last year's HTC One S, which is impressive as you are getting a pair of stereo speakers at the front.
Display
The screen is gorgeous - with 720p resolution it's not quite as sharp as the 1080p screen on the One, but at this size, spotting the difference takes some effort. It has great viewing angles and great colors too. Speaking of colors, the screen on our One mini has a warmer white balance than the screen on our HTC One.
Here are the two screens under a microscope: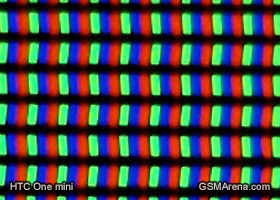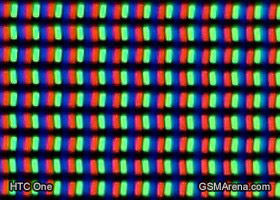 HTC One mini • HTC One
The HTC One mini screen is very similar to that of the regular HTC One. The brightness is very high, higher than even the big One, let alone AMOLED screens. The contrast is amazing, making for one of the better viewing experiences on a smartphone.
Display test
50% brightness
100% brightness
Black, cd/m2
White, cd/m2
Contrast ratio
Black, cd/m2
White, cd/m2
Contrast ratio
Samsung I9195 Galaxy S4 mini
0
166
∞
0
396
∞
HTC One mini
0.15
177
1197
0.5
685
1361
HTC One
0.13
205
1580
0.42
647
1541
HTC Butterfly
0.14
173
1200
0.45
501
1104
Samsung I9505 Galaxy S4
0
201
∞
0
404
∞
Samsung I9300 Galaxy S III
0
174
∞
0
330
∞
Sony Xperia Z
-
-
-
0.70
492
705
Oppo Find 5
0.17
176
1123
0.51
565
1107
Samsung N7100 Galaxy Note II
0
215
∞
0
402
∞
LG Optimus G Pro
-
-
-
0.41
611
1489
Nokia Lumia 920
-
-
-
0.48
513
1065
LG Optimus G
0.14
197
1445
0.33
417
1438
Apple iPhone 5
0.13
200
1490
0.48
640
1320
The screen is fairly reflective though, which hurts its sunlight legibility. It's this reflectivity that brings down the sunlight lebibility noticably below the level set by the HTC One. It's not by much, but it's enough.
The Galaxy S4 mini screen brightness is not that high, but the lower reflectivity makes its display much easier to read out in the sun.
Sunlight contrast ratio
Nokia 808 PureView
4.698
Apple iPhone 5
3.997
Samsung I9300 Galaxy S III
3.419
Nokia Lumia 925
3.402
Samsung I9505 Galaxy S4
3.352
Samsung Omnia W
3.301
Samsung Galaxy S
3.155
Samsung Galaxy S4 mini
3.127
Samsung Galaxy S4 zoom
3.118
Nokia N9
3.069
Samsung Galaxy Note
2.970
HTC One S
2.901
Samsung Galaxy S II
2.832
Samsung Galaxy S II Plus
2.801
Huawei Ascend P1
2.655
Sony Xperia ZR
2.672
Nokia Lumia 900
2.562
Nokia Lumia 720
2.512
HTC One
2.504
Sony Xperia Z
2.462
Samsung Galaxy S III mini
2.422
Motorola RAZR i
2.366
Samsung Galaxy Note II
2.307
Apple iPhone 4S
2.269
HTC One X
2.158
Nokia N8
2.144
Oppo Find 5
2.088
BlackBerry Z10
2.051
Apple iPhone 4
2.016
HTC One mini
2.003
Sony Ericsson Xperia ray
1.955
Samsung Galaxy Camera
1.938
HTC Butterfly
1.873
Sony Xperia V
1.792
Sony Xperia U
1.758
LG Optimus 4X HD
1.691
HTC One V
1.685
BlackBerry Q5
1.682
LG Optimus Vu
1.680
HTC Desire V
1.646
LG Optimus G Pro
1.552
LG Optimus 3D
1.542
Nokia Asha 302
1.537
Nokia Lumia 610
1.432
Gigabyte GSmart G1355
1.361
HTC Desire C
1.300
LG Optimus L7
1.269
LG Optimus L9
1.227
Meizu MX
1.221
Sony Xperia E dual
1.203
Samsung Galaxy Pocket
1.180
Sony Xperia tipo
1.166
Samsung Galaxy mini 2
1.114
We find the One mini screen to be worthy of the One name, unlike the uninspiring qHD unit of the Samsung Galaxy S4 mini.