Heavy hitters
HTC One Max vs. Samsung Galaxy Note 3: Heavy hitters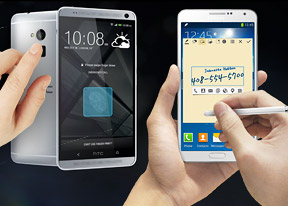 Introduction
The Samsung Galaxy Note may have started the phablet craze, but history won't count for much when the Note 3 faces the HTC One Max. The Max takes the lauded HTC One design and build and trumps the Note 3 in terms of screen size. This fight though is about more than sheer size.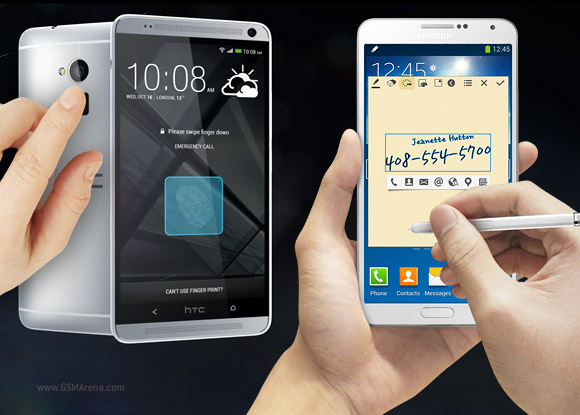 When we compared the Galaxy S4 vs. HTC One we noted that the looks and build quality of the One are miles ahead of the Galaxy S4, while Samsung balanced that out with better specs.
On the phablet playground, both companies worked on areas, which needed improvement - it's the HTC that has the bigger screen this time around, but the Galaxy Note 3 caught up in terms of looks. In case you're not closely familiar with the specs of the two phablets, here's a quick recap of where each device bests the other.
HTC One Max over Galaxy Note 3
Bigger screen - 5.9" vs. 5.7"
LCD screen is brighter, with great contrast
Front-facing stereo BoomSound speakers
Aluminum exterior
Fingerprint sensor
Better audio quality
FM radio
Samsung Galaxy Note 3 over One Max
S Pen stylus with many clever applications
Faster chipset - Snapdragon 800 vs. 600 (Exynos 5 Octa version available too)
3GB RAM over 2GB
Lighter - 168g vs. 217g
More compact - 151.2 x 79.2 x 8.3mm vs. 164.5 x 82.5 x 10.3mm
13MP still camera over 4MP camera with, no OIS on either of them
2160p @ 30fps and 1080 @ 60fps video capture over 1080 @ 30fps
USB 3.0 over USB 2.0
Removable battery
We'll break down these advantages and cover them in more detail later on, but one thing is clear from the get go. The HTC One Max is basically an enlarged One, while the Galaxy Note 3 is a device from a separate line and has a number of significant advantages over its Galaxy S4 sibling.





HTC One Max faces off against the Samsung Galaxy Note 3
HTC did improve a bit on the basic One design with a fingerprint sensor and a microSD card slot, but the camera OIS got lost along the way. Is that enough to stop Samsung's freight train of features?
We'll know for sure when all the rounds of this heavyweight boxing match are over and the hits are counted. It all starts with design and handling - jump over the next page to see if the big-boned beauty with pedigree can score the first hit against the leather-bound late bloomer.
j
the max is way more expensive than the note
D
Why won't the back & home icons light up