Excellent display carried over from the previous generation
The HTC One M9 packs the same 5-inch screen as the One (M8) and that is no bad thing. It's a high-quality IPS panel of 1080p resolution, which delivers 441ppi. While not record-breaking numbers, individual pixels are nonetheless indistinguishable to the naked eye, and HTC maintains QHD would be an overkill at this diagonal. We are somewhat inclined to agree.
The panel features a standard RGB matrix with equal number of subpixels for each color. The display is covered with the latest Gorilla Glass 4 for scratch and shatter protection. A dedicated glove mode can be enabled to improve touch sensitivity, but as always that comes at the expense of battery life.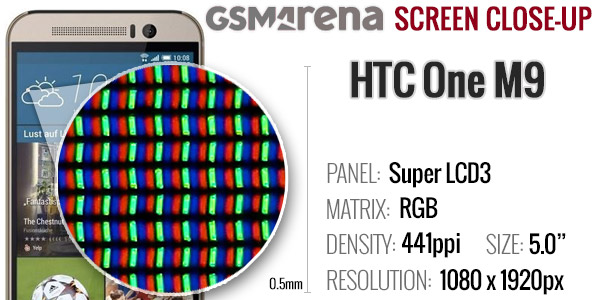 We ran our typical testing routine and the numbers proved our initial suspicions that the panel in the One M9 has been carried over from the predecessor. And that should be taken as compliment.
The One M9 posted great scores in the contrast department, even if maximum brightness is slightly lower. The 50-percent setting delivers almost precisely a third of the maximum brightness while contrast remains solid.
Display test
50% brightness
100% brightness
Black, cd/m2
White, cd/m2
Contrast ratio
Black, cd/m2
White, cd/m2
Contrast ratio
HTC One M9
0.15
175
1180
0.44
534
1221
HTC One (M8)
0.2
245
1219
0.46
577
1256
Samsung Galaxy S6
0
208
∞
0
373
∞
Samsung Galaxy S5
0
274
∞
0
529
∞
LG G Flex2
0
152
∞
0
398
∞
Motorola Moto X (2014)
0
167
∞
0
358
∞
Apple iPhone 6
0.17
207
1230
0.61
740
1213
Apple iPhone 6 Plus
0.17
208
1197
0.52
705
1361
Sony Xperia Z3
-
-
-
0.65
866
1333
Sunlight contrast ratio on the other hand was less impressive. The One M9 posted average results, just like the previous generation.
Sunlight contrast ratio
Nokia 808 PureView
4.698
Samsung Galaxy A3
4.241
Samsung Galaxy S6
4.124
Samsung Galaxy Note 4
4.033
Apple iPhone 5
3.997
Samsung Galaxy Note 3
3.997
Samsung Galaxy A5
3.895
Apple iPhone 6
3.838
Motorola Moto X (2014)
3.816
Samsung Galaxy Note Edge
3.799
Samsung Galaxy A7
3.679
Oppo R5
3.678
Samsung Galaxy K zoom
3.675
Nokia Lumia 930
3.567
Apple iPhone 5s
3.565
Samsung Galaxy S5
3.549
Nokia Lumia 735
3.547
Motorola Nexus 6
3.543
Alcatel Idol X+
3.527
Apple iPhone 5c
3.512
Samsung Galaxy Alpha
3.509
Samsung Galaxy Note 3 Neo
3.487
LG G Flex2
3.465
YotaPhone 2
3.453
Motorola RAZR MAXX
3.42
Samsung I9300 Galaxy S III
3.419
Samsung Galaxy S5 Active
3.406
Nokia Lumia 925
3.402
Gionee Elife S5.5
3.386
Samsung I9505 Galaxy S4
3.352
Samsung Omnia W
3.301
Samsung Galaxy S5 mini
3.174
Samsung I9000 Galaxy S
3.155
Samsung Ativ S
3.129
Samsung I9190 Galaxy S4 mini
3.127
Samsung Galaxy S4 zoom
3.118
Nokia N9
3.069
Apple iPhone 6 Plus
3.023
Samsung Galaxy Note
2.97
Samsung Galaxy Premier
2.958
Sony Xperia Z1
2.95
HTC One S
2.901
Lenovo S90 Sisley
2.892
Samsung I8730 Galaxy Express
2.861
BlackBerry Q10
2.856
Samsung I9100 Galaxy S II
2.832
HTC Desire Eye
2.815
Gionee Elife S5.1
2.812
Samsung Galaxy S II Plus
2.801
BlackBerry Z30
2.79
Meizu MX4 Pro
2.765
Sony Xperia ZR
2.672
Huawei Ascend P1
2.655
Sony Xperia Z3
2.618
Sony Xperia Z3 Compact
2.616
Sony Xperia T3
2.609
BlackBerry Passport
2.595
Nokia Lumia 900
2.562
Motorola Moto G 4G
2.546
HTC One Max
2.537
Nokia Lumia 720
2.512
HTC One
2.504
Motorola Moto G
2.477
Sony Xperia Z
2.462
Xiaomi Mi 4
2.424
Samsung Galaxy S III mini
2.422
Lenovo Vibe Z2 Pro
2.416
LG G Flex
2.407
HTC Desire 820
2.372
HTC One (M8)
2.371
Motorola RAZR i
2.366
Meizu MX4
2.366
Sony Xperia ZL
2.352
HTC One M9
2.334
HTC One (M8) for Windows
2.291
Oppo Find 7a
2.279
Alcatel One Touch Hero
2.272
Apple iPhone 4S
2.269
HTC Desire 600 dual sim
2.262
Nokia Asha 311
2.25
Xiaomi Mi Note
2.234
Motorola Moto G (2014)
2.233
LG Nexus 5
2.228
Nokia Lumia 820
2.193
HTC One (E8)
2.185
Oppo N3
2.181
Nokia Lumia 920
2.17
Huawei Honor 6
2.169
HTC One X
2.158
Nokia N8
2.144
Nokia Lumia 620
2.142
Nokia 515
2.134
HTC Desire 500
2.129
Sony Xperia C3 Dual
2.12
Sony Xperia acro S
2.119
Xiaomi Redmi Note
2.119
Nokia Lumia 1020
2.103
Oppo Find 5
2.088
Sony Xperia SL
2.078
Nokia Lumia 630
2.056
BlackBerry Z10
2.051
Huawei Ascend Mate7
2.024
Samsung I9295 Galaxy S4 Active
2.022
Apple iPhone 4
2.016
HTC One mini
2.003
Xiaomi Mi 3
2.001
Huawei Ascend P7
1.992
LG G2
1.976
OnePlus One
1.961
Oppo R819
1.957
Sony Ericsson Xperia ray
1.955
Lenovo Vibe X2
1.952
Sony Xperia Z2
1.944
Sony Xperia E3
1.943
Nokia Lumia 1320
1.941
HTC One mini 2
1.94
Samsung Galaxy Camera
1.938
Samsung Galaxy Grand Prime
1.935
Sony Xperia J
1.932
Acer CloudMobile S500
1.931
ZTE Blade S6
1.927
LG Nexus 4
1.926
LG G Pro 2
1.922
Samsung Galaxy Mega 6.3
1.913
Nokia Asha 308
1.911
HTC Butterfly 2
1.905
Sony Xperia T
1.894
Nokia Lumia 830
1.887
HTC Desire X
1.878
HTC Butterfly
1.873
HTC Windows Phone 8X
1.873
HTC Butterfly S
1.867
Huawei Ascend P6
1.865
Huawei Ascend Mate
1.845
LG G2 mini
1.838
LG G3
1.82
Nokia Lumia 1520
1.813
HTC Desire 616 dual sim
1.797
Sony Xperia V
1.792
HTC Desire 816
1.783
Sony Xperia Z1 Compact
1.772
HTC Desire 700 dual sim
1.769
Sony Xperia U
1.758
Meizu MX3
1.754
LG Optimus G
1.753
Sony Xperia T2 Ultra
1.74
Sony Xperia Z3 Tablet Compact
1.735
Sony Xperia SP
1.733
Oppo Find 7
1.691
LG Optimus 4X HD
1.691
HTC One V
1.685
BlackBerry Q5
1.682
LG Optimus Vu
1.68
Xiaomi Mi Pad 7.9
1.672
LG Optimus GJ
1.666
LG Optimus 3D Max
1.658
HTC Desire V
1.646
Samsung Galaxy Xcover 2
1.632
Samsung Galaxy Ace 3
1.622
Jolla Jolla
1.605
Sony Xperia Z Ultra
1.578
Sony Xperia go
1.577
Samsung Galaxy Ace 2 I8160
1.566
Samsung Galaxy Core
1.563
LG Optimus G Pro
1.552
Motorola Moto E
1.545
LG Optimus 3D
1.542
Nokia Asha 302
1.537
Samsung Galaxy Core Prime
1.507
BlackBerry Curve 9320
1.488
Sony Xperia M
1.473
Oppo N1
1.47
Sony Xperia E4
1.467
Meizu MX 4-core
1.462
Nokia Lumia 610
1.432
Samsung Galaxy S Duos
1.4
Sony Xperia M2
1.393
Microsoft Lumia 535
1.393
Samsung Galaxy Grand Neo
1.393
Samsung Galaxy Grand 2
1.38
Sony Xperia E1
1.372
Nokia Lumia 625
1.371
Gigabyte GSmart G1355
1.361
Sony Xperia L
1.351
Xiaomi Redmi 1S
1.35
Samsung Galaxy Mega 5.8
1.35
HTC Desire 510
1.34
Sony Xperia M2 Aqua
1.331
Sony Xperia miro
1.324
Samsung I9082 Galaxy Grand
1.321
Samsung I8530 Galaxy Beam
1.315
Xiaomi Redmi 2
1.311
HTC Desire C
1.3
Nokia X
1.291
Sony Xperia C
1.283
Nokia Asha 503
1.281
Nokia Asha 501
1.27
LG Optimus L7
1.269
Nokia Lumia 510
1.268
Samsung Galaxy Fame
1.245
LG Optimus L9
1.227
Meizu MX
1.221
Samsung Galaxy Young
1.22
Sony Xperia E
1.215
Nokia XL
1.204
Sony Xperia E dual
1.203
Asus Memo Pad 7 ME176C
1.198
Samsung Galaxy Pocket
1.18
Nokia Asha 305
1.178
Nokia Asha 306
1.175
Sony Xperia neo L
1.169
Sony Xperia tipo
1.166
Nokia Lumia 520
1.161
Samsung S6802 Galaxy Ace Duos
1.148
Samsung Galaxy mini 2
1.114
You can read more about our standardized display testing procedure.
Battery life test
The HTC One M9 comes with a slightly higher-capacity battery than its predecessor, which in turn improved over the original One. The latest generation's cell packs 2,840mAh of juice, a good 11% more than the Samsung Galaxy S6's 2,550mAh.
The One M8 posted excellent scores on Android KitKat, and the Lollipop update brought massive improvements in web browsing, even if video playback and talk time took a hit. So we kicked off our battery testing routine expecting solid performance, having in mind the larger battery that needs to light up the same-sized screen.
In the end, the results turned out less than impressive. While 3G talk time is solid at almost 21 hours, the seven and a half hours of web browsing longevity raises eyebrows. Remember that the Android 5.0 update brought the predecessor's figures in this department to twelve and a half hours and even on KitKat it managed a good 9 hours.
The One M9's video playback stamina was underwhelming as well, and the 8:21 hours are close to 2 hours less than the previous generation.
For comparison, the Samsung Galaxy S6 lasted 10:24h in video playback and 8:44 in web browsing, while packing a smaller battery and feeding a significantly higher-res screen. The Galaxy didn't fare as well in talk times though, where the HTC One M9 beat it by over 3 hours.
All that said, the One M9 should last you around two and a half days if you do an hour each of voice calls, web browsing and video playback per day. Understanding that no two users are the same, we've provided a handy tool that will give you a clue what autonomy you can expect with your specific usage pattern.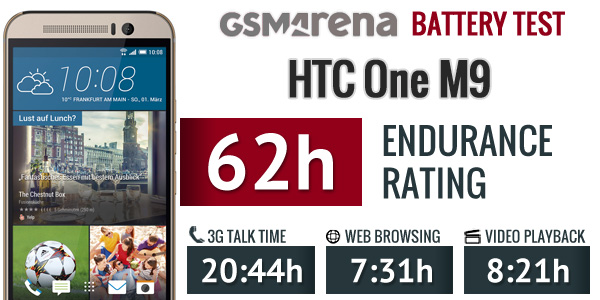 Our routine also includes a standby battery draw test, which is not on our battery test scorecard but is calculated in the total endurance rating. Our battery testing procedure is described in detail in case you want to learn more about it.
Connectivity
You wouldn't be surprised to find out that the One M9 comes packed with connectivity options. For starters, there are quad-band 2G and 3G radios and Cat.9 LTE for download speeds of up to 410Mbps over 10 bands.
Naturally, a GPS receiver is also built in with GLONASS support, which utilizes Russian satellites and helps in pinpointing your location thanks to the extra satellites in the sky. There's an FM radio receiver as well.
Local connectivity features include Wi-Fi 802.11 a/b/g/n/ac (both 2.4GHz and 5GHz bands) with Wi-Fi Direct and Wi-Fi Hotspot.
The HTC Connect feature works over the DLNA protocol to provide smoother integration of your phone to your home-entertainment setup, for supported devices of course. Those include multi-room speakers adhering to the Qualcomm AllPlay standard; DLNA and Miracast-compatible devices, Bluetooth speakers, as well as HTC-certified devices carrying the HTC Connect logo.
If you prefer the old school way of controlling home appliances though, the IR blaster along with HTC's PeelSafe Remote app are up to it.
Bluetooth 4.1 is on board, which sorts LTE interference issues. Version 4.1 is said to be more power efficient and supports direct communication between connected peripherals, keeping your smartphone out of it.
The One M9 comes with the necessary hardware to support NFC, but the functionality will be market/operator dependent, and HTC advises prospect buyers to check beforehand if the feature is a top priority.
An MHL-enabled micro-USB 2.0 port sits on the bottom of the phone and lets you stream video to compatible TVs via an appropriate MHL HDMI dongle. USB host is enabled, for connecting external storage. A standard 3.5mm headphone jack lets you plug in your headphones of choice.
The One M9 accepts nano-SIM cards. The microSD slot lets you extend the 32GB of built-in storage to up to 2TB, although we are yet to see such a monstrous card in the real world.
Much like on the One M8, you also get the entire lot of sensors, including ambient light, proximity, accelerometer, compass, gyro and magnetic sensor, and a Sensor hub for discrete capturing the motion data, relieving the main hardware from this responsibility.