The doppelganger
HTC Desire 820 & Desire 820 dual SIM review: The doppelganger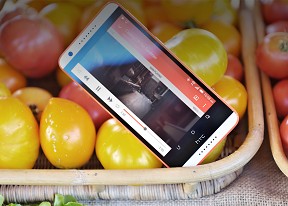 Display
The HTC Desire 820 is equipped with a 5.5-inch 720p display. It is nothing spectacular by today's standards, but is nonetheless, a solid choice for a mid-range smartphone.
With its 267ppi it falls just a little short of what's become known as Retina-grade pixel density (300+ppi).
As already mentioned the panel is identical to that found in its predecessor - the Desire 816 and is consequently plagued by much the same problems.


The 5.5" 720p LCD on the Desire 820 has excellent viewing angles
While the panel does use IPS technology and hence offers excellent side viewing angles, the edges on the screen elements looks a little jagged under close observation.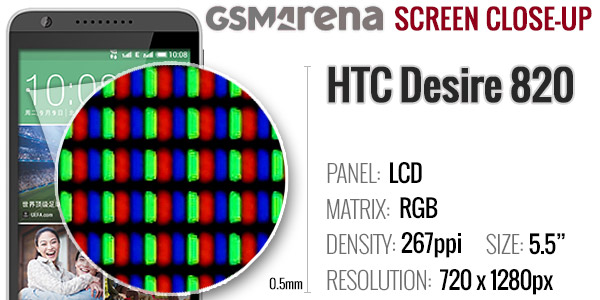 Bet perhaps the biggest concern is the poor brightness. The phone doesn't come off as exceptionally bright, but this is more or less compensated by the good contrast, which definitely improves outside visibility.
Display test
50% brightness
100% brightness
Black, cd/m2
White, cd/m2
Contrast ratio
Black, cd/m2
White, cd/m2
Contrast ratio
Lenovo Vibe X2
0.16
188
1196
0.38
447
1188
Oppo N3
0.31
290
931
0.59
551
937
OnePlus One
0.39
317
805
0.75
598
799
Xiaomi Redmi Note
0.3
305
1001
0.52
536
1016
HTC One (E8)
0.2
250
1268
0.51
615
1208
Sony Xperia C3 Dual
0.13
152
1207
0.56
642
1153
HTC Desire 816
0.15
164
1087
0.46
478
1032
HTC Desire Eye
0.24
329
1345
0.62
806
1311
HTC Desire 820
0.18
235
1299
0.45
598
1327
Samsung Galaxy Note 3 Neo
0
142
∞
0
389
∞
Looking at the specs sheet, we can't help but notice that although the Desire 820 borrows the display from the 816, the lack of screen protection has been addressed and the handset is equipped with Gorilla Glass 3. What good is a quality screen that is all scratched-up. HTC definitely deserves credit for improved attention in this department.
The added protective layer seems to be have led to a slight increase in reflectivity as the blacks on the Desire 820 apper a bit brighter than on the Desire 816. On the other hand maximum brigtness seems to show a slight improvement, boosting the whites and consequently, the contrast.
Sunlight contrast ratio
Nokia 808 PureView
4.698
Samsung Galaxy Note 4
4.033
Samsung Galaxy Note 3
3.997
Apple iPhone 5
3.997
Apple iPhone 6
3.838
Samsung Galaxy Note Edge
3.799
Oppo R5
3.678
Samsung Galaxy K zoom
3.675
Nokia Lumia 930
3.567
Apple iPhone 5s
3.565
Samsung Galaxy S5
3.549
Nokia Lumia 735
3.547
Alcatel Idol X+
3.527
Apple iPhone 5c
3.512
Samsung Galaxy Alpha
3.509
Samsung Galaxy Note 3 Neo
3.487
Motorola RAZR MAXX
3.42
Samsung I9300 Galaxy S III
3.419
Samsung Galaxy S5 Active
3.406
Nokia Lumia 925
3.402
Gionee Elife S5.5
3.386
Samsung I9505 Galaxy S4
3.352
Samsung Omnia W
3.301
Samsung Galaxy S5 mini
3.174
Samsung I9000 Galaxy S
3.155
Samsung Ativ S
3.129
Samsung I9190 Galaxy S4 mini
3.127
Samsung Galaxy S4 zoom
3.118
Nokia N9
3.069
Apple iPhone 6 Plus
3.023
Samsung Galaxy Note
2.97
Samsung Galaxy Premier
2.958
Sony Xperia Z1
2.95
HTC One S
2.901
Samsung I8730 Galaxy Express
2.861
BlackBerry Q10
2.856
Samsung I9100 Galaxy S II
2.832
HTC Desire Eye
2.815
Gionee Elife S5.1
2.812
Samsung Galaxy S II Plus
2.801
BlackBerry Z30
2.79
Meizu MX4 Pro
2.765
Sony Xperia ZR
2.672
Huawei Ascend P1
2.655
Sony Xperia Z3
2.618
Sony Xperia Z3 Compact
2.616
Sony Xperia T3
2.609
BlackBerry Passport
2.595
Nokia Lumia 900
2.562
Motorola Moto G 4G
2.546
HTC One Max
2.537
Nokia Lumia 720
2.512
HTC One
2.504
Motorola Moto G
2.477
Sony Xperia Z
2.462
Xiaomi Mi 4
2.424
Samsung Galaxy S III mini
2.422
Lenovo Vibe Z2 Pro
2.416
LG G Flex
2.407
HTC Desire 820
2.372
HTC One (M8)
2.371
Meizu MX4
2.366
Motorola RAZR i
2.366
Sony Xperia ZL
2.352
Samsung Galaxy Note II
2.307
HTC One (M8) for Windows
2.291
Oppo Find 7a
2.279
Alcatel One Touch Hero
2.272
Apple iPhone 4S
2.269
HTC Desire 600 dual sim
2.262
Nokia Asha 311
2.25
LG Nexus 5
2.228
Nokia Lumia 820
2.193
HTC One (E8)
2.185
Oppo N3
2.181
Nokia Lumia 920
2.17
HTC One X
2.158
Nokia N8
2.144
Nokia Lumia 620
2.142
Nokia 515
2.134
HTC Desire 500
2.129
Sony Xperia C3 Dual
2.12
Sony Xperia acro S
2.119
Xiaomi Redmi Note
2.119
Nokia Lumia 1020
2.103
Oppo Find 5
2.088
Sony Xperia SL
2.078
Nokia Lumia 630
2.056
BlackBerry Z10
2.051
Huawei Ascend Mate7
2.024
Samsung I9295 Galaxy S4 Active
2.022
Apple iPhone 4
2.016
HTC One mini
2.003
Xiaomi Mi 3
2.001
Huawei Ascend P7
1.992
LG G2
1.976
OnePlus One
1.961
Oppo R819
1.957
Sony Ericsson Xperia ray
1.955
Lenovo Vibe X2
1.952
Sony Xperia Z2
1.944
Sony Xperia E3
1.943
Nokia Lumia 1320
1.941
HTC One mini 2
1.94
Samsung Galaxy Camera
1.938
Samsung Galaxy Grand Prime
1.935
Sony Xperia J
1.932
Acer CloudMobile S500
1.931
LG Nexus 4
1.926
LG G Pro 2
1.922
Samsung Galaxy Mega 6.3
1.913
Nokia Asha 308
1.911
HTC Butterfly 2
1.905
Sony Xperia T
1.894
Nokia Lumia 830
1.887
HTC Desire X
1.878
HTC Butterfly
1.873
HTC Windows Phone 8X
1.873
HTC Butterfly S
1.867
Huawei Ascend P6
1.865
Huawei Ascend Mate
1.845
LG G2 mini
1.838
LG G3
1.82
Nokia Lumia 1520
1.813
HTC Desire 616 dual sim
1.797
Sony Xperia V
1.792
HTC Desire 816
1.783
Sony Xperia Z1 Compact
1.772
HTC Desire 700 dual sim
1.769
Sony Xperia U
1.758
Meizu MX3
1.754
LG Optimus G
1.753
Sony Xperia T2 Ultra
1.74
Sony Xperia Z3 Tablet Compact
1.735
Sony Xperia SP
1.733
LG Optimus 4X HD
1.691
Oppo Find 7
1.691
HTC One V
1.685
BlackBerry Q5
1.682
LG Optimus Vu
1.68
Xiaomi Mi Pad 7.9
1.672
LG Optimus GJ
1.666
LG Optimus 3D Max
1.658
HTC Desire V
1.646
Samsung Galaxy Xcover 2
1.632
Samsung Galaxy Ace 3
1.622
Jolla Jolla
1.605
Sony Xperia Z Ultra
1.578
Sony Xperia go
1.577
Samsung Galaxy Ace 2 I8160
1.566
Samsung Galaxy Core
1.563
LG Optimus G Pro
1.552
Motorola Moto E
1.545
LG Optimus 3D
1.542
Nokia Asha 302
1.537
Samsung Galaxy Core Prime
1.507
BlackBerry Curve 9320
1.488
Sony Xperia M
1.473
Oppo N1
1.47
Meizu MX 4-core
1.462
Nokia Lumia 610
1.432
Samsung Galaxy S Duos
1.4
Microsoft Lumia 535
1.393
Samsung Galaxy Grand Neo
1.393
Sony Xperia M2
1.393
Samsung Galaxy Grand 2
1.38
Sony Xperia E1
1.372
Nokia Lumia 625
1.371
Gigabyte GSmart G1355
1.361
Sony Xperia L
1.351
Xiaomi Redmi 1S
1.35
Samsung Galaxy Mega 5.8
1.35
HTC Desire 510
1.34
Sony Xperia M2 Aqua
1.331
Sony Xperia miro
1.324
Samsung I9082 Galaxy Grand
1.321
Samsung I8530 Galaxy Beam
1.315
HTC Desire C
1.3
Nokia X
1.291
Sony Xperia C
1.283
Nokia Asha 503
1.281
Nokia Asha 501
1.27
LG Optimus L7
1.269
Nokia Lumia 510
1.268
Samsung Galaxy Fame
1.245
LG Optimus L9
1.227
Meizu MX
1.221
Samsung Galaxy Young
1.22
Sony Xperia E
1.215
Nokia XL
1.204
Sony Xperia E dual
1.203
Asus Memo Pad 7 ME176C
1.198
Samsung Galaxy Pocket
1.18
Nokia Asha 305
1.178
Nokia Asha 306
1.175
Sony Xperia neo L
1.169
Sony Xperia tipo
1.166
Nokia Lumia 520
1.161
Samsung S6802 Galaxy Ace Duos
1.148
Samsung Galaxy mini 2
1.114
Battery life
The HTC Desire 820 is equipped with a rather modest 2,600 mAh battery. It is also absolutely identical to the one found in the Desire 816, but surprisingly enough, while the Desire 816 scored quite favorably at 64h, this is not exactly true for the phone at hand.
Our tests showed an oddly low 49h endurance rating and may we remind that this is a mixed result from fairly favorable conditions. We had the display set to 50% brightness and frankly, this made it too dim to be comfortably used outdoors even on an overcast day.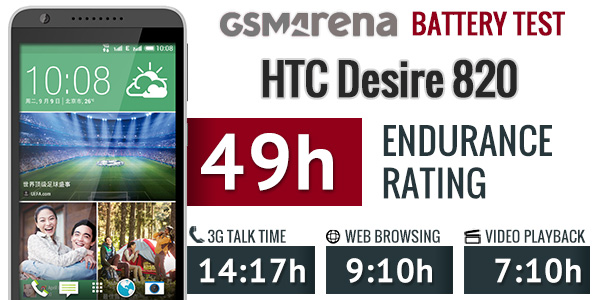 Still the numbers speak loud and clear and the Desire 820 will not be winning any endurance races any time soon. The question remains as to why this anomaly exists.
The two devices seem similar enough for the scores to match up, but seeing as this is not the case, we can perhaps point a finger towards the new octa-core Snapdragon 615 processors or, if not that, software issues that need some tweaking.
The possibility of a faulty test unit is also there, but it seems very unlikely. You can check out our battery testing procedure in detail.
There are also two separate power-saving modes implemented in Sense UI 6 that could potentially help better the battery life.
Power Saving dims the screen and slows the CPU down, while the Extreme Power Saving mode does away with multitasking and background tasks altogether and switches the UI to a very simple version, meant for only the most basic of tasks.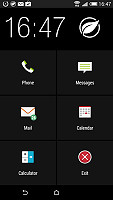 The Extreme Power Saving mode turns the Desire 820 into a feature phone
While this is extremely useful to have and could potentially get you out of a tight situation, the two modes are for emergency use only and therefore had no place in out measurements.
Connectivity
The HTC Desire 820 comes in two versions - single and dual SIM. The device uses only nanoSIM cards, despite the ample room, but it is far from the only offender in this department.
The on-board modem itself offers quad-band 2G/EDGE support, along with 3G HSPA+ (max 42Mbps downlink) and 4G LTE (up to 150 Mbps). The LTE connectivity covers different bands depending on the region - FDD Band 1,3,7,8 / TD-LTE Band 38,39,40,41.
Keep in mind that, as expected, the second SIM slot is only 2G/ 2.5G - GSM/GPRS/EDGE enabled. The built-in Dual network manager also allows the manual selection of the mode of each slot, so you can change which slot will be 3G-enabled from the UI without having to physically rearrange the cards.
As far as local connectivity goes, the Desire 820 is equipped with Wi-Fi a/b/g/n, Bluetooth 4.0 with the aptX audio codec as well as DLNA. Naturally, a GPS module (with GLONASS support) is present.
HTC's website does not disclose anything in regard to NFC functionality, but we are happy to report that our unit does have this functionality onboard. It might be a regional option, as was with the Desire 816, so be sure to check before you buy a unit.
By the way, the HTC Mini+, a phone-shaped Bluetooth headset is compatible with the Desire 820 so you can keep the large phablet in your bag and still accept calls and control the music player. Speaking of that, the Bluetooth-enabled HTC BoomBass cube can pair wirelessly with the stereo speakers on the phablet for even better sonic experience.
Finally, HTC Media Link HD adds DLNA support to TVs that don't have it natively.