Evolution complete
HTC Butterfly S review: Evolution complete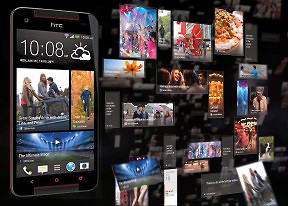 Controls
Above the screen, we have the proximity and ambient light sensors to the right of the earpiece/loudspeaker and the 2.1MP 1080p front-facing camera on its left. Once again, HTC has put in a wide-angle front-facing camera, which lets you fit more into the frame when doing video chats (there's no native video call support, though).


Taking a look above the screen
Underneath the screen, we find the three controls typical of HTC droids and the second front-facing speaker. The haptic-enabled capacitive touch Back, Home and Task switcher keys are well-spaced and very responsive.


The second speaker is located underneath the capacitive keys
The left side of the HTC Butterfly is completely bare, while the right side holds the volume rocker. Unfortunately, this is yet another Android flagship to come without a camera key.




There's a single button no the right
At the top we find a secondary microphone, the 3.5mm audio jack, and a small plastic flap under which reside the microSD card slot and the microSIM card slot. That flap is rather hard to operate, requiring you to push quite hard to get it open, which added to the easy-to-chip paint makes it one of the poorer design decisions we have seen lately. Worse still, the cap was fine on the original Butterfly so if HTC R&D team was to leave it alone we wouldn't have any issues with it.
The Power/Lock key was also placed here, which makes it pretty inconvenient to use. Instead of putting it on one of the sides of the Butterfly S, where it would have been easy to reach with your thumb or index finger, HTC has once again placed the most used hardware button on the place that is the hardest to reach.
Just like on the HTC One, the Butterfly S power key accommodates the Infrared port that is used for operating various appliances around your home.
As usual, at the bottom of the phone, you will see the mouthpiece and the microUSB port, which is used for data transfers, charging, and thanks to its MHL support, TV-out. With an MHL adapter you'll be able to output 1080p content to your HDTV directly from your phone, so purchasing one is probably worth it. Here the Butterfly S has a slight usability advantage over the first Butterfly as the very stiff and hard to open cap over the microUSB port has been removed.



The microUSB port is joined by the primary microphone at the bottom
The back of the HTC Butterfly features the 4MP camera F/2.0 lens and the LED flash right next to it. There's no Optical image stabilization this time, though, which is a pity considering that this was one of the best parts about the HTC One UltraPixel snapper.



There's nothing but the 4MP camera lens and the LED flash at the back
The HTC Butterfly is powered by a non-user-replaceable 3200 Li-Ion battery. HTC rates it to last for up 25h of talk time or 659h of stand-by if you stick to 3G networks - both of those are very respectable numbers but you wouldn't expect anything less from such an ample juice pack.
More impressively, the high ratings translate to excellent real-life endurance, with the Butterfly S scoring an impressive 81h rating in our dedicated battery test. This number suggests that you can go over three days on a single charge if you do an hour of talking, an hour of browsing and an hour of video playback per day. You can find the detailed breakdown of the Butterfly S battery performance in our blog.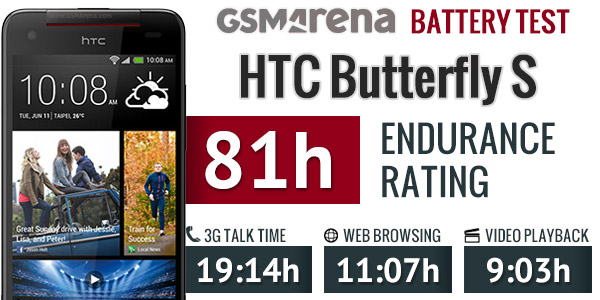 HTC Butterfly S battery test scorecard
Amazing 1080p display
We now come to the star of the show. The 5" 1080p screen is probably the main reason you are looking at the HTC Butterfly S and the third generation Super LCD won't let you down. The 441 ppi pixel density means you won't be able to discern individual pixels even if you press the screen against your nose, but that's by far not all the display has going for it.
The HTC Butterfly S LCD also offers great contrast and nicely saturated colors, to go with its extremely wide viewing angles. The viewing angles, together with the high resolution make everything appear as if painted on the screen - an effect we really appreciate.
As you can see in the table below, the screen is decently bright as well. The blacks aren't as deep as those of the AMOLEDs out there, but pretty great in LCD terms.
Display test
50% brightness
100% brightness
Black, cd/m2
White, cd/m2
Contrast ratio
Black, cd/m2
White, cd/m2
Contrast ratio
HTC Butterfly S
0.15
165
1117
0.43
451
1044
HTC Butterfly
0.14
173
1200
0.45
501
1104
HTC One
0.13
205
1580
0.42
647
1541
Sony Xperia Z
-
-
-
0.70
492
705
Samsung I9505 Galaxy S4
0
201
∞
0
404
∞
Oppo Find 5
0.17
176
1123
0.51
565
1107
Apple iPhone 5
0.13
200
1490
0.48
640
1320
We also have a photo of the HTC Butterfly S display as seen by our digital microscope. The pixels are the same size as on the original Butterfly and that will hardly surprise anyone.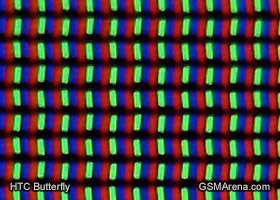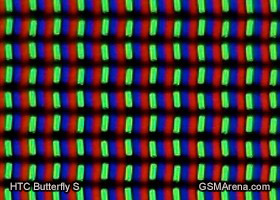 HTC Butterfly S vs HTC Butterfly display matrices
Sunlight legibility is not exactly perfect, but is good enough to not cause any usability issues.
Sunlight contrast ratio
Nokia 808 PureView
4.698
Apple iPhone 5
3.997
Samsung I9300 Galaxy S III
3.419
Nokia Lumia 925
3.402
Samsung I9505 Galaxy S4
3.352
Samsung Omnia W
3.301
Samsung Galaxy S
3.155
Samsung Galaxy S4 mini
3.127
Samsung Galaxy S4 zoom
3.118
Nokia N9
3.069
Samsung Galaxy Note
2.970
HTC One S
2.901
Samsung Galaxy S II
2.832
Samsung Galaxy S II Plus
2.801
Huawei Ascend P1
2.655
Sony Xperia ZR
2.672
Nokia Lumia 900
2.562
Nokia Lumia 720
2.512
HTC One
2.504
Sony Xperia Z
2.462
Samsung Galaxy S III mini
2.422
Motorola RAZR i
2.366
Samsung Galaxy Note II
2.307
Apple iPhone 4S
2.269
HTC Desire 600 dual sim
2.262
HTC One X
2.158
Nokia N8
2.144
Oppo Find 5
2.088
BlackBerry Z10
2.051
Apple iPhone 4
2.016
HTC One mini
2.003
Oppo R819
1.957
Sony Ericsson Xperia ray
1.955
Samsung Galaxy Camera
1.938
HTC Butterfly
1.873
HTC Butterfly S
1.867
Huawei Ascend P6
1.865
Sony Xperia V
1.792
Sony Xperia U
1.758
LG Optimus 4X HD
1.691
HTC One V
1.685
BlackBerry Q5
1.682
LG Optimus Vu
1.680
LG Optimus GJ
1.666
HTC Desire V
1.646
LG Optimus G Pro
1.552
LG Optimus 3D
1.542
Nokia Asha 302
1.537
Nokia Lumia 610
1.432
Gigabyte GSmart G1355
1.361
HTC Desire C
1.300
Nokia Asha 501
1.270
LG Optimus L7
1.269
LG Optimus L9
1.227
Meizu MX
1.221
Sony Xperia E dual
1.203
Samsung Galaxy Pocket
1.180
Sony Xperia tipo
1.166
Samsung Galaxy mini 2
1.114
Overall, the Butterfly S screen is almost identical to that of its predecessor, but that's certainly not a bad thing - those are two of the best screens in business and have really done HTC proud.