Display
The HTC 10 evo comes equipped with a 5.5" screen with QHD resolution. This is a Super LCD3 panel with 534ppi pixel density. Its Gorilla Glass 5 shield has been specially treated to be scratch, smudge and reflection resistant. Unfortunately, the chin around the Home button was quick to get covered in super fine scratches and we even managed to get a big scratch on the display. We recommend getting a screen protector for this phone.
HTC advertises the ruggedness of the screen and its suitability for outdoor use, those things aren't backed up by concrete numbers outside of a mentioning that they've tested it from a 1.6m of height.
We didn't test ruggedness, but when it comes to maximum brightness, the screen reached 525nits at full blast, a very good reading. There is an auto-brightness mode, but it offers no extra boost in very bright conditions.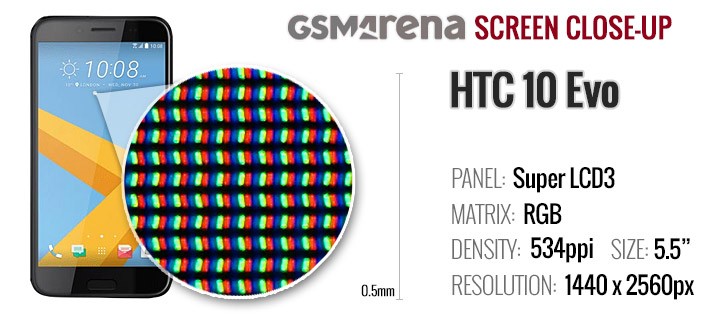 The black levels are fairly low, similar to some high-flying flagships out there. This leads to the very good contrast ratio of over 1,300:1.
Display test
100% brightness
Black, cd/m2
White, cd/m2
Contrast ratio
HTC 10 evo
0.387
525
1357
HTC 10
0.29
428
1543
Samsung Galaxy S7 edge
0.00
392
∞
Samsung Galaxy S7 edge max auto
0.00
610
∞
Motorola Moto X Force
0.04
349
9432
Motorola Moto X Force max auto
0.05
486
9529
ZTE Axon 7
0.00
352
∞
OnePlus 3T
0
447
∞
Xiaomi Mi 5s Plus
0.44
637
1448
The solid brightness and contrast reading translated to average (but usable) sunlight legibility score of 2.4. That's as much as the HTC 10 got (which uses Super LCD5, by the way). It's well below what a typical flagship would score (usually around 3.5).
Sunlight contrast ratio
Samsung Galaxy S6 edge+
4.615
Samsung Galaxy S7 edge
4.439
OnePlus 3
4.424
Samsung Galaxy S7
4.376
HTC One A9
4.274
Samsung Galaxy Note7
4.247
Samsung Galaxy A3
4.241
OnePlus 3T
4.232
Google Pixel XL
4.164
ZTE Axon 7
4.154
Samsung Galaxy S6 edge
4.124
Samsung Galaxy Note5
4.09
Huawei Nexus 6P
4.019
OnePlus X
3.983
Vivo Xplay5 Elite
3.983
Oppo R7s
3.964
Apple iPhone 7
3.964
Huawei P9 Plus
3.956
Meizu Pro 6 Plus
3.935
Lenovo Moto Z
3.931
Samsung Galaxy A7 (2016)
3.918
Samsung Galaxy C5
3.911
Samsung Galaxy C7
3.896
Samsung Galaxy A5
3.895
Samsung Galaxy J7 outdoor
3.879
Samsung Galaxy J2 outdoor
3.873
Samsung Galaxy A8
3.859
Samsung Galaxy A9 (2016)
3.817
Motorola Moto X (2014)
3.816
Samsung Galaxy A5 (2017)
3.804
Samsung Galaxy J7 (2016) outdoor mode
3.802
Xiaomi Redmi Pro
3.798
LG V20 Max auto
3.798
Sony Xperia XZ
3.795
Samsung Galaxy A5 (2016)
3.789
Apple iPhone 6s
3.783
Meizu Pro 5
3.781
Microsoft Lumia 650
3.772
Samsung Galaxy J7 (2016)
3.756
Oppo F1 Plus
3.709
Vivo X5Pro
3.706
Sony Xperia X Compact
3.694
Samsung Galaxy A3 (2017)
3.688
Apple iPhone SE
3.681
Huawei Mate 9
3.68
Samsung Galaxy A7
3.679
Meizu PRO 6
3.659
BlackBerry Priv
3.645
Apple iPhone 7 Plus
3.588
Apple iPhone 6s Plus
3.53
Motorola Moto Z Play
3.526
Samsung Galaxy J3 (2016) outdoor mode
3.523
Samsung Galaxy J3 (2016)
3.523
Acer Jade Primo
3.521
Microsoft Lumia 950
3.512
Oppo R7 Plus
3.499
nubia Z11
3.466
Samsung Galaxy J7
3.422
Meizu MX5
3.416
LG V20
3.402
Oppo R9s
3.352
Oppo R7
3.32
Lenovo P2
3.316
Xiaomi Mi 5s
3.276
Samsung Galaxy J2
3.235
Sony Xperia X Performance
3.234
Xiaomi Mi Note 2
3.228
Motorola Moto X Play
3.222
Huawei Mate 9 Pro
3.206
Huawei P9
3.195
Lenovo Vibe Shot
3.113
Motorola Moto X Force
3.105
LG Nexus 5X
3.092
Huawei Mate S
3.073
Microsoft Lumia 640 XL
3.065
Sony Xperia X
2.989
Huawei Mate 8
2.949
Xiaomi Redmi 3S
2.913
Sony Xperia XA Ultra
2.906
LG G5
2.905
HTC One S
2.901
Xiaomi Redmi 3s Prime
2.893
Xiaomi Mi 5s Plus
2.884
Sony Xperia Z5
2.876
Microsoft Lumia 550
2.851
Lenovo Moto M
2.813
Xiaomi Redmi 3 Pro
2.803
Sony Xperia Z5 compact
2.784
Meizu MX6
2.751
LG V10
2.744
Xiaomi Redmi 3
2.735
Meizu M5
2.71
Sony Xperia M5
2.69
Xiaomi Redmi 4 Prime
2.679
Huawei P9 Lite
2.679
Vivo V3Max
2.659
Xiaomi Mi Mix
2.658
Xiaomi Mi 4i
2.641
Sony Xperia XA
2.609
Motorola Moto G4 Plus
2.582
Motorola Moto G4 Plus (max auto)
2.582
Xiaomi Mi 4c
2.574
LeEco Le Max 2
2.567
Microsoft Lumia 640
2.563
Asus Zenfone 3 ZE552KL
2.563
Lenovo Moto G4
2.544
Lenovo K6 Note
2.544
Oppo F1
2.528
Sony Xperia Z5 Premium
2.525
Huawei Honor 7 Lite / Honor 5c
2.506
Sony Xperia M4 Aqua
2.503
Oppo F1s
2.481
Motorola Moto G
2.477
Lenovo Vibe K5 Plus
2.473
Huawei G8
2.471
Huawei nova
2.467
Sony Xperia Z
2.462
Lenovo Vibe K5
2.459
Meizu m3 max
2.447
HTC 10 evo
2.407
Huawei Honor 7
2.406
Sony Xperia E5
2.386
ZUK Z1 by Lenovo
2.382
Samsung Galaxy J5 (2016)
2.378
HTC 10
2.378
Meizu m1 note
2.362
Huawei nova plus
2.329
HTC One E9+
2.305
Alcatel One Touch Hero
2.272
Lenovo Vibe K4 Note
2.254
Sony Xperia C5 Ultra
2.253
Xiaomi Redmi Note 3 (MediaTek)
2.249
Sony Xperia C4 Dual
2.235
Xiaomi Mi Note
2.234
Motorola Moto G (2014)
2.233
Huawei P8
2.196
Meizu M5 Note
2.189
Huawei Honor 6
2.169
Xiaomi Redmi Note 2
2.166
OnePlus Two
2.165
HTC One X
2.158
LG Aka
2.145
Xiaomi Redmi Note 4
2.145
Archos 50 Diamond
2.134
Xiaomi Redmi Note
2.119
Acer Liquid X2
2.084
Huawei P8lite
2.078
Moto G 3rd gen max manual
2.026
Xiaomi Mi Max
1.996
Sony Xperia E4g
1.972
OnePlus One
1.961
Meizu m3 note
1.923
Meizu m2 note
1.892
BlackBerry Leap
1.892
ZTE Nubia Z9 mini
1.759
Sony Xperia U
1.758
Asus Zenfone Selfie
1.68
Motorola Moto E (2nd Gen)
1.675
ZTE Nubia Z9
1.659
Jolla Jolla
1.605
Motorola Moto E
1.545
Sony Xperia M
1.473
HTC Desire C
1.3
Sony Xperia C
1.283
Meizu MX
1.221
Sony Xperia E
1.215
At the lowest setting, the screen scaled down to 5.5nits. You can combine this with the automatic Night mode to prevent bright, blue light from messing up your body's natural sleep cycle (if studies are to be believed).
We were initially impressed to find a Color temperature setting, but testing quickly revealed that the HTC 10 evo doesn't provide a terribly accurate color rendering. Its readings are similar to the smaller HTC 10, which is to say, they are far from flagship quality.
Specifically, we got a 5.9 average deltaE and a maximum of 12.6. The white balance is too cool, easy to correct with the slider (we brought it all the way to the left). But that does nothing for color accuracy, we measured an average DeltaE of 5 and a maximum of deltaE 11 (and the maximum brightness dropped to 480nits). The Red channel, in particular, is way off the mark. You have got to remember that this test does not relate to saturation or punchiness of the colors in any way. It measures how closely would the screen render colors to the original when accuracy is important.
The results here is not ideal but phones like the LG V20, Huawei Mate 9, even the beloved Pixel XL and other high-enders don't do much better in this test. And those are a pricier than the 10 evo, so we think HTC picked a screen that delivers on what's needed.
Connectivity
The HTC 10 evo relies on Qualcomm's X10 modem, a part of the Snapdragon 810 chipset. This pegs the maximum LTE speed at Cat. 6 - 300Mbps down, 50Mbps up. That's slower than the Bolt in the US, which has Cat. 9 - 450Mbps/50Mbps. The 10 evo does feature full support for VoLTE and even VoWi-Fi (pending your carrier's cooperation).
Wi-Fi offers up to 802.11ac speeds, topping out at 433Mbps. Additional connectivity includes Bluetooth 4.1 (no aptX) and NFC.
The USB-C connector, for all its virtues, is a plain USB 2.0 connection. This means you won't get fast data transfers and goodies like wired TV out are missing as well. It does offer QuickCharge 2.0, which was current back when the S810 chipset was new.
Battery life
The HTC 10 evo comes with a 3,200mAh sealed battery - nothing spectacular, considering it has to feed an older chipset connected to a QHD screen. A chipset that has a tendency to get hot under the collar no less (a sign of poor efficiency).
HTC is promising a full day of battery life and up to 23 hours of talk time, but we never managed to get close. After testing and retesting, the best we got out of the 10 evo was 17 hours. That's worse than the HTC 10 got with its smaller battery and it's an overall middling result.
Unsurprisingly, the 10 evo did not last as long in the web browsing test either. At 7 hours or so, it fell off the flagship region and was buried in mid-rangers. The evo matched the regular HTC 10 only in video playback and that time isn't spectacular.
The final Endurance rating of 58 hours is below what we've come to expect from phones in this price range. We could blame it all on the chipset, but the truth is that a 5.5" phone of this thickness can easily have 3,500mAh or more in battery capacity.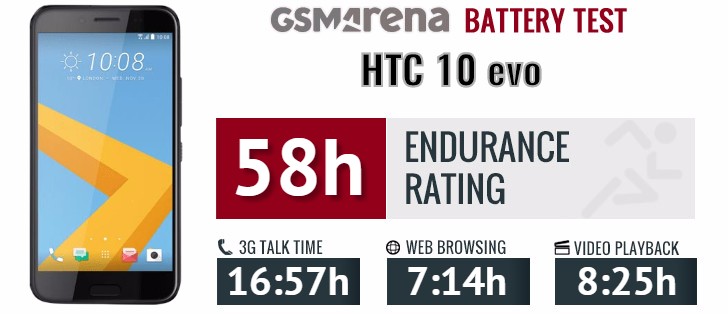 The HTC 10 evo features QuickCharge 2.0 and comes with the required charger. It puts out 15W all told (either 9V at 1.67A or 12V at 1.25A), but HTC is vague about the charge times.
The battery testing procedure is described in detail in case you're interested in the nitty-gritties. You can also check out our complete battery test table, where you can see how all of the smartphones we've tested will compare under your own typical use.