Display
After two iterations of HTC flagships using a 5-inch 1080p screen, HTC finally bumped up the resolution to the 1440 x 2560px category. There is also a slight size bump of 0.2 inches. The display also features curved edges crafted from Corning Gorilla Glass 4, though, these edges are so subtle, and you have to point it out to notice it.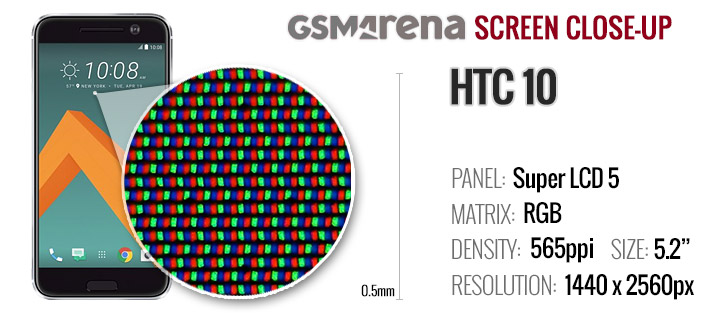 Colors don't shift when turning the screen about, but there is a variation in contrast when viewing from an angle. Nothing too drastic, though. The only place where you might have an issue is out in direct sunlight, seeing at the screen is not bright enough for such situations.
Display test
100% brightness
Black, cd/m2
White, cd/m2
Contrast ratio
HTC 10
0.29
428
1543
HTC One
0.42
647
1541
HTC One (M8)
0.46
577
1256
HTC One M9
0.44
534
1221
LG G5
0.17
306
1855
LG G5 max auto
0.20
378
1881
Samsung Galaxy S7
0.00
391
∞
Samsung Galaxy S7 max auto
0.00
563
∞
Samsung Galaxy S7 edge
0.00
392
∞
Samsung Galaxy S7 edge max auto
0.00
610
∞
LG Nexus 5X
0.30
455
1542
LG V10
0.29
432
1490
Apple iPhone 6s
0.36
536
1481
Blacks on the HTC 10 were pretty good. Readings were lower than the average (this is good) when compared to others, but this was also the case with maximum brightness on the HTC 10. Because of the low blacks and low max brightness, the contrast ratio yielded quite a good result at 1543:1.
The sunlight legibility of the HTC 10 display is good, but it's not on par with the current crop of flagships. The reason is a mixture of the screen's subpar max brightness and its reflectivity.
Sunlight contrast ratio
Samsung Galaxy S6 edge+
4.615
Samsung Galaxy S7 edge
4.439
Samsung Galaxy S7
4.376
HTC One A9
4.274
Samsung Galaxy A3
4.241
Samsung Galaxy S6
4.124
Samsung Galaxy S6 edge
4.124
Samsung Galaxy Note5
4.09
Huawei Nexus 6P
4.019
OnePlus X
3.983
Oppo R7s
3.964
Samsung Galaxy A7 (2016)
3.918
Samsung Galaxy A5
3.895
Samsung Galaxy J7 outdoor
3.879
Samsung Galaxy J2 outdoor
3.873
Samsung Galaxy A8
3.859
Apple iPhone 6
3.838
Microsoft Lumia 950XL
3.837
Samsung Galaxy A9 (2016)
3.817
Motorola Moto X (2014)
3.816
Samsung Galaxy A5 (2016)
3.789
Apple iPhone 6s
3.783
Meizu Pro 5
3.781
Microsoft Lumia 650
3.772
Oppo F1 Plus
3.709
Vivo X5Pro
3.706
Apple iPhone SE
3.681
Samsung Galaxy A7
3.679
BlackBerry Priv
3.645
Apple iPhone 6s Plus
3.53
Acer Jade Primo
3.521
Microsoft Lumia 950
3.512
Oppo R7 Plus
3.499
Samsung Galaxy J7
3.422
Meizu MX5
3.416
Oppo R7
3.32
Xiaomi Mi 5
3.24
Samsung Galaxy J2
3.235
Motorola Moto X Play
3.222
Huawei P9
3.195
Lenovo Vibe Shot
3.113
Motorola Moto X Force
3.105
LG Nexus 5X
3.092
Huawei Mate S
3.073
Microsoft Lumia 640 XL
3.065
Apple iPhone 6 Plus
3.023
Samsung Galaxy Note
2.97
Huawei Mate 8
2.949
LG G5
2.905
HTC One S
2.901
Sony Xperia Z5
2.876
Microsoft Lumia 550
2.851
Sony Xperia Z5 compact
2.784
LG V10
2.744
Xiaomi Redmi 3
2.735
Sony Xperia M5
2.69
Vivo V3Max
2.659
Xiaomi Mi 4i
2.641
Xiaomi Mi 4c
2.574
Microsoft Lumia 640
2.563
Oppo F1
2.528
Sony Xperia Z5 Premium
2.525
Sony Xperia M4 Aqua
2.503
Motorola Moto G
2.477
Lenovo Vibe K5 Plus
2.473
Huawei G8
2.471
Sony Xperia Z
2.462
Huawei Honor 7
2.406
ZUK Z1 by Lenovo
2.382
HTC 10
2.378
HTC One E9+
2.305
Alcatel One Touch Hero
2.272
Lenovo Vibe K4 Note
2.254
Sony Xperia C5 Ultra
2.253
Xiaomi Redmi Note 3 (MediaTek)
2.249
Sony Xperia C4 Dual
2.235
Motorola Moto G (2014)
2.233
LG Nexus 5
2.228
Huawei P8
2.196
Xiaomi Redmi Note 2
2.166
OnePlus Two
2.165
HTC One X
2.158
LG Aka
2.145
Archos 50 Diamond
2.134
Xiaomi Redmi Note
2.119
Huawei P8lite
2.078
Moto G 3rd gen max manual
2.026
Sony Xperia E4g
1.972
OnePlus One
1.961
Meizu m2 note
1.892
BlackBerry Leap
1.892
HTC Butterfly
1.873
ZTE Nubia Z9 mini
1.759
Sony Xperia U
1.758
Asus Zenfone Selfie
1.68
Motorola Moto E (2nd Gen)
1.675
ZTE Nubia Z9
1.659
Motorola Moto E
1.545
Sony Xperia M
1.473
Xiaomi Redmi 2
1.311
Sony Xperia C
1.283
Meizu MX
1.221
The HTC 10 offers two settings for viewing colors, the default setting is Vivid and you can change it to sRGB which makes the screen just a tad warmer for more accurate looking colors. Both "Vivid" and sRGB offer a color temperature slider to tune the color profiles to your liking.
With its default "Vivid" setting, the HTC 10 delivers a wonderful viewing experience. Colors are represented well enough where saturation isn't too overpowering. When moving the Vivid temperature slider a couple of notches warmer, colors become more accurate. Switching the display to the sRGB setting yields even more accurate colors and we found that the optimal setting in terms of color accuracy to be sRGB with extra two notches towards Warm on the temperature slider.
The default "Vivid" setting yields an average DeltaE or 5.7 with a maximum DeltaE of 10.9. The best color representation, which we were able to squeeze out by using the available adjustment settings in sRGB as described above, improved the color rendition deviation down to an Avg. DeltaE of 2.9 and max DeltaE of 5.8, which is a solid result.
The standard DeltaE 2000 deviation is used to describe the accuracy of the screen's color rendition. We test the screen with a set of over 100 different color and grayscale patterns to determine the accuracy of the color reproduction.
Even when a phone's screen color reproduction is off, you would still have a hard time noticing a color cast without a reference as the human eye is quite quick to adjust and normalize colors.
Also, the display colors are a matter of personal taste and perception so consider this test data only if you are concerned about presenting color-critical content on the mobile screen.
Any deviation above DeltaE 2000 of 10 is considered a highly visible error in color reproduction on the display. A DeltaE 2000 deviation between 4 and 10 is considered okay or acceptable color performance. A DeltaE 2000 deviation below 4 is considered good, but professional color calibration requires a deviation between 1 and 2.
Connectivity
The HTC 10 comes with a nanoSIM tray and a microSD tray, both placed opposite from each other so you don't need to disconnect your phone just to get to the expandable memory. The HTC 10 connects to standard HSPA networks, and LTE Cat. 9 with theoretical download/upload speeds of 450/50 Mbps. The handset supports many FDD LTE bands: 1, 2, 3, 4, 5, 7, 12, 13, 17, 20, 28, 29, 30.
HTC offers a full suite of connectivity options: Bluetooth 4.2, Wi-Fi a/b/g/n/ac 2.4 and 5GHz, USB Type-C, NFC.
Wi-Fi calling is also baked into our non-carrier model, which so far we've only been able to test with T-Mobile in the US.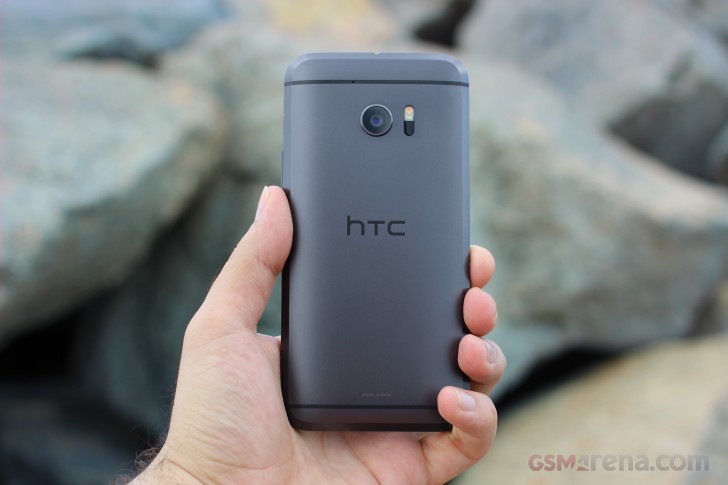 Unfortunately, however, HTC decided to omit the IR Blaster and the FM Radio from the new HTC 10. While the IR-Blaster might not be a big deal for some, absence of FM Radio connectivity might irritate international customers.
On the bright side, the USB Type-C port supports DisplayPort output if you use a USB Type-C cable for TV-out connection.
In addition to the DisplayPort, the HTC 10 also supports Apple's AirPlay casting out of the box, which is a rarity in Android phone and so far, we've only seen in implemented on several Xiaomi phones.
HTC 10 Battery Life
The HTC 10's battery has received a minor increase in capacity from 2,840mAh in the One M9 to 3,000mAh. Compared to the One M9, this modest bump of capacity in collaboration with Marshmallow's battery optimization were able to offset the increase in resolution and screen size up from 1080p to 1440p and 5.0" to 5.2" screens, respectively.
To sum it up, the HTC 10 performed rather average in all tests. For starters, the HTC 10 scored a calling time of 20:42, just two minutes below the One M9. Video and browsing tests offered a rather significant improvement up from the One M9 at 8:42h for video and 9:08h of browsing, whereas the One M9 scored less with 7:31h of browsing and 8:21h of video playback.
While these are somewhat significant increases in stamina, the HTC 10's score is dead center between its direct competitors like the Galaxy S7 and LG G5. The LG G5 yields a battery score of 60h, while the HTC 10 scored 66h overall, with the Galaxy S7 (Exynos) scoring a much better 80h score overall.
The HTC 10 scored a 66h endurance rating overall, which is the time the HTC 10 would last you on a single charge if you use it for 1 hour of calling, 1 hour of video, and 1 hour of web browsing per day.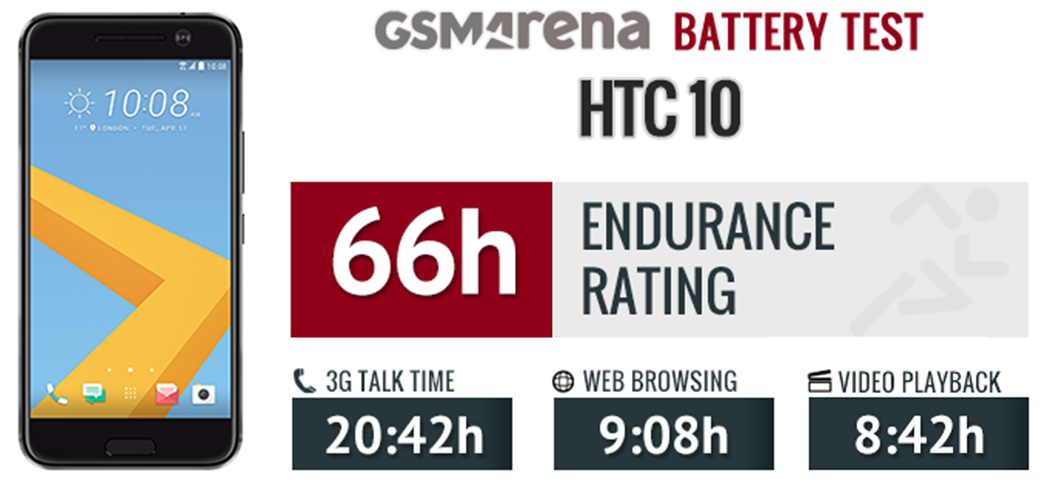 The HTC 10 supports Quick Charge 3.0 right out of the box, so charging up won't be an issue. The USB 3.0 charger has a regular USB Type-A connector while the other end of the cable has the USB-C plug. This technically means you could use any Quick Charge 2.0 compliant adapter as well, since Quick Charge is backwards compatible. You still might have trouble casually borrowing a USB-C cord as they are not too widely popular yet.
We've depleted the HTC 10's battery to 0% and hooked it up to the QC 3.0 charger for exactly 30 minutes and our unit was able to reach 50% on the dot. This is, however, under the ideal condition of very little heat. Airflow and ambient temperature both play important factors in how fast a phone can charge. 50% in 30 minutes is possible and we were only able to do it under our controlled conditions. Using the phone while its charging or placing it on a bed or soft surface will keep it warmer than it needs to be and affect charging performance.
Our proprietary rating denotes the number of hours the phone will be operational if you are to make an hour of 3G talks, web browsing and video playback per day. Such usage pattern may not apply to you directly, but we've established it so our battery results are comparable across devices.
The proprietary score also includes a standby battery draw test, which is not featured in our battery test scorecard but is calculated in the total endurance rating.
The battery testing procedure is described in detail in case you're interested in the nitty-gritties. You can also check out our complete battery test table, where you can see how all of the smartphones we've tested will compare under your own typical use.