Honor unveiled the X40 GT last October, which will be joined by the Racing Edition on September 21.
The regular X40 GT comes in three colors, while the X40 GT Racing Edition will have two versions - both having vertical stripes spanning the length of the back panel like the standard model's Racing Black variant, except the "Matrix AI Vision Camera" text is placed on the stripe and not around the camera island.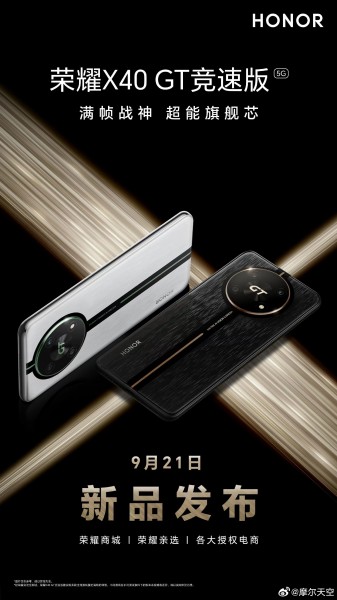 Honor is yet to detail the hardware differences between the standard X40 GT and the Racing Edition. However, the phone's listing on JD.com suggests the Racing Edition will come with 12GB of RAM and 512GB of storage onboard, unlike the regular model with two memory options - 8GB/256GB and 12GB/256GB.
If the rest of the specs are the same as the X40 GT, you'll get the X40 GT Racing Edition with the Snapdragon 888 SoC, Android 12-based Magic UI 6.1, and a 6.81" 144Hz FullHD+ LCD.
The smartphone will pack a 4,800 mAh battery with 66W charging, sport a side-mounted fingerprint scanner, and feature four cameras - 50MP primary, 2MP macro, 2MP depth, and 16MP selfie.
With the launch just two days away, there's little waiting to know more about the Honor X40 GT Racing Edition's specs, price, and availability.
"The beef he has with you is that you and only you have trolling.." Except that's not true, I downvote everyone (including him) that I disagree with, since that's what that button is for. People do downvote me as well if they...
"The question is did you troll this guy and down voted him over 70 times?" I didn't, I disagreed with him, so I downvoted his comments, it's that simple. I don't see anything wrong with that. "..if you are not ...
N
Leave me out of your comments already, I can comment whatever opinion I have on anything, as long as it complies with the rules, stop criticising ME and ONLY ME for my personal opinions. Free speech that is. Technically your comments also fall under ...
ADVERTISEMENT