Introduction
Honor's most premium-looking smartwatch to date - the new Honor Watch GS 3 is with us. With its €220/£210 price tag it's not exactly in premium watch territory but it's not an entry-level device either. The key specs include a spacious 1.43-inch AMOLED display, the usual list of health and fitness tracking as well as 4GB of onboard storage alongside a microphone and speaker which means hands-free calls and local media playback are a go.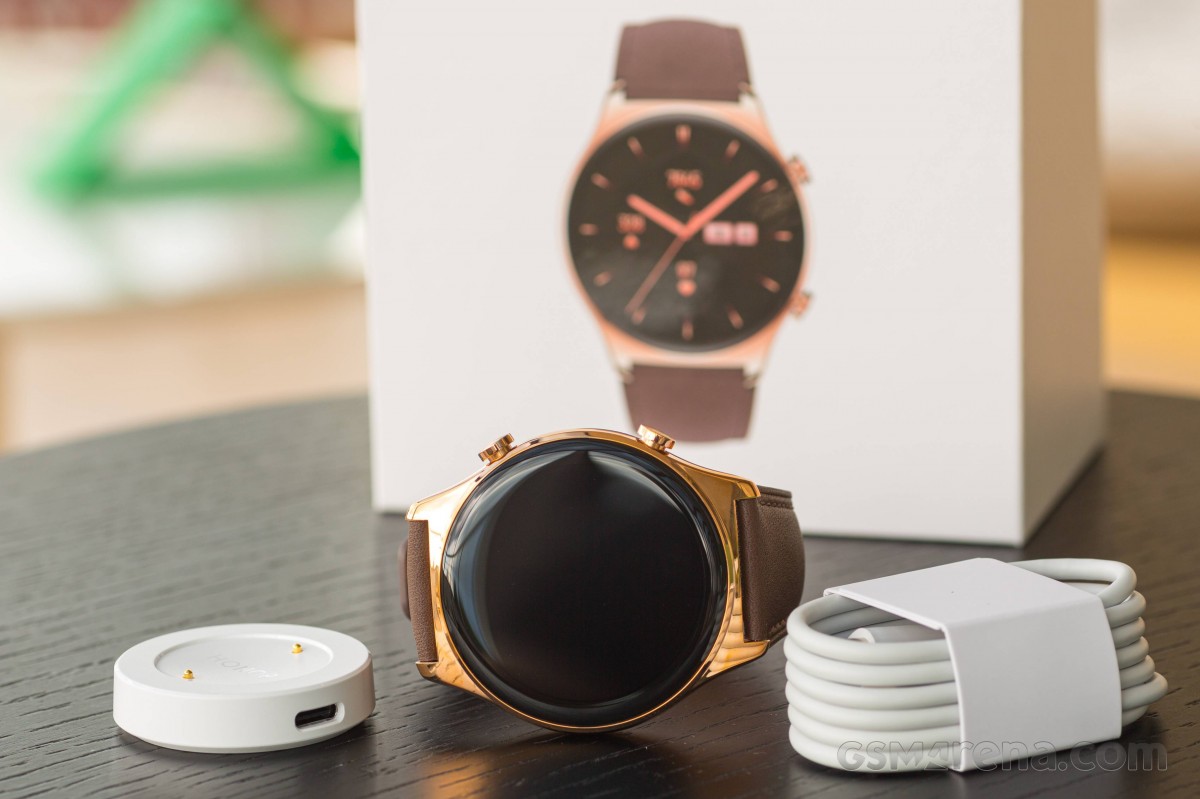 While it lacks third-party app support and smart replies to notifications, Honor Watch GS 3 is rated at up to two weeks of typical use which is way ahead of some premium watches. In addition, Honor is boasting a new eight-channel optical sensor for heart rate and blood oxygen measurements all covered in a premium-looking casing.
I strapped up a review unit of the watch to my wrist and carried it with me day and night for over a week. Let's see how the Honor Watch GS 3 fares in our real-world testing and if it's worth considering.
Design
Our Honor Watch GS 3 review unit comes with a gold-colored stainless steel casing and brown Nappa leather watch strap. The design is really similar to a vintage timepiece and will certainly fit in on more formal occasions. Despite the large 46mm casing, Watch GS 3 measures in at just 10.5mm and weighs 44 grams - seriously impressive given the large screen real estate.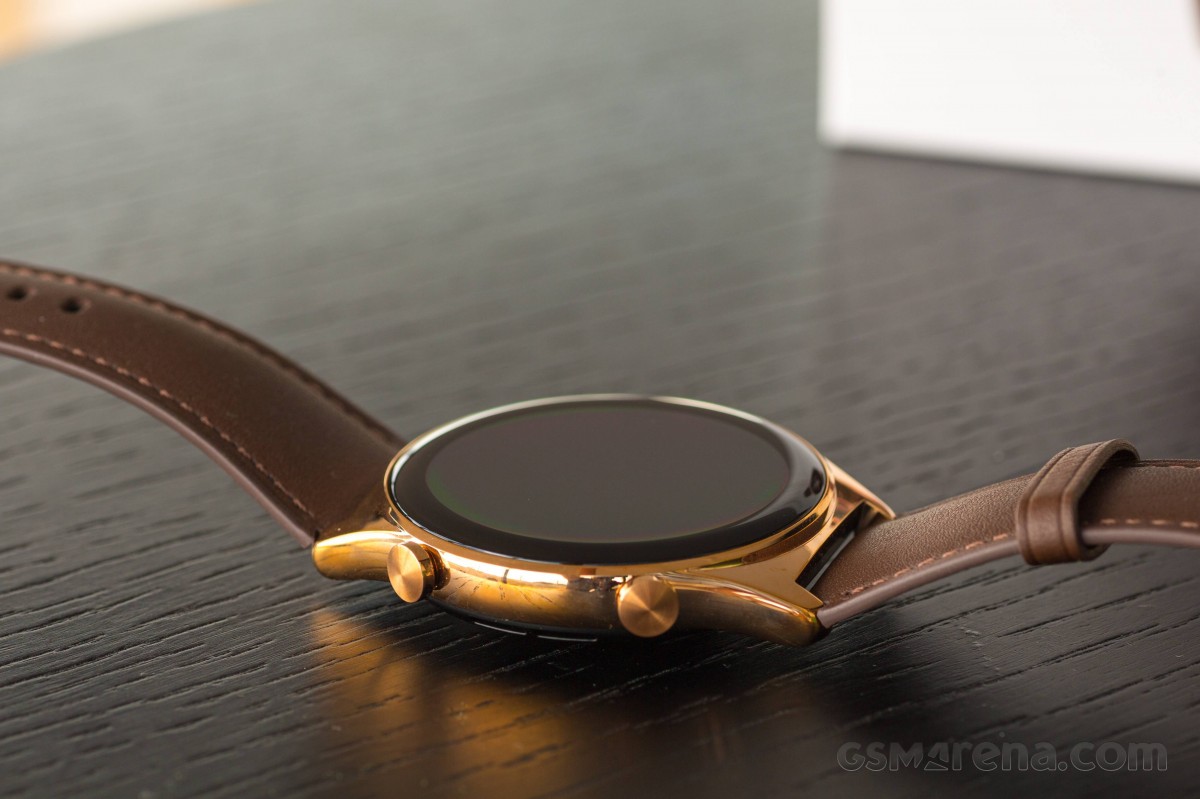 The 1.43-inch AMOLED on the watch is excellent with its sharp 466 x 466 px resolution and 326 ppi. The 3D curved glass covering the display is a really nice touch and adds to the premium feeling aesthetic. Being an AMOLED panel you also get Always-on Display (AoD) functionality which is quite neat since you can always check the time and your health/sports metrics depending on the watch face.
The watch feels comfortable on the wrist and is solidly built. The leather strap is an added benefit here though if you're not a fan you can easily change it up with any 22mm equivalent band of your liking.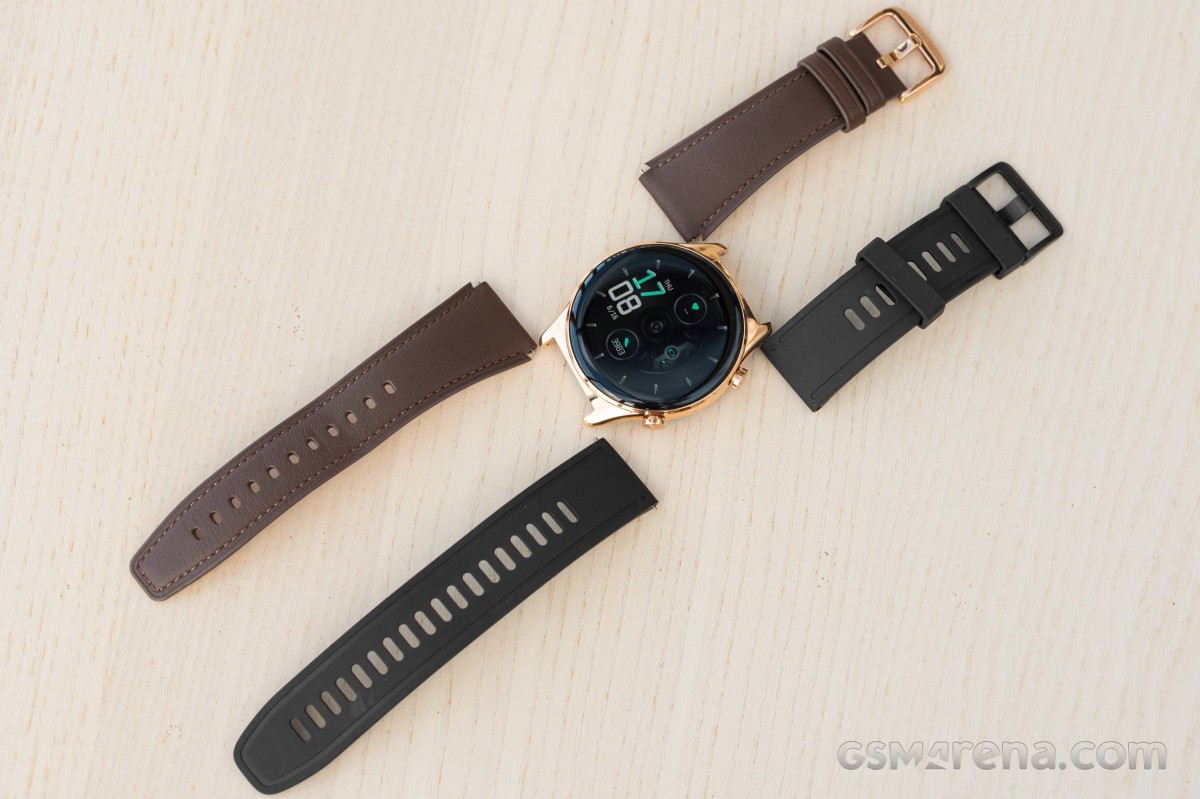 The retail package consists of the watch, a proprietary two-pin magnetic charger and a USB-C to USB-A cable. Watch GS 3 is 50m water resistant (5ATM) and can track your swims sessions though it would be advisable to switch up to a silicone strap before you get in the pool.
Features
Honor Watch GS 3 brings heart rate, SpO2, sleep and stress tracking. Honor claims the new eight-channel PPG sensor used on the GS 3 should deliver 97% minimum accuracy for heart rate readings alongside 24/7 blood oxygen measurements. As for the activity tracking side, you get access to over 100 sports modes.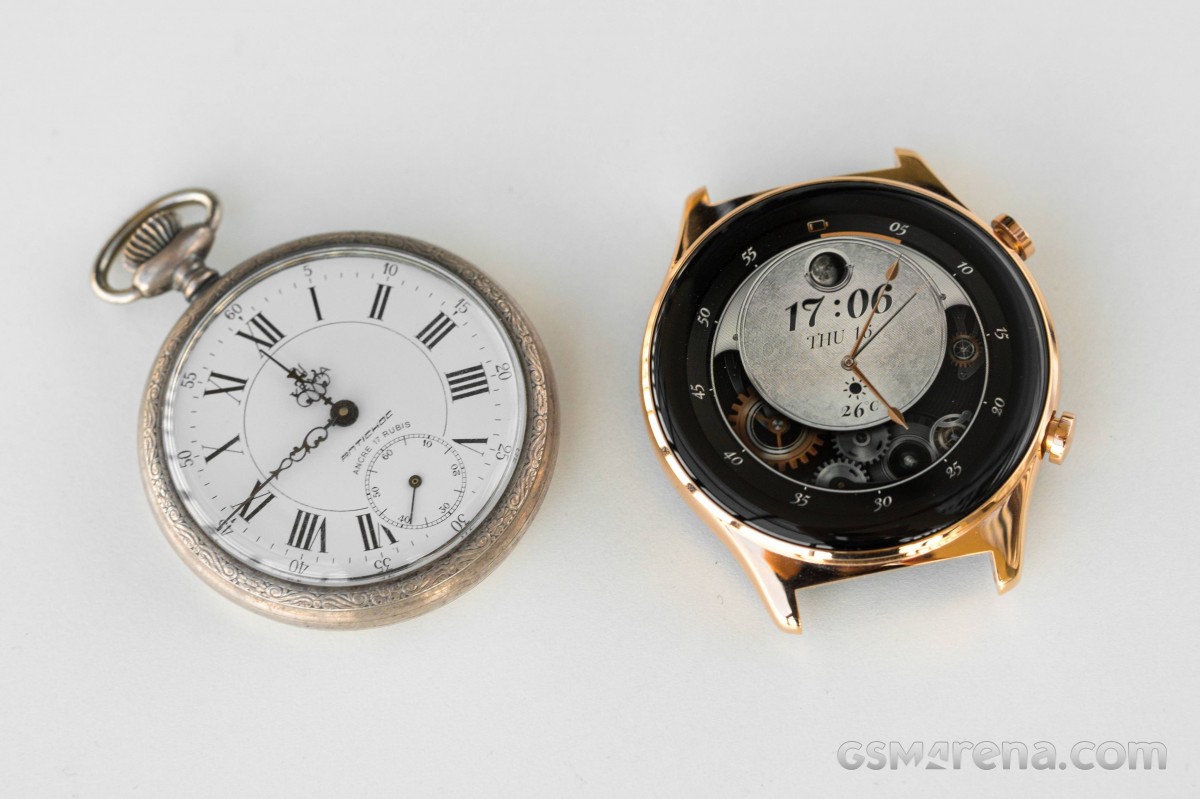 Runs, hikes and bike rides get the added benefit of the dual-band GNSS receiver with support for all five major global positioning standards. Unlike the Chinese version of the Watch GS 3, our international variant does not support NFC for contactless payments which is a downside.
You can receive notifications from apps, though you can only reply to incoming calls with a few pre-typed replies. Thanks to its built-in microphone and speaker, Watch GS 3 can take calls from your paired phone via Bluetooth. The watch also boasts 4GB of local storage (2.2GB available) which can be used to store music on the watch.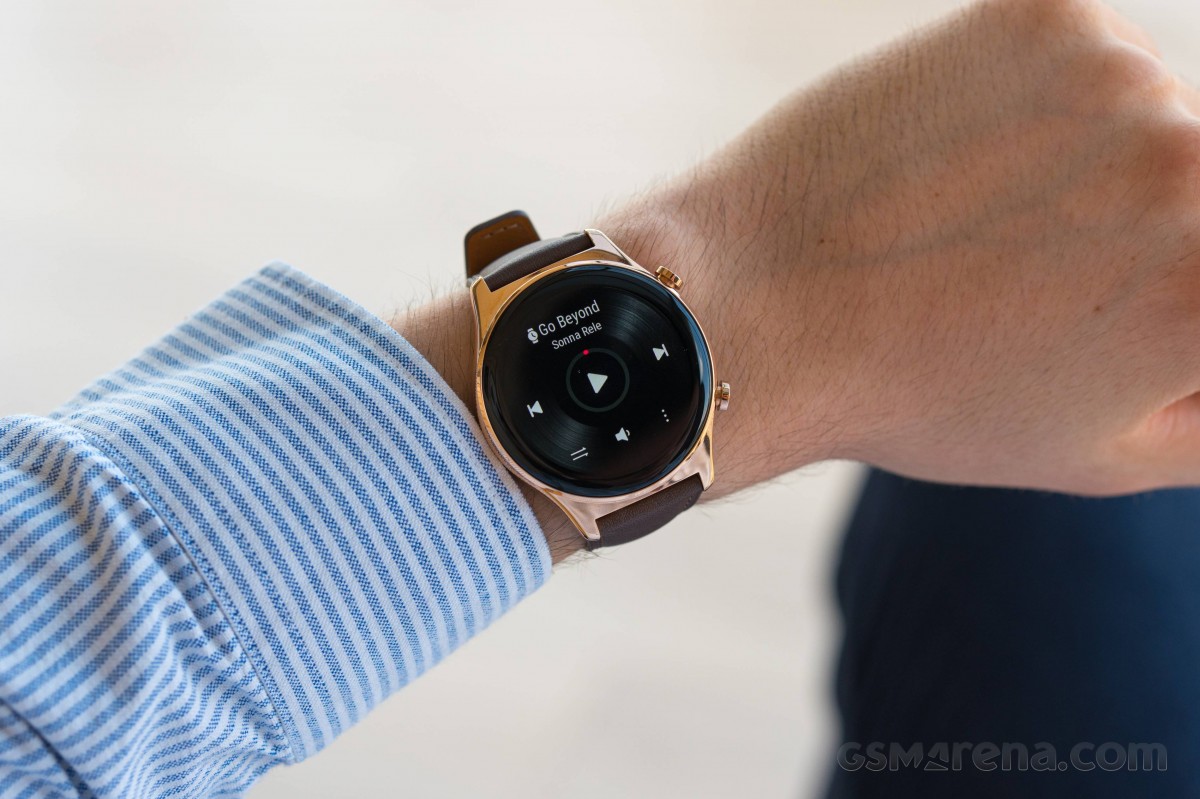 You can even pair a Bluetooth headset directly with the watch which is ideal if you don't want to carry your phone with you during workouts. The vibration motor is a bit underwhelming here though that's likely due to the limited space inside the thin and light watch profile.
The 1.43" AMOLED screen comes with auto-brightness capabilities though you can also set one of the five stages of manual brightness at all times. Watch GS 3 pairs via Bluetooth and you need the Honor Health app which is an Android exclusive at the moment. You get 13 pre-loaded watch styles as well as 11 AoD options and the Honor Health app lets you download even more styles to suit your needs. Some watch faces support customizable watch complications and there's also an option to create custom watch faces with images from your gallery.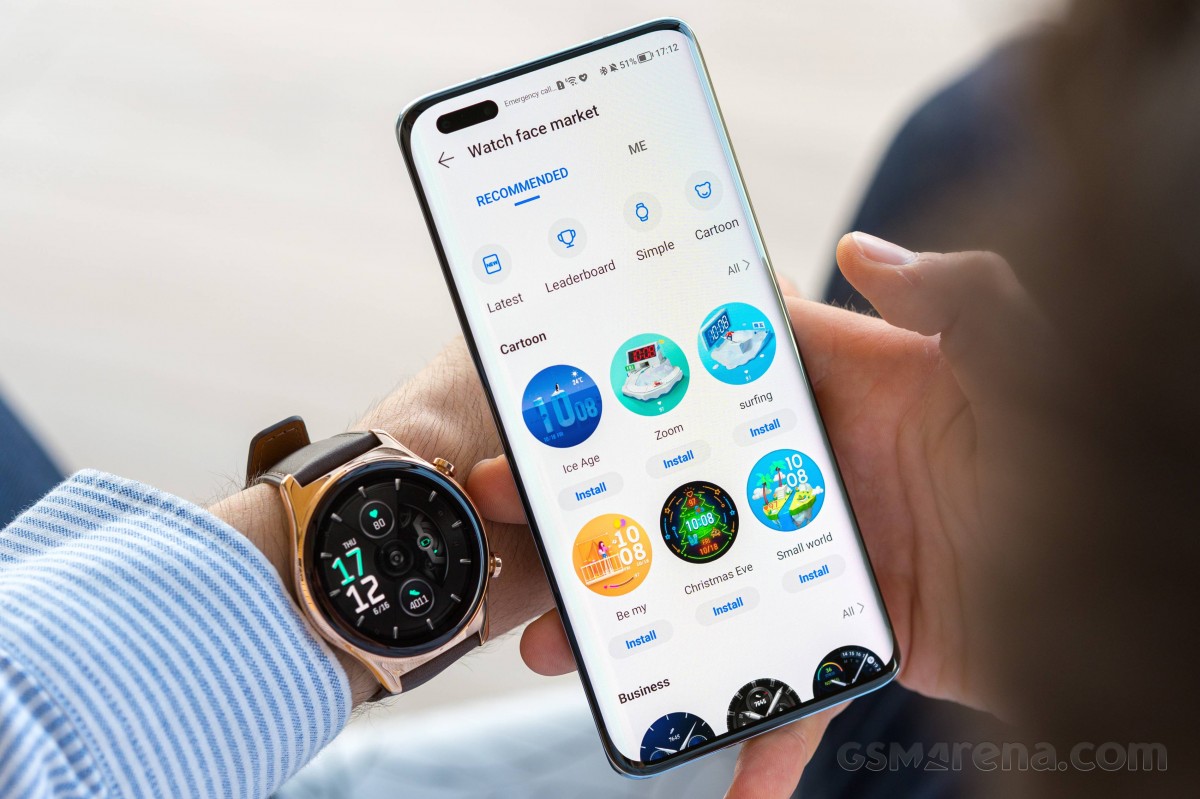 Watch GS 3 also boasts an Air Pressure and Altimeter readings as well as a compass. You also get upwards of 100 sports and activity modes including 12 fitness courses with step-by-step voice and animation instructions directly on the watch. These range from simple stretching exercises to full-blown upper and lower body workouts with carefully timed exercise instructions with voice-assisted coaching.
The Honor Health companion app brings a clean design with fairly detailed info for all the health and sports tracking metrics you'd need. There are quickly accessible cards that show you exercise history, health readings and other information like steps and calories burned at a glance. You can also start activity tracking sessions directly from the app and tweak watch functions like settings alarms, transferring music and downloading new watch faces.
Performance
Honor Watch GS 3 runs on LiteOS which is a proprietary operating system used on past Honor and Huawei watches. GS 3 packs an Apollo4 chipset which handles day-to-day tasks decently well without any major stutters or lag.The watch interface is pretty straightforward and easy to use. Navigating the interface is done primarily via swipes though the top button will always take you to the lock screen. You can wake up the screen via a double-tap or from one of the two side buttons.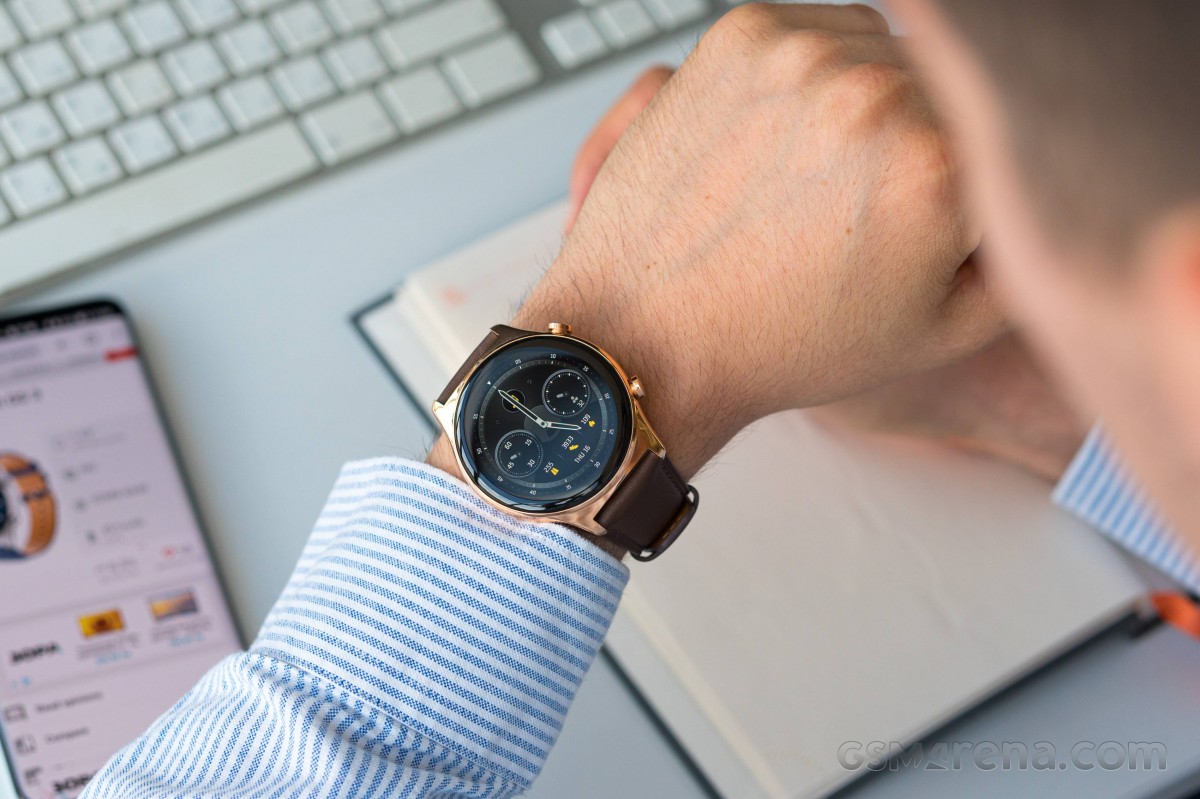 The top button takes you to the apps page while the bottom one is assigned by default to the workouts app though you can remap it to any app in settings. You also get up to six app shortcuts next to the home screen by swiping left or right. The built-in music player is an interesting touch but transferring tunes to the watch is a slow process executed via the Honor Health app.
The built in speaker gets quite loud which is useful if you plan to use the GS 3 for taking calls. Microphone quality is adequate though not on the level of your smartphone or a decent pair of TWS earbuds. Still, it's nice to have the option to take calls on your watch if you need to.
Health tracking on the Watch GS 3 benefits from the new eight-channel PPG heart rate sensor with frequency tracking and an additional AI heart rate algorithm. Honor's webpage claims heart rate accuracy is over 97% and in my testing, I found heart rate readings in line with those on my personal Xiaomi Mi Band 5.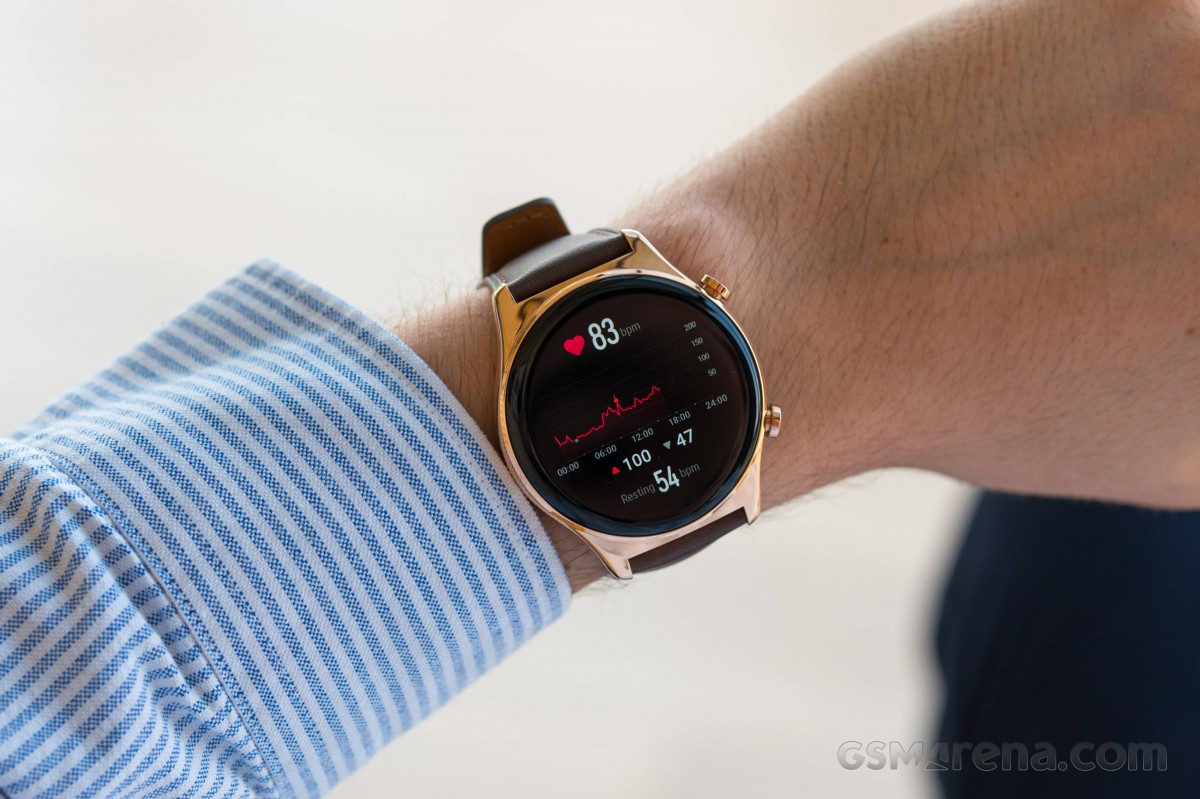 SpO2 readings are comparable to any other smartwatch/band - meaning they are a good point of reference though certainly not medical grade. In a direct comparison with a pulse oximeter, Honor Watch GS 3 showed results that varied between 95-100% compared to the oximeter's 93-95% values. I also had to restart the manual SpO2 measurements on the watch several times as I was "wearing the watch wrong".
You don't get access to detailed health metrics on the watch directly like you can on some other watches. If you want to check your detailed sleep metrics or compare weekly data, you'll need to head over to the Honor Health app on your phone. Sleep tracking results showed accurate go to sleep and wake-up times and also offer a sleep breakdown by category with rapid eye movement (REM) included.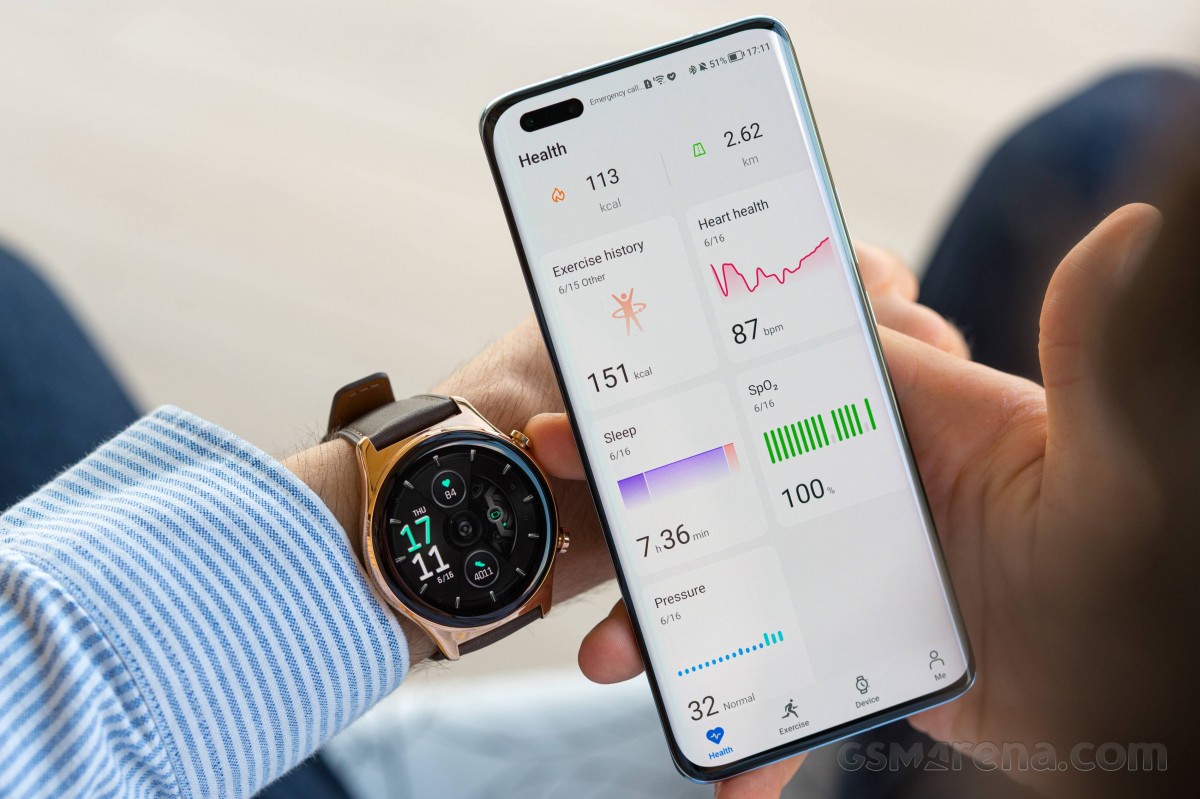 Activity tracking seemed in line with other smartwatches and smartbands we've tested. Running data shows you the usual metrics like average pace, speed and stride frequency alongside the heart rate and calories burned metrics. If you enable GPS tracking you'll also get your runs mapped fairly accurately though your smartphone's receiver is likely to give you more accurate readings. The GPS sensor on the watch took about 10 seconds to lock my location.
I found the fitness course options quite useful. You get twelve varying types of workouts ranging from 3-minute stretching sessions to full-body workouts all with audio and exercise form guidance. These guided workouts are a great way to switch up your exercise routine or finish up a workout with a step-by-step stretching session.
Battery Life
Honor Watch GS 3 has a 451 mAh battery cell rated at 14 days of typical usage and 30 hours of endurance with GPS turned on. During my testing I used the watch with manual brightness set at level 3, AoD turned on, 24/7 heart rate, SpO2, sleep and stress measurements alongside notifications syncing and three to four workouts per week. With these usage patterns, I managed to squeeze four days of usage.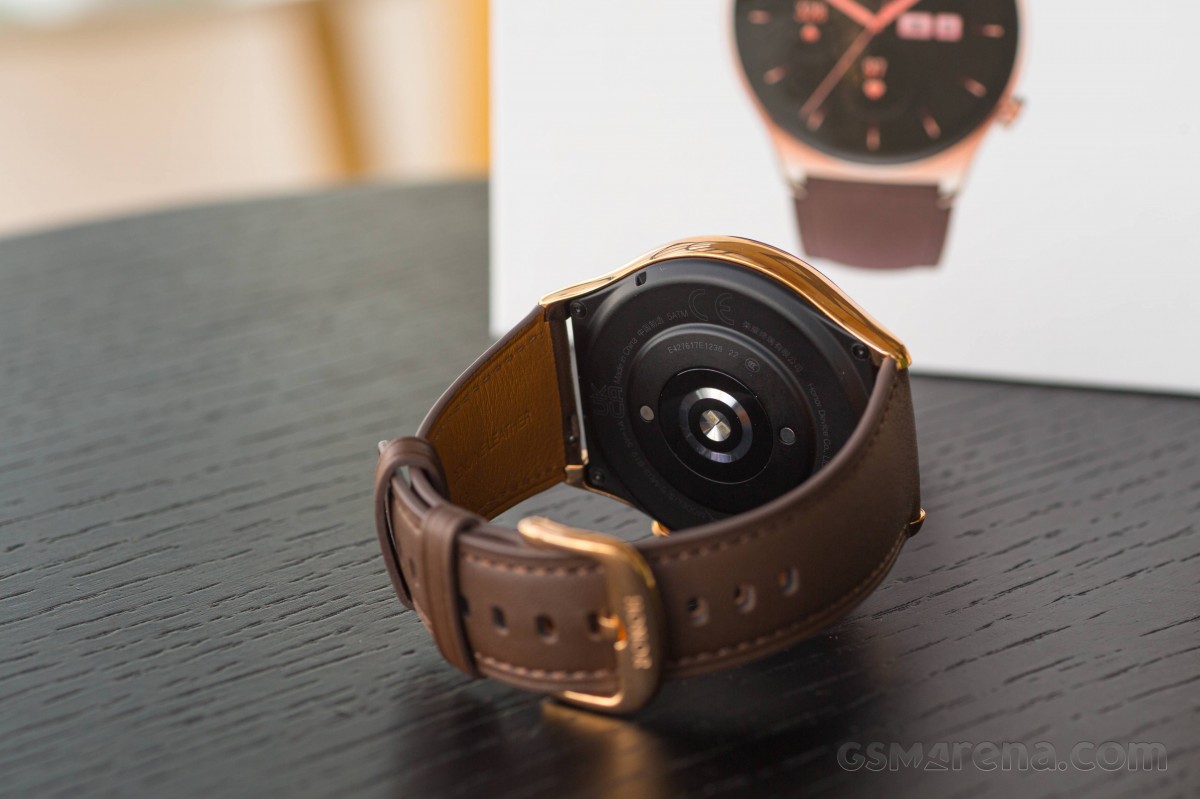 With lighter use, you could get to the two-week claims but that would require sacrificing features and limiting the watch's potential. A full charge takes just over an hour. The 5W charger can also get you a day's worth of power from a quick five-minute charge.
Verdict
Honor Watch GS 3 is a versatile smartwatch with a comfortable and stylish design and plenty of useful sports and health tracking features. You get reliable metrics thanks to the updated optical PPG sensor with a long list of activities to choose from including voice-guided workouts with varying difficulties to suit the needs of both novice and advanced users.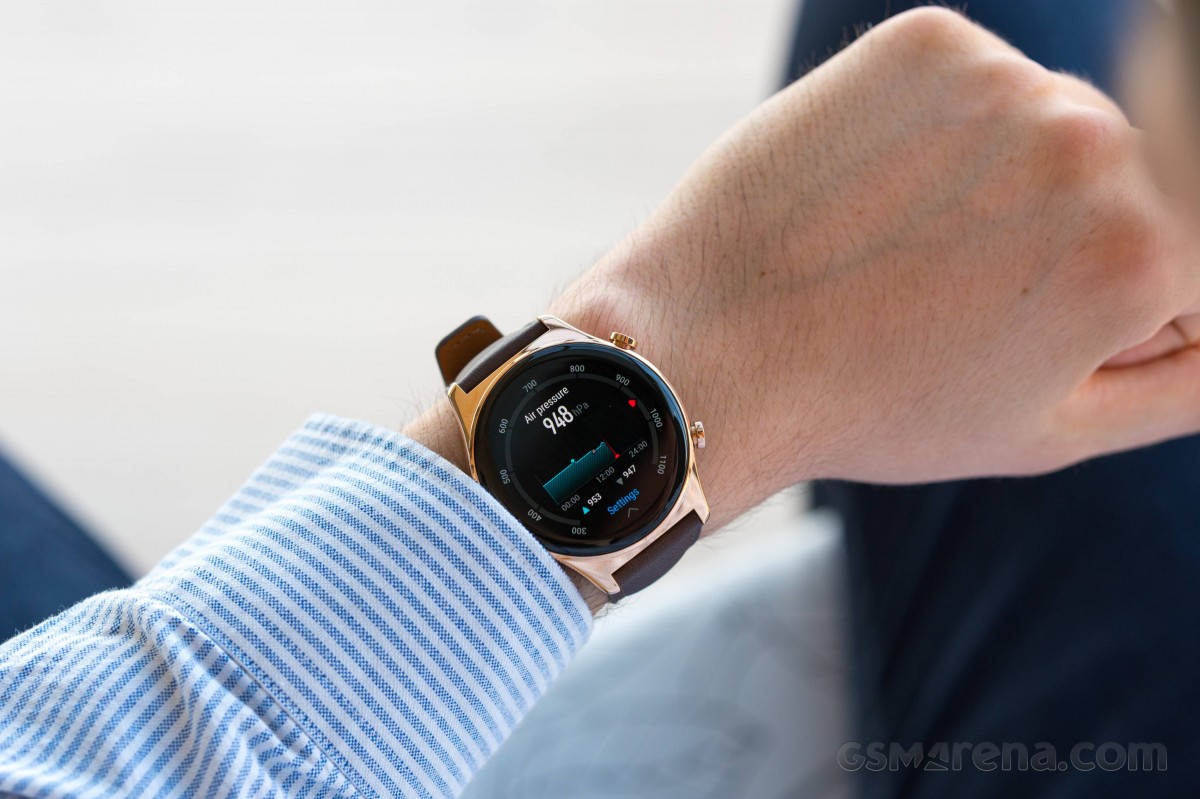 The spacious 1.43-inch AMOLED display comes with a decent amount of watch faces as well as AoD functionality and auto-brightness. The software experience on the watch is smooth for the most part though the absence of an iOS companion app is a letdown in terms of compatibility.
Having an onboard speaker and microphone as well as standalone GPS gives you the option to leave your phone in your pocket or ditch it completely during your workouts. The voice-guided workouts and their animations are quite the tool to have on your wrist and can help even the more inexperienced users into a regular workout regime. Battery life is decent, though if you turn on all the advanced features and take calls on the watch you'll have to recharge every three to four days.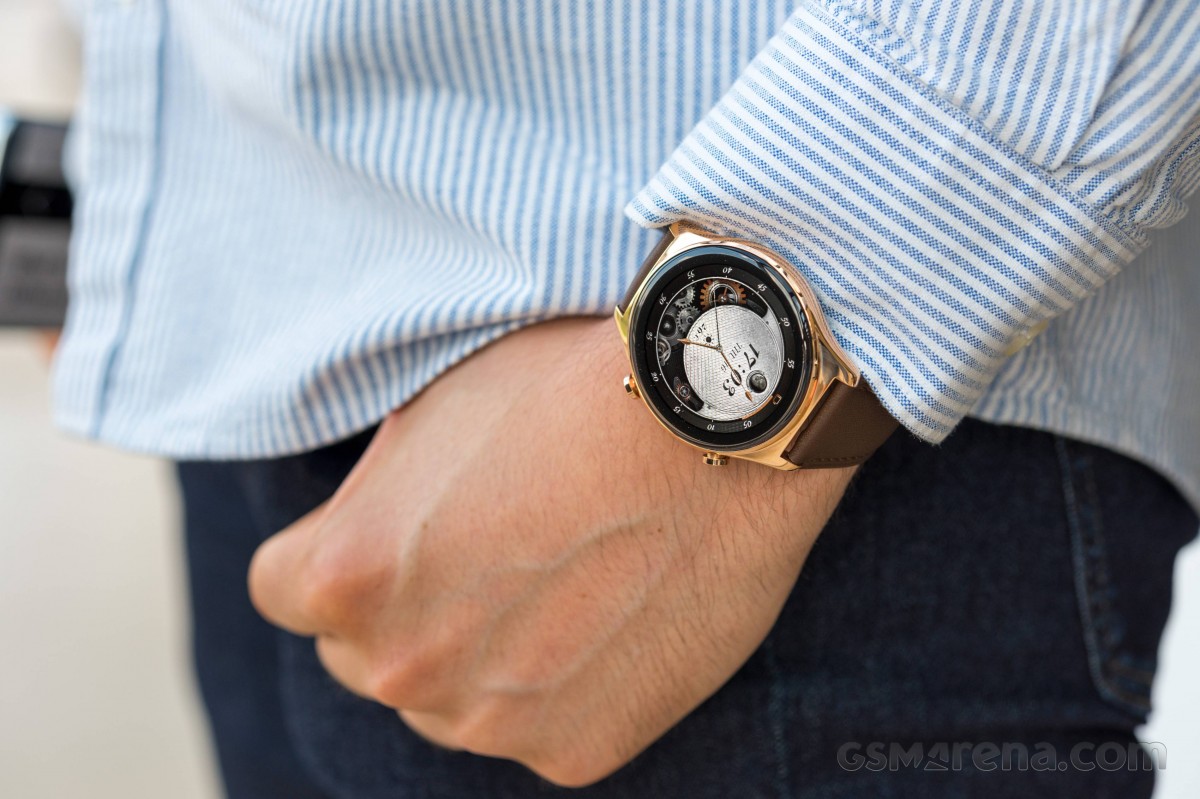 The lack of third-party apps, NFC and the option to reply to notifications are the only downsides here though watches that offer these functions come with higher price tags. Honor Watch GS 3 nails the key pillars of a great smartwatch and delivers it in a stylish form factor that can be easily adapted thanks to the removable 22mm watch strap. If you are in the market for a new smartwatch in the €220/£210 range then the Honor Watch GS 3 is worth looking into.
A
How to do that, please explain!
A
How?! I'm unable to connect it in Canada
ADVERTISEMENT