Honor unveils the first silicon-carbon battery with 12.8% higher energy density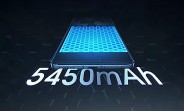 Most smartphone technologies advance at a rapid pace – chipsets, displays, cameras and so on. All except battery capacity, which increases at a snail's pace. Honor thinks it has found a solution – the industry's first silicon-carbon battery.
It promises 12.8% higher energy density compared to current lithium batteries that use graphite for one of the electrodes (the anode). To put that in more concrete terms, the Honor Magic5 Pro has a standard 5,100mAh battery. If it used a silicon-carbon battery instead, it would have had 5,450mAh capacity.

CEO George Zhao was brief on stage, but he did show a couple of charts that offer a quick explanation of why the new battery is better. A standard lithium battery doesn't have much left in it once its voltage drops to 3.5 volts – this is where silicon-carbon shines as it has 240% more capacity left at 3.5V than the standard battery, which leads to the 12.8% overall improvement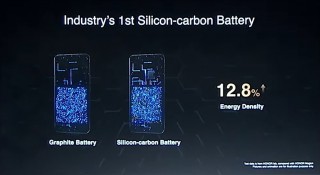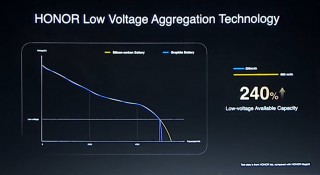 A silicon-carbon battery is 12.8% more energy dense than a typical lithium battery of the same size
Interestingly, the Magic5 Pro in China is listed as having 5,450mAh battery – it seems that the new battery tech is already a reality, not just something tested in the lab. However, the international model is launching with a standard 5,100mAh battery, so we will try to confirm with Honor if the units in China really feature silicon-carbon batteries.
0
You're the one not using your brain. I'm talking about physical size of the battery, not the size of the device. I have taken these devices apart and am referring to the PHYSICAL MESUREMENTS of the batteries. in terms of PHYSICAL MESUREMENT...
C
I follow a company on Twitter that sells phones with removal batteries
?
Stop saying nonsense and USE YOUR BRAIN. Phones are far bigger than before *and* phones have far less features than before (no SD card, no Jack, etc). It is normal that they managed to put bigger batteries in them, it is not rocket science.
ADVERTISEMENTS