6.81-inch LTPO AMOLED panel with a pill-shaped cutout
Looks are not the only cool features the Magic4 Pro's display has. It uses an advanced LTPO AMOLED panel, although first generation, and offers a 10-bit color depth, custom QHD+ resolution (1312 x 2848px), 120Hz refresh rate, HDR10+ support, and uses high-frequency PWM for dimming control.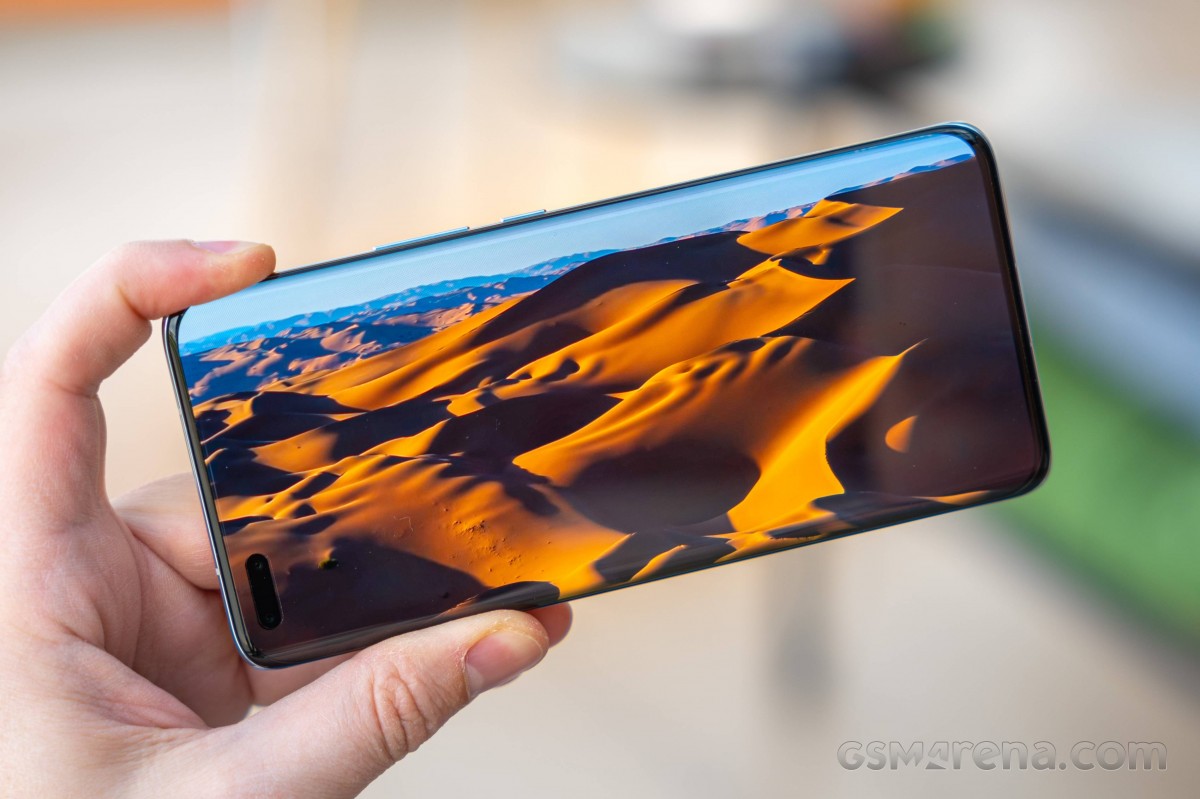 OLED panels, and a good chunk of the IPS ones, are notorious for using the so-called Pulse Width Modulation to control brightness. It's essentially turning on and off the panel fast so that the human eye doesn't register the flicker and perceives the process as brightness adjustments. However, our brains do register the flicker and people with sensitive eyes may experience soreness/tiredness and even mild headaches when using PWM screens at low brightness levels. The lower the frequency, the more people it may potentially affect. That's why Honor made sure that the Magic4 Pro uses a 1920 MHz frequency, which is pretty high comparatively. Aggressive flicker can be considered anything between 100Hz and 1000Hz, so the Magic4 Pro should be above that range even at lower brightness levels.
Other notable features include a Frame Rate Booster, Video enhancer and granular refresh rate control, which Honor calls MotionSync.
The Frame Rate Booster is pretty self-explanatory - it increases the frame rate of videos by inserting a black frame between each one resulting in 60fps videos. It's usually called MEMC (Motion Estimation, Motion Compensation), and it's found on most modern TVs. It's not a feature we can recommend using as the artificial black frames create a smearing effect in fast-paced scenes.
The Video enhancer works on Netflix and YouTube. It renders non-HDR videos into HDR ones, but as you might expect, the results aren't amazing. Nothing beats the real thing. Some videos do appear more attractive with the feature turned on, though.
Now, without further ado, let's get to the actual testing.
Honor says the display can go up to 1,000 nits, and we found this to be true. At 75% APL, the panel easily reached 550 nits in manual mode and 957 nits in Auto mode when in bright light. Those are great results worthy of a flagship display. You can expect an excellent viewing experience no matter the lighting conditions. The minimum brightness, on the other hand, is a tad higher - 4.3 nits but nothing to stress about.
Display test
100% brightness
Black,cd/m2
White,cd/m2
Contrast ratio
Honor Magic4 Pro
0
550
∞
Honor Magic4 Pro (Max Auto)
0
957
∞
Apple iPhone 13 Pro Max
0
852
∞
Apple iPhone 13 Pro Max (Max Auto)
0
1050
∞
Apple iPhone 13 Pro
0
856
∞
Apple iPhone 13 Pro (Max Auto)
0
1063
∞
Oppo Find X5 Pro
0
475
∞
Oppo Find X5 Pro (Max Auto)
0
762
∞
Honor Magic4 Pro
0
550
∞
Honor Magic4 Pro (Max Auto)
0
957
∞
Realme GT2 Pro
0
482
∞
Realme GT2 Pro (Max Auto)
0
778
∞
Samsung Galaxy S22+
0
468
∞
Samsung Galaxy S22+ (Extra brightness)
0
782
∞
Samsung Galaxy S22+ (Max Auto)
0
1214
∞
Samsung Galaxy S22 Ultra
0
494
∞
Samsung Galaxy S22 Ultra (Extra brightness)
0
829
∞
Samsung Galaxy S22 Ultra (Max Auto)
0
1266
∞
Xiaomi 12 Pro
0
506
∞
Xiaomi 12 Pro (Max Auto)
0
1050
∞
Xiaomi 12
0
494
∞
Xiaomi 12 (Max Auto)
0
896
∞
vivo X80 Pro
0
488
∞
vivo X80 Pro (Max Auto)
0
1014
∞
With the default color mode, you can expect somewhat accurate color reproduction with the usual whites and grays looking a bit blue-ish. And even then, the average dE2000 is just 3.1. Switching over to Natural mode delivers much-improved color accuracy, with dE2000 falling down to 1.6. The whites still have a blue-ish tinge, so you might want to use the provided color temperature wheel in the software.
HRR control
Since this is an LTPO OLED panel, it supports granular refresh rate control and can go as low as 1Hz. This is needed because you don't always need the full 120Hz, so to conserve power, the refresh rate is lowered depending on the scenario. The software offers four modes - Dynamic, High (120Hz), Medium (90Hz) and Standard (60Hz). We tested the Dynamic mode more extensively.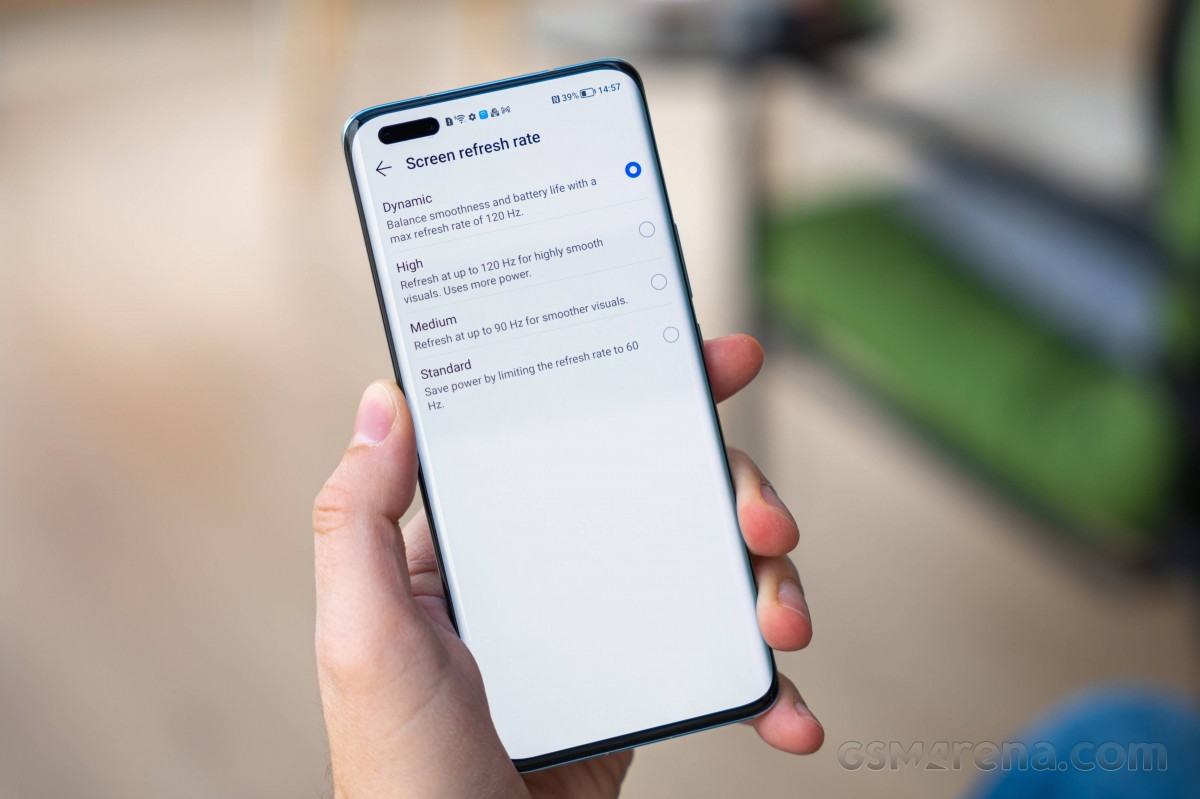 At higher brightness levels and with a static image, the refresh rate would go down as low as 1Hz. It's usually 10Hz in certain apps and scenarios when you are not interacting with the screen. We noticed that with a static image at lower brightness levels, the max refresh rate can be limited to 60 and 90Hz. For example, on the home screen, you can see 1Hz, 60Hz and 90Hz at best. Other system menus can do 120Hz. Opening video apps results in a 60Hz cap as well, and so does Google Chrome, for some reason. Most other apps were locked at 90Hz, though.
Setting the refresh rate to High (120Hz) fixes all of this. All apps are forced in 120Hz, including the home screen and notification shade. In this case, however, you will lose the dynamic aspect of the panel, and pretty much everything will be locked at 120Hz.
Battery life
For a big phone like the Magic4 Pro, the provided 4,600 mAh battery isn't all that impressive. And the results from our battery tests are a testament to that, but we suspect that battery capacity alone isn't the whole story. The handset scored poorly in all of our screen-on and screen-off tests. Maybe except for the web browsing test where the device scored just about average for its class.
We won't blame Honor entirely on this one because we've seen subpar battery performance for many of the high-end 2022 phones. Take the Xiaomi 12 series or the Samsung Galaxy S22 series, for example. The Oppo Find X5 family didn't do particularly well either, although a tad better than the competition. What do they have in common? The Snapdragon 8 Gen 1. The industry could really use a more power-efficient high-end chipset.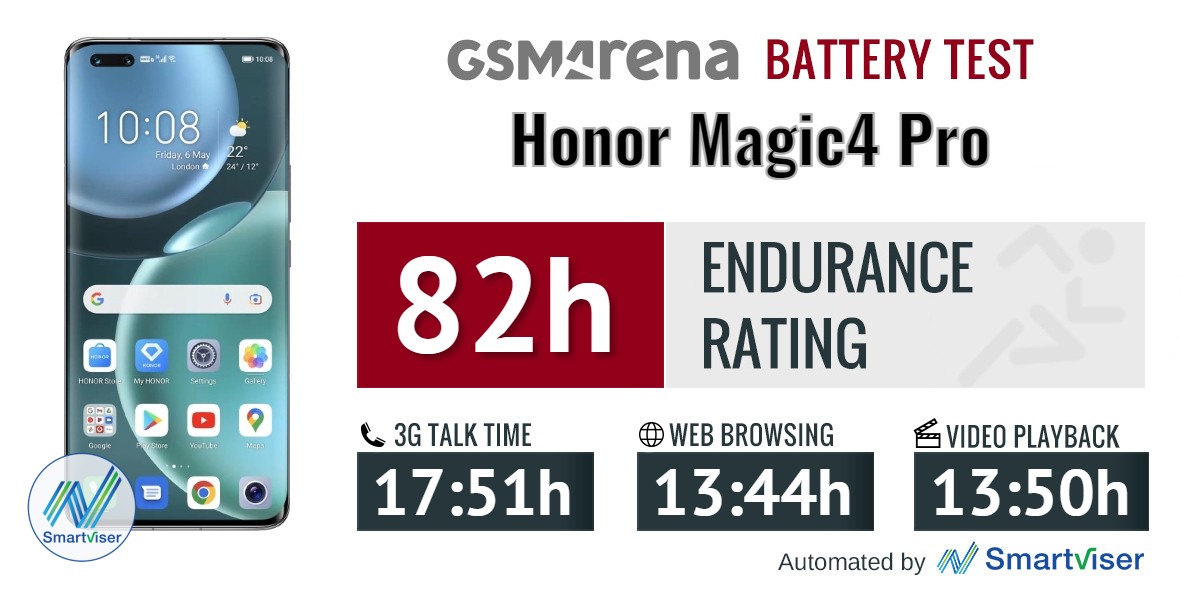 Our battery tests were automated thanks to SmartViser, using its viSerDevice app. The endurance rating denotes how long the battery charge will last you if you use the device for an hour of telephony, web browsing, and video playback daily. More details can be found here.
Video test carried out in 60Hz refresh rate mode. Web browsing test done at the display's highest refresh rate whenever possible. Refer to the respective reviews for specifics. To adjust the endurance rating formula to match your own usage patterns check out our all-time battery test results chart where you can also find all phones we've tested.
Charging speed
Honor is right to brag about its charging tech. The provided 100W SuperCharge brick can charge the handset in exactly 30 minutes from flat. Even when taking the smaller-than-average battery into the equation, that's an excellent result. There's only one phone that's speedier than the Magic4 Pro, and that's the Xiaomi 12 pro with its 120W charging. Honor's contender overtook even the Oppo Find X5 Pro. After all, there aren't many phones that can charge up to 100% in less than 30 minutes.
30min charging test (from 0%)
Higher is better
Honor Magic4 Pro
100%
Xiaomi 12 Pro (120W)
100%
Oppo Find X5 Pro
91%
Realme GT2 Pro
91%
Honor Magic4 Pro (100W wireless)
78%
Samsung Galaxy S22 Ultra (25W)
61%
Apple iPhone 13 Pro (20W Apple)
60%
Samsung Galaxy S22 Ultra (45W)
60%
Apple iPhone 13 Pro Max (65W PD)
55%
Apple iPhone 13 Pro Max (20W Apple)
42%
Time to full charge (from 0%)
Lower is better
Xiaomi 12 Pro (120W)
0:21h
Honor Magic4 Pro
0:30h
Honor Magic4 Pro (100W wireless)
0:40h
Oppo Find X5 Pro
0:40h
Realme GT2 Pro
0:40h
Samsung Galaxy S22 Ultra (45W)
0:59h
Samsung Galaxy S22 Ultra (25W)
1:04h
Apple iPhone 13 Pro (20W Apple)
1:38h
Apple iPhone 13 Pro Max (20W Apple)
1:46h
Apple iPhone 13 Pro Max (65W PD)
1:54h
We also had the chance to try out the 100W wireless charger. The charging stand itself is equipped with a cooling fan to take care of the excess heat during charging, so placing it right next to your bed might not be great.
This powerful wireless charging stand puts up quite an impressive performance as it gets the job done in just 40 minutes - only 10 minutes more than the wired charger. There's one catch, though. The 100W charger can get up to 100W output only if you plug in a compatible 135W Honor charger, which usually comes with one of its laptops. This means that you have to buy a separate charger for the stand. Otherwise, you can still use the bundled charger with the phone itself, but this would limit the wireless charger to 80W.
Speakers
The Magic4 Pro is equipped with a stereo speaker setup and a piezoelectric display that also emits sound. There is a grille at the top of the frame, but it does not hide a speaker - it appears it's used for an echo chamber so that sound escapes the cavity freely. All in all, the sound comes out of three sources in total - two speakers and the display itself.
The earpiece opening is tiny due to the thin top bezel, but the loudness wasn't sacrificed, to our surprise. In fact, there's virtually no difference between the bottom-firing speaker and the top one. That's one balanced stereo speaker setup. We believe the display plays a big role in the perceived balance.
The good news doesn't end there. The overall loudness of -23.6 LUFS puts the phone right up there with the loudest devices we've tested. And the best part is that sound quality doesn't suffer. The Magic4 Pro offers one of the best-sounding setups we've heard. Mids are well-pronounced, highs are clear, and the bass is just enough to give bass-heavy tracks that much-needed fullness. Even at higher volumes, music sounds great with minimal distortion.
And since this is a piezoelectric display, standard phone calls may be overheard by people around you. This is an issue with similar implementations in the past. Honor tackles this with a feature called AI Privacy Call, leveraging the industry's first Dual Sound-Emitting Unit. This enables directional sound without leakage so your private calls remain for your ears only.
Use the Playback controls to listen to the phone sample recordings (best use headphones). We measure the average loudness of the speakers in LUFS. A lower absolute value means a louder sound. A look at the frequency response chart will tell you how far off the ideal "0db" flat line is the reproduction of the bass, treble, and mid frequencies. You can add more phones to compare how they differ. The scores and ratings are not comparable with our older loudspeaker test. Learn more about how we test here.
If we really need to get nit-picky, we noticed a slight distortion and white noise coming from the right speaker at higher volumes when high and mid tones are produced. That shouldn't be considered a deal-breaking issue, though. Our overall quality score remains excellent and mostly unrivaled. Music sounds clearer and more balanced compared even to the Galaxy S22 series and the iPhone 13 Pro series.