120Hz LCD panel with centered punch-hole
The Magic4 Lite's display panel is LCD with a 1080 x 2388px resolution and it measures 6.81" in diagonal. It supports a high refresh rate of 120Hz.
The phone has Widevine L1 certification, so Full HD video streaming on Netflix is possible. HDR video, however, is not supported.
Some of the Magic4 Lite's competitors employ OLED panels, so the phone is at a disadvantage because you are not getting the deep blacks that the OLED technology offers. Honor has provided a dedicated E-book mode, which turns the screen black and white for a more comfortable reading experience.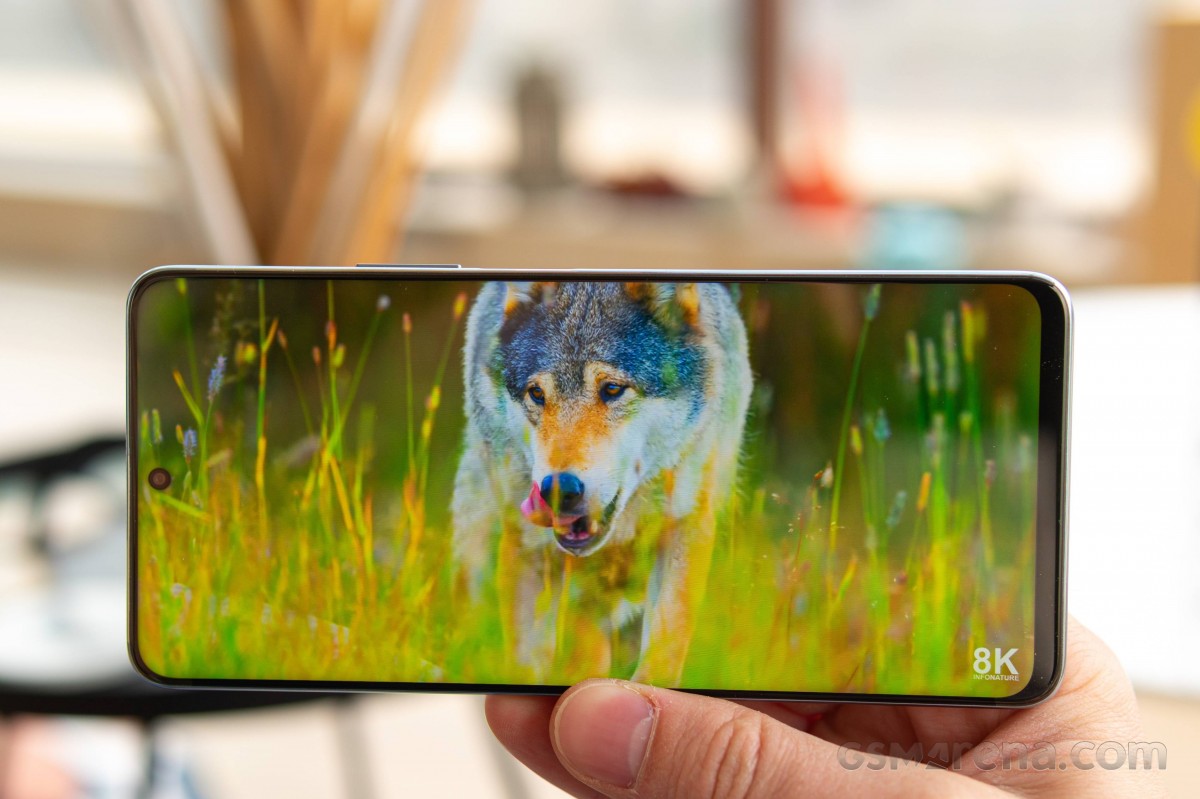 And as for our tests, they show a decent performance from the screen. The maximum manual brightness is about 499 nits. With Auto Brightness mode ON, the display can peak at 535 nits in bright light.
This is not a terribly high number for an LCD as these tend to have higher reflectivity than OLEDs which affects screen legibility in bright sunlight but the Magic4 Lite is okay in this use case.
Display test
100% brightness
Black,cd/m2
White,cd/m2
Contrast ratio
Honor Magic4 Lite
0.406
499
1229:1
Honor Magic4 Lite (Max Auto)
0.425
535
1259:1
Poco X4 Pro
0
477
∞
Poco X4 Pro (Max Auto)
0
754
∞
Samsung Galaxy A53 5G
0
427
∞
Samsung Galaxy A53 5G (Max Auto)
0
830
∞
Xiaomi Redmi Note 11 Pro+ 5G
0
479
∞
Xiaomi Redmi Note 11 Pro+ 5G (Max Auto)
0
760
∞
Honor 50 (Max Auto)
0
748
∞
Honor 50
0
525
∞
Realme 9 Pro
0.288
461
1601:1
Realme 9 Pro (Max Auto)
0.385
567
1473:1
Color accuracy isn't great, with whites and grays having a purple tinge. Cyans blues and purples are oversaturated as well. There's also a Normal color mode that improves overall color accuracy but pushes the whites and grays towards pink. The color temperature wheel needs tweaking for better white color reproduction.
HRR control
Compared to the Honor 50, the Magic4 Lite has a tad better control over the display's refresh rate. We found that even in Dynamic mode, the software tends to go for a higher refresh rate, and even Google Chrome is buttery-smooth. All system menus are also saturating the full 120Hz, except for the home screen. It only goes up to 90Hz when interacting with it and dials down to 60Hz when you are not touching the screen. The software is fast to lower the refresh rate to 60Hz after just a few seconds of inactivity in pretty much all of the apps. Netflix, YouTube and the default Gallery app play videos at 60Hz as well.
In case you are having trouble with some apps running at a lower refresh rate, try going for the "High" preset that forces 120Hz in all apps while HRR behavior in system menus remains the same. This mode automatically dials down to 60Hz when needed as well.
That won't help with games, though, as most titles we tried were locked to 60 fps while only a few went up to 90 fps.
Battery life
The Honor Magic4 Lite has a 4,800 mAh battery, which falls a tad short of the average 5,000 mAh battery capacity some competitors offer, especially if they are well within the 6.7"+ display territory. However, that didn't stop the phone from posting a very good endurance score of 104h. And it would have been even better if it wasn't for the rather underwhelming standby runtime.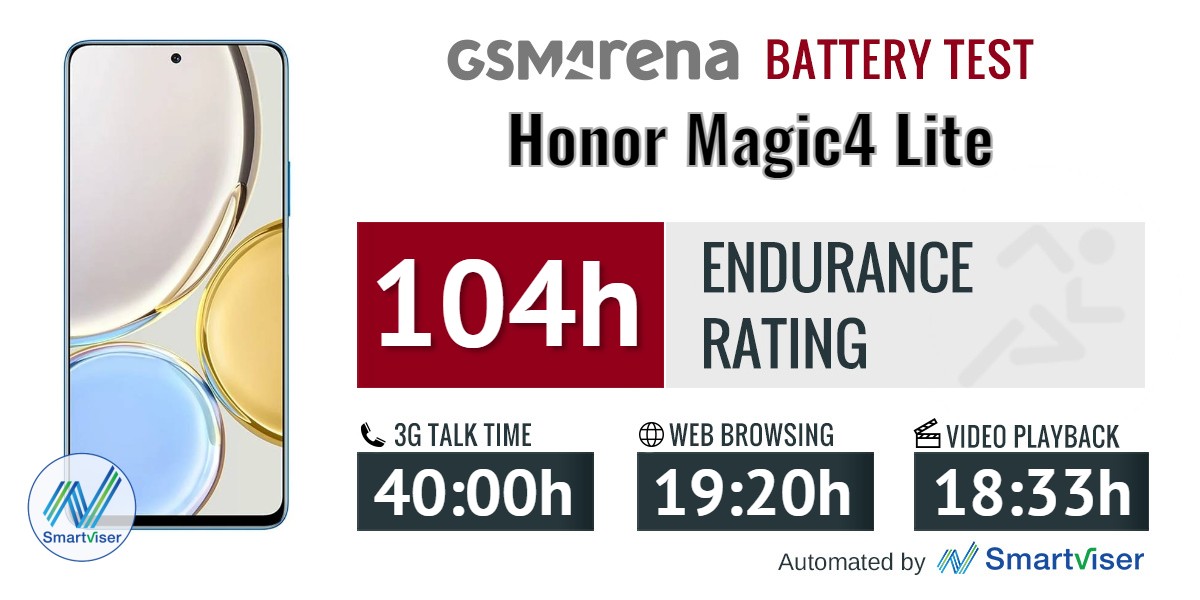 Our battery tests were automated thanks to SmartViser, using its viSerDevice app. The endurance rating denotes how long the battery charge will last you if you use the device for an hour of telephony, web browsing, and video playback daily. More details can be found here.
Still, we would like to focus on the screen-on component of the score where the handset excels. Both the web browsing and video playback test results are mighty impressive. Here's how it stacks against the competition.
Video test carried out in 60Hz refresh rate mode. Web browsing test done at the display's highest refresh rate whenever possible. Refer to the respective reviews for specifics. To adjust the endurance rating formula to match your own usage patterns check out our all-time battery test results chart where you can also find all phones we've tested.
Charging speed
The Honor Magic4 Lite may have a tad smaller battery than most rivals, but it surely compensates with fast charging. The provided 66W-rated brick can replenish the battery from 0 to 100% in just under an hour - 59 minutes, to be exact. In this metric, it's up there with the rest.
In the 30-minute charging test, however, the device smoked the competition with 77%. Honor has gone for a slightly more aggressive charging curve in the lower percentages, and then it tapers off significantly as soon as it packs in some charge.
30min charging test (from 0%)
Higher is better
Honor Magic4 Lite
77%
Poco X4 Pro 5G
75%
Honor 50
61%
Xiaomi Redmi Note 11S
59%
Realme 9 Pro
52%
Samsung Galaxy A53 5G
45%
Time to full charge (from 0%)
Lower is better
Poco X4 Pro 5G
0:49h
Honor 50
0:54h
Honor Magic4 Lite
0:59h
Xiaomi Redmi Note 11S
1:02h
Realme 9 Pro
1:14h
Samsung Galaxy A53 5G
1:24h
Loudspeaker
Although stereo loudspeaker setups can often be found on modern mid-range and even low-end devices, we won't be complaining about the lack of such a setup on the Magic4 Lite. We are still seeing quite a bit of those without stereo speakers as well.
In any case, the audio quality and overall loudness are subpar. The single, bottom-firing speaker on the bottom scored poorly in our loudness test with just -34 LUFS. Quality-wise, the speaker isn't great either. As with every single-speaker setup, this one lacks fullness and bass while highs start to ring at higher volumes.
Use the Playback controls to listen to the phone sample recordings (best use headphones). We measure the average loudness of the speakers in LUFS. A lower absolute value means a louder sound. A look at the frequency response chart will tell you how far off the ideal "0db" flat line is the reproduction of the bass, treble, and mid frequencies. You can add more phones to compare how they differ. The scores and ratings are not comparable with our older loudspeaker test. Learn more about how we test here.