120Hz, 10-bit OLED display
One would assume that the Honor 50's display is identical to the Huawei nova 9's, but there seems to be a bit of deviation in max brightness as well as color calibration. But first, let's get the specs out of the way.
The Honor 50 is built around a 6.57-inch, 1080 x 2340px OLED display that can go up to 120Hz refresh rate and has a touch sampling rate of 300Hz for more responsive operations during gameplay. Support for more than 1 billion colors (10-bit) is also on the feature list. We've checked and HDR10 or HDR10+ content support is seemingly available but Netflix refused to play HDR10 movies. However, the YouTube app did play HDR-compliant content.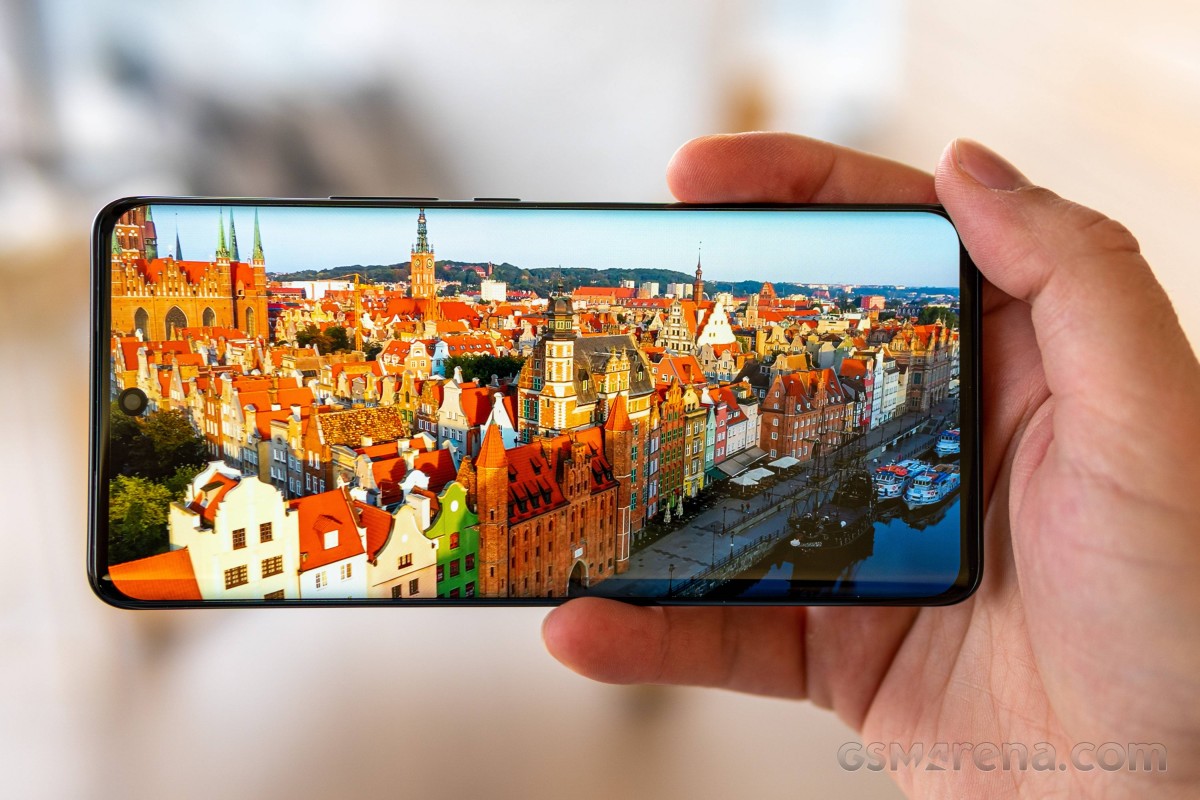 Now, the interesting part is that the Honor 50's display shines brighter than the nova 9's. Either we had a faulty nova 9 unit, or the Honor 50s get the higher binned OLED panels. At manual brightness control, the display got 525 nits, while in auto mode, the panel peaked at 748 nits. Both metrics are about 100 points higher than the nova 9.
Display test
100% brightness
Black,cd/m2
White,cd/m2
Contrast ratio
Honor 50
0
525
∞
Honor 50 (Max Auto)
0
748
∞
Huawei nova 9
0
433
∞
Huawei nova 9 (Max Auto)
0
608
∞
Realme GT 5G
0
443
∞
Realme GT 5G (Max Auto)
0
650
∞
Asus Zenfone 8
0
440
∞
Asus Zenfone 8 (Max Auto)
0
800
∞
Xiaomi Mi 11i
0
514
∞
Xiaomi Mi 11i (Max Auto)
0
939
∞
Xiaomi Mi 11T
0
498
∞
Xiaomi Mi 11T (Max Auto)
0
798
∞
Samsung Galaxy A72
0
396
∞
Samsung Galaxy A72 (Max Auto)
0
825
∞
Color accuracy-wise, the Honor 50 is better, too. The default Vivid preset with the default color temperature, the screen still looks somewhat blue-ish. We found the Normal color preset to fix that and even achieved a respectable dE2000 of 2.6. Staying on Vivid and choosing the Warm color temperature preset would bear similar results.
Now, when it comes to HRR control, the Honor 50 has a proper one. For the most part, that is. Going for the Dynamic and High refresh rate modes offers similar experience. Not interacting with the screen brings down the refresh rate to 90Hz (yes, not 60Hz, although we can't confirm for sure with the tools we have at our disposal), while opening the YouTube or Netflix app limits the refresh rate to 60Hz. The same goes for videos played through the default gallery app.
Chrome refused to run at more than 60Hz, though, but that's easily fixable by running the "High" mode that would force 120Hz on most apps or at least those that allow it. Given the similar behavior to the "Dynamic" mode, we suggest sticking to "High" 120Hz to ensure most apps take advantage of the HRR panel.
We've also tried a couple of games, and they were able to hit 90Hz, which is better than most phones limited to 60Hz but still under the 120Hz mark.
Battery life
Even though the Honor 50 and the Huawei nova 9 share the same hardware, the results from our battery tests are largely different. It seems that the underlying software is the culprit. A 4,300 mAh battery supplies the Honor 50 and the nova 9, but the former scored four hours higher, as per our overall rating.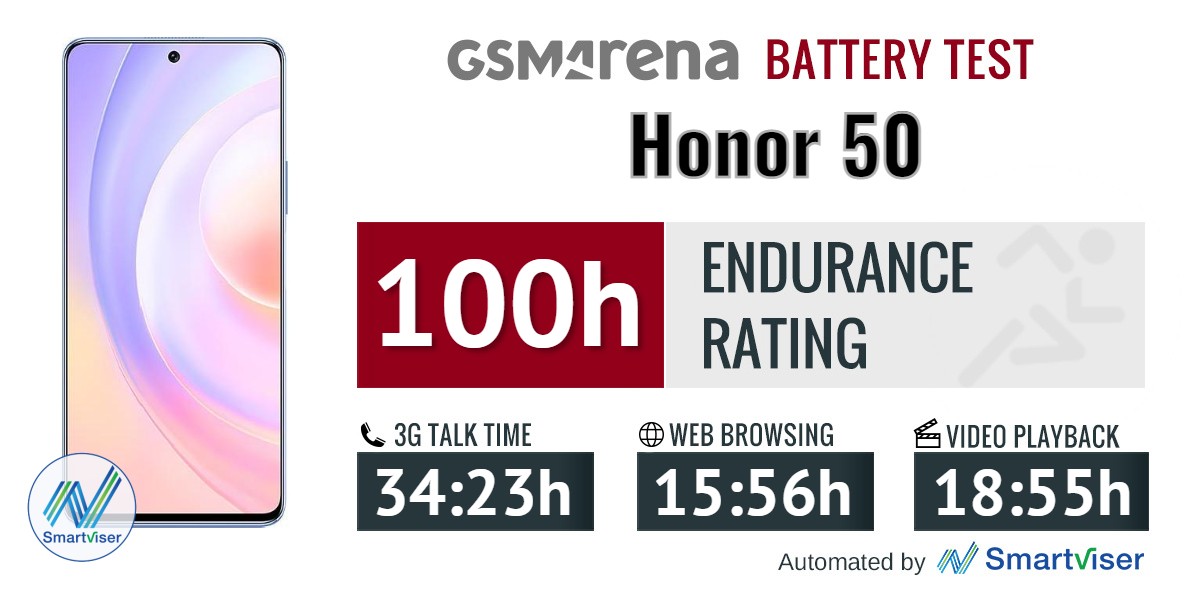 Our battery tests were automated thanks to SmartViser, using its viSerDevice app. The endurance rating denotes how long the battery charge will last you if you use the device for an hour of telephony, web browsing, and video playback daily. More details can be found here.
Video test carried out in 60Hz refresh rate mode. Web browsing test done at the display's highest refresh rate whenever possible. Refer to the respective reviews for specifics. To adjust the endurance rating formula to match your own usage - check out our all-time battery test results chart.
However, the overall score shouldn't fool you as there are a couple of key differences between the Honor 50's and the nova 9's endurance rating. The nova 9 achieved a better standby score than Honor's contender, but the latter excels in screen-on tests and got a considerably higher 3G talk time result. Arguably, the screen-on metrics are more important.
Important thing to note here - we couldn't force 120Hz on our web browsing test, so we ran that at 60Hz, so the result isn't directly comparable to other handsets we've tested at 120 or 90Hz browsing tests.
Charging speed
No surprises here as we've seen the nova 9 perform the same in our charging test. The supplied 66W charger pushes 61% juice from flat in 30 minutes and reaches 100% in 54 minutes. It's a tad slower than some competitors, but objectively speaking, it's still pretty fast. The first 61% are a bit slower than one would expect from a 66W charger, ut as the Honor 50 gets closer to 100%, it catches up with the competition.
30min charging test (from 0%)
Higher is better
Realme GT 5G (65W)
87%
Xiaomi 11T
86%
Xiaomi Mi 11i
69%
Xiaomi Mi 11i
69%
Honor 50
61%
Samsung Galaxy A72
54%
Time to full charge (from 0%)
Lower is better
Realme GT 5G (65W)
0:39h
Xiaomi 11T
0:41h
Xiaomi Mi 11i
0:52h
Xiaomi Mi 11i
0:52h
Honor 50
0:54h
Samsung Galaxy A72
1:15h
Speaker
Just like the nova 9, the Honor 50 also misses the chance to have a set of stereo speakers - a common feature around these parts. Most of the Honor 50's direct rivals boast some sort of stereo speakers providing higher maximum volume, deeper bass (for a phone, that is) and overall fuller sound. The single, bottom-firing speaker on the Honor 50 sounds rather clear but starts to ring at higher volumes. It's probably needless to say that it's kind of flat-sounding, too.
Use the Playback controls to listen to the phone sample recordings (best use headphones). We measure the average loudness of the speakers in LUFS. A lower absolute value means a louder sound. A look at the frequency response chart will tell you how far off the ideal "0db" flat line is the reproduction of the bass, treble, and mid frequencies. You can add more phones to compare how they differ. The scores and ratings are not comparable with our older loudspeaker test. Learn more about how we test here.