Smooth OLED with dual punch-hole
As we already mentioned, the curved part of the display is a first for the company while the OLED panel is a first for their mainstream flagship lineup. We've seen the Honor Magic series employ OLEDs before but never the View and the currently reviewed series. Using a high-refresh-rate display is also a new thing for Honor, and choosing 90Hz over 120Hz might be a good idea as our current experience with 120Hz panels is that they draw a little bit too much battery. Also, 90Hz has become mainstream, and it makes sense from cost-cutting perspective.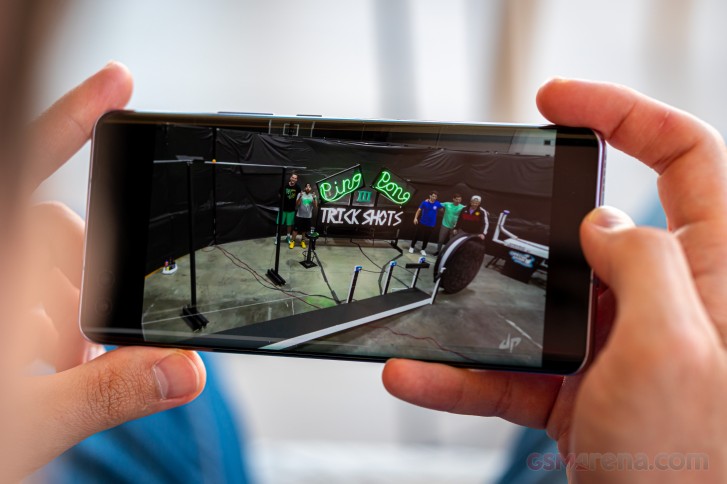 Anyway, we are dealing with a display that's quite similar to the P40 Pro+'s - it's an OLED panel with a 6.57-inch diagonal. The resolution is lower, though - down to 1080 x 2340px making up for a tall 19.5:9 aspect ratio. It looks crisp and clean.
In manual mode, the panel peaks at 436 nits and in Max Auto mode, it boosts up to 586 nits, which isn't bad by any means but it's dragging behind the competition, and you might find it a bit dim under direct sunlight.
Display test
100% brightness
Black,cd/m2
White,cd/m2
Contrast ratio
Honor 30 Pro+
0
436
∞
Honor 30 Pro+ (Max Auto)
0
586
∞
Honor 20 Pro
0.397
485
1222:1
Honor V30 Pro
0.434
534
1230:1
Huawei P40 Pro
0
425
∞
Huawei P40 Pro (Max Auto)
0
531
∞
Samsung Galaxy S20+
0
379
∞
Samsung Galaxy S20+ (Max Auto)
0
797
∞
OnePlus 8
0
496
∞
OnePlus 8 (Max Auto)
0
803
∞
Xiaomi Poco F2 Pro
0
516
∞
Xiaomi Poco F2 Pro (Max Auto)
0
854
∞
Realme X50 Pro 5G
0
525
∞
Realme X50 Pro 5G (Max Auto)
0
635
∞
Color accuracy with the standard Vivid mode is a bit off. Whites have a strong blue-ish hue, and at lower brightness levels, it turns to purple. The average dE2000 in the default Vivid mode is 6.6 while the maximum deviation is 9.6.
The Normal mode offers far superior color accuracy, if you are into that. The average dE2000 is just 1.9 and the maximum deviation is just 3.2. This makes it indistinguishable from perfect when looking at the screen with a naked eye. Still, if you like the Vivid mode better, there's a manual color temperature adjustment if you want to hit that D65 white point while retaining the saturated colors.
Sadly, there's no HDR certification on this display, so you won't be able to benefit from HDR content. And besides, Netflix isn't available on AppGallery.
Now a few words about the HRR behavior. Even though it's the company's first 90Hz phone, the control over the refresh rate is nothing short of smart. It switches between 90 and 60Hz depending on the scenario. For full-screen videos, for example, the software defaults back to 60Hz. Navigating through the menus or using a web browser (Chrome included), will provide you with smooth scrolling and animations.
Battery life and charging
Even though the phone doesn't boast a massive battery, the 4,000 mAh charge proved to be enough to take a respectable place in our battery ranking. The screen-on tests show respectable runtimes while the standby score is excellent. The only component that needs improving is the talk time. Interestingly enough, the P40-series posted rather short call times too, and they have similar battery capacities and the same SoC so there is certainly a pattern there.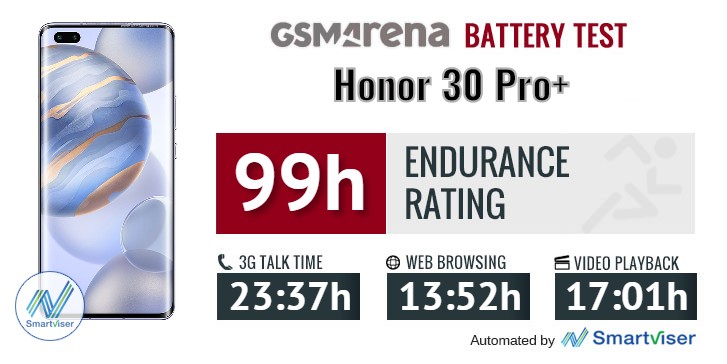 Our battery tests were automated thanks to SmartViser, using its viSerDevice app. The endurance rating above denotes how long a single battery charge will last you if you use the Honor 30 Pro+ for an hour each of telephony, web browsing, and video playback daily. We've established this usage pattern so that our battery results are comparable across devices in the most common day-to-day tasks. The battery testing procedure is described in detail in case you're interested in the nitty-gritty. You can check out our complete battery test table, where you can see how all of the smartphones we've tested will compare under your own typical use.
As far as charging goes, the handset isn't the fastest one around but it's definitely on par with the competition. At the 30-minute mark, the 40W charger restored 70% of the battery, but for a full charge, it took 1 hour and 8 minutes, to be exact.
Speaker test
The phone offers great-sounding stereo loudspeakers. One is located at the bottom side behind the dotted grille while the other doubles as an earpiece.
The loudness of the speakers seems to be well-balanced, the vocals and mids aren't muddy at all while the bass is one of the best we've heard on a phone. The overall sound is full and lively. Loudness is way above average as well. It's good to see Honor putting in some crisp-sounding loudspeakers without sacrificing loudness along the way.
Use the Playback controls to listen to the phone sample recordings (best use headphones). We measure the average loudness of the speakers in LUFS. A lower absolute value means a louder sound. A look at the frequency response chart will tell you how far off the ideal "0db" flat line is the reproduction of the bass, treble, and mid frequencies. You can add more phones to compare how they differ. The scores and ratings are not comparable with our older loudspeaker test. Learn more about how we test here.
Audio output quality
We've recently discontinued our audio output quality test.
The reason for that is that most phones that arrived for testing were already excellent in this regard and whatever difference there was, it was marginal and probably indistinguishable to anything but our lab equipment.